Halloween books were extremely popular in my school library and got checked out no matter what time of year it was. Children just love them! This includes my own children. My three-year-old daughter and six-year-old son ask for creepy books all the time. I am a big fan of all things spooky and scary, so I can't complain. Here is a list of our favorite Halloweenish books that we read all year long!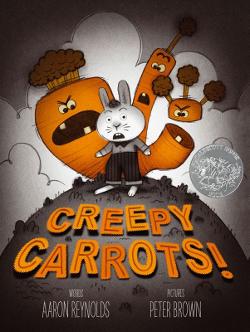 Creepy Carrots by Aaron Reynolds; illustrated by Peter Brown, 2012
(Ages 4 – 8)
Jasper bunny loves to eat carrots, as all bunnies do, until the day he believes the carrots are alive and stalking him that is. He begins to see carrots lurking everywhere…in the shadows, in the kitchen, even in his bathroom. He becomes so scared of them that he builds a fence around the carrots to keep them locked in. Little does he know that this has been the secret plan of the carrots all along. Not only does the fence keep the carrots in, it keeps all of the bunnies out, so that the carrots are safe.
This book is so much fun that was a must read every year in my library. I had to buy multiple copies because it was so popular. I especially enjoyed reading this book with a carrot puppet I purchased from Amazon. Every time the carrots made an appearance, I would pop the carrot puppet out from behind the book and the children went crazy for it.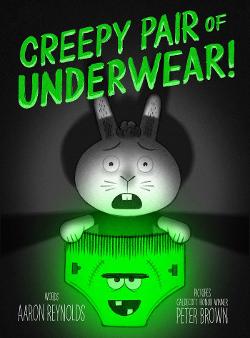 Creepy Pair of Underwear by Aaron Reynolds; illustrated by Peter Brown, 2017
(Ages 4 – 8)
The dynamic duo who created Creepy Carrots (2012) is back with another perfectly crafted spooky tale. This time, their hero, Jasper Rabbit, is in need of new underwear. As he is about to leave the underwear store with his mother and his plain white underwear, he spots them…glowing Creepy Underwear. So creepy! So comfy! Jasper has to have them.
That night he happily sports his new undies, but once the lights go out he quickly discovers they glow a ghoulish, green light. He tries to get rid of them every way he can think of, but much to Jasper's dismay and terror, they keep coming back! After he mails them to China and the underwear return…with souvenirs, Jasper is driven to extreme measures. He buries them on top of Crakenhopper Hill. That night as he turns off the light to go to sleep, he is finally at peace, but discovers his room is now filled with complete darkness. He retrieves his creepy undies and returns to the store to purchase even more to create a line of ghoulishly green glowing underwear to serve as a nightlight. "That night Jasper wasn't scared at all. As he lay down to sleep, he smiled. And so did his underwear – because they had finally found somebody who wasn't scared…of Creepy Underwear."
The Creepy Underwear, which resembles Frankenstein, is pictured with various comical expressions balancing the scary factor with humor. This is one of those books that children will be drawn to and want to read again and again. It is perfect for reading out loud to a group or simply one on one. When I read the title to my son, he started laughing and immediately wanted to read it and then asked to reread it again and again.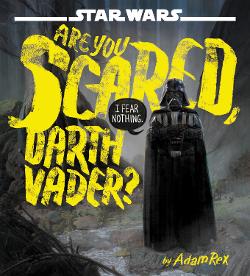 Are You Scared Darth Vader? by Adam Rex, 2018
(Ages 4 and up)
Can one of the most frightening villains of all time be scared himself? An unseen narrator presents several classically scary monsters to attempt such a feat. Using comicaldialogue, Darth Vader confirms his bravery. It isn't until a surprise ending that his armor finally cracks. Whether or not you are a Star Wars fan, this book is absolutely hilarious and will have children laughing out loud. My three-year-old daughter and six-year old son could not get enough of this amusing new book and this will be my next go-to for my son's friends' birthday parties.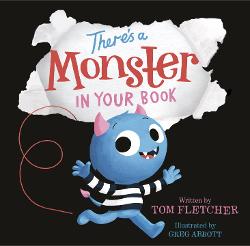 There's a Monster in Your Book by Tom Fletcher; illustrated by Greg Abbott, 2017
(Ages 2 – 6)
My toddler daughter absolutely loves this interactive book. The premise of the story is that a monster has found his way into the book and the reader has to follow the narrator's instructions to get him out by tilting, shaking, and spinning the book. The monster is moved all around the story until he is finally blown out of the book, but now he is in your room! Readers have to call him back into the book where he can be safely contained.
The monster is very cutely drawn and is not at all scary. I was a little worried that my daughter would be frightened by the concept of the monster being in her room, but she had so much fun calling him back into the book, that it didn't faze her one bit. The last page features the monster curling up to go to sleep and she loved petting the monster and saying good night. It became one of her favorite bedtime books.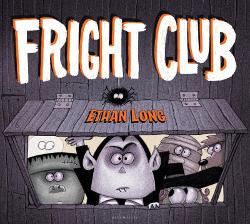 Fright Club by Ethan Long, 2015
(Ages 4 – 8)
This Halloween book has it all.. vampires, witches, ghosts, werewolves and the spookiest of all… bunnies! You don't think bunnies can be scary? That is the mistake all of the Fright Club monsters make when they try to keep the bunny out of the club for being more adorable than frightening. The monsters soon discover that when the bunny returns with a lawyer and other cute forest creatures their protests can be just as scary as the monsters. In the end they work together to make this year's Halloween the spookiest of all! This wonderful book reminds everyone of the importance of inclusion and not judging a book by its cover especially when that book is a cute little bunny ready to scare everyone for Halloween.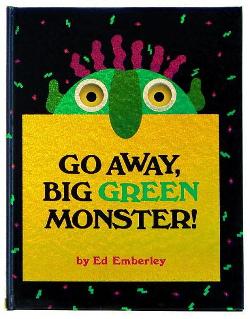 Go Away Big Green Monster by Ed Emberley, 1992
(Ages 2 – 5)
A Halloween classic, that I still read every year. The story begins by introducing all of the features of a monster: "two big yellow eyes/ a long blue nose/ a big red mouth" that appear through die cut illustrations. Then halfway through the story, the brave narrator asserts, "You don't scare me! So GO AWAY squiggly purple hair", etc. until all of the monster's features have been named. The book ends with the narrator telling the monster to go away and "don't come back! Until I say so." This is a great story to empower young children to conquer their own fears of creepy creatures.
Check out our other favorite spooky books here: