Halloween books were extremely popular in my school library and got checked out no matter what time of year it was. Children just love them!
The below books have delightfully creepy elements mixed with humor creating some spooktacular read alouds! Since they do not reference Halloween, they are perfect for sharing all year long!
*This post contains affiliate links. To read my full disclosure CLICK HERE.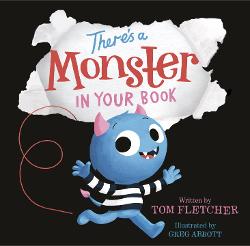 There's a Monster in Your Book by Tom Fletcher; illustrated by Greg Abbott, 2017
(Ages 2 – 6)
This interactive story invites readers to help remove an adorable little monster from a book. Children will love tilting, shaking, and spinning the book in an attempt to eradicate the unwanted creature. We love this whole series especially There's a Witch In Your Book .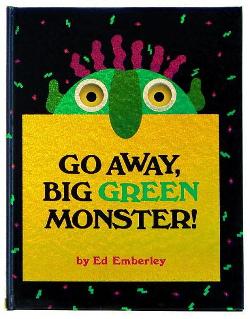 Go Away Big Green Monster by Ed Emberley, 1992
(Ages 2 – 5)
This story is a classic that I reread every year. The book begins by introducing all of the features of a monster: "two big yellow eyes/ a long blue nose/ a big red mouth" that appear through die cut illustrations. Then halfway through the story, the brave narrator asserts, "You don't scare me! So GO AWAY squiggly purple hair", etc. until all of the monster's features have been named. The book ends with the narrator telling the monster to go away and "don't come back! Until I say so." This is a great story to empower young children to conquer their own fears of creepy creatures.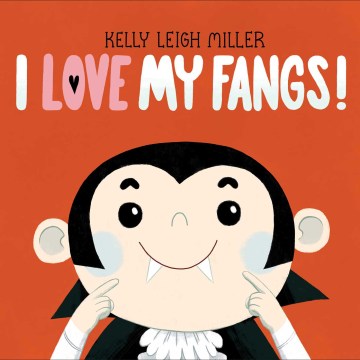 I Love My Fangs! by Kelly Leigh Miller, 2020
(Ages 4 and up)
Little Dracula takes great pride in his fangs. He brushes and flosses daily taking care to keep them shiny and healthy. When one falls out, he is devastated and does all he can to put it back in. When all of his tactics fail, he curls up in bed with his fang only to be awoken by the tooth fairy. A comical chase ensues ending with his parents explaining that this is only a baby tooth and his adult fang will grow in soon.
The cartoony illustrations are adorable and contain several delightful details that add to the charm of this cute book. This monsterly tale is frightfully fun!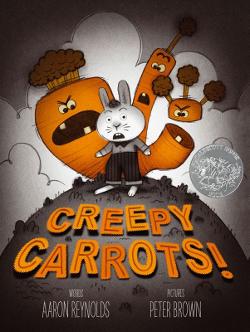 Creepy Carrots by Aaron Reynolds; illustrated by Peter Brown, 2012
(Ages 4 and up)
Jasper Rabbit loves to eat carrots, until the day he believes the carrots are alive and stalking him that is. He begins to see carrots lurking everywhere…in the shadows, in the kitchen, even in his bathroom. Are the carrots real or could it all be in his imagination?
This award-winning book is as much fun to read aloud as it is to listen to. Hues of black and white with pops of orange draw the reader in while the clever narration provides the perfect amount of drama and humor. This one is a must have!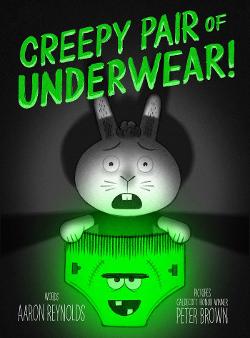 Creepy Pair of Underwear by Aaron Reynolds; illustrated by Peter Brown, 2017
(Ages 4 and up)
The dynamic duo who created Creepy Carrots (2012) is back with another perfectly crafted spooky tale. This time, their hero, Jasper Rabbit, is in need of new underwear. While shopping with his mother, he spots them…glowing Creepy Underwear. So creepy! So comfy! Jasper has to have them.
That night he happily sports his new undies, but once the lights go out he quickly discovers they glow a ghoulish, green light. He tries to get rid of them every way he can think of, but much to Jasper's dismay and terror, they keep coming back!
The Creepy Underwear, which resembles Frankenstein, is pictured with various comical expressions balancing the scary factor with humor. This is one of those books that children will be drawn to and want to read again and again.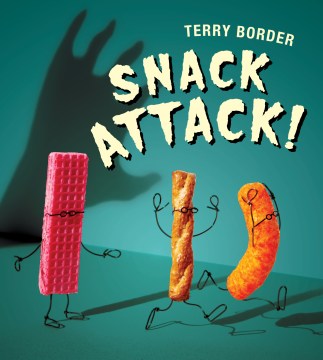 Snack Attack! by Terry Border, 2019
(Ages 4 and up)
This hilarious book had our entire family laughing out loud. When a cheese doodle, pretzel stick, and a cookie escape from their packages, they fear the monsters known as kids will gobble them up. At first, they enjoy their freedom, but after finding a note from "Mom" instructing a child to enjoy the snacks she left out, they hatch a plan to escape.
Terry Border's illustrations featuring photographs of real food brought to life with bent wire resembling glasses and limbs could not be more humorous and engaging. From cover to cover, we love everything about this amusing book!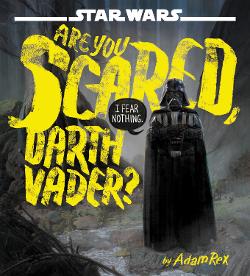 Are You Scared Darth Vader? by Adam Rex, 2018
(Ages 4 and up)
Can one of the most frightening villains of all time be scared? An unseen narrator presents several classically scary monsters to attempt such a feat.
Using humorous dialogue, Darth Vader confirms his bravery. It isn't until a surprise ending that his armor finally cracks. Whether or not you are a Star Wars fan, this book is absolutely hilarious and will have children and many adults laughing out loud.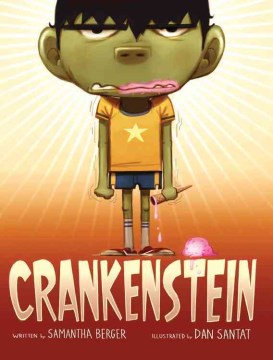 Crankenstein by Samantha Berger; illustrated by Dan Santat, 2013
(Ages 4 and up)
This hilarious book provides several instances when a child might transform into a cranky monster. Dan Santat's bright, striking illustrations brilliantly capture the essence of childhood grumpiness and provide a variety of details that will make both children and adults laugh. This is a surefire winner that is a joy to read aloud.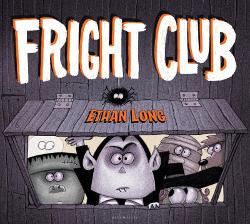 Fright Club by Ethan Long, 2015
(Ages 4 and up)
This Halloween book has it all.. vampires, witches, ghosts, werewolves and the spookiest of all… bunnies! You don't think bunnies can be scary? That is the mistake all of the Fright Club monsters make when they try to keep a bunny out of the club for being more adorable than frightening.
The monsters soon discover that when the bunny returns with a lawyer and other cute forest creatures, their protests can be just as scary as the monsters. In the end they work together to make this year's Halloween the spookiest of all! This wonderful book reminds everyone of the importance of inclusion and not judging a book by its cover especially when that book is a cute little bunny ready to scare everyone for Halloween.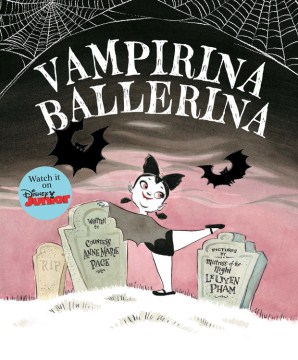 Vampirina Ballerina by Anne Marie Page; illustrated by LeUyen Pham, 2012
(Ages 4 and up)
This humorous how-to guide stars a young vampire aspiring to become a ballerina. The charming illustrations comically capture Vampirina's journey from novice to prima ballerina as she tries not to scare the other ballerinas with her fangs or trip on her cape. The illustrations contain tons of interesting details that my children love pouring through.
Hardly Haunted by Jessie Sima, 2021
(Ages 4 and up)
This charming story stars a rundown house that journeys through self-discovery searching for the perfect family to make it a home. Filled with ghostly onomatopoeia, this alluring book is an excellent fall read aloud that we can't get enough of!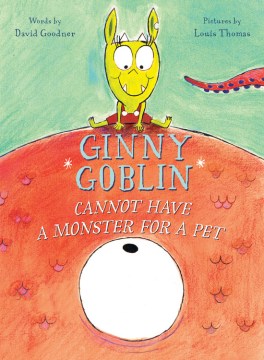 Ginny Goblin Cannot Have a Monster for a Pet by David Goodner
(Ages 4 and up)
An unseen narrator encourages readers to help a spunky little goblin find the perfect pet. Ginny Goblin loves goats, but when she is told they are too messy, she turns to a kraken and a basilisk as potential companions. This is a comical tale featuring popular monsters making this an excellent choice to read any time of year, but especially around Halloween.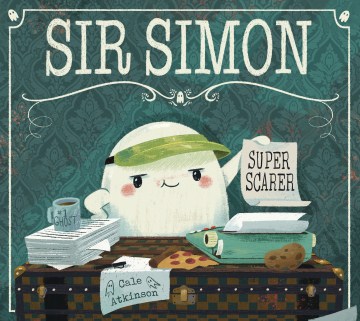 Sir Simon: Super Scarer by Cale Atkinson, 2018
(Ages 5 and up)
Sir Simon is a professional super scarer, but has met his match when he moves into a house and meets Chester, a curious child. This book is full of humor that had our family laughing out loud and left my children begging for multiple readings. This feel-good friendship story is more sweet than scary and one I know we will reread often.
Looking for a Jumbie by Tracey Baptiste; illustrated by Amber Ren, 2021
(Ages 5 and up)
This enchanting play on Going on a Bear Hunt skillfully incorporates Caribbean folklore. Flowing rhymes follow a young girl searching for Jumbies, which are shadowy enigmatic creatures. As she finds each one, she discovers they are more friendly and helpful than scary. Her hunt not only turns up a number of Jumbies, but also some new friends.
My children love learning about mythical creatures and adore this lively story. The rhythmic text and mysterious characters make this a good choice for a read aloud for Halloween and all year long!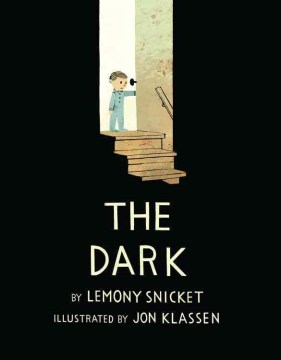 The Dark by Lemony Snicket; illustrated by Jon Klassen, 2013
(Ages 5 and up)
Lazlo is afraid of the dark until one night the dark beckons him down to the basement to show him something. The voice of the dark is described as, "creaky as the roof of the house and as smooth and cold as the windows", so the person reading the story out loud can have the potential to make this tale sound truly terrifying. In the end, the dark is quite friendly and helps Lazlo find another night light for his room. This book has just the right amount of suspense and reassurance to make it a standout.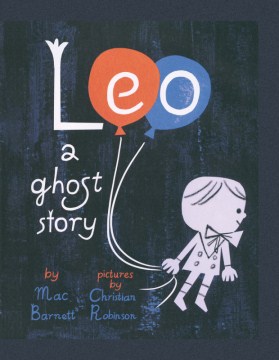 Leo: A Ghost Story by Mac Barnett; illustrated by Christian Robinson , 2015
(Ages 5 and up)
Leo is a friendly ghost, but when a family moves into his home and is frightened of him, he floats away until he meets Jane who thinks he is an imaginary friend. The vintage style collage illustrations particular shine in this sweet friendship story and it is no wonder this beautiful book was named a New York Times Best Illustrated Book.
The Atlas of Monsters: Mythical Creatures from Around the World by Sandra Lawrence & Stuart Hill
(Ages 6 and up)
When I was a child, my dad would share books about mythical creatures from around the world with me and I would pour over the illustrations of the strange beings. My son is now having the same experience with The Atlas of Monsters.
The detailed illustrations and short captions feature a myriad of creatures divided by region. Gorgeous maps show the part of the world where the myths and legends originated. This is a book that my son revisits often and the first book he packs when we travel.
Check out our other favorite spooky books here: