From friendly witches to creepy crayons, I've rounded up our favorite NEW SPOOKtacular stories just in time for the Halloween season! Many of these faBOOlous books are not only perfect for Halloween, but for sharing all year long.
*This post contains affiliate links.
BOARD BOOKS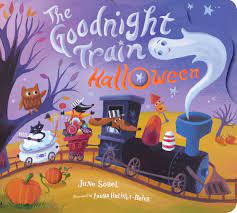 The Goodnight Train Halloween by June Sobel; illustrated by Laura Huliska-Beith
(Ages 0 and up)
Climb aboard the Goodnight Train as it journeys through a haunted forest full of friendly ghosts, bats, and sheep in costumes. The flowing rhymes combined with the colorful illustrations and enticing onomatopoeia, bring the magic of Halloween alive to little ones.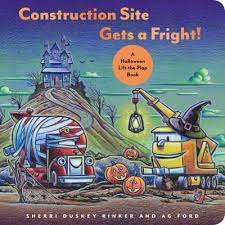 Construction Site Gets a Fright by Sherri Duskey Rinker; illustrated by AG Ford, 2022
(Ages 0 and up)
Vehicle lovers will delight in this engaging lift-the-flap board book. Dressed in costumes, lovable construction trucks encounter several possible spooky situations that turn out to be silly surprises.
PICTURE BOOKS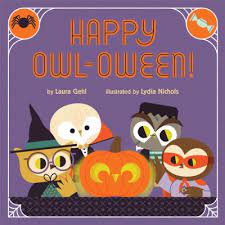 Happy Owl-oween by Laura Gehl; illustrated by Lydia Nichols, 2022
(Ages 0 and up)
This adorable book captures all the fun of the Halloween season by following a family of owls participating in a variety of fall activities. The upbeat rhymes paired with vibrant illustrations could not be cuter.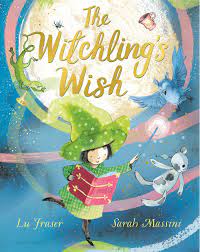 The Witchling's Wish by Lu Fraser; illustrated by Sarah Massini, 2022
(Ages 4 and up)
Oh, how I adore this enchanting story! The bubbly rhymes just flow off the tongue and the charming illustrations are filled with delightful details. When Little Witchling longs for a friend, she casts a spell to find one. In her search for her last ingredient, a one-eyed Teddy Bear, she also finds the bear's owner and what it means to be a true friend. This story could not be sweeter!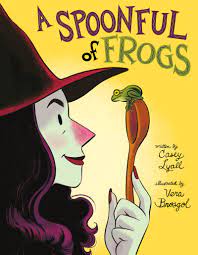 A Spoonful of Frogs by Casey Lyall; illustrated by Vera Brosgol, 2022
(Ages 3 and up)
Filled with lots of physical humor, this amusing tale follows a witch hosting a cooking show. Just as she goes to add the final ingredient of her frog soup, her frogs hop away resulting in a humorous chase. With its giggle-worthy illustrations, this is one delicious read aloud!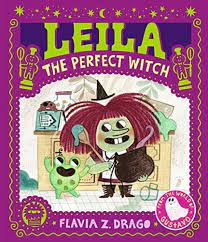 Leila The Perfect Witch by Flavia Z. Drago, 2022
(Ages 4 and up)
Not only is this an adorable Halloween story, it is also a great lesson in perseverance, teamwork, and perfectionism. Leila the witch is used to excelling in all that she does, so when she fails at making a cake for the Magnificent Witchy Cake-Off, she is devastated. With the help of her sisters and lots of determination, she creates a spooktacularly sweet sensation. Although she loses the competition, she realizes that as long as she is having fun, she feels like a winner. There is so much to love about this spellbinding story! It is the perfect follow up to the lovable Gustavo.
Creepy Crayon by Aaron Reynolds; illustrated by Peter Brown, 2022
In
Creepy Crayon
, Jasper Rabbit is struggling in school until he finds a perfectly pointy purple crayon that magically helps him ace all of his assignments. Before he knows it, the crayon has taken over all of his projects and Jasper finds little satisfaction in receiving undeserved praise. It is time for the crayon to go, but how can Jasper get rid of it when it turns up at every corner?!
The perfectly plotted humor and engaging illustrations with pops of purple make this another winner in the New York Times best-selling series.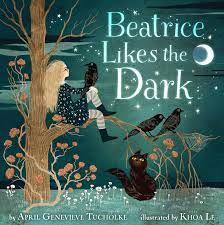 Beatrice Likes the Dark by April Genevieve Tucholke; illustrated by Khoa Le, 2022
(Ages 5 and up)
I was immediately intrigued by this book's enchanting cover and I was further drawn in by its mesmerizing rhythmic text describing two sisters trying to understand one another. Filled with spellbinding illustrations, this beguiling story follows Beatrice, who loves the quiet of the night, and Roo, who favors the warmth of the sun and the intensity of a busy day. Through sharing pieces of themselves with each other, they grow closer and come to appreciate one another's preferences.
The dark color palette has a magical quality that gives the story a slightly spooky aura making it a good choice for Halloween season. The beautifully complex and sweet relationship between sisters, however, makes this a relevant read aloud all year long.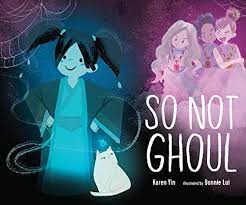 So Not Ghoul by Karen Yin; illustrated by Bonnie Lui, 2022
(Ages 6 and up)
Mimi wants to dress like all the other ghouls in school, but her family insists she wear her traditional Chinese robes. Filled with ghostly puns, this unique tale follows Mimi as she overcomes the mean-spiritness of her classmates and learns to meld her Chinese culture with her American school.
You may also like: