We are combining two of our family's favorite things in this post: Halloween and funny books! Prepare for lots of giggles while reading these faBOOlous stories!
**I am an associate with the Amazon Affiliates Program,which means that I receive a very small compensation for books that are purchased through the links in my posts.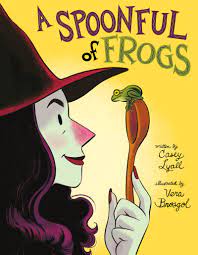 A Spoonful of Frogs by Casey Lyall; illustrated by Vera Brosgol, 2022
(Ages 3 and up)
Filled with lots of physical humor, this amusing tale follows a witch hosting a cooking show. Just as she goes to add the final ingredient of her frog soup, her frogs hop away resulting in a humorous chase. With its giggle-worthy illustrations, this is one delicious read aloud!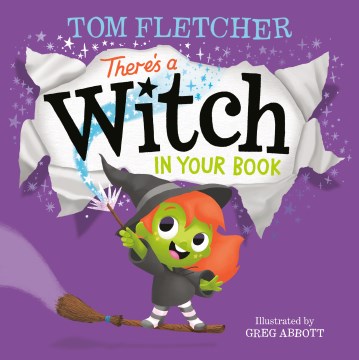 There's a Witch In Your Book by Tom Fletcher; illustrated by Greg Abbott, 2021
(Ages 3 and up)
Interactive stories are always a hit with kids and we are thrilled to see a new Halloween installment to Tom Fletcher's popular series! When a witch lands in a book and begins to cause mischief, children are invited to block her spell and use their fingers as a wand to create magic of their own.
With bright, adorable illustrations and an amusing plotline, there is a lot to love about this clever new book that is sure to be enjoyed not only during Halloween, but all year long!
Frankenstein Doesn't Wear Earmuffs! by John Loren, 2020
(Ages 4 and up)
This hilarious story had both my children and me laughing out loud. When a little boy dressed as Frankenstein prepares to head out trick-or-treating, his concerned parents try to arm him with galoshes, earmuffs, and all sorts of gear to make his night as comfortable as possible. The boy rebukes his parent's offerings and enters the cold, wet night only to realize that mothers really do know best. The humorous artwork and over-the-top text make this book so much fun to read aloud. It is without a doubt one of our favorite new Halloween stories that I am sure we will be rereading for many years to come.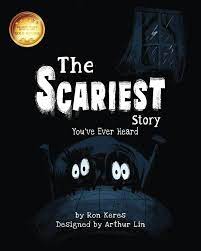 The Scariest Story You've Ever Heard by Ron Keres, design by Arthur Lin, 2022
(Ages 4 and up)
While few may argue this story is scary, most will agree it is absolutely hilarious! Delightful onomatopoeia fills the pages as two young brothers investigate the terrifying sounds they hear during a blackout. The final reveal at the end is such a fun twist!
Creepy Carrots by Aaron Reynolds; illustrated by Peter Brown, 2012
(Ages 4 and up)
Jasper Rabbit loves to eat carrots, until the day he believes the carrots are alive and stalking him that is.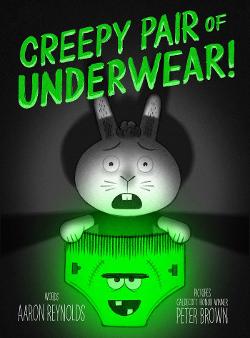 He begins to see carrots lurking everywhere…in the shadows, in the kitchen, even in his bathroom. Are the carrots real or could it all be in his imagination?
This award-winning book is as much fun to read aloud as it is to listen to. Hues of black and white with pops of orange draw the reader in while the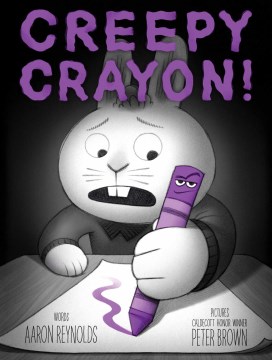 clever narration provides the perfect amount of drama and humor. This one is a must have!
I also highly recommend the rest of the series Creepy Pair of Underwear and Creepy Crayon .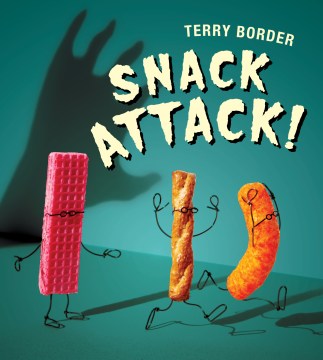 Snack Attack! by Terry Border, 2019
(Ages 4 and up)
This hilarious book had our entire family laughing out loud. When a cheese doodle, pretzel stick, and a cookie escape from their packages, they fear the monsters known as kids will gobble them up. At first, they enjoy their freedom, but after finding a note from "Mom" instructing a child to enjoy the snacks she left out, they hatch a plan to escape.
Terry Border's illustrations featuring photographs of real food brought to life with bent wire resembling glasses and limbs could not be more humorous and engaging. From cover to cover, we love everything about this amusing book!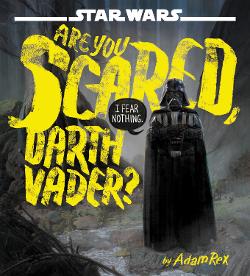 Are You Scared Darth Vader? by Adam Rex, 2018
(Ages 4 and up)
Can one of the most frightening villains of all time be scared? An unseen narrator presents several classically scary monsters to attempt such a feat.
Using humorous dialogue, Darth Vader confirms his bravery. It isn't until a surprise ending that his armor finally cracks. Whether or not you are a Star Wars fan, this book is absolutely hilarious and will have children and many adults laughing out loud.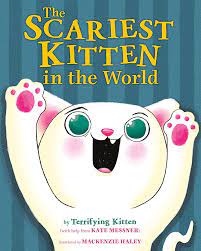 The Scariest Kitten in the World by Kate Messner, illustrated by Mackenzie Haley, 2023
(Ages 4 and up)
With creeeeaaak of an open door, readers are invited into a haunted house to gaze upon an assortment of terrifying creatures. In a hilarious twist, each beast is more adorable than the next creating one amusing read aloud!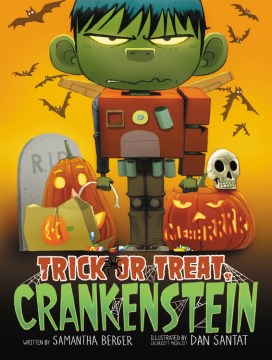 Trick or Treat Crankenstein by Samantha Berger; illustrated by Dan Santat, 2021
(Ages 4 and up)
A little boy nicknamed Crankenstein due to his grumpy mood is looking forward to his favorite holiday, Halloween. On the big day, however, everything seems to go wrong. He gets a toothache, it rains on his costume, he trick-or-treats at a house that gifts out toothbrushes, etc. Each misfortune is exaggerated by Santat's comical colorful illustrations that jump off the page. Children who have faced their own Halloween disappointments will relate to Crankenstein and feel reassured that even the worst Halloweens can turn around into great nights!
This series is always a hit with kids and I'm thrilled to see a Halloween edition. My own children especially love the end papers that are covered in candy with humorous names!
We also love the original Crankenstein !
Vampenguin by Lucy Ruth Cummins, 2021
(Ages 4 and up)
From its adorable under-the-jacket reveal, giggle-worthy illustrations, and amusing storyline, there is a lot to love about this unique tale! While the text describes the Dracula family's seemingly ordinary visit to the zoo, the clever illustrations comically capture a baby vampire switching places with a penguin. The rest of the family is oblivious of the swap, but the other animals at the zoo don't miss a thing. There is so much underlying humor in this charming story, we can't get enough of it!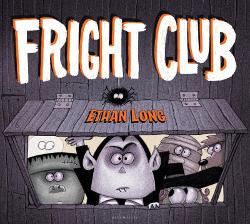 Fright Club by Ethan Long, 2015
(Ages 4 and up)
This Halloween book has it all.. vampires, witches, ghosts, werewolves and the spookiest of all… bunnies! You don't think bunnies can be scary? That is the mistake all of the Fright Club monsters make when they try to keep a bunny out of the club for being more adorable than frightening.
The monsters soon discover that when the bunny returns with a lawyer and other cute forest creatures, their protests can be just as scary as the monsters. In the end they work together to make this year's Halloween the spookiest of all! This wonderful book reminds everyone of the importance of inclusion and not judging a book by its cover especially when that book is a cute little bunny ready to scare everyone for Halloween.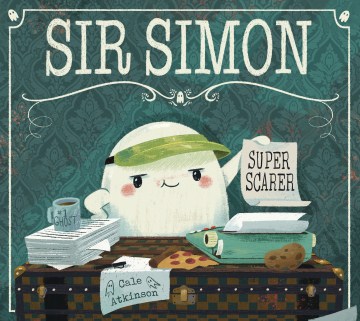 Sir Simon: Super Scarer by Cale Atkinson, 2018
(Ages 5 and up)
Sir Simon is a professional super scarer, but has met his match when he moves into a house and meets Chester,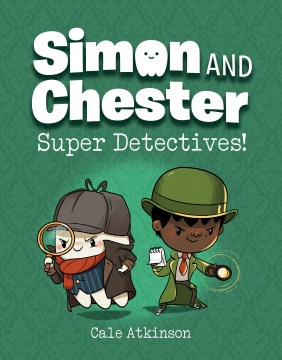 a curious child. This book is full of humor that had our family laughing out loud and left my children begging for multiple readings. This feel-good friendship story is more sweet than scary and one I know we will reread often.
We also love the Sir Simon graphic novel series.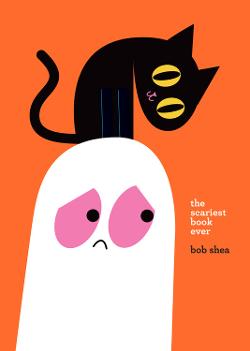 The Scariest Book Ever by Bob Shea, 2017
(Ages 4 and up)
A skittish ghost invites the reader to join him in the deep, dark woods. We soon learn that the ghost is putting up a front and is really quite scared of the woods. He comes up with excuse after excuse to avoid entering the spooky forest.
Meanwhile, the story flashes to the "spooky" woods to reveal the adorable forest creatures who spend their time pumpkin picking and preparing for a costume party. When the ghost finally ventures out, he sees the forest friends in their Halloween attire and is frightened away, but happily joins in the fun once he realizes they are in costumes.
Full of sarcasm, wit, and Bob Shea's trademark whimsical illustrations and sharp humor, this book will definitely make a great read aloud to a group or be enjoyed one-on-one.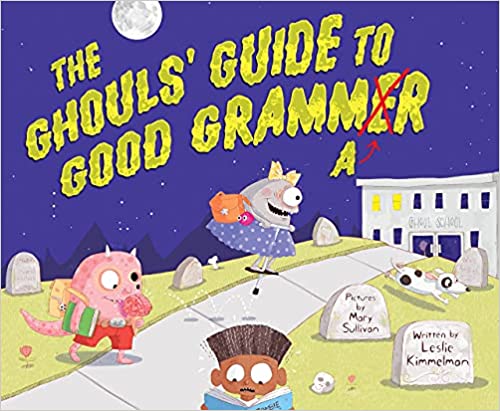 The Ghoul's Guide to Good Grammar by Leslie Kimmelman; illustrated by Mary Sullivan, 2021
(Ages 5 and up)
This quirky book is as entertaining as it is educational! With just the right amount of offbeat humor, The Ghoul's Guide to Good Grammar is perfect for introducing or reviewing punctuation with children. Kids will love following frightfully funny characters who provide examples of grammatical elements such as commas, quotation marks, contractions, possessives, homophones, etc. My third grade son found this book to be absolutely hilarious and begged to read it multiple times!
YOU MAY ALSO LIKE: