Halloween is an exciting time of year filled with pumpkins, ghosts, goblins, mummies, witches….wait, those last few things can be a little terrifying to children. I've put together a list of our favorite books that bring out all of the fun parts to this great holiday without any of the creepy factors.

*This post contains affiliate links. To read my full disclosure CLICK HERE.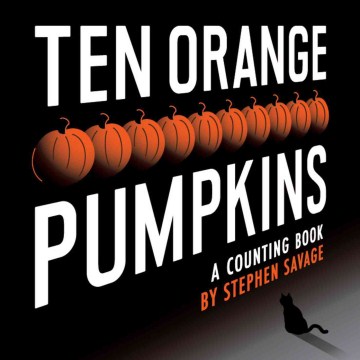 Ten Orange Pumpkins: A Counting Book by Stephen Savage, 2013
(Ages 2 and up)
This Halloween-themed counting book uses simple rhymes and engaging graphic illustrations to count down a group of pumpkins from ten to one. The pumpkins disappear in amusing ways drawing readers in. A variety of traditionally creepy characters are included such as a mummy, witch, and ghost, but they are seen smiling and enjoying their new pumpkins. The pictures are large and bold and the inviting text makes this a fantastic story to read aloud to young children.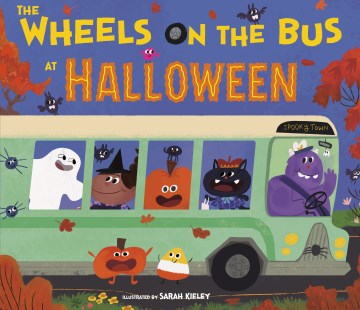 The Wheels on the Bus Halloween by Sarah Kieley, 2021
(Ages birth and up)
Kids will love singing along to the tune of Wheels on the Bus while acting as ghosts, witches, bats, and monsters in this eerie-sistable story that is perfect for toddler or preschool storytimes!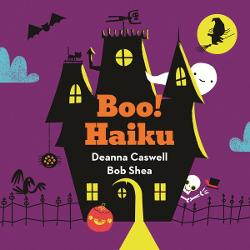 Boo! Haiku by Deanna Caswell; illustrated by Bob Shea, 2016
(Ages 2 and up)
Using short poems in a haiku format, the text and illustrations give a hint to a well-known spooky creature that one might see during Halloween: "broom across the moon/ pointed hat at the window/ hair-raising cackle/ can you guess who from this haiku?/ Boo! It's a witch!" The interactive book brings poetry alive as children eagerly guess what the next creature will be. Bob Shea's illustrations are more friendly than spooky making this an excellent Halloween read aloud for young children. The book ends with an author's note explaining the art of haiku. If you enjoy this format, check out Guess Who Haiku also by Caswell and Shea.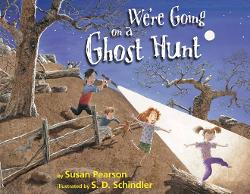 We're Going on a Ghost Hunt by Susan Pearson; illustrated by S.D. Schindler, 2012
(Ages 2 and up)
Inspired by Helen Oxenbury and Michael Rosen's classic, We're Going on a Bear Hunt, a group of children travel through various spooky scenes while searching for a ghost. It's rhythmic text makes this a perfect story to read out loud to a class or enjoy one on one. When I read this to my Pre-K students I encouraged them to stand up and act out the different actions in the story. Just as the children in the book look forward to their next ghost hunt, children reading the story will want a repeat as well.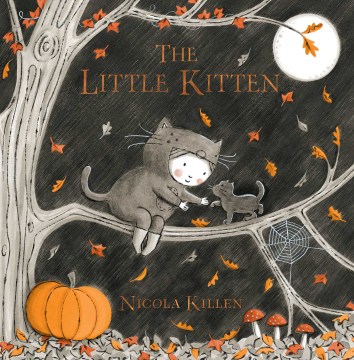 The Little Kitten by Nicola Killen, 2020
(Ages 3 and up)
With its beautiful golden foil leaves, engaging die cut pages, and a sweet storyline, there is a lot to love about this enchanting book! When a little girl dressed as a cat discovers a lost kitten, she helps it find its home and receives a surprising gift in return. My daughter absolutely adores this magical series and this gorgeous fall-themed installment is a new favorite in our house.
(Ages 3 and up)
This adorable book follows a young girl who uses flowing rhymes to describe all the possible costumes she could create. I particularly love how she focuses on making her own Halloween costume instead of buying one. Each idea is more charming than the next and the conclusion is so perfect and satisfying.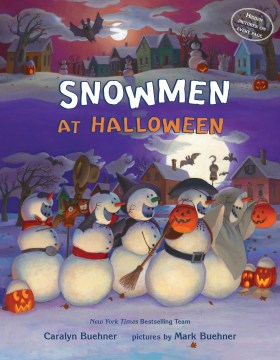 Snowmen At Halloween by Caralyn Buehner; illustrated by Mark Buehner, 2019
(Ages 3 and up)
The latest installment of this popular series is just as endearing and charming as you would expect. When snow falls early one autumn, two children dress up their snowmen in Halloween costumes and imagine the fun adventures they could have at night. The illustrations hold a number of entertaining details and the upbeat rhymes make this a perfect read aloud for a group of young children as well as one-on-one.
Duck and Goose Honk! Quack! Boo! (series) by Tad Hills, 2017
(Ages 3 and up)
We read this book on repeat when my kids were toddlers. Our entire family could not get enough of the charming friendship between Duck and Goose!
As the two besties prepare for Halloween, another friend named Thistle warns them to look out for the Swamp Monster. Duck and Goose channel their costumes of a super hero and ghost to bravely face the Swamp Monster only to discover it is Thistle's costume. This delightfully amusing story contains just the right amount of drama for young children.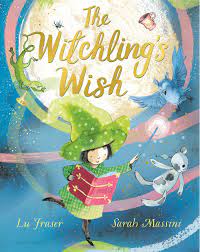 The Witchling's Wish by Lu Fraser; illustrated by Sarah Massini, 2022
(Ages 4 and up)
Oh, how I adore this enchanting story! The bubbly rhymes just flow off the tongue and the charming illustrations are filled with delightful details. When Little Witchling longs for a friend, she casts a spell to find one. In her search for her last ingredient, a one-eyed Teddy Bear, she also finds the bear's owner and what it means to be a true friend. This story could not be sweeter!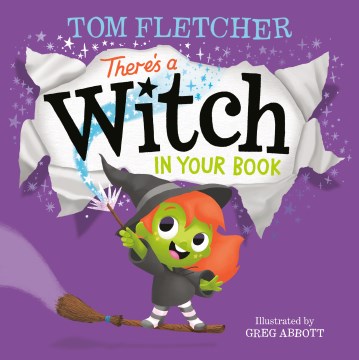 There's a Witch In Your Book by Tom Fletcher; illustrated by Greg Abbott, 2021
(Ages 3 and up)
Interactive stories are always a hit with kids and we are thrilled to see a new Halloween installment to Tom Fletcher's popular series! When a witch lands in a book and begins to cause mischief, children are invited to block her spell and use their fingers as a wand to create magic of their own.
With bright, adorable illustrations and an amusing plotline, there is a lot to love about this clever new book that is sure to be enjoyed not only during Halloween, but all year long!
A Wee Boo by Jessica Boyd; illustrated by Brooke Kerrigan, 2022
(Ages 4 and up)
Wee Boo has a problem. She is so cute, she has trouble scarring anyone and earning her haunting license. In a delightful twist, she finds just the right job for an adorable little ghost. With such a charming character, this amusing story is an excellent read aloud for Halloween and all year long!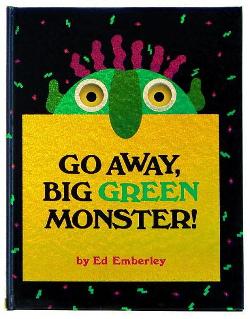 Go Away Big Green Monster by Ed Emberley, 1992
(Ages 3 and up)
This is a Halloween classic that I still read every year. The story begins by introducing all of the features of a monster: "two big yellow eyes/ a long blue nose/ a big red mouth" that appear through die cut illustrations. Then halfway through the story, the brave narrator asserts, "You don't scare me! So GO AWAY squiggly purple hair", etc. until all of the monster's features have been named. The book ends with the narrator telling the monster to go away and "don't come back! Until I say so." This is a great story to empower young children to conquer their own fears of creepy creatures.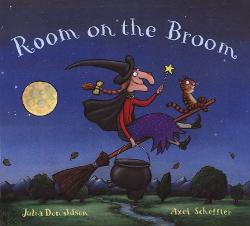 Room on the Broom by Julia Donaldson; illustrated by Axel Scheffler, 2001
(Ages 3 and up)
A kind-hearted witch riding her broom one dark and stormy night loses articles of clothing, which are found by a dog, a cat, a bird, and a frog. When they each ask for a ride on the broom, she says yes until they become so heavy that the broom breaks in two. The witch falls into the clutches of a dragon. Luckily, she is saved by her new friends. This sweet story of friendship is a perfect Halloween read for young children.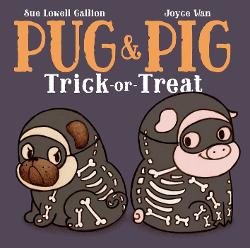 Pug and Pig Trick-or-Treat (series) by Sue Lowell Gallion; illustrated by Joyce Wan, 2017
(Ages 3 and up)
Pug and Pig are two best friends who do everything together including wearing the same skeletal costume at Halloween. While Pig loves the snug fit, bones that glow in the dark, and mask, dog dislikes all of these features and decides he is done with Halloween. Then he sees how important the holiday is to his best friend and in an unselfish act, he finds a creative new costume and accompanies his friend trick-or-treating.

This book is just adorable! Pug, Pig, and their surroundings are sweetly illustrated creating a cheerful tone to this delightful Halloween story.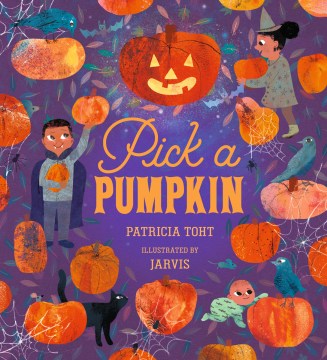 Pick a Pumpkin by Patricia Toht; illustrated by Jarvis, 2019
(Ages 3 and up)
This beautifully illustrated treasure follows a family as they pick a pumpkin at a farm and transform it into a jack-o-lantern. The simple, rhythmic text does a wonderful job of capturing the fun of the fall season and the magic of childhood during this time of year.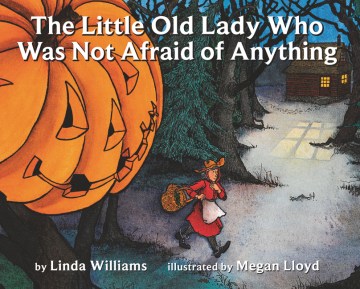 The Little Old Lady Who Was Not Afraid of Anything by Linda Williams; illustrated by Megan Lloyd, 1986
(Ages 4 and up)
This classic story is one of my absolute favorites to read aloud to preschool-age children. When a little old lady is walking through the woods, she encounters a pair of shoes, gloves, pants, shirt, and pumpkin that all try to frighten her. In a satisfying ending, they find a better use of their time that makes everyone happy. The clever use of onomatopoeia makes this a book that children love to participate in.
Halloween Hustle by Charlotte Gunnufson; illustrated by Kevan J. Atteberry, 2013
(Ages 3 and up)
When a clumsy skeleton is invited to a Halloween party, he and his friends boogie on down the road to the big bash. The upbeat rhymes to this toe-tapping story are sure to make little ones want to dance themselves.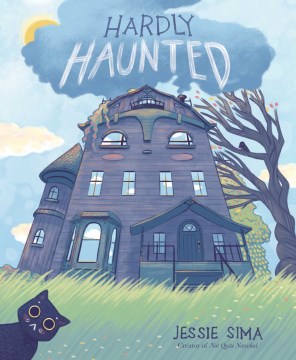 Hardly Haunted by Jessie Sima, 2021
(Ages 4 and up)
This charming story stars a rundown house that journeys through self-discovery searching for the perfect family to make it a home. Filled with ghostly onomatopoeia, this alluring book is an excellent fall read aloud that we can't get enough of!
(Ages 5 and up)
This hilarious story had both my children and me laughing out loud. When a little boy dressed as Frankenstein prepares to head out trick-or-treating, his concerned parents try to arm him with galoshes, earmuffs, and all sorts of gear to make his night as comfortable as possible. The boy rebukes his parent's offerings and enters the cold, wet night only to realize that mothers and fathers really do know best. The humorous artwork and over-the-top text make this book so much fun to read aloud. It is without a doubt one of our favorite new Halloween stories that I am sure we will be rereading for many years to come.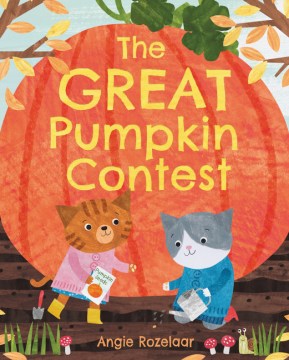 The Great Pumpkin Contest by Angela Rozelaar
(Ages 4 and up)
This story about competition and collaboration could not be sweeter. When two cats who are neighbors both enter a pumpkin growing contest, they find that a blossoming friendship could be a better prize than a first-place ribbon. The illustrations and storyline are adorable making this a charming choice for the autumn season.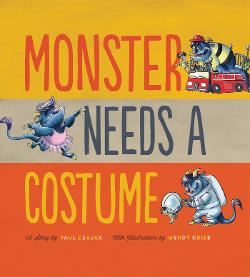 Monster Needs a Costume by Paul Czajak; illustrated by Wendy Grieb, 2013
(Ages 4 and up)
In the first installment of the Monster and Me series, the protagonist is a friendly monster who can't decide what he wants to be for Halloween. At first he wants to be a cowboy, until he sees the ballet and then wants to be a dancer, until he sees a ninja movie and changes his mind once again. I think this is a very relatable story as many children are indecisive about their Halloween costumes each year. I really enjoyed the ending where the monster decides to combine all of his costumes and trick-or-treat as a cowboy-ninja-dancer. It leaves readers with the positive message that it is okay for children to pursue their passions, whatever they may be.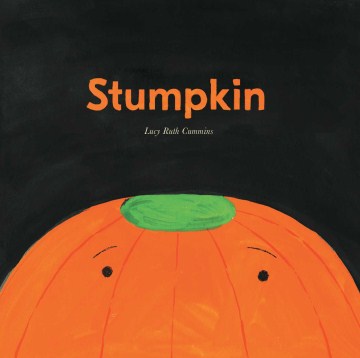 Stumpkin by Lucy Ruth Cummins, 2018
(Ages 4 and up)
A stemless pumpkin spends his days in front of a store longing to be chosen and transformed into a jack-o-lantern. When Halloween finally arrives and he has yet to be picked, he fears the worst. In a dramatic visual sequence, readers watch as Stumpkin's dream comes true in an unexpected way. This endearing tale is a fun spin on pumpkin stories.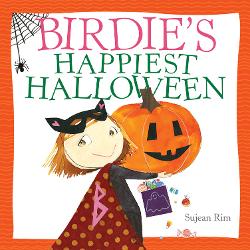 Birdie's Happiest Halloween by Sujean Rim, 2016
(Ages 5 and up)
In this installment of the Birdie series, our protagonist is searching for a Halloween costume. She visits a museum for inspiration. Some children may not know all of the historical figures referenced such as Sandra Day O'Connor, Eleanor Roosevelt and Albert Einstein, so it could be a great opportunity to introduce children to important historical icons. What children will relate to, however, is Birdie's feeling of empowerment that she can be whatever she wants… for Halloween and in life.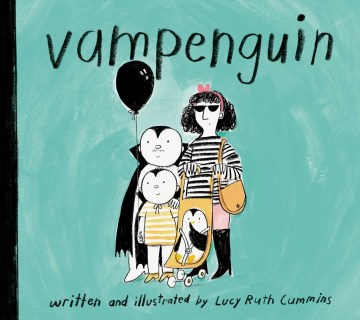 Vampenguin by Lucy Ruth Cummins, 2021
(Ages 4 and up)
From its amusing storyline to its giggle-worthy illustrations, there is a lot to love about this unique tale! While the text describes the Dracula family's seemingly ordinary visit to the zoo, the clever pictures comically capture a baby vampire switching places with a penguin. The rest of the family is oblivious to the swap, but the other animals at the zoo don't miss a thing. There is so much underlying humor in this charming story, we can't get enough of it!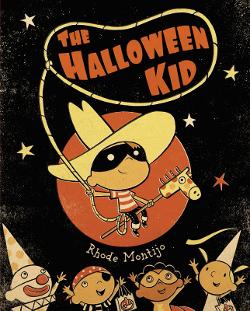 The Halloween Kid by Rhode Montijo, 2010
(Ages 5 and up)
If you're looking for a rootin' tootin' good time, this is the book for you. A throw-back to westerns from the 1950's, The Halloween Kid focuses on a hero and his horse who save their town from bad guys each Halloween. That is except for this year, when the Goodie Goblins get the best of the Halloween Kid and he has to rely on the children of the town to work as a team to save him. This is a fun story about friendship, bravery, and teamwork.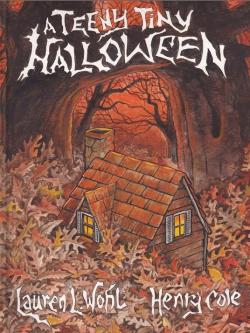 The Teeny Tiny Halloween by Lauren L. Wohl; illustrated by Henry Cole 2016
(Ages 4 and up)
Where many Halloween stories are filled with frightful creatures, this holiday offering is more subdued and creates a quaint tone that draws the reader in right away.
Once there was a tiny woman who lives in a small house in a big forest. Each year, the leaves fall on the tiny house, trapping the woman inside. She calmly bakes cookies hoping the sweet aroma will bring help.
This story leaves readers feeling happy and cozy and wanting cookies of their own!
You May Also Like