The amount of Halloween books available can be overwhelming. That's why we've narrowed down our most favorite Halloween stories all in one list. We hope you enjoy these spooktacular boooooooks as much as we do!
*This post contains affiliate links. To read my full disclosure CLICK HERE.
Room on the Broom by Julia Donaldson; illustrated by Axel Scheffler, 2001
(Ages 3 and up)
Rolling rhymes follow a kind-hearted witch riding her broom one dark and stormy night. When she loses articles of clothing, they are eagerly found by a dog, cat, bird, and frog who trade the items for a ride on her broom. Strained by the weight of the riders, the broom breaks in two dropping the animals in a swamp and the witch into the clutches of a hungry dragon. In a gratifying ending, the crafty animals ban together to save their friend and ride off for many more adventures together.
We're Going on a Ghost Hunt by Susan Pearson; illustrated by S.D. Schindler, 2012
(Ages 2 and up)
Inspired by Helen Oxenbury and Michael Rosen's classic, We're Going on a Bear Hunt, a group of children travel through various spooky scenes while searching for a ghost. It's rhythmic text makes this a perfect story to read out loud to a class or enjoy one on one. When I read this to my Pre-K students I encouraged them to stand up and act out the different actions in the story. Just as the children in the book look forward to their next ghost hunt, children reading the story will want a repeat as well.
The Little Kitten by Nicola Killen, 2020
(Ages 3 and up)
With its beautiful golden foil leaves, engaging die cut pages, and a sweet storyline, there is a lot to love about this enchanting book! When a little girl dressed as a cat discovers a lost kitten, she helps it find its home and receives a surprising gift in return. My daughter absolutely adores this magical series and this gorgeous fall-themed installment is a new favorite in our house.
Snowmen At Halloween by Caralyn Buehner; illustrated by Mark Buehner, 2019
(Ages 3 and up)
When snow falls early one autumn, two children dress up their snowmen in Halloween costumes and imagine the fun adventures they could have at night. The illustrations hold a number of entertaining details and the upbeat rhymes make this a perfect read aloud for a group of young children as well as one-on-one. My kids absolutely adore this poplar series and especially love searching for hidden items in the pictures.
Pug and Pig Trick-or-Treat (series) by Sue Lowell Gallion; illustrated by Joyce Wan, 2017
(Ages 3 and up)
Pug and Pig are two best friends who do everything together including wearing the same skeletal costume at Halloween. While Pig loves the snug fit, bones that glow in the dark, and mask, dog dislikes all of these features and decides he is done with Halloween. Then he sees how important the holiday is to his best friend and in an unselfish act, he finds a creative new costume and accompanies his friend trick-or-treating.
This book is just adorable! Pug, Pig, and their surroundings are sweetly illustrated creating a cheerful tone to this delightful Halloween story.
Pick a Pumpkin by Patricia Toht; illustrated by Jarvis, 2019
(Ages 3 and up)
This beautifully illustrated treasure follows a family as they pick a pumpkin at a farm and transform it into a jack-o-lantern. The simple, rhythmic text does a wonderful job of capturing the fun of the fall season and the magic of childhood during this time of year.
The Little Old Lady Who Was Not Afraid of Anything by Linda Williams; illustrated by Megan Lloyd, 1986
(Ages 3 and up)
This classic story is one of my absolute favorites to read aloud to preschool-age children. When a little old lady is walking through the woods, she encounters a pair of shoes, gloves, pants, shirt, and pumpkin that all try to frighten her. In a satisfying ending, they find a better use of their time that makes everyone happy. The clever use of onomatopoeia makes this a book that children love to participate in.
Halloween Hustle by Charlotte Gunnufson; illustrated by Kevan J. Atteberry, 2013
(Ages 3 and up)
When a clumsy skeleton is invited to a Halloween party, he and his friends boogie on down the road to the big bash. The upbeat rhymes to this toe-tapping story are sure to make little ones want to dance themselves.
Creepy Carrots by Aaron Reynolds; illustrated by Peter Brown, 2012
(Ages 4 and up)
Jasper Rabbit loves to eat carrots, until the day he believes the carrots are alive and stalking him that is. He begins to see carrots lurking everywhere…in the shadows, in the kitchen, even in his bathroom. Are the carrots real or could it all be in his imagination?
This award-winning book is as much fun to read aloud as it is to listen to. Hues of black and white with pops of orange draw the reader in while the clever narration provides the perfect amount of drama and humor. This one is a must have!
Creepy Pair of Underwear by Aaron Reynolds; illustrated by Peter Brown, 2017
(Ages 4 and up)
The dynamic duo who created Creepy Carrots (2012) is back with another perfectly crafted spooky tale. This time, their hero, Jasper Rabbit, is in need of new underwear. While shopping with his mother, he spots them…glowing Creepy Underwear. So creepy! So comfy! Jasper has to have them.
That night he happily sports his new undies, but once the lights go out he quickly discovers they glow a ghoulish, green light. He tries to get rid of them every way he can think of, but much to Jasper's dismay and terror, they keep coming back!
The Creepy Underwear, which resembles Frankenstein, is pictured with various comical expressions balancing the scary factor with humor. This is one of those books that children will be drawn to and want to read again and again.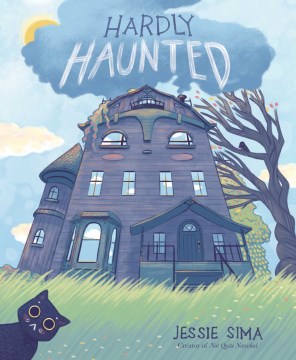 Hardly Haunted by Jessie Sima, 2021
This charming story stars a rundown house that journeys through self-discovery searching for the perfect family to make it a home. Filled with engaging onomatopoeia, this alluring book is a perfect fall read aloud that is simply irresistible!
Frankenstein Doesn't Wear Earmuffs! by John Loren, 2020
(Ages 4 and up)
This hilarious story had both my children and me laughing out loud. When a little boy dressed as Frankenstein prepares to head out trick-or-treating, his concerned parents try to arm him with galoshes, earmuffs, and all sorts of gear to make his night as comfortable as possible. The boy rebukes his parent's offerings and enters the cold, wet night only to realize that mothers really do know best. The humorous artwork and over-the-top text make this book so much fun to read aloud. It is without a doubt one of our favorite new Halloween stories that I am sure we will be rereading for many years to come.
Gustavo The Shy Ghost by Flavia Z. Drago, 2020
(Ages 4 and up)
This adorable ghost story could not be sweeter. Gustavo is a shy ghost and longs to become friends with his classmates. When he bravely shares his favorite hobby with the other creepy creatures, friendships are formed and Gustavo finally feels seen by the others despite his transparency.
Flavia Drago effortlessly integrates aspects of her Mexican culture in the vibrant illustrations creating a beautiful story that will leave readers cheering for the lovable Gustavo!
Monster Needs a Costume by Paul Czajak; illustrated by Wendy Grieb, 2013
(Ages 4 and up)
In the first installment of the Monster and Me series, the protagonist is a friendly monster who can't decide what he wants to be for Halloween. At first he wants to be a cowboy, until he sees the ballet and then wants to be a dancer, until he sees a ninja movie and changes his mind once again. I think this is a very relatable story as many children are indecisive about their Halloween costumes each year. I really enjoyed the ending where the monster decides to combine all of his costumes and trick-or-treat as a cowboy-ninja-dancer. It leaves readers with the positive message that it is okay for children to pursue their passions, whatever they may be.
Stumpkin by Lucy Ruth Cummins, 2018
(Ages 4 and up)
A stemless pumpkin spends his days in front of a store longing to be chosen and transformed into a jack-o-lantern. When Halloween finally arrives and he has yet to be picked, he fears the worst. In a dramatic visual sequence, readers watch as Stumpkin's dream comes true in an unexpected way. This endearing tale is a fun spin on pumpkin stories.
Snack Attack! by Terry Border, 2019
(Ages 4 and up)
This hilarious book had our entire family laughing out loud. When a cheese doodle, pretzel stick, and a cookie escape from their packages, they fear the monsters known as kids will gobble them up. At first, they enjoy their freedom, but after finding a note from "Mom" instructing a child to enjoy the snacks she left out, they hatch a plan to escape.
Terry Border's illustrations featuring photographs of real food brought to life with bent wire resembling glasses and limbs could not be more humorous and engaging. From cover to cover, we love everything about this amusing book!
Are You Scared Darth Vader? by Adam Rex, 2018
(Ages 4 and up)
Can one of the most frightening villains of all time be scared? An unseen narrator presents several classically scary monsters to attempt such a feat.
Using humorous dialogue, Darth Vader confirms his bravery. It isn't until a surprise ending that his armor finally cracks. Whether or not you are a Star Wars fan, this book is absolutely hilarious and will have children and many adults laughing out loud.
Fright Club by Ethan Long, 2015
(Ages 4 and up)
This Halloween book has it all.. vampires, witches, ghosts, werewolves and the spookiest of all… bunnies! You don't think bunnies can be scary? That is the mistake all of the Fright Club monsters make when they try to keep a bunny out of the club for being more adorable than frightening.
The monsters soon discover that when the bunny returns with a lawyer and other cute forest creatures, their protests can be just as scary as the monsters. In the end they work together to make this year's Halloween the spookiest of all! This wonderful book reminds everyone of the importance of inclusion and not judging a book by its cover especially when that book is a cute little bunny ready to scare everyone for Halloween.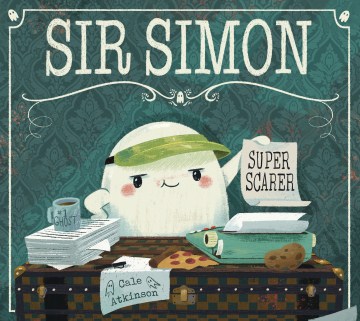 Sir Simon: Super Scarer by Cale Atkinson, 2018
(Ages 5 and up)
Sir Simon is a professional super scarer, but has met his match when he moves into a house and meets Chester, a curious child. This book is full of humor that had our family laughing out loud and left my children begging for multiple readings. This feel-good friendship story is more sweet than scary and one I know we will reread often.
Vampenguin by Lucy Ruth Cummins, 2021
From its adorable under-the-jacket reveal, giggle-worthy illustrations, and amusing storyline, there is a lot to love about this unique tale! While the text describes the Dracula family's seemingly ordinary visit to the zoo, the clever illustrations comically capture a baby vampire switching places with a penguin. The rest of the family is oblivious of the swap, but the other animals at the zoo don't miss a thing. There is so much underlying humor in this charming story, we can't get enough of it!
Samurai Scarecrow: A Very Ninja Halloween by Rubin Pingk, 2018
(Ages 4 and up)
This adorable ninja themed tale winds in spooky elements, but at its heart, it is a sweet story about sibling rivalry.
Kashi adores her older brother, Yukio, and emulates everything he does. When she wears the same Halloween costume, however, Yukio rejects her affection. Feeling remorseful, Yukio demonstrates a kind brotherly act while Kashi proves herself as a clever and brave ninja.
With its attention-grabbing illustrations and mix of tender and creepy storyline, you won't want to miss this unique Halloween tale.
Be sure to check companion book, Samurai Santa: A Very Ninja Christmas (2015)!
Sammy's Spooktacular Halloween by Mike Petrik, 2018
(Ages 4 and up)
My children love Halloween so much that they would celebrate it all year long if they could. It is no wonder they love reading about Sammy who spends an entire year preparing for his family's Halloween haunted house. He turns the Thanksgiving Turkey into a jack-o-lantern, releases spiders during an Easter Egg Hunt, and constructs a skateboarding skeleton during sleepovers. All of his hard work pays off as he and his siblings team up to create the best haunted house yet.
Filled with vivid colors and amusing situations, children are not going to want to miss this spooktacular new book!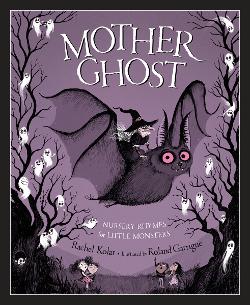 Mother Ghost: Nursery Rhymes for Little Monsters by Rachel Kolar ; illustrated by Roland Garrigue, 2018
(Ages 5 and up)
Have I mentioned yet that we LOVE updated versions of classic nursery rhymes and fairy tales? This Halloween adaptation of Mother Goose's nursery rhymes is on constant repeat at our house.
We've been having a blast reading about how Mary had a little ghost, Zombie Miss Muffet who ate the spider who sat beside her, and Old Mother Hubbard who not only found a bone in her cupboard, but a skeleton!
The rhymes are quite clever, but the illustrations are a bit on the spooky side, so I recommend this witty compilation for ages five and up.
You May Also Like: