Having grown up in Florida, I am all too familiar with the despair and destruction hurricanes can leave in their path. Whether faced with a natural disaster or another unforeseen crisis, feelings of loss and despair are sure to creep in. While picture books may not have the power to solve every situation, I do believe they have the ability to move us and give us the capacity to look at things with a new perspective.
The below books tackle the difficulty faced in times of hardship and help the reader feel less alone. Each story ends with a hopeful message of resilience that can help provide fortitude to those facing great adversities.
*This post contains affiliate links.
I am the Storm by Jane Yolen and Heidi Y. Stemple; illustrated by Kristen and Kevin Howdeshell, 2022
While the story focuses on extreme weather, its message of courage during uncertain times is universal and instills in readers a sense of strength and comfort.⠀⠀⠀⠀⠀⠀⠀
Rich artwork combined with succinct text present a sequence of events demonstrating the power of a tornado, blizzard, forest fire, and hurricane paired with serene family moments hiding away from the storms, followed by the peaceful aftermath. The uplifting text reassures readers with the knowledge that it is okay to be scared and that we will endure. This message is further reinforced by presenting a group of diverse children whose attributes mirror those of the storm, encouraging readers that they too are strong.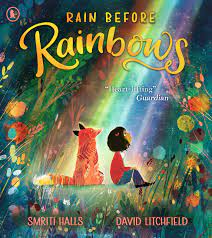 Rain Before Rainbows by Smriti Prasadam-Halls; illustrated by David Litchfield, 2021
Hope. While only four letters, this word holds infinite power. RAIN BEFORE RAINBOWS eloquently reminds readers that while there will be dark times, we will persevere and overcome our troubles to find a better tomorrow. The reassuring lyrical text is enriched with gorgeous illustrations. I am a huge fan of David Litchfield and his lush artwork never ceases to amaze me. He is well-known for his ability to play with light and this talent particularly shines in this book as it induces feelings of hope.
This stunning story has a timeless message that is sure to resonate with both children and adults.
Hurricane by John Rocco, 2021
(Ages 4 and up)
We are huge John Rocco fans and his newest book Hurricane is a real stunner! The story follows a little boy who loves fishing on a dock near his home. When a hurricane ravages the dock and most of his street, he helps his neighbors repair the damage. Upon finding the dock destroyed, the resilient boy works day after day to fix it. Ultimately, the entire community comes together and rebuilds the dock for everyone to enjoy.
Clever child-friendly analogies explain the dramatic effect of the hurricane while the rich illustrations skillfully capture the beauty of the boy's world. Best of all, readers will feel reassured and inspired by the community's ability to come together and create something good from a difficult situation.
Ten Beautiful Things by Molly Beth Griffin; illustrated by Maribel Lechuga
So much of life is about perspective and this tender and profound story teaches readers that even when we are feeling at our lowest, we can find beauty and hope in the simple pleasures of life.
Feeling hollow and empty, Lily gloomily climbs into her grandmother's car to embark upon a road trip to their new home. When her Gram challenges her to find ten beautiful things along the way, Lily is surprised by the uplifting effect each unexpected item has. As they arrive at their destination, Lily has not only found new appreciation for beauty, but also a sense of belonging and hope for the future.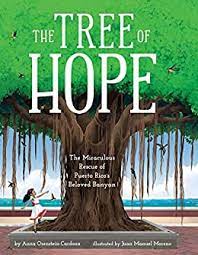 The Tree of Hope: The Miraculous Rescue of Puerto Rico's Beloved Banyan by Anna Orenstein-Cardona; illustrated by Juan Manuel Moreno, 2022
Beautifully written and illustrated, this standout story based on true events demonstrates the strength, courage, and hope that can arise after a disaster. The ancient banyan tree that stands in front of the San Juan Gate in Puerto Rico has been a beloved part of the community for decades. When a hurricane knocks the tree over, he fears this will be the end of his reign over the city. The community bands together, however, and nourishes the tree back to health. The tree's miraculous recovery continues to spark hope in the hearts of the city's inhabitants to this day.
As I read this story aloud to my children, I could feel them holding their breath when the tree was knocked down and then the joy they felt when the tree was saved. The descriptive writing style does an excellent job of drawing the reader in and leaving them with a feeling of hope for the future of Puerto Rico.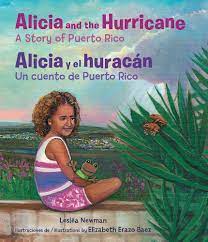 Alicia and the Hurricane: A Story of Puerto Rico by Leslêa Newman; illustrated by Elizabeth Erazo Baez, 2022
Written in both English and Spanish, this bilingual treasure does an excellent job of capturing the feelings of confusion, fear, and ultimately optimism when faced with a natural disaster. Alicia loves her home in Puerto Rico, especially when she falls asleep to the chirps of the local frogs. As a hurricane approaches, she grows nervous for both her house and the wellbeing of the frogs.
She and her family evacuate to a local shelter and return to find their home in ruins. Her family comforts her with assurances that items can be replaced and the most important thing of all is their family's safety. The community comes together to rebuild and, once again, Alicia can fall asleep to the sweet songs of los coquíes that fill her heart with hope.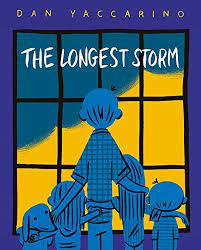 The Longest Storm
by Dan Yaccarino,
Full of hope and comfort, THE LONGEST STORM is a powerful and poignant tale that many will relate to on a variety of levels. When an unexpectant storm arrives, a family is stuck inside their home until it passes. Over time, they grow bored then angry until everyone wants to be left alone. When a bolt of lightning strikes in the night, however, it sparks a change bringing them together.
Many readers will see the storm as a metaphor for the Covid-19 pandemic, but on a deeper level the book is really about a fractured family who learns to heal and come together. While these are complex topics, the story is presented in such an authentic child-friendly way, it will both resonate and reassure readers in the power of family.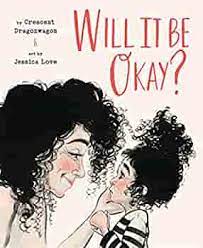 Will It Be Okay? by Crescent Dragonwagon; illustrated by Jessica Love, 2022
This is a book that parents as well as children need to read! As a young girl shares her fears with her mother, she is reassured that she can handle any situation. From bee stings, to stage fright, to thunderstorms, and even the death of a parent, the mother provides comforting responses with the perfect amount of humor and grace.