It's Women's History Month and I have twenty NEW picture book biographies to wow and inspire children! You are not going to want to miss learning about these incredible trailblazers who changed the world!
These books are perfect for Women's History Month and all year long!
*This post contains affiliate links.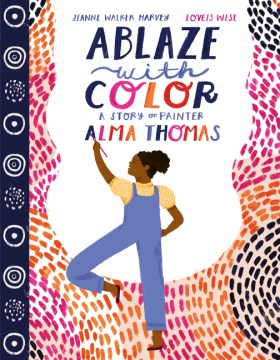 Ablaze With Color: A Story of Painter Alma Thomas by Jeanne Walker Harvey; illustrated by Loveis Wise, 2022
With a heart full of generosity and creativity, Alma Thomas spent most of her life teaching art to Black children in her community while giving them a safe place to explore their talents and pursue their passions. It wasn't until she was seventy years-old that she began focusing on her own art, creating bold, bright patterns inspired by the beauty of nature. Alma became the first Black woman to have a solo art show in the Whitney Museum in NYC. She also became the first Black woman to have a piece of her artwork permanently displayed in The White House.
Alma's joyful spirit is skillfully captured in this engaging story and its vibrant illustrations. Her dedication to helping others in her community is inspiring, as is her ability to follow her own dreams at the age of seventy. This gorgeous book is further enhanced by an author's note, timeline, and bibliography.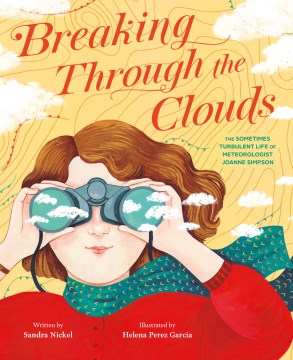 Breaking Through the Clouds: The Sometimes Turbulent Life of Meteorologist Joanne Simpson by Sandra Nickel; illustrated by Perez Garcia, 2022
This standout story is an amazing introduction to the field of meteorology and Joanne Simpson whose persistence and brilliance changed the way we look at clouds and weather today!
Joanne Simpson had a love of science from an early age. After teaching WWII pilots about the dangers of flying through clouds, she realized she wanted to learn more about them. Through hard work and determination, she broke barriers and became the first woman to receive a doctorate in meteorology, creating an entire new branch of science using clouds as a model for predicting weather.
Her resilience and fortitude is absolutely incredible and I'm so thankful for this biography to teach my kids about this amazing scientist and all she accomplished!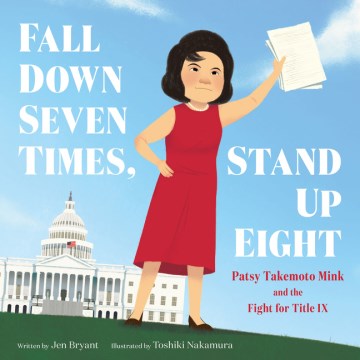 Fall Down Seven Times, Stand Up Eight: Patsy Takemoto Mink and the Fight for Title IX by Jen Bryant; illustrated by Toshiki Nakamura, 2022
Growing up in Maui, Patsy Takemoto had a Japanese Daruma doll that rolled over and sprang back up signifying that one should never give up. Patsy followed the traditional Japanese saying of "fall down seven times, stand up eight" her entire life. Despite relentless acts of discrimination, she never gave up her dream of making the world a better place. When she was rejected from medical school based on her gender, she realized that women would never have an equal opportunity unless the laws were changed. She became a lawyer and then a politician who in 1965 became the first woman of color in the U.S. Congress. Most notably, she cosponsored and fought for a bill called Title IX that required schools to treat men and women equally as students and athletes.
Patsy's rousing story is an excellent reminder of what we can accomplish with hard work, dedication, and grit.
Nina by Traci N. Todd; illustrated by Christian Robinson, 2021
(Ages 6 and up)
The story of how a young girl named Eunice Kathleen Waymon grew into the sensational Nina Simone is expertly told through engaging text and eye-catching illustrations. Though Eunice's talent for music was clear, racism prevented her from following her dreams of attending the Curtis Institute of Music. She began playing in nightclubs where she combined her love of classical music, church music, and jazz creating her own style. She changed her name to Nina Simone and as she rose in popularity, she used her voice to speak out against the injustices she saw. An author's note provides additional information on Nina's life and her dedication to the Civil Rights movement through her music.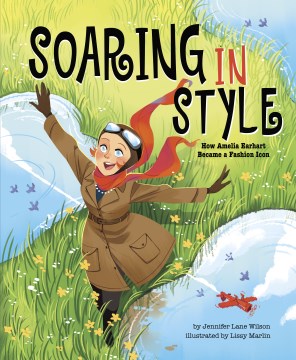 Soaring in Style: How Amelia Earhart Became a Fashion Icon by Jennifer Lane Wilson, 2022
Our family is familiar with Amelia Earhart's famed records in aviation, but we had no idea of the incredible influence she had on the fashion world! Annoyed by the restricting skirts of her time, Amelia preferred wearing trousers. She created her own fashion line filled with practical but chic attire and became America's first celebrity fashion designer. We loved learning more about this incredible innovator and her many accomplishments.
A Girl Who Could Fix Anything: Beatrice Shilling, World War II Engineer by Mara Rockliff; illustrated by Daniel Duncan, 2021
This entertaining picture book biography combines humorous illustrations with engrossing text to share the life of a noteworthy female engineer. From an early age, Beatrice Shilling realized she was not like other people. As a child, she preferred tools to candy. As she got older, she won motorcycle races and excelled in her career as an engineer. Most importantly, her brilliant mind was able to think dynamically about a problem that was causing British fighter pilots to crash. She created a cost-effective revolutionary apparatus that was able to prevent plane engines from flooding when the pilots dove during aerial dog fights. Her contributions to the war effort were critical and an author's note further describes her other impressive accomplishments.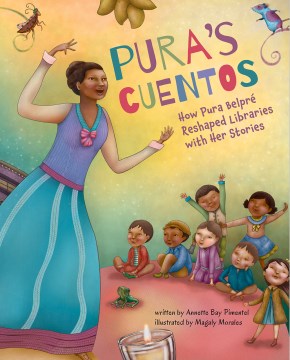 Pura's Cuentos: How Pura Belpré Reshaped Libraries With Her Stories by Annette Bay Pimentel; illustrated by Magaly Morales, 2021
Pura Belpré grew up loving the stories her abuela told. When she became a librarian in New York City, she was shocked to discover there were no stories like the Puerto Rican folktales she was raised with. She began sharing the tales of her youth at storytime and eventually wrote them into books. She was possibly the first librarian to ever offer bilingual storytimes to help new Spanish-speaking immigrants feel part of the community and become library users. Pura's lively spirit is captured in the colorful illustrations that showcase her gift for storytelling and revolutionizing children's literature.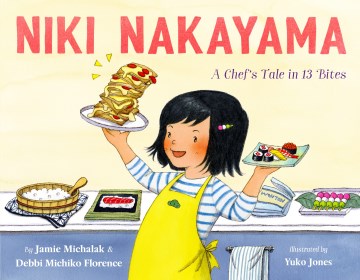 Niki Nakayama: A Chef's Tale in 13 Bites by Jamie Michalak and Debbi Michiko Florence; illustrated by Yuko Jones, 2021
Greatly influenced by both her Japanese and American cultures, Niki Nakayama became a Master Chef by expertly melding the two cultures to create a unique and delicious dining experience. This joyful story chronicles Niki's life and how food inspired her through each of life's stages. A true culinary visionary, Niki is a role model for pursuing one's passion and integrating aspects of yourself into one's career. A timeline of Niki's life is included with an explanation of two important Japanese terms and a recipe for Wonton Pizza.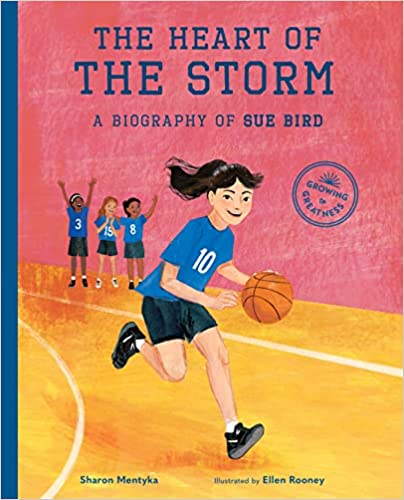 The Heart of the Storm: A Biography of Sue Bird by Sharon Mentyka; illustrated by Ellen Rooney, 2022
Though never the tallest on the team, Sue Bird used her sharp mind to study the game of basketball and excel as an athlete. After winning the NCAA championship with a perfect 39-0 season and named Player of the Year, Sue went on to play in the WNBA as well as the Olympics five times! Quite the force to be reckoned with, Sue Bird's determination and passion for basketball is inspiring to readers everywhere! An author's note, list of accomplishments, timeline, and glossary provide additional insight into this phenomenal athlete. Due to the length of the book, this story is better for reading one-on-one.
Classified: The Secret Career of Mary Golda Ross, Cherokee Aerospace Engineer by Traci Sorell; illustrated by Natasha Donovan, 2021
Due to the top-secret work Mary Golda Ross did for NASA designing spacecrafts, many people are not familiar with this accomplished aerospace engineer. Her story and accomplishments are finally being revealed in this enlightening picture book biography. As a member of the Cherokee nation, Mary lived her life according to four Cherokee values: gain skills in all areas of life, work cooperatively with others, remain humble when others recognize your talents, and help ensure equal education and opportunity to all. I love how the author wove these values into the story allowing the reader to see how her Native American principles aided in her success.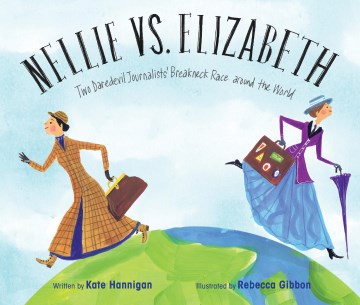 Nellie Vs. Elizabeth: Two Daredevil Journalists' Breakneck Race Around the World by Kate Hannigan; illustrated by Rebecca Gibbon, 2022
Credited as the first two female investigative journalists, this exciting story chronicles their race around the globe. Due to the popularity of Jules Verne's book Around the World in Eighty Days, Nellie Bly pitched an unthinkable idea to her editors. She was determined to travel the length of the globe is less than 80 days. When Elizabeth Bisland heard of Nellie's journey, she jumped on a boat to join the race. My kids loved following these two brave women on their globe-trotting expedition!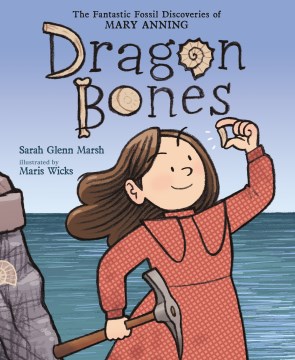 Dragon Bones: The Fantastic Fossil Discoveries of Mary Anning by Sarah Glenn Marsh; illustrated by Maris Wicks, 2021
My kids love reading about other children achieving impressive feats, so I was not surprised that they were drawn to the story of a young girl who discovered fossils in England. Mary Anning and her brother scaled the English countryside searching for treasures to sell to tourists. They found many fossils, but when they unearthed an entire skeleton of a dinosaur later named an ichthyosaur or "fish lizard", she began her journey as one of the first paleontologists. Additional facts about the fossils she found and tips on pursuing a career in paleontology are included for little dino lovers.
Stitch by Stitch: Elizabeth Hobbs Keckly Sews Her Way to Freedom by Connie Schofield-Morrison; illustrated by Elizabeth Zunon, 2021
(Ages 6 and up)
Although she was born a slave, Elizabeth Hobbs Keckly's hard work and talent at dressmaking allowed her to raise the funds to buy her freedom. Her dresses and designs were so sought after that she created dresses for Mary Todd Lincoln and even formed a close friendship with the first lady. She went on to run a successful business and give back to the Black community in a variety of ways. Quotes from Elizabeth Hobbs Keckly are woven into the text further enriching this interesting biography.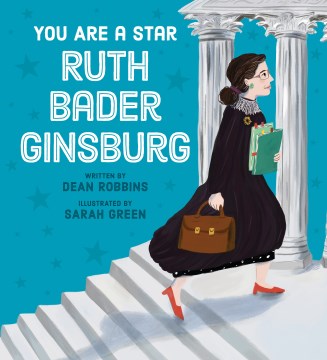 You Are a Star, Ruth Bader Ginsburg by Dean Robbins; illustrated by Sarah Green, 2022
Told from Ruth Bader Ginsburg's point of view, this insightful picture book biography introduces children to a fierce trailblazer who fought for equal rights for all as a lawyer and as a Supreme Court Judge. Break out boxes identifying fun-facts about Justice Ginsburg add amusement to her stirring story. Readers will be both entertained and inspired!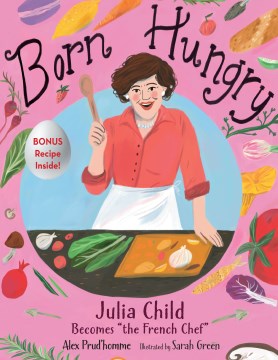 Born Hungry: Julia Child Becomes the "French Chef" by Alex Prud'homme; illustrated by Sarah Green, 2022
Julia Child's larger than life personality is expertly infused in this delightful story! Standing 6'2" tall with a booming voice, Julia was hard to miss. Before she became a famous chef, she worked in a U.S. spy agency during World War II. Her first ever recipe was for shark repellent cakes used to deter the deadly fish from soldiers and underwater mines! After meeting her husband and moving to Paris, Julia fell in love with food and against the odds became one of the most well-known chefs in the world. As a food lover myself, I absolutely loved how this charming story celebrates food and how Julia's passion led her to excel in a new career that brought the joy of cooking to so many people.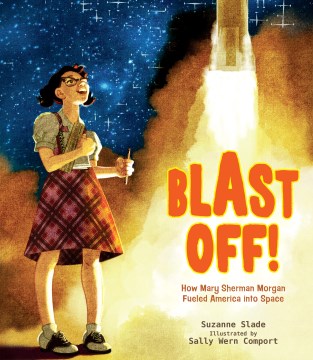 Blast Off: How Mary Sherman Morgan Fueled America Into Space by Suzanne Slade; illustrated by Sally Comport, 2022
Eye-catching illustrations fill the pages of this impressive story about chemist Mary Sherman Morgan who invented rocket fuel. Thanks to Mary's brilliant skills in science, her fuel helped launch America's first satellite into space. The informative backmatter includes a timeline, photographs, and additional information on the space program.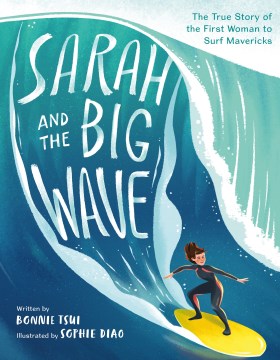 Sarah and the Big Wave: The True Story of The First Woman to Surf Mavericks by Bonnie Tsui; illustrated by Sophie Diao, 2021
Growing up in California and Hawaii, Sarah Gerhardt always loved the ocean. From a young age, she was drawn to surfing and quickly excelled at the sport. Her story is skillfully told in this engaging book culminating in a fold-out page featuring Sarah as the first woman to ride a monster wave at the famous surf spot Mavericks. Our family particularly enjoyed the history of female surfers dating back to a Hawaiian princess in 1600 who was buried with her surf board.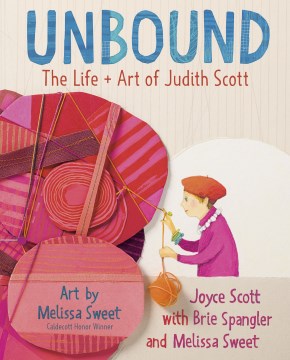 Unbound: The Life and Art of Judith Scott by Joyce Scott and Brie Spangler; illustrated by Melissa Sweet
I believe we need more stories celebrating people with Down Syndrome, so I was thrilled to find this touching tale. Unbound introduces readers to an incredible artist whose unique view of the world helped make it a more beautiful place. Written by her twin sister, Joyce Scott lovingly shares their magical childhood and the difficulty of saying good-bye when Judy moved to an institution. As an adult, Joyce couldn't bear to be without her sister and arranged for her to live with her family, finally giving Judy the freedom to thrive. She joined an incredible organization called the Creative Growth Art Center where she worked with natural materials creating colorful, unique sculptures that gained her fame in the art world.
This poignant and powerful story is made even more beautiful by Melissa Sweet's collage illustrations and the moving author's note.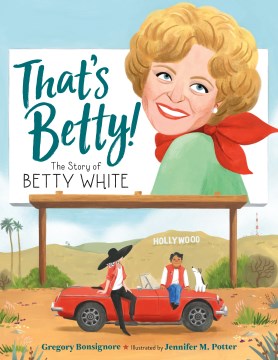 That's Betty! The Story of Betty White by Gregory Bonsignore; illustrated by Jennifer Potter, 2022
When a boy is given the assignment of writing about a female trailblazer, he picks the beloved actress Betty White. He is amazed to learn of not only her award-winning acting career, but also her work as a producer and her dedication to helping animals through the Humane Society. With an eighty-year career in television, Betty's story is sure to resonate with adults and kids!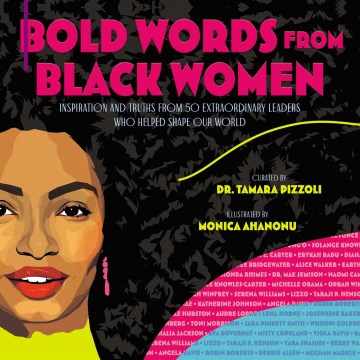 Bold Words From Black Women: Inspiration and Truths From 50 Extraordinary Leaders Who Helped Shape Our World by Dr. Tamara Pizzoli; illustrated by Monica Ahanonu, 2021
This book is simply stunning! Paired with dazzling portraits, quotations, and brief overviews, the pages of this book are packed full of powerful words and images. Many of the women included are still alive today providing children with relevant role models they can look up to.
You may also like: