I'm thrilled there are so many picture book biographies showcasing women in STEM (Science, Technology, Engineering, and Math)! These incredible stories all feature remarkable women who broke barriers and became masters in their scientific fields paving the way for future girls to pursue their own dreams.
We hope you enjoy reading about these outstanding women and their impressive accomplishments!
*This post contains affiliate links. To read my full disclosure CLICK HERE.
You can also find the following categories on my Amazon Storefront: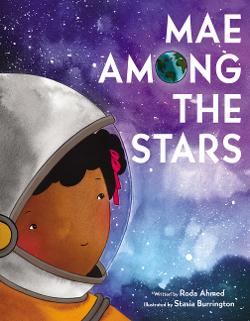 Mae Among the Stars by Roda Ahmed; illustrated by Stasia Burrington, 2018
(Ages 4 – 8)
This beautiful picture book biography uses simple text and child-friendly illustrations to show how one little girl achieved her dreams through dedication and determination.
Mae Jemison always wanted to be an astronaut. When she shares her aspiration with her teacher, however, she is deterred and encouraged to be a nurse instead. Mae is shattered by this dismissal. Luckily her supportive parents encourage her by advising, "You must always repeat to yourself: If I can dream it, if I can believe in it, and if I work hard for it; anything is possible." Mae Jemison kept these words close to her heart and worked fiercely to achieve her goal. She became both a doctor and the first African American woman in space.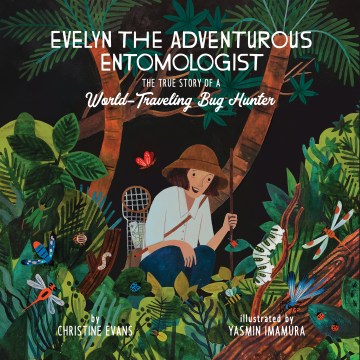 Evelyn the Adventurous Entomologist: The True Story of a World-Traveling Bug Hunter by Christine Evans; illustrated by Yasmin Imamura, 2019
(Ages 5 and up)
Evelyn Cheesman loved exploring the grounds of her English home stuffing her pockets full of the interesting bugs she came across. Though she longed to be a vet, she settled for becoming a canine nurse since women were not allowed to be doctors in the early 1900's. With the absence of many men during the WWI, Evelyn seized the opportunity to become the first female in charge of the insect house at the London Zoo. To the joy of many, she filled the once empty tanks and breathed life into the insect house. She pursued her passion and traveled the world in search of new species.
This entertaining book capitalizes on her daring adventures in far off places demonstrating Evelyn's bravery and achievements in science. This charming story is sure to inspire young children that they can accomplish anything they put their minds to!
The Amazing Scientists Series by by Julia Finley Mosca; illustrated by Daniel Rieley
(For ages 5 and up)
I am absolutely loving the picture book biographies created by Julia Finley Mosca and Daniel Rieley. The narration style addressing the reader directly, pulls children into these phenomenal stories about brilliant women who have overcome adversity to accomplish great things. The cartoony illustrations paired with flowing rhymes give the stories a child-friendly tone making these heroes' tales more accessible. Best of all, they end with an inspirational letter from each scientist and contain tons of extensive backmatter providing curious children with more in-depth details about the women's lives and accomplishments. This series is an excellent choice for reading aloud to a group of children.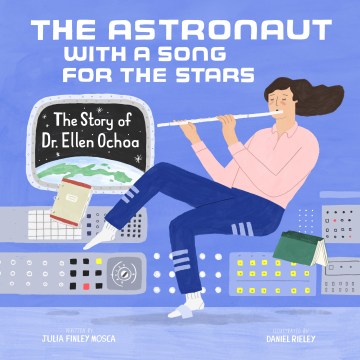 The Astronaut With a Song for the Stars: The Story of Dr. Ellen Ochoa by Julia Finley Mosca; illustrated by Daniel Rieley, 2019
This inspiring picture book biography shares how Ellen Ochoa followed her interests learning the flute, pursuing a career in engineering, and working hard to become not only the first Latina in space, but also the first Latina director at NASA. Things did not always come easy for Ellen. She was initially rejected by NASA, but she persevered working harder than ever earning her spot on not one, but four space missions.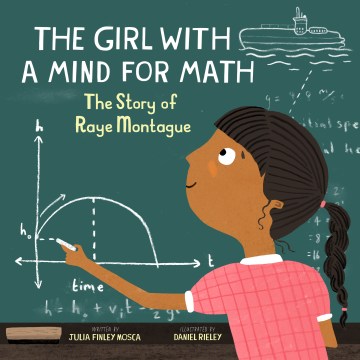 The Girl With A Mind for Math: The Story of Raye Montague by Julia Finley Mosca; illustrated by Daniel Rieley, 2018
In The Girl With A Mind for Math, readers learn about Raye Montague who diligently worked to become an exceptional engineer despite being discriminated against for being a black female. Full of brains, humor, and grit, she held her head up high and worked tirelessly until she was finally awarded the title of engineer and created groundbreaking ship designs for the U.S. Navy.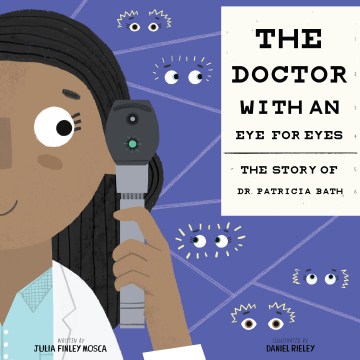 The Doctor With An Eye for the Eyes: The Story of Dr. Patricia Bath by Julia Finley Mosca; illustrated by Daniel Rieley, 2017
Bouncy rhymes inform readers how Patricia Bath followed her love of medicine to become a pioneer in the field of optometry and invent a new laser probe that could help blind people see again. The energetic text and appealing artwork bring Patricia's story alive and children will not only be impressed with her determination to achieve her goals, but also her remarkable leadership and ability to help a large number of people.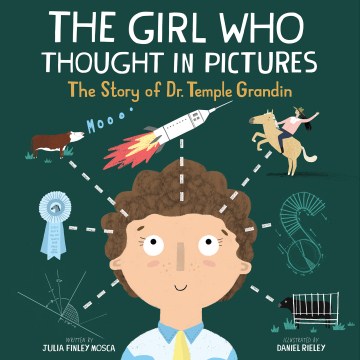 The Girl Who Thought in Pictures: The Story of Dr. Temple Grandin by Julia Finley Mosca; illustrated by Daniel Rieley, 2017
"Each person is special- so UNIQUE are our minds. This world needs YOUR ideas. It takes brains of ALL kinds." What an important lesson to learn! When Temple Grandin was diagnosed with autism as a child, few people expected her to go far life in. Her brain worked differently and while that made traditional school and some social situations difficult for her, it is also what helped her earn three degrees and understand farms and animals better leading her to invent safer and more comfortable transportation for livestock. While Temple didn't learn to speak until she was four, she now travels the world speaking to crowds and advocating for people with autism.
Not only does this book celebrate an important woman in history, it also gives children a better understanding of how someone with autism might think and feel allowing them to see that while people with autism might be different, they are certainly not less!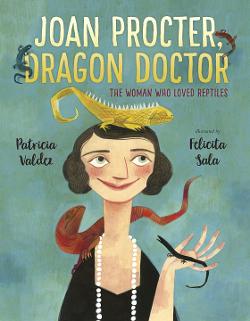 Joan Procter, Dragon Doctor: The Woman Who Loved Reptiles by Patricia Valdez; illustrated by Felicita Sala, 2018
(Ages 5 and up)
Where many of us would squirm at the sight of a snake or lizard, Joan Procter collected and studied them. She even received a pet crocodile on her sixteenth birthday! Her love of reptiles never waned and she became the curator at the Natural History Museum and then the London Zoo at a young age. Soon she was famous for her expertise and for being the first to bring Komodo dragons to Europe.
An author's note provides additional information on her amazing life as well as the history behind Komodo dragons. Joan's interesting story is set against charming illustrations making this a perfect choice for a STEM (Science Technology Engineering and Math) themed storytime or for any child who enjoys learning something new.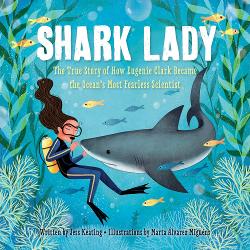 Shark Lady: The True Story of How Eugenie Clark became the Ocean's Most Fearless Scientist by Jess Keating; illustrated by Marta Alvarez Miguens, 2017
(Ages 5 and up)
My science-oriented son loves this interesting story about a determined female scientist who overcame criticism to become one of the leading zoologists to study sharks. This colorful picture book biography, introduces children to Eugenie Clark, who discovered new species of fish, published several books on sharks, and was the first to train sharks proving their intelligence. A "Shark Bite" section in the back educates readers on additional facts about sharks while a timeline shares highlights of Eugenie's impressive life.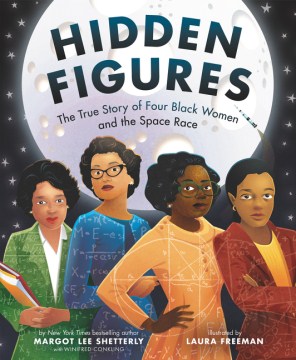 Hidden Figures: The True Story of Four Black Women and the Space Race by Margot Lee Shetterly; illustrated by Laura Freeman, 2018
This standout book introduces children to four exceptional women who used their impressive knowledge of math to help NASA launch astronauts into space and return safely. The child-friendly text shares the stories of Dorothy Vaughan, Mary Jackson, Katherine Johnson, and Dr. Christine Darden and how they combatted racism and excelled in their field. Complete with a timeline, additional biographical information on each woman, a glossary, and an author's note, this is a truly outstanding book.
Breaking Through the Clouds: The Sometimes Turbulent Life of Meteorologist Joanne Simpson by Sandra Nickel; illustrated by Perez Garcia, 2022
Joanne Simpson had a love of science from an early age. After teaching WWII pilots about the dangers of flying through clouds, she realized she wanted to learn more about them. Through hard work and determination, she broke barriers and became the first woman to receive a doctorate in meteorology. She went on to create an entire new branch of science using clouds as a model for predicting weather.
Her resilience and fortitude is absolutely incredible and I'm so thankful for this biography to teach my kids about this amazing scientist and all she accomplished!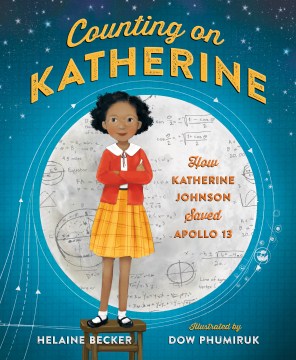 Counting on Katherine: How Katherine Johnson Saved Apollo 13 by Helaine Becker; illustrated by Dow Phumiruk, 2018
(Ages 6 and up)
Katherine Johnson has always loved math and was so intelligent, she skipped three grades in school! But because of the color of her skin and her gender, she was initially turned away from high school and denied her dream of becoming a research mathematician. She never gave up though, and eventually earned a job at NASA where she proved herself as the brilliant mathematician she was and was promoted through the space program. Katherine's contributions are legendary and her ability to think quickly saving Apollo 13 from a tragic fate is highlighted in this engaging story. Readers will be excited to learn more about Katherine and her impressive achievements in the author's note.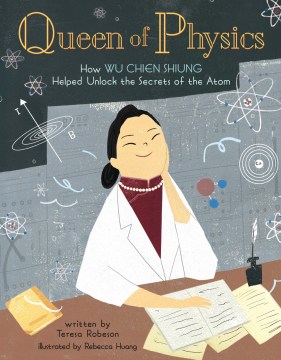 Queen of Physics: How Wu Chien Shiung Helped Unlock the Secrets of the Atom by Teresa Robeson; illustrated by Rebecca Huang, 2019
(Ages 5 and up)
Born over 100 years ago during a time when girls were not considered smart enough to attend school, Wu Chien's progressive parents pushed her to follow her dreams and become anything she wanted to be. Her name means "Courageous Hero" and after standing up to sexism and racism, she truly lived up to her name dominating her scientific field and earning the reputation The Queen of Physics. Wu Chien's extraordinary story is captured in this beautiful picture book biography encouraging children to boldly follow their passions no matter what obstacles stand in their way.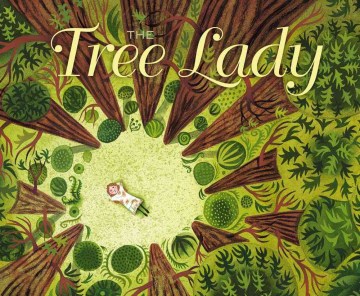 The Tree Lady: The True Story of How One Tree-Loving Woman Changed a City Forever by H. Joseph Hopkins; illustrated by Jill McElmurry, 2013
(Ages 5 and up)
From an early age, Katherine Sessions loved to explore nature and would often come home muddy and dirty. Her love of plants continued and she was the first woman to graduate from the University of California with a degree in science. After taking a job in San Diego, she was shocked by the desert landscape. She hunted for trees that could survive the arid region and soon transformed one of San Diego's biggest parks into a beautiful lush garden. This motivating story is an excellent example of how one person can make a huge impact.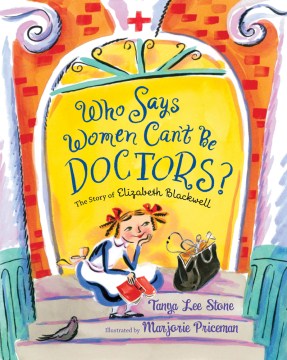 Who Says Women Can't Be Doctors? The Story of Elizabeth Blackwell by Tanya Lee Stone; illustrated by Marjorie Priceman, 2013
(Ages 5 and up)
Unlike many of the other women featured on this list, Elizabeth Blackwell did not feel an instant connection with STEM related activities as a child. She was headstrong and rambunctious, but it wasn't until a friend urged her to pursue medicine that she took becoming a doctor seriously. She applied to medical colleges, but even after receiving over twenty-eight rejections, she continued to apply until she was finally admitted to a school in New York. The students thought her admission was a joke, but she quickly proved them wrong graduating with the highest grades in the whole class. Cartoony illustrations and attention-grabbing text, make this a good choice for a read aloud to a group of children.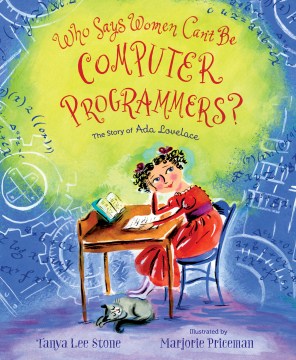 Who Says Women Can't Be Computer Programmers? The Story of Ada Lovelace by Tanya Lee Stone; illustrated by Marjorie Priceman, 2018
(Ages 5 and up)
With a vivid imagination and a mind for math, it is no wonder Ada Lovelace grew up to accomplish great things. Despite her mother's attempt to quell her creativity, there was no stopping the feisty Ada Lovelace. When she met Charles Babbage, she was thrilled to find another person she could discuss science and philosophy with. Charles inspired Ada to write scientific papers regarding a machine they were working on together, and through their research, Ada envisioned a machine that could not only process numbers, but also create things from them just like a modern computer today. Unfortunately, she and Charles could not raise the funds to build the machine and she tragically died at a young age. In her brief time, she is credited with creating the foundation modern scientists used to create the computer.
The illustrations are particularly eye-catching and cleverly display Ada's wild imagination and gift of understanding numbers. An interesting author's note describes Ada's life in more detail and provides a fascinating tidbit about her name.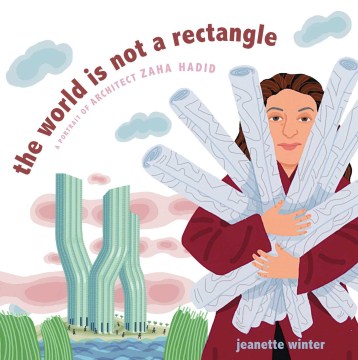 The World is Not a Rectangle: A Portrait of Architect Zaha Hadid by Jeanette Winter, 2017
(Ages 5 and up)
Inspired by the natural world, Zaha Hadid, has created breathtaking and unique architectural wonders. She overcame her initial rejections and discrimination to eventually design buildings all over the world. The impressive illustrations clearly demonstrate how Zaha's love of nature is integrated into her striking structures. Backmatter includes additional information on Zaha's buildings, quotes, and a brief bio.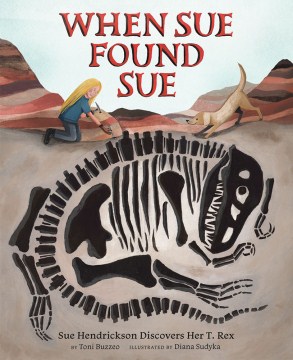 When Sue Found Sue: Sue Hendrickson Discovers Her T. Rex by Toni Buzzeo; illustrated by Diana Sudyka, 2019
(Ages 5 and up)
Sue Hendrickson was a curious child who loved to search for treasure. As a young adult, she joined diving teams exploring tropical fish and sunken boats, which led her to Dominican amber mines where she developed a passion for finding fossils. Soon she was working in the American West seeking dinosaur fossils. Led by a gut feeling, she discovered the world's largest, most complete, best-preserved Tyrannosaurus Rex fossil to date.
An author's note describes Sue's love of exploring both land and sea in more detail and also provides additional sources for reading more about this fascinating paleontologist.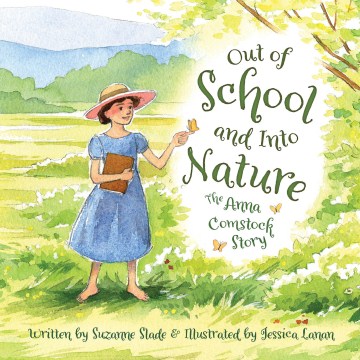 Out of School and Into Nature: The Anna Comstock Story by Suzanne Slade; illustrated by Jessica Lanan, 2017
(Ages 5 and up)
This beautifully illustrated gem, shares the story of Anna Comstock who followed her love of nature and became a scientist. When she discovered that New York schools were not teaching science, she wrote lessons for teachers who happily implemented them in their classrooms. Anna argued that children couldn't learn about nature strictly indoors, they had to experience it. News of Anna's teaching methods spread across the country and soon children all over the United States were outside observing the wonder of nature for themselves. Anna's legacy remains in the influential books she wrote with many of her famous quotes skillfully woven into the story.
Ocean Speaks: How Marie Tharp Revealed the Ocean's Biggest Secret by Jess Keating; illustrated by Katie Hickey, 2020
(Ages 5 and up)
Marie Tharp longed to be an explorer her entire life. After earning her scientific degrees, however, Marie was forced to work in a lab instead of out in the field. She never gave up her dream, however, and used the data she received to map the ocean's floor uncovering an underwater mountain range that shook scientists' knowledge of our planet. An author's note describes the importance of Marie's discovery and the legacy she left.
Code Breaker, Spy Hunter: How Elizabeth Friedman Changed the Course of Two World Wars by Laurie Wallmark; illustrated by Brooke Smart, 2021
(Ages 6 and up)
The extraordinary story of how Elizabeth Friedman who loved literature stumbled into a job breaking codes and became an expert in the field of cryptology is utterly fascinating! Because of her brilliant deciphering skills, she was able to imprison a group of smugglers during prohibition, aid the U.S. military with a cipher during WWI, and capture Nazi spies during WWII. Historians now believe that Elizabeth's ability to identify many of the Nazi's military secrets through code breaking saved thousands of lives and shortened the war.
Sprinkled with quotes from Elizabeth and adorned with attention-grabbing artwork, CODE BREAKER, SPY HUNTER is an excellent choice for sharing one-on-one with a child who is interested in STEM or history. The substantial backmatter includes more information on codes and ciphers, a code for kids to break, a description of cryptography today, a timeline, and a bibliography.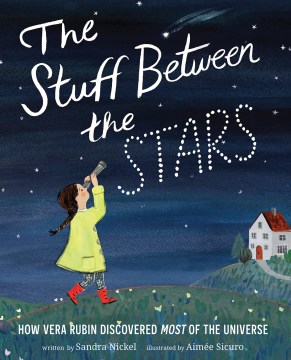 The Stuff Between the Stars: How Vera Rubin Discovered Most of the Universe by Sandra Nickel; illustrated by Aimée Sicuro, 2021
While most astronomers concentrated on the stars and planets, Vera Rubin questioned the dark space between the stars. Even after being ridiculed and dismissed by male scientists, Vera persisted in her studies, demanding to be hired as the first woman at the Carnegie Institution. Her determination paid off when she discovered dark matter and proved that it consisted of more than 80% of the universe.
I love how the imaginative artwork adds a whimsical element to the book while the text playfully winds in several celestial associations with Vera's life. Vera's passion and persistence is admirable and inspirational, making this a good choice for budding scientists.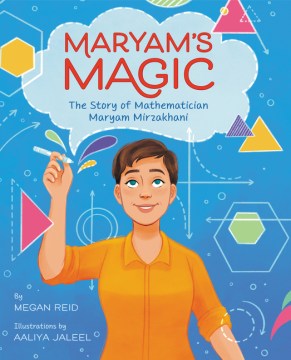 Maryam's Magic: The Story of Mathematician Maryam Mirzakhani by Megan Reid; illustrations by Aaliya Jaleel, 2021
Maryam grew up in Iran loving stories, so when she discovered that geometry was a type of mathematical storytelling, she couldn't resist learning more about it. Her brilliant brain allowed her to see things others couldn't leading her to invent "the magic wand theorem", which is used all over the world in a variety of fields. She is the first woman and the first Iranian to win the coveted Fields Medal.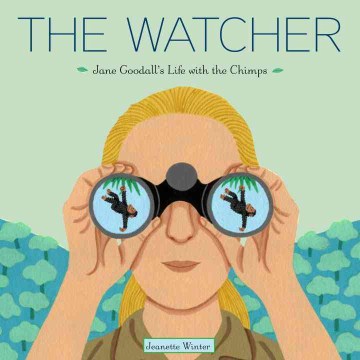 The Watcher: Jane Goodall's Life With the Chimps by Jeanette Winter, 2011
(Ages 6 and up)
As a young girl, Jane was often found observing animals, so it was no surprise that she grew into a woman that loved studying and advocating for them. After traveling to Tanzania, she patiently waited to be accepted by the chimps in the jungle then spent years learning from them. She devoted the rest of her life to teaching others about these magnificent creatures and working to protect them.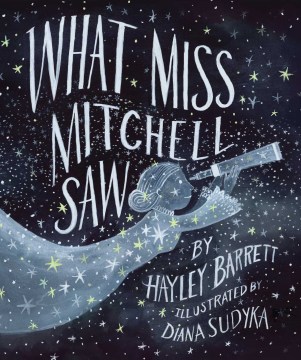 What Miss Mitchell Saw by Hayley Barrett; illustrated by Diana Sudyka, 2019
(Ages 6 and up)
Eye-catching illustrations display how a young Maria Mitchell fell in love with astronomy and grew into an educator and activist sharing her adoration for the stars. While gazing up, she was the first to notice a new comet flying overhead and received a prestigious award for her diligence. Enchanting stars are weaved into the illustrations giving this admirable tale a mesmerizing feel.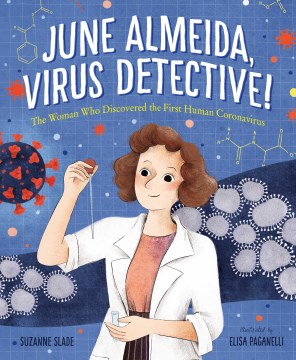 June Almeida Virus Detective: The Woman Who Discovered the First Human Coronavirus by Suzanne Slade; illustrated by Elisa Paganelli, 2021
(Ages 6 and up)
Inspired by the loss of her brother, June Almeida devoted her life to studying biology to help people with illnesses. She combined her passion for photography with science and was able to create clear pictures of viruses using an electron microscope so that scientists could better study them. Her own studies led her to identify a mysterious virus, which she named Corona due to the crownlike dots surrounding the virus.
The in-depth backmatter includes additional information about the notable scientist as well as a timeline and bibliography.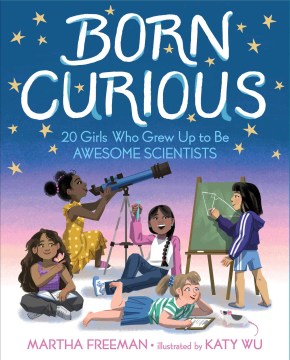 Born Curious: 20 Girls Who Grew Up to Be Awesome Scientists by Martha Freeman; illustrated by Katy Wu, 2020
(Ages 7 and up)
The stories of twenty groundbreaking women in the science field are shared in this alluring book. Each short account spans three or four pages and begins with an anecdote about the scientist as a child describing how their curiosity grew through the years leading them to break barriers and make incredible achievements in scientific disciplines.
I personally really like the format of this book. Intriguing portraits of each woman accompany their story that ends with a break out box describing their major achievement, a quote, and a fun fact. An afterward from the author provides tips based on similarities found between the woman to pursue a career in science. An index, glossary, and bibliography are also included in the back matter.
For more amazing stories about remarkable women, check out my list of BOOKS ABOUT WOMEN WHO HAVE CHANGED THE WORLD!