The below picture book biographies share the incredible stories of strong women who have persevered through discrimination, followed their passions, and excelled in their fields. I am so grateful for the women mentioned in these stories and for the many more unnamed heroes who have paved the way for our children to reach for their dreams and make them a reality.
These brilliant books are perfect for reading during Women's History Month and all year long!
*This post contains affiliate links. To read my full disclosure CLICK HERE.
You can find the following categories on my Amazon Storefront: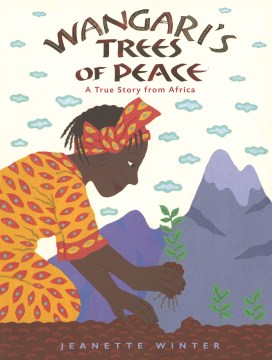 Wangari's Trees of Peace: A True Story from Africa by Jeanette Winter, 2008
(Ages 5 and up)
Wangari Maathai's story aptly demonstrates how one person can make an important impact on others' lives. After returning from a scholarship to America, Wangari finds her homeland of Kenya barren. Trees have been cut down everywhere leaving little shade to protect the crops and the women in her village must walk miles for firewood.
Wangari takes action by planting trees in her backyard and encouraging her friends and neighbors to do the same. Wangari becomes an activist for the trees and even when she is imprisoned for preventing the cutting of more trees, the other women continue planting until there are over 30 million trees in Kenya and the movement has spread to thirty other African countries.
Simple text and bold illustrations make this a good choice for a read aloud to a group of children. An author's note further discusses how Wangari inspired a nation and was awarded the Nobel Peace Prize in 2004.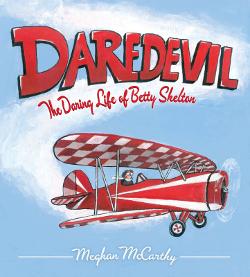 Daredevil: The Daring Life of Betty Skelton by Meghan McCarthy, 2013
(Ages 5 and up)
The extraordinary true story of the fearless Betty Skelton is brought to life through cartoony illustrations and intriguing facts. Holding records in flying, race car driving, boat racing, and being the first woman to be trained with male astronauts makes Betty Skelton a woman everyone should know about!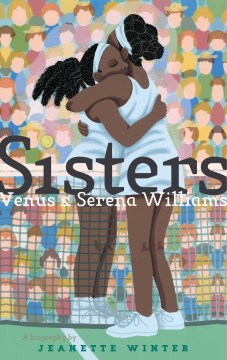 Sisters: Venus and Serena Williams by Jeannette Winter, 2019
(Ages 5 and up)
Using succinct text and dramatic illustrations, the incredible drive, passion, and love between these two tennis superstars is skillfully captured in this awe-inspiring picture book biography. Readers will learn how Venus and Serena would wake up early and clean off the garbage from the tennis courts in their Compton, California neighborhood in order to practice. They would tune out the gunfire and noise from the gangs to focus on their sport. Their hard work paid off and the girls received sponsorships to play in tournaments and eventually rise to the professional level. An author's note, glossary, and bibliography provide additional information for curious children.
Our family absolutely adores this book. The Williams' sisters focus and determination is nothing short of remarkable and we really enjoyed reading about these tennis powerhouses.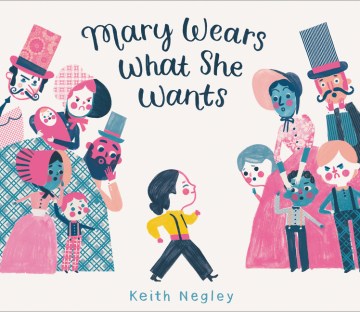 Mary Wears What She Wants by Keith Negley, 2019
(Ages 4 and up)
My daughter was shocked to learn there was a time when girls were not allowed to wear pants. Luckily, this is no longer the case thanks to strong women like Mary Edwards Walker who helped challenge social norms.
Mary Wears What She Wants shares the story of a young Mary Edwards Walker who shocked society by trading in her uncomfortable dress for a pair of pants. Despite the jeers from the townspeople, she continued to wear what she liked paving the way for other girls to have a choice in their own clothing.
Between the clever artwork, the powerful messaging, and the informative Author's note, there is so much to love about this book.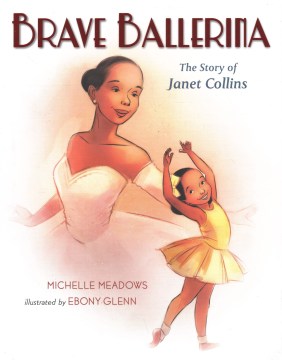 Brave Ballerina: The Story of Janet Collins by Michelle Meadows; illustrated by Ebony Glenn, 2019
(Ages 5 and up)
Rhyming text and expressive illustrations introduce readers to Janet Collins, a talented dancer who overcame prejudice and became the first African American prima ballerina in the Metropolitan Opera House. When Janet was turned away from ballet studios, she found other teachers and learned a variety of styles of dances that helped her truly master her craft and become a role model for young dancers everywhere. The lyrical nature of the text makes this an excellent choice for a read aloud.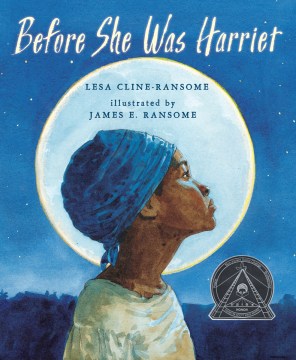 Before She Was Harriet by Lesa Cline-Ransome; illustrated by James E. Ransome, 2017
(Ages 5 and up)
This powerful picture book biography uses brief, lyrical language and beautiful, bold watercolor illustrations to introduce children to an American icon. Readers will learn how Harriet Tubman went by many names and wore many hats. She was a suffragist, a general, a Union spy, a nurse, an aunt, and an ex-slave who helped others find their freedom. Her journey through life is eloquently captured in just a few pages and her courageous spirit will remain with the reader long after closing the pages of this book
This striking story is a must read!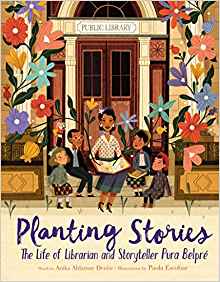 Planting Stories: The Life of Librarian and Storyteller Pura Belpré by Anika Aldamuy Denise ; illustrations by Paola Escobar, 2019
(Ages 5 and up)
Planting Stories: The Life of Librarian and Storyteller Pura Belpré shares the fascinating story of Pura Belpré who enriched children's literature with her enchanting Puerto Rican folktales. She was a pioneer, creating the first mainstream Latinx storybooks in America.
Her dream of planting seeds of stories across the United States is beautifully embodied by the gorgeous illustrations adorned with flowers. The vivid pictures paired with the engaging text that effortlessly weaves in Spanish vocabulary makes this an excellent read aloud.
Pura's legacy continues with the Pura Belpré award given each year by the American Library Association for the most outstanding work of literature by a Latinx author and illustrator.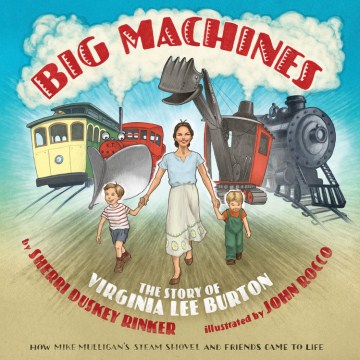 Big Machines: The Story of Virginia Lee Burton by Sherry Duskey Rinker; illustrated by John Rocco
(Ages 6 and up)
Filled with breathtaking illustrations, this enchanting book shares the magical nature of creating stories. Inspired by her children's love for big machines, Jinnee Lee Burton sketches, then perfects her timeless stories including Mike Mulligan's Steam Shovel that have brought joy to thousands of children for decades. Those familiar with Virginia Lee Burton's classic tales will relish in seeing the characters come to life in John Rocco's brilliant pictures.
An author's note and photographs are included to give additional information on the life of Virginia Lee Burton and the origins of her famous books.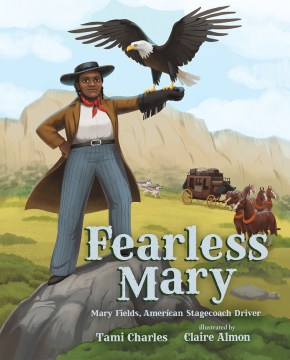 Fearless Mary: Mary Fields, American Stagecoach Driver by Tami Charles; illustrated by Claire Almon, 2019
(Ages 6 and up)
In 1895, most mail was delivered by stage coach and with the threat of outlaws and wild animals, it was an extremely dangerous job. Many thought that only white men could be brave and responsible enough for such a position, but Mary Fields proved them all wrong. Armed with her pet eagle, Mary became the first African American woman hired to drive a stagecoach in the United States.
With its concise text and action-packed illustrations, Mary's story is perfect for sharing with a group of children. My son was particularly captivated by Mary's bravery and asked to read her story multiple times.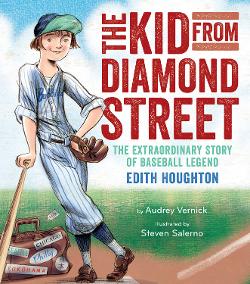 The Kid From Diamond Street The Extraordinary Story of Baseball Legend Edith Houghton by Audrey Vernick; illustrated by Steven Salerno, 2016
(Ages 5 and up)
A girl playing baseball in the 1920's? A girl playing professional baseball at the age of ten? Impossible you say? Meet Edith Houghton who tried out for the Philadelphia Bobbies while she was still in elementary school and was so good that not only did she make the team, she became the starting shortstop. Known as "The Kid", Edith became a famous baseball player who traveled the world playing against both women's and men's teams.
Photographs and additional information on Edith's life including the fact that she also became the first female scout for a professional baseball team are located in the back. Children will absolutely love this entertaining and engaging tale about a remarkable woman.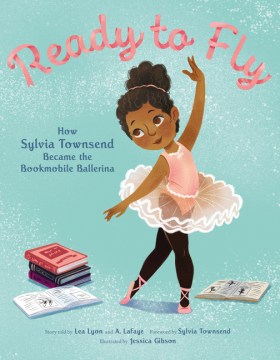 Ready to Fly: How Sylvia Townsend Became the Bookmobile Ballerina by Lea Lyon, A. LaFaye; illustrated by Jessica Gibson, 2020
(Ages 6 and up)
Sylvia Townsend was born with a passion for dancing, but when her family couldn't afford lessons, she found another way to learn. After checking out books from her local bookmobile, she taught herself how to dance and then taught her friends! When her 4th grade teacher saw her potential, she offered to pay for Sylvia's lessons, but she was turned away because of the color of her skin. Sylvia never gave up and eventually won a scholarship to a dance studio who recognized her for her talent instead of the way she looks
With her determination, grit, and ability to overcome obstacles, Sylvia Townsend is an incredible role model. The back matter provides additional information on Sylvia's life and the history of bookmobiles. Children will relish in learning more about this astonishing woman and how she helped pave the way for dancers of color.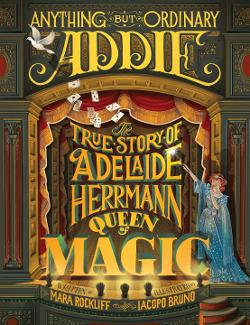 Anything but Ordinary Addie: The True Story of Adelaide Herrmann Queen of Magic by Mara Rockliff; illustrated by Iacopo Bruno, 2016
(Ages 6 and up)
This is the amazing story of Adelaide Herrmann, one of the first female magicians. She was brave, talented, and as the title suggests, anything but ordinary. Starting out as a prima ballerina, Addie longed for more adventure. While traveling, she met Herrmann the Great, a talented magician, whom she instantly fell in love with and married. When he died suddenly, she took over the show and became one of the first female magicians, continuing to wow crowds for the next thirty years.
My son was compelled by this intriguing true story. The bold illustrations brought Addie's magical world alive and the text was the perfect length for a read aloud or to share one-on-one. I personally loved reading the author's note in the back giving more insight into Addie's extraordinary life!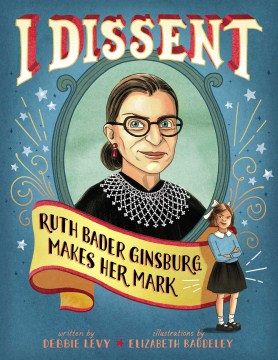 I Dissent: Ruth Bader Ginsburg Makes Her Mark by Debbie Levy; illustrated by Elizabeth Baddeley, 2016
(Ages 7 and up)
This phenomenal picture book biography does an incredible job capturing Ruth Bader Ginsburg's courageous spirit. Even at a young age, she stood up for what she believed in and challenged policies she considered to be erroneous. She overcame bias and became a successful lawyer who earned a seat as a Supreme Court Judge. She fights hard for the rights of the underprivileged and when she disagrees with the legal views of the other judges, she writes compelling arguments, one of which was so persuasive, it convinced Congress and the president to undo the court's rulings.
Filled with stirring artwork and fascinating facts about Ruther Bader Ginsburg, this is an inspiring picture book biography that should not be missed! There is also a detailed author's note and bibliography that provides additional information about this remarkable woman.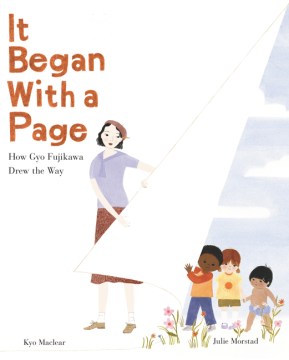 It Began With a Page: How Gyo Fujikawa Drew the Way by Kyo Maclear; illustrated by Julie Morstad, 2019
(Ages 7 and up)
It Began With a Page is the fascinating, inspirational story of Gyo Fujikawa, a trailblazer in children's literature. During a time when segregation was rampant, Gyo created picture books that featured a diverse group of babies together for the first time. Her books were wildly popular and profitable, breaking the color barrier in publishing and paving the way for more multicultural stories.
Stunning illustrations pay tribute to Gyo's accomplishments and beautifully outline her life. Difficult moments are touched upon such as the years Gyo's family spent in a Japanese internment camp during WWII, making this a better choice for elementary age children and up.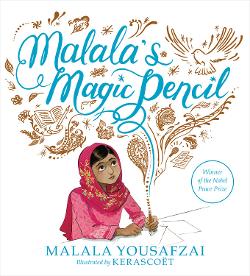 Malala's Magic Pencil by Malala Yousafzai; illustrated by Kerascoet, 2017
(Ages 7 and up)
This beautiful and awe-inspiring tale follows the true story of Malala, a young girl from Pakistan who even at a young age follows her dreams and fights for the rights of others. Even though Malala's life is difficult and tragic, she does an admirable job of making her story accessible and inspirational to all who read this stunning book.
She begins her story by describing her favorite television show in which a boy had a magic pencil that could solve any problem. At first, Malala envisions her own magic pencil that stops her brother's childish taunts, but then dreams how she can fix larger problems in the world. When she discovers that girls are not allowed to attend school, she picks up her magic pencil and argues for children's rights. Malala's voice was so strong that even the Taliban tried to silence her. The book very delicately touches upon the Taliban's attempt on her life with the words, "My voice became so powerful that the dangerous men tried to silence me. But they failed."
Malala's story is one of bravery and resilience that all children should read. She was honored for her work by being the youngest person to win the Nobel Peace Prize and now her story will be celebrated by audiences of all ages with this magnificent picture book told in Malala's own words.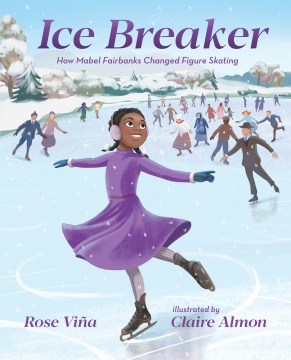 Ice Breaker: How Mabel Fairbanks Changed Figure Skating by Rose Viña; illustrated by Claire Almon, 2019
(Ages 7 and up)
Orphaned and homeless at the age of nine, Mabel Fairbanks was no stranger to hardship. This resolute girl, however, worked hard to save money and buy a pair of ice skates to pursue her fascination with skating. Even though she was denied entrance into skating clubs because of the color of her skin and was never able to achieve her dream of becoming an Olympic skater, Mabel created a career out of skating and even toured the world with ice shows.
In the 1950's Mabel turned to coaching and fought for her students to be admitted into skating clubs and to be given the star roles they deserved. Many of her students went on to become national, world, and Olympic champions. Mabel became the first African American woman inducted into the US Figure Skating Hall of Fame and even though she never fully reached her dreams, she paved the way for others to attain theirs.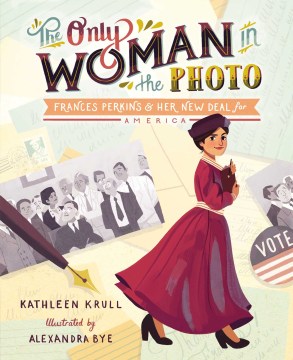 The Only Woman in the Photo: Frances Perkins & Her New Deal For America by Kathleen Krull; illustrated by Alexandra Bye, 2020
(Ages 7 and up)
What an amazing role model Frances Perkins is! Due to her quiet and humble nature, she avoided the lime light, but her astonishing accomplishments are now being shared in a new extraordinary picture book biography.
Frances Perkins was a shy child, but grew into a strong, confident woman who learned to speak out against social injustices and become an activist fighting for the rights of workers. It was hard to ignore her achievements and she was soon recognized by important political figures such as Theodore and Franklin Roosevelt. She quickly rose through the ranks of politics and became the first female Secretary of Labor during The Great Depression when America needed to completely reconstruct its work force. She worked with President Roosevelt to create the New Deal and traveled the country implementing their plan. She also worked tirelessly to pass the Social Security Act in 1935 to help protect Americans from major life hazards.
With bright, colorful pictures that highlight quotes from Frances in embellished artwork, this is an informative and engaging picture book biography that is perfect for sharing with older children.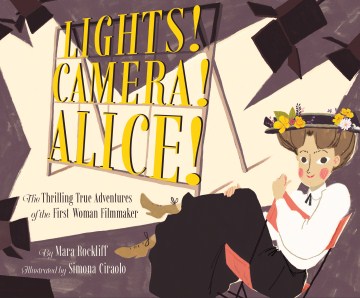 Lights! Camera! Alice! The Thrilling True Adventures of the First Woman Filmmaker by Mara Rockliff; illustrated by Simona Ciraolo, 2018
(Ages 7 and up)
As a child, Alice Guy-Blanché loved stories and when a camera that could capture moving pictures was invented, Alice knew she just had to use it to showcase stories. Alice's movies were among the first to have color and sound earning her the title "Mother of the Movies." Sadly, credit of her success was often given to her male assistants and her name almost disappeared from history until a recent discovery of her achievements.
Clever details such as using Alice's movie titles as title cards to mark important stages in her life, add to the charm of this fascinating book about a trailblazer in the film industry!
Compilations Featuring Several Female Pioneers
Shaking Things Up by Susan Hood, 2018
(Ages 5 and up)
This book is simply outstanding! Poems using a variety of formats accompanied by gorgeous illustrations highlight fourteen incredible women. Children may be familiar with a few such as Ruby Bridges and Malala Yousafzai, but the majority of these women ranging in age, ethnicity, and accomplishments will be new to them.
Children and adults will be amazed by the impressive accomplishments of each woman, including Angela Zhang, who started working on cancer research at the age of seventeen, sisters who were secret agents during WWII, the first known female firefighter, and several human rights activists fighting for the good of many.⠀⠀⠀⠀⠀
Every illustration is created by a different artist highlighting the uniqueness of each individual woman. While all very different, the women are united in their strong characters showing courage, determination, and perseverance making them wonderful role models for children today. This is a book that should be in every library.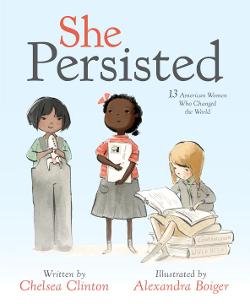 She Persisted: 13 American Women Who Changed the World by Chelsea Clinton; illustrated by Alexandra Boiger, 2017
(Ages 6 and up)
In this beautiful book, Chelsea Clinton introduces children to thirteen amazing women who overcame obstacles to make a difference in America. Readers may recognize some of the women such as Harriet Tubman and Helen Keller, but others may be new to children such as union activist Clara Lemlich, physician Virginia Apgar, and Nellie Bly, a female reporter who exposed several injustices. Each trailblazer is presented in a two-page spread with a short paragraph describing how they persisted through a difficulty in their life and went on to accomplish something remarkable. Gorgeous watercolors capture the strength of the women and are enhanced by an inspiring quote.
Hopefully the brief blurbs will peak children's interest to learn more about these important people from history as well as other groundbreakers.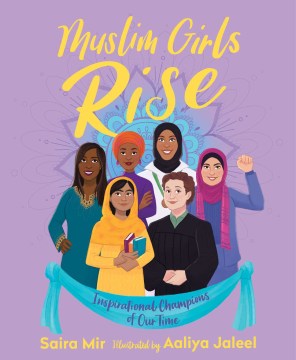 Muslim Girls Rise: Inspirational Champions of Our Time by Saira Mir; illustrated by Aalya Jaleel, 2019
(Ages 6 and up)
This empowering book presents nineteen contemporary Muslim women who have bravely made contributions in a variety of fields. Each role model is introduced with a short paragraph, quote, and colorful illustration. This is an excellent resource for acquainting children with some phenomenal women who are sure to inspire them.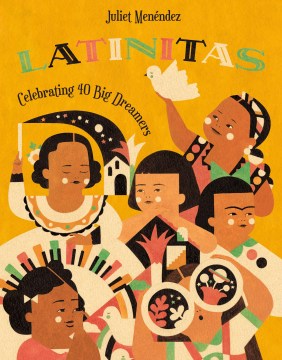 Latinas: Celebrating 40 Big Dreamers by Juliet Menéndez, 2021
(Ages 6 and up)
Stunning illustrations accompanied by a brief one-page biography introduce readers to forty remarkable Latina women who followed their dreams and achieved their goals. From activists, entertainers, athletes, and scientists these amazing women are truly inspiring.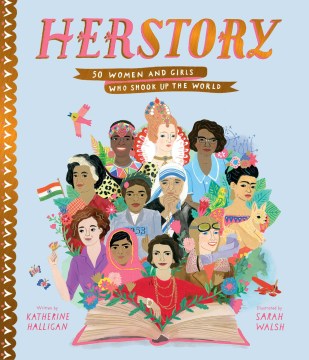 Herstory: 50 Women and Girls Who Shook Up the World by Katherine Halligan; illustrated by Sarah Walsh, 2018
(Ages 6 and up)
This incredible collection of fearless females is chock full of fascinating facts, quotes, photographs, enchanting illustrations, and most importantly, informative stories that will inspire children to reach for their dreams no matter the obstacles.
The large size of this book makes it a perfect option for snuggling up with a loved one and browsing the uplifting stories together. Useful back matter includes a photo gallery displaying each women's date of birth, a glossary of important words, and an index.
This superb book is one that deserves to be read again and again.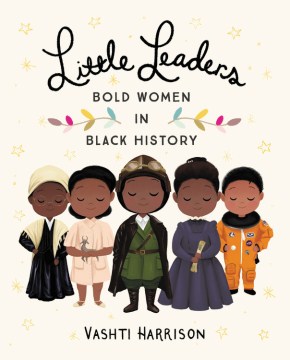 Little Leaders: Bold Women in Black History by Vashti Harrison, 2017
(Ages 6 and up)
Cartoonlike illustrations and brief one-page text draw the reader in to the awe-inspiring stories of forty women who overcame racism and sexism to change the world. This New York Times Best Seller teaches children about many lesser-known heroes who deserve to have their name in the spotlight. The stories of these important trailblazers are sure to inspire many children and teach them that anything is possible.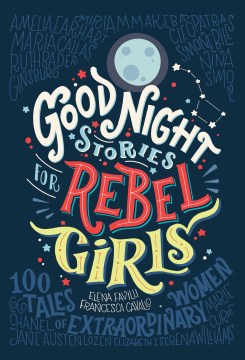 Good Night Stories for Rebel Girls: 100 Tales of Extraordinary Women by Elena Favilli and Francesca Cavallo, 2016
(Ages 6 and up)
Aimed as a bedtime book, Good Night Stories for Rebel Girls provides a one-page introduction paired with a colorful portrait to introduce children to an amazing array of women. Some stories are better written and more comprehensive than others, but this is a fun way to familiarize readers with important women throughout time.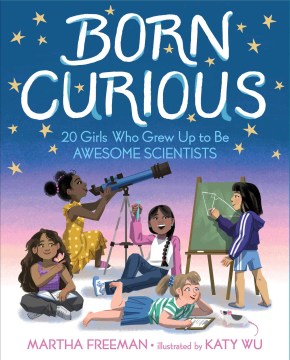 Born Curious: 20 Girls Who Grew Up to Be Awesome Scientists by Martha Freeman; illustrated by Katy Wu, 2020
(Ages 7 and up)
The stories of twenty groundbreaking women in the science field are shared in this alluring book. Each short account spans three or four pages and begins with an anecdote about the scientist as a child describing how their curiosity grew through the years leading them to break barriers and make incredible achievements in scientific disciplines.
I personally really like the format of this book. Intriguing portraits of each woman accompany their story that ends with a break out box describing their major achievement, a quote, and a fun fact. An afterward from the author provides tips based on similarities found between the woman to pursue a career in science. An index, glossary, and bibliography are also included in the back matter.
For more incredible stories about women who have changed the world, check out our list of BOOKS ABOUT WOMEN IN STEM