Writing over the summer is a wonderful way to combat the summer slide. These 5 fabulous new books provide kids with inspiration to compose their own imaginative tales. From jokes to letters to creative stories, there are a lot of helpful prompts featured in these standout books.
*This post contains affiliate links.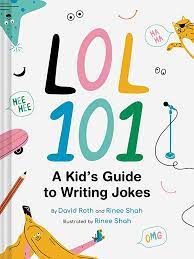 LOL 101: A Kid's Guide to Writing Jokes by David Roth and Rinee Shah, 2023
Oh, how I love this book! Teaching children to create their own jokes is a wonderful way to build language skills. The bold colors engage readers while the tips on writing jokes are not only funny, but extremely helpful! My kids had a blast thinking up their own jokes after reading this book!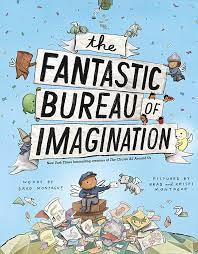 The Fantastic Bureau of Imagination by Brad Montague, illustrated by Brand and Kristi Montague, 2023
Readers are introduced to Sparky, a very special creature called a figment who delivers mail for the Fantastic Bureau of Imagination. While Sparky writes many poems, he is too nervous to share his words with the world. When one of the departments, the cave of untold stories, is on the verge of collapsing, however, Sparky must overcome his fear. He bravely writes a poem pleading with humans to share their stories to save the Bureau.
Filled with tons of engaging details, this entertaining story is a perfect way for inspiring children to access their imaginations to create. The end papers even invite children to make their own Fantastic Bureau of Imagination Badge and accept their mission to dream and do great things.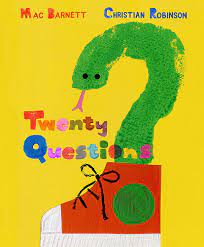 Twenty Questions by Mac Barnett, illustrated by Christian Robinson, 2023
Filled with delightful scenes from the award-winning Christian Robinson and thought-provoking questions from the brilliant Mac Barnett, this book is perfect for starting entertaining conversations. It is also an excellent tool to use as a writing prompt in the classroom or at home to hone children's storytelling skills.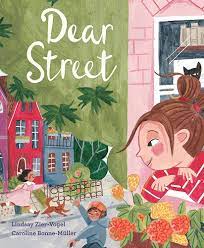 Dear Street by Lindsay Zier-Vogel; illustrated by Caroline Bonne-Müller, 2023
When Alice overhears a neighbor grumbling about the construction on their street, she decides to write a love letter to the street tucking it in an envelope for someone to find. She continues her random acts of kindness throughout the year until she ultimately grows grumpy in spring only to find someone else's note to cheer her up.
My kids were so inspired by the idea of writing love notes for others to find, they immediately created their own and left them around the house!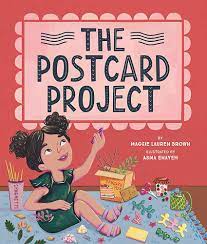 The Postcard Project by Maggie Lauren Brown, illustrated by Asma Enayeh, 2023
Lola loves spending the summers with her grandmother at the beach, but when she begins to feel homesick, she finds a way to feel connected with her parents through postcards. She creatively uses recycled materials for her postcards making each one unique and special. Directions in the back instruct readers on how to make their own postcards.
YOU MAY ALSO LIKE: