Audiobooks and podcasts have become staples in our home and in our car. They are the number one way have reduced screen time in our house. When my kids stopped napping, we would have quiet time in the afternoons where they would play in their rooms for an hour listening to an audiobook. They loved them so much, audiobooks became a favorite activity during other aspects of our day too.
In this post, I'm sharing how we listen to audiobooks as well as our favorite audiobooks and podcasts.
*This post contains affiliate links.
HOW WE LISTEN TO AUDIOBOOKS
Free Apps:
I ALWAYS check my free library apps first for books I want to listen to. If they are not available, I will then turn to Audible or Libro.fm.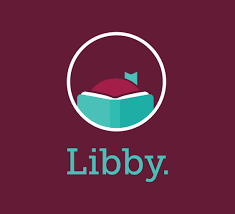 Libby: This free app from Overdrive is available through many libraries and offers a good variety of ebooks and audiobooks. It is extremely easy to use and my kids navigate it without any problems. Since it is through the library, you check out audiobooks for a certain amount of time and they are returned automatically. Sometimes there can be a wait time for popular books.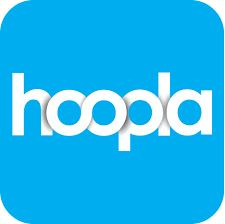 Hoopla: This is another free app available through many libraries. Hoopla not only provides ebooks and audiobooks, but also movies, magazines, and T.V. shows. Though you can access a variety of digital resources, we only use it for audiobooks. Unlike Libby, there isn't wait times, but I've found that they have a smaller selection than Libby.
Paid Subscriptions:
All of the below subscription services offer a free trial, which I highly recommend checking out before purchasing.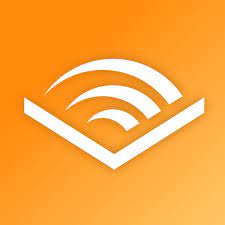 Audible: With its giant library, I can almost always find any book I want to listen to on Audible. It is a paid service where you can purchase a monthly subscription fee for a certain amount of credits or purchase books separately. I subscribe to the monthly service and use it often. I have found that there are several engaging Audible originals that are not available on other platforms. We have also found free books through Audible Plus.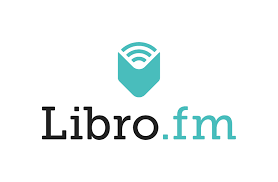 Libro.fm: This subscription service runs similar to Audible, but part of the proceeds go toward supporting local bookstores, which is a big bonus! I LOVE Libro.fm and have found their library to be extensive with lots of great sales. I subscribe to the monthly subscription and use it regularly.
Echo Dot
Echo dots are smart speakers from Amazon that have made our lives a whole lot easier! My eight-year-old and ten-year-old each have one in their room and they listen to them daily. I know that it is possible to listen to audiobooks from them, but we've only used them to listen to podcasts. Scroll down to view our favorite podcasts for kids at the bottom of this post.
AUDIOBOOK RECOMMENDATIONS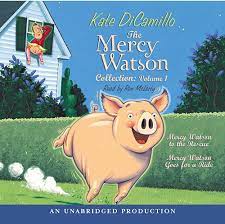 Mercy Watson series by Kate DiCamillo; illustrated by Chris Van Dusen
(Ages 4 and up)
This collection of stories about a toast-loving pig named Mercy is both charming and hilarious. Filled with interesting characters and comical antics, Mercy Watson is simply irresistible!
The Ramona Quimby Audio Collection by Beverly Cleary
(Ages 5 and up)
I'm embarrassed to say that I never read Ramona as a child, but, boy, did I enjoy listening to her grow up in this audio collection! Both my kids and I were completely charmed by the exuberant Ramona and her many adventures. We absolutely love this delightful series! We also enjoyed The Mouse and the Motorcycle and Henry Huggins also by Beverly Cleary.
My kids especially loved the Henry Huggins audiobooks narrated by Neil Patrick Harris. They were written in the 1950's, however, so there were a few offensive remarks I stopped to address while we listened. We had great discussions and my kids fell in love with Henry and his dog Ribsy!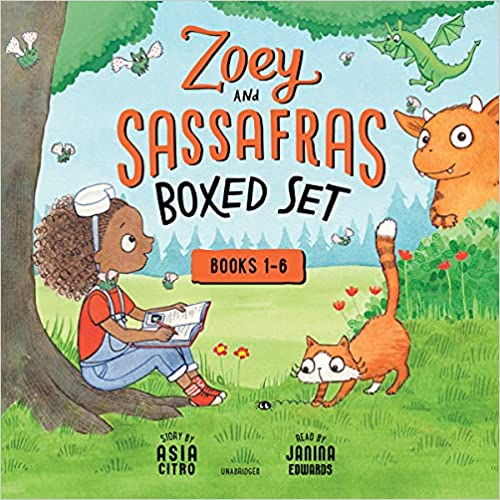 Zoey and Sassafras Boxed Set: Books 1 – 6 by Asia Citro
(Ages 5 and up)
Zoey dreams of being a scientist like her mom and when she discovers she is able to see magical creatures, she gets a chance to put her scientific knowledge to work sooner than she thought. Each story in this outstanding series follows Zoey and her cat, Sassafras, as they use science to help mysterious animals solve their problems.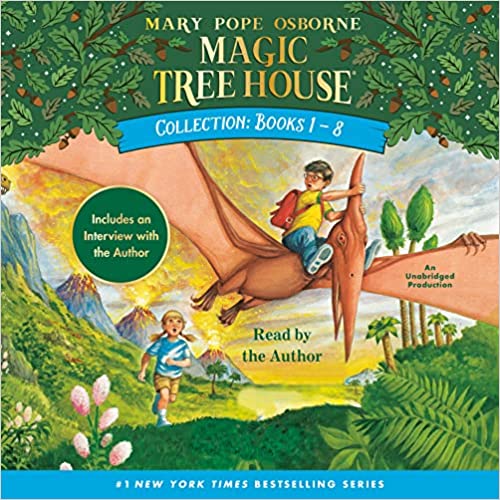 The Magic Tree House Collection by Mary Pope Osborne
(Ages 5 and up)
Full of adventure, this exciting series transports readers through time as they follow siblings Jack and Annie through history. These attention-grabbing stories are perfect for a variety of ages.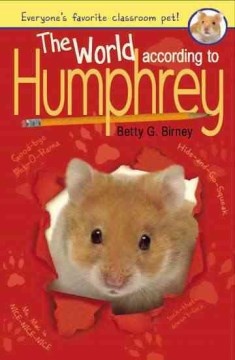 The World According to Humphrey by Betty G. Birney
(Ages 5 and up)
This little classroom pet could not be cuter! My kids absolutely adored listening to Humphrey the hamster observe and befriend all the students in Room 26 as he learned right along with them!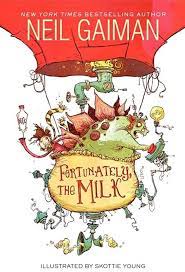 Fortunately the Milk by Neil Gaiman
(Ages 5 and up)
This quirky tale is an absolute delight. When a father returns from buying milk for his family, he regales them with the out-of-this-world adventures he had on his trip home from the store. With aliens, time travel, pirates, and utter silliness, this one is sure to entertain. As a special treat, it is narrated by the author who does a spectacular job!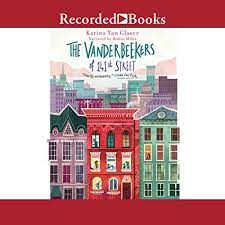 The Vanderbeekers of 141st Street by Karina Yan
(Ages 7 and up)
This heartwarming story stars the Vanderbeeker family made up of five children and their parents who reside in their beloved brownstone home in Harlem. Unfortunately, their landlord and grumpy upstairs neighbor, Mr. Beiderman, has decided not to renew their lease and they must evacuate within weeks. The plucky children immediately begin brainstorming ways to change Mr. Beiderman's mind to allow them to stay. There is wonderful character development and a lot to love about this sweet and loving family and their tight-knit-community.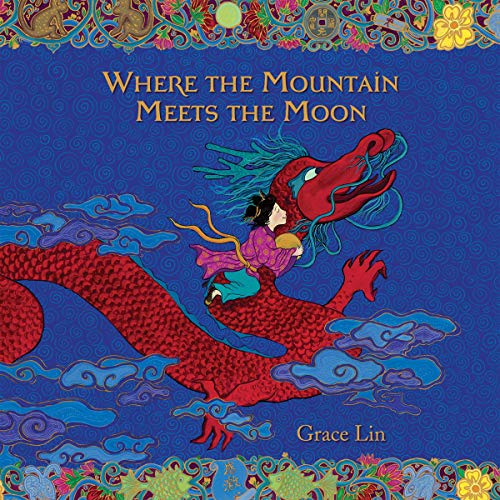 Where the Mountain Meets the Moon by Grace Lin
(Ages 7 and up)
This enchanting tale inspired by Chinese folklore is mesmerizing. Listeners will love following Minli as she journeys on a quest to find the Old Man on the Moon to find the secret of changing her family's fortune. Minli's quick wit saves her from several situations as she encounters a myriad of new friends and mythical creatures.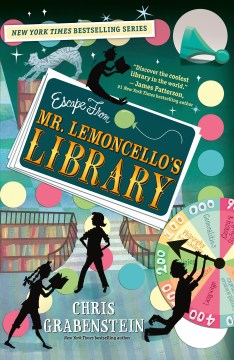 Escape from Mr. Lemoncello's Library by Chris Grabenstein
(Ages 8 and up)
Considered the world's most famous game creator, Mr. Lemoncello has quite a reputation in his home town. When he decides to build a brand-new local library filled with more than just mesmerizing stories, a group of twelve year-olds eagerly volunteer to be the first ones in. They spend the night completing challenge after challenge attempting to escape from the library and win the grand prize. Filled with puzzles, puns, and lots of fun, this book is such a joy!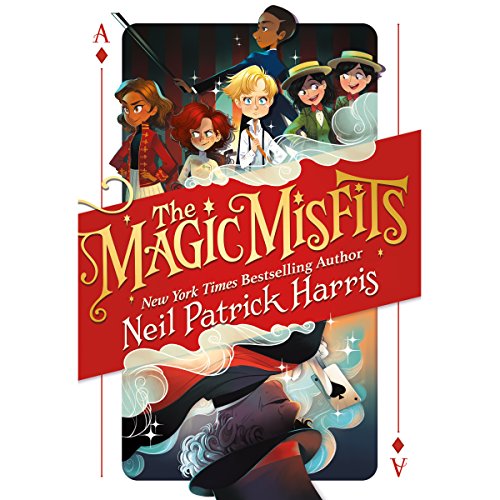 The Magic Misfits by Neil Patrick Harris
(Ages 8 and up)
My kids adored this humorous and action-packed series about a group of kids who practice magic and work together to stop an evil magician! While this series is recommended for ages 8 and up, my 6 year-old loved it and we all especially enjoyed the narration by Neil Patrick Harris.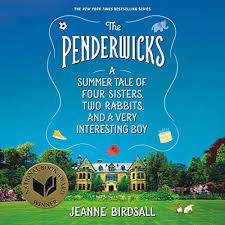 The Penderwicks: a summer tale of four sisters, two rabbits, and a very interesting boy (series)by Jeanne Birdsall
(Ages 8 and up)
This modern-day classic stars a family of four sisters who travel with their widowed father to an enchanting estate called Arundel for the summer. Each sister has a uniquely captivating personality and their adventures with a young boy named Jeffrey are nothing short of delightful!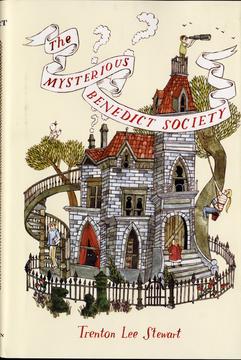 The Mysterious Benedict Society by Trenton Lee Stewart
(Ages 9 and up)
This quirky, coming of age story is such a fun read! After completing a series of tests, orphan, Reynie Muldoon, is selected to join a group of super talented kids charged with saving the world! With its unique plot line and engaging writing, this one is a real winner.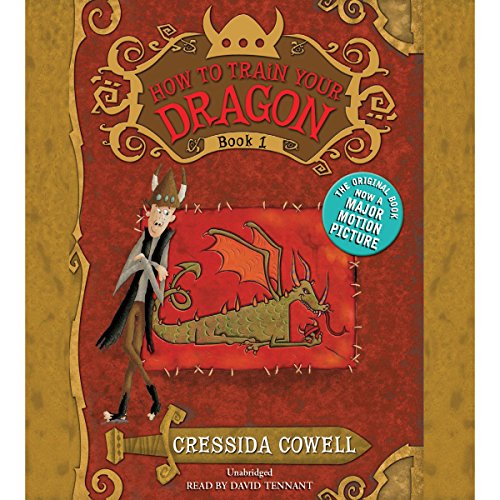 How to Train Your Dragon by Cressida Cowell
(Ages 8 and up)
Although the books are very different than the movie by the same name, my kids still loved following the humorous adventures of amateur Viking Hiccup as he finds his way in the world raising a dragon.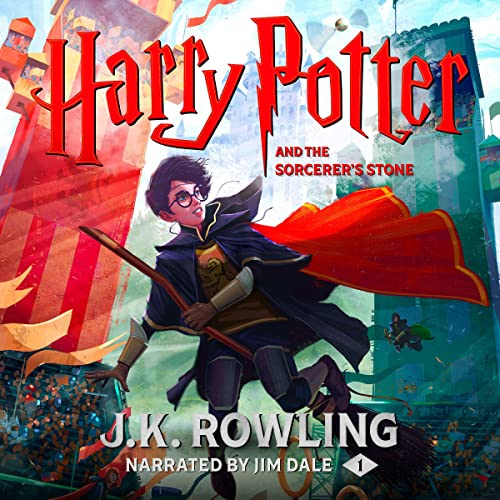 Harry Potter and the Sorcerer's Stone by J.K. Rowling
(Ages 8 and up)
I recently re-listened to this book with my children and was reminded why it is considered such a classic. The story is pure magic and I absolutely adore the way the narrator, Jim Dale, brings so many different voices to life.
I must include a disclaimer that while we absolutely adore Harry Potter and his exciting adventures, these books also contain a lot of peril and possibly scary moments for younger children. The books begin when Harry is 11 years old and as the series continues, he grows into a teenager with crushes and typical teenage angst while also fighting unspeakable evil. Our family listened to the first four and loved them although I did have to mentally prepare my children that a teenage boy is killed at the end of the fourth book. I decided to wait on the later books in the series until my children are older.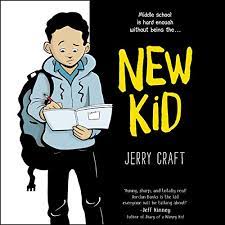 The New Kid by Jerry Craft
(Ages 9 and up)
As one of the only students of color at his new prestigious private school, Jordan tries to navigate a world of privilege while balancing his connections to his neighborhood in Washington Heights. This award-winning book skillfully mixes themes of classism and racism with humor and heart.
Even though this Newberry-Award winner is a graphic novel and you miss out seeing the illustrations highlighting the story, the audiobook presented by an ensemble cast is absolutely fantastic. I thought it was really well done and loved it.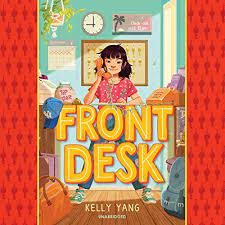 Front Desk by Kelly Yang
(Ages 9 and up)
This thoughtful and engaging story based on many events from the author's life is a must! Mia may only be ten-years-old, but she works the front desk at the motel her parents run. As Chinese immigrants, her family faces a lot of adversity including poverty and racism. It is truly impressive how Mia's hard-working attitude and desire to follow her dream as a writer guide her through difficult moments. While there is a lot of humor in this book, there are also deeper issues making this a good one to listen to as a family to discuss.
PODCASTS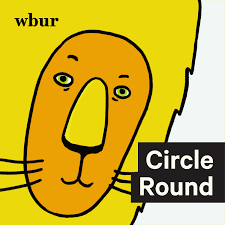 CIRCLE ROUND: This is by far our favorite podcast. It uses professional actors to share traditional folktales from around the world. We also recently discovered that they have coloring pages on their website, which my children have been loving to paint or color. A few of their stories have also been turned into picture books!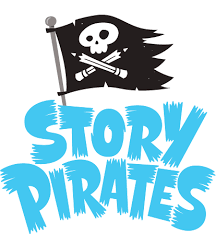 STORY PIRATES: Story Pirates is a close second favorite. It takes stories written by kids and turns them into comical skits and songs. It is super silly and tons of fun.
WOW IN THE WORLD: If you are looking for a more educational podcast, Wow in the World presents fascinating facts about a variety of topics in an engaging and entertaining way.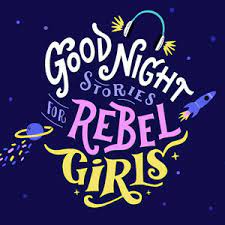 GOOD NIGHT STORIES FOR REBEL GIRLS: Based on the best-selling books, this podcast shares inspiring stories about amazing women.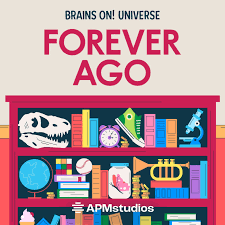 FOREVER AGO: Forever Ago provides a historical perspective on the origin of various items such as sandwiches, video games, emojis, and tons of other items that are interesting for the whole family.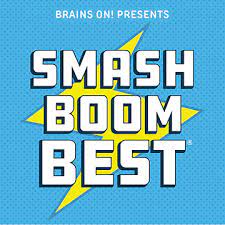 SMASH BOOM BEST: Smash Boom Best is a debate show that takes two things with kid appeal like mermaids and bigfoot and presents arguments to convince a judge and the audience which is best.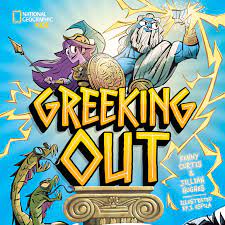 GREEKING OUT: After my son read the Percy Jackson series, he became enamored with Greek Mythology. Greeking Out is a National Geographic podcast that shares kid-friendly stories about Greek myths. My eight-year daughter old has also recently become obsessed with this one.