The water holds such an element of wonder for kids, but because it is so mysterious, it can also be scary for a lot of children. When my kids were learning to swim, they were terrified of the water. I found books to be a helpful tool for building their confidence, better understanding what to expect during their lessons, and helping to grow their excitement for the pure joy that can be found in swimming.
The following books are perfect for empowering new swimmers to take the plunge!
*This post contains affiliate links. To read my full disclosure CLICK HERE.
BOOKS ON SWIMMING LESSONS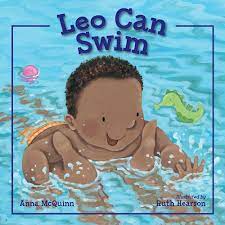 Leo Can Swim by Anna McQuinn, illustrated by Ruth Hearson
(Ages 1 and up)
This charming story follows a baby named Leo as he participates in his swim class with his father. The story expertly demonstrates each step of the class from putting on a swim diaper, to singing songs, and splashing through the water with the other children and their caregivers.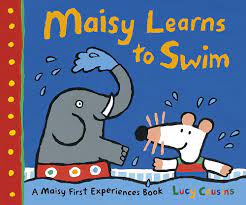 Maisy Learns to Swim by Lucy Cousins
(Ages 2 and up)
My children loved the Maisy books and this one is a great choice for preparing littles ones for their first swim lesson. From getting in the pool to floating and blowing bubbles to showering off afterwards, Maisy and her friends demonstrate how fun learning to swim can be.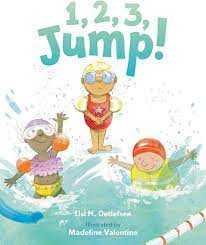 1,2,3, Jump! by Lisl H. Detlefsen, illustrated by Madeline Valentine
(Ages 3 and up)
Full of humor, this is the PERFECT book to prepare children for their first swim lesson! Readers follow a little girl as she learns what to wear to the lessons, safety expectations, and activities she will most likely perform in the pool. I love that even the smell of chlorine and the sound of the filter are addressed. This is an engaging and relatable read that should help children feel more at ease during their swim lessons.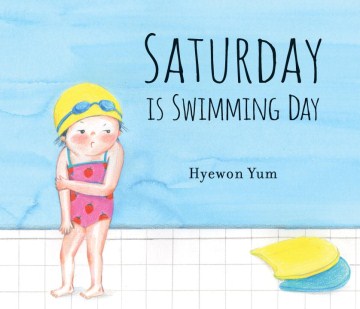 Saturday is Swimming Day by Hyewon Yum
(Ages 4 and up)
Many children are fearful of starting swimming lessons, but books like Saturday is Swimming Day can be a perfect way to teach them that while trying something new might be scary, it can also be very rewarding.
The story focuses on a realistic scenario of a young girl who tries to avoid her swimming lessons each week. Once her teacher finally coaxes her into the pool, however, the girl discovers that she loves the water. This quiet story is perfect for helping children build their confidence to try new things.
BOOKS THAT CELEBRATE THE JOY OF SWIMMING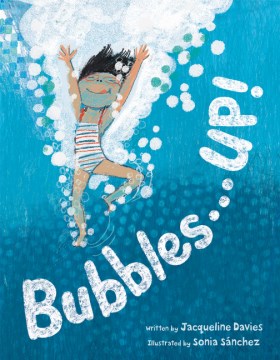 Bubbles Up! by Jacqueline Davies, illustrated by Sonia Sánchez
(Ages 3 and up)
The water holds such an element of wonder for kids and that awe-inspiring sensation of first jumping into a pool is skillfully captured in the new book Bubbles Up! !
The lyrical lines are full of whimsy and a complete joy to read aloud. My children were smiling ear to ear as they followed a young girl zooming through the water having adventures both above and below the surface. While the rhythmic text and imaginative illustrations expertly depict the magic of swimming on a hot summer day, my favorite part of this book is how it empowers young children. Swimming can be scary for some, but a book showcasing a child reveling in the utter delight of swimming is a good way to bolster them to take the plunge!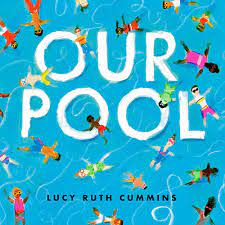 Our Pool by Lucy Ruth Cummins
(Ages 4 and up)
Our Pool uses wonderfully descriptive language and eye-catching illustrations to expertly capture the jubilance a community pool holds. The story follows a young girl as she joyfully joins her diverse neighborhood in beating the heat with a dip in the refreshing water of their city pool.
I honestly, don't know what I love the most about this book. The skillful cadence of the words that make this story a true delight to read aloud, the striking illustrations with pops of neon, or how it proficiently showcases the absolute bliss of cooling off on a hot summer day.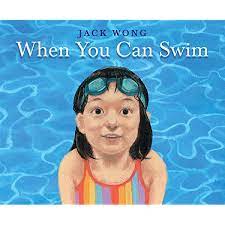 When You Can Swim by Jack Wong
(Ages 4 and up)
In this incredible book, an unseen narrator speaks of all the magnificent adventures that await a child once they learn how to swim. From playing in the waves at the beach, to floating on a lake, and discovering new worlds under the surface, there is a lot to look forward to! The descriptive language is a pleasure to read aloud while the inclusive illustrations featuring a wide array of skin tones, body types, and ages will help readers see themselves in the pages of this enchanting book.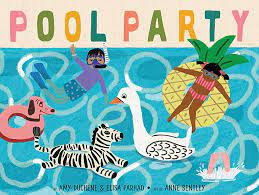 Pool Party by Amy Duchêne, Elisa Parhad, illustrated by Anne Bentley
(Ages 3 and up)
Full of onomatopoeia and eye-catching illustrations, this rhyming book captures all the fun of playing with friends at a pool.
BOOKS ON OVERCOMING FEAR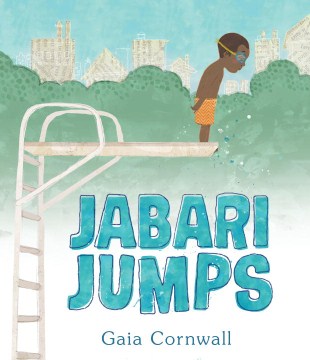 Jabari Jumps by Gaia Cornwall
(Ages 4 and up)
Gorgeous illustrations adorn this lovely book on facing your fears.
Jabari has just finished his swim lessons and is now ready to tackle the high dive at his local pool. Jabari appears confident, but hesitates when it is his turn to climb onto the diving board. His dad pulls him aside for some sound advice. "It's okay to feel a little scared. Sometimes, if I feel a little scared, I take a deep breath and tell myself I am ready. And you know what? Sometimes it stops feeling scary and feels a little like a surprise." With his father's encouragement, Jabari pushes is fear aside and takes the plunge, ready for a "surprise double back-flip" as his next feat.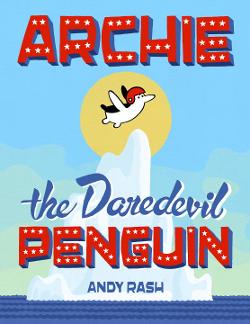 Archie the Daredevil Penguin by Andy Rash
(Ages 4 and up)
This humorous tale of overcoming one's fear is perfect for budding inventors or anyone who enjoys a comical offbeat story!
The other penguins think Archie and his inventions are quite daring, but they don't know his terrible secret that he is afraid of the water and the strange creatures who lurk in the briny deep. When he comes face to face with his fear, however, he discovers a new favorite pastime.
Readers can't help but be drawn into the colorful artwork and amusing dialogue of this hilarious story!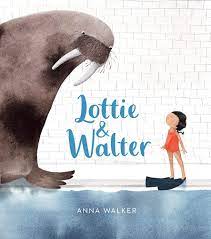 Lottie & Walter by Anna Walker
(Ages 4 and up)
Terrified that there could be a shark in the pool, Lottie refuses to participate in her swim lessons. When a giant imaginary walrus named Walter befriends her, however, she conjures the courage to jump in and discovers it's not so scary after all.
YOU MAY ALSO LIKE: