Growing up in Florida, the beach is one of my favorite places in the world. With the smell of the salt air, the feeling of the warm sand between your toes, and that magical sensation of jumping into the ocean, there is a lot to love about it. I've compiled a list of what I consider to be the best books that capture the enchantment of the seashore.
*This post contains affiliate links.
Wave by Suzy Lee, 2008
(Ages 3 and up)
This beautiful wordless picture book follows a little girl as she visits the beach for the first time. Suzy Lee cleverly uses her illustrations to demonstrate a dance between the girl and the ocean as she plays with the ebbing and flowing tide. Her emotions are skillfully captured as she timidly approaches the water at first only to roar at the breaking waves moments later. This is a delightful portrayal youthful exploration.
Swashby and the Sea by Beth Ferry; illustrated by Juana Martinez-Neal, 2020
(Ages 4 and up)
New York Times bestselling author Beth Ferry and Caldecott Honor winner Juana Martinez-Neal have teamed up to create an outstanding book that is just the right amount of humor and tenderness.
Swashby, a retired captain, prefers to live his life alone with his only friend, the sea. One day his peacefulness is interrupted by an exuberant young girl and her grandmother who move in next door. He tries to convince them to leave him alone with messages in the sand, but when parts of the message are swept away by the ocean, they have an entirely new meaning.
The gorgeous illustrations are perfectly paired with the playful text that provides a whimsical feeling to this sweet tale of intergenerational friendship.
When a Dragon Moves In by Jodi Moore; illustrated by Howard McWilliam, 2011
(Ages 4 and up)
Full of imagination, cartoony illustrations, and an amusing storyline, this is one of my kids' favorite stories about the beach. When a boy creates the perfect sandcastle, a dragon moves in causing a bit of havoc, but mostly a lot of fun!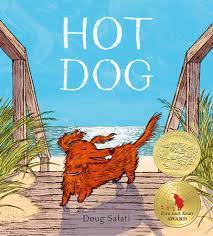 Hot Dog
by Doug Salati, 2022
(Ages 3 and up)
Utterly delightful, this charming book features an adorable dachshund who can't take the heat of a stifling day in the city for another second. After laying in the street and refusing to move, his owner whisks him away to a beach vacation where he can frolic along the shore and take in the glorious breeze. The deliciously descriptive language is beautifully matched with the expressive illustrations capturing the elements of summer. Readers can almost feel the sun on their face and the wind in their hair while reading this amusing story encapsulating the joy of a getting away.
The Sandcastle That Lola Built by Megan Maynor ; illustrated by Kate Berube, 2018
(Ages 4 and up)
With an adorable cumulative storyline loosely based on the classic, "The House That Jack Built" combined with underlying messages of inclusion and team work, The Sandcastle That Lola Built has become a quick favorite in our house.
Lola is working hard on her sandcastle when a boy accidentally steps on her creation. Instead of erupting in anger, Lola invites the boy to build with her fixing the portion he destroyed. She encounters several other mishaps with children, but each time she politely addresses them and encourages the children to join her making new friends in the process.
I love how Lola asserts herself, but in a very nice way and is welcoming to all. Her new friends range in color and age. Lola includes everyone she meets, and with this group effort, the children create a truly spectacular sandcastle. This book is delightful, charming, and perfect for summer!
Jules Vs. The Ocean by Jessie Sima, 2020
(Ages 4 and up)
Jules is determined to get her big sister's attention by building "the biggest, fanciest, most excellent" sandcastle on the beach. Unfortunately, she attempts to create her structure a little too close to the ocean resulting in a disastrous, but hilarious outcome.
I just adore Jules' can-do attitude and the loving relationship between the two sisters. Throw in the charming illustrations and droll text and this amusing book is absolutely irresistible.
Day At the Beach by Tom Booth, 2018
(Ages 4 and up)
Gideon and his sister, Audrey, usually spend the summer working as a team to create sandcastles on the beach, but this summer he vows to work alone to create the best sandcastle the beach as ever seen. He soon discovers that fame and glory are not what they are cracked up to be and sometimes spending time with loved ones can lead to the most fun.
The cartoony illustrations immediately draw the reader in and many children will relate to the realistic scenario between siblings. This is an entertaining and heartwarming summer-themed story.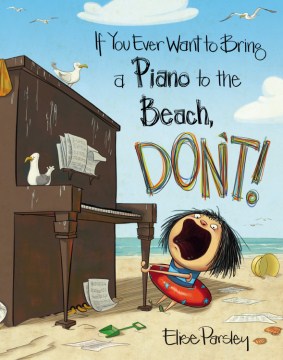 If You Ever Want to Bring a Piano to the Beach, Don't by Elise Parsley, 2016
Magnolia loves her piano so much, she brings it to the beach with ridiculously humorous results.
The expressive illustrations are laugh-out-loud funny and our family loves Magnolia so much, we've checked out every book in this hysterical series! The ending to this one is particularly gratifying.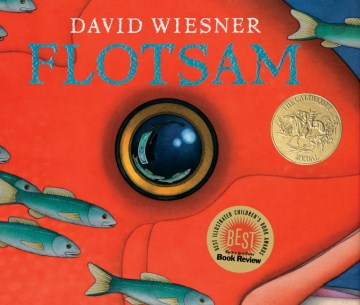 Flotsam by David Wiesner, 2006
It is no surprise that this wordless wonder is a Caldecott Medal winner. The detailed illustrations shine as the story follows a boy who finds an old camera that washes up on the shore. When he develops the pictures, he is amazed by what the camera has captured. I have yet to find a child who is not completely mesmerized by this spectacular book.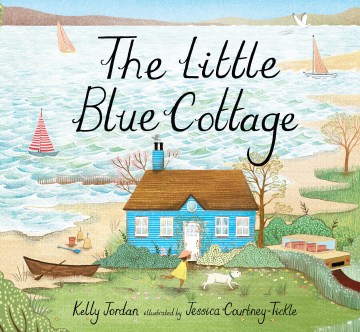 The Little Blue Cottage by Kelly Jordan; illustrated by Jessica Courtney, 2020
In this charming book, a young girl and her family vacation in a cottage by the sea. Delightfully descriptive language is perfectly paired with cheerful illustrations capturing the joyful vacation. One summer, however, the girl stays away and the cottage eventually falls into disrepair until the girl, now a woman, returns with her own children to make new memories.
⠀⠀⠀⠀⠀⠀⠀⠀⠀
This heartwarming story has a timeless feel that makes it destined to become a classic summer read.
⠀⠀⠀⠀⠀⠀⠀⠀⠀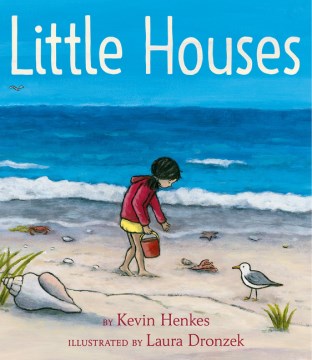 Little Houses by Kevin Henkes; illustrated by Laura Dronzek, 2022
A young girl is filled with wonder and awe as she walks the shores of her grandparent's beach house. As they search for shells, her grandmother explains that some shells are little houses, which gets her thinking of who once lived in them. Her imagination runs wild picturing who lives in the sea and where the shells have traveled. This gentle story is a beautiful depiction of a child's curiosity.
Hello Lighthouse by Sophie Blackall, 2018
(Ages 4 and up)
Hello Lighthouse transports readers to another time when lighthouses required keepers to faithfully tend to them to ensure the safety of ships passing by. While life inside the lighthouse remains mostly quiet, the illustrations skillfully capture the changing of the skies and sea morphing from blue to black, calm to stormy. All the while, the lighthouse attendant keeps his log and maintains the lighthouse. The gorgeous Chinese ink and watercolor pictures perfectly compliment the nostalgic feel of the book and earned Sophie Blackall her second Caldecott Medal.
Pig Kahuna by Jennifer Sattler, 2014
(Ages 4 and up)
Fergus and his little brother, Dink, love collecting items that wash up on shore. Fergus prefers to keep his distance from the "lurking, murky ickiness" of the ocean, but when their treasured surfboard floats away, Fergus bravely conquers his fear and retrieves their prized possession.
This feel-good story starring two charming pigs, is a fun summertime read aloud that will leave children excited to comb the beaches for their own adventure.
This Beach is Loud by Samantha Cotterill, 2019
I adore the Little Senses series that features children with sensory sensitivities. This installment stars an exuberant little boy who can't wait to visit the beach for the first time. Amusing illustrations follow him as he eagerly prepares for the big day. Once he arrives, however, he finds the beach crowded, loud, and the sand uncomfortable. His dad patiently calms him down by taking deep breaths and counting. They find a quiet spot and the boy slowly finds enjoyment in his new environment.
Ocean! Waves for All by Stacy McAnulty; illustrated by David Litchfield, 2020
(Ages 5 and up)
Another incredible installment of the Our Universe series stars Ocean who reveals several fascinating facts about our Earth's treasured waters. From its marine inhabitants to its layered zones, readers will love learning about our sensational seas. The book is further enhanced by an author's note that provides additional facts.
How to Code a Sandcastle by Josh Funk ; illustrated by Sara Palacios, 2018
(Ages 5 and up)
How to Code a Sandcastle skillfully explains the core concepts of coding in a child-friendly manner. Not only that…it's an entertaining story! Kids are going to love the idea of a robot helping build a sand castle and the comical trial and errors that ensue. Parents are going to love the little girl's determination, imagination, and perseverance in the face of adversity.
This is one that should be on every child's summer reading list. Coding is so much more than just working with computers. Understanding the basic concepts of coding also helps children build skills in problem solving and critical thinking. This amusing and educational book is a real winner!
The Big Beach Cleanup by Charlotte Offsay; illustrated by Katie Rewse, 2021
(Ages 5 and up)
Cora can't wait to practice building sand castles for the big contest at the end of the summer. When she arrives at the beach, however, she finds it closed due to the trash that has washed ashore. She and her mother pick up the litter, but when they return the next day, they find even more. Cora creates a flyer and talks to her friends and neighbors until she has organized a large group to clean the beach. Cora's initiative and determination are admirable and a perfect inspiration for readers to take up their own environmental causes. An author's note provides tips for how kids can make small changes at home to help make a big difference.
You may also like: