Going back-to-school is an exciting time to reconnect with old friends and make new ones, but it can also be a stressful time with complex emotions. The below books are excellent conversation starters on what it means to be a good friend, how to set boundaries, address cliques and process feelings of jealousy.
*This post contains affiliate links.
A Friend Like You
by Frank Murphy and Charnaie Gordon; illustrated by Kayla Harren, 2021
(Ages 4 and up)
I cannot recommend the A _ Like You series enough!! With its inspirational text, gorgeous illustrations, and meaningful messages, this series is truly outstanding!
⠀⠀⠀⠀⠀⠀⠀⠀⠀
The newest installment,
A Friend Like You,
instructs readers to be a good friend by being curious, accepting, open-minded, kind, and supportive. Each bit of advice is reinforced with examples and charming illustrations exhibiting the recommended actions.
⠀⠀⠀⠀⠀⠀⠀⠀⠀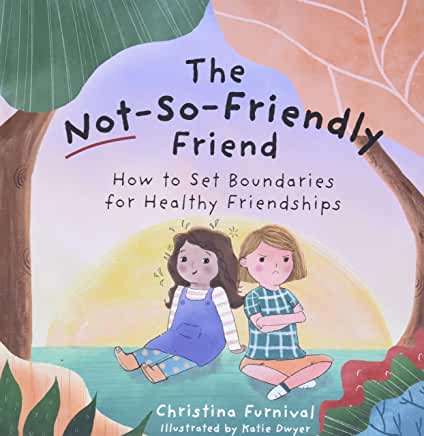 The Not-So-Friendly Friend: How to Set Boundaries for Healthy Friendships by Christina Furnival; illustrated by Katie Dwyer, 2021
(Ages 4 and up)
This impactful book is an excellent conversation starter on how to respectfully stand up for yourself and others when another child is being unkind.
When a sociable young girl is confronted by an unkind classmate, she learns to set appropriate boundaries. If the other girl is being nice, they can play and have fun, but as soon as the other girl becomes hurtful, the play ends. The girl states, "If you want to be kind, I'd be glad if you'd play, but if you don't treat me right, you can go on your way."
I really appreciate how the book shows the main character giving the other girl chances to make amends or join in, but as soon as she turns nasty, she's done. She is also encouraged to seek a trusted adult if necessary as well. The book is further enhanced by a discussion guide in the back that is helpful for parents and teachers.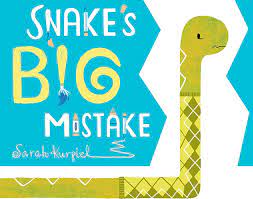 Snake's Big Mistake by Sarah Kurpiel
(Ages 4 and up)
This brilliant book tackles themes of jealousy, honesty, and making amends in such a child-friendly and relatable way. When his teacher mixes up Snake's pottery for Turtle's, Snake takes the praise without giving the credit to his friend. He feels so guilty afterwards, he breaks the pot. Though it is difficult, Snake ultimately apologizes to Turtle, confesses to the teacher, and helps Turtle make a new pot repairing their friendship in the process. This is a great addition to social emotional learning collections!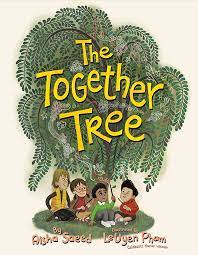 The Together Tree by Aisha Saeed, illustrated by LeUyen Pham, 2023
(Ages 5 and up)
On his first day in a new school, Rumi finds solace under an old willow tree after being bullied by a boy named Asher. When Asher's unkindness continues, another boy named Han steps in to befriend Rumi creating a chain reaction that brings more classmates together. This beautiful friendship story is an excellent conversation starter on the power of bystanders, giving people second chances, and the importance of inclusion.
Jenny Mei Is Sad by Tracy Subisak, 2021
(Ages 4 and up)
This beautiful friendship story teaches kids the importance of accepting friends for who they are and loving them during the good times and the bad. Jenny Mei is funny and kind, but also struggles with some bigger emotions that occasionally cause her to act out. The narrator demonstrates what it means to be a good friend by listening and being there to support Jenny Mei no matter what. While the text is sparse, this powerful book speaks volumes and is an excellent lesson in empathy.
Strictly No Elephants by Lisa Mantchev; illustrated by Taeeun Yoo, 2015
(Ages 4 and up)
This charming story is a must-have. When a boy and his pet elephant are excluded from a pet club, he finds other children with unusual pets and they form their own club that welcomes everyone. Without being overly didactic, this lovely friendship story teaches children the beauty of inclusion.
Almost Always Best Best Friends by Apryl Stott, 2022
(Ages 4 and up)
The delicate dynamics of friendship are skillfully expressed in this charming story.
Poppy and her best friend Clementine do everything together, so naturally Poppy grows jealous when Clementine plays at Georgia's house one day. I absolutely love how Poppy's dad helps her process her envious feelings and role plays how to talk to her friend. When Poppy finally meets Georgia, she realizes it is even more fun to all be friends together.
Tomorrow is a Brand-New Day by Davina Bell; illustrated by Allison Colpoys, 2022
(Ages 4 and up)
This is a book that all children need to hear! With flowing rhymes and vibrant artwork, this clever story brilliantly captures life's frustrations that can cause us to not be our best selves and weaves in a message of hope and forgiveness stating that children will be loved no matter what.
The story follows two girls who have several ups and downs throughout the day ending with an argument. The next morning they wake up ready to apologize and set things right. I think it is so important for kids to learn at an early age that everyone makes mistakes, but when we do, we also need to make amends.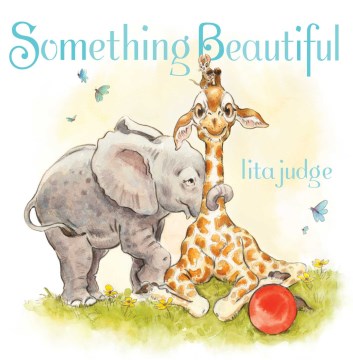 Something Beautiful by Lita Judge, 2022
(Ages 4 and up)
This sweet story highlights the joy found in inclusion. As a group of animals meet a variety of creatures, they discover that whether friends have a lot in common or are very different,
life is more beautiful when you open yourself up to learning about and accepting others.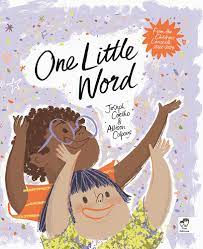 One Little Word by Joseph Coelho, illustread by Allison Colpoys
An argument between two best friends is personified by a monster who grows bigger and bigger as the two continue to quarrel. The monster is a perfect visual to demonstrate how the fight not only affects the two friends, but the other children on the playground as well. Though small, an apology is the only thing that can shrink the monster into oblivion. This inclusive book has tons of fantastic details making it an excellent conversation starter on conflict resolution.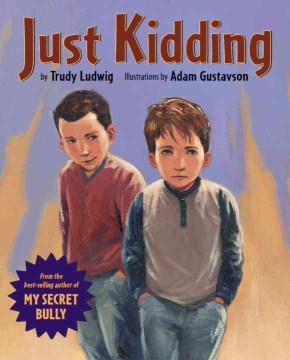 Just Kidding by Trudy Ludwig; illustrated by Adam Gustavson, 2006
(Ages 6 and up)
The thin line between joking and hurtful teasing is expertly addressed in this powerful story. Vince is consistently putting D.J. down following his unkind words with the phrase, "just kidding." This realistic glimpse into one boy's struggles to stand up for himself is very eye-opening. Complete with discussion questions, additional resources, and list of "Teasing Do's and Don't's" this is an excellent conversation starter for classroom and home libraries.
Two of a Kind by Jacqui Robbins; illustrated by Matt Phelan, 2009
(Ages 5 and up)
Unfortunately, cliques occur way too often in schools and this helpful book addresses the lure of popularity versus true friendship. Even though Kayla and Melanie may not be the nicest girls, their coolness is oddly appealing. When Anna is invited into their exclusive twosome, she briefly abandons her best friend Julisa. Anna quickly discovers, however, that she has nothing in common with Kayla and Melanie and when tested to make the right choice in standing up for Julisa, she does.
How to Apologize by David LaRochelle; illustrated by Mike Wohnoutka, 2021
(Ages 3 and up)
Using just the right amount of humor and charm, all-stars David LaRochelle and Mike Wohnoutka have created the perfect read aloud for teaching kids why and how to apologize! This entertaining story reassures readers that everyone makes mistakes, but it is important to rectify them with a heartfelt apology. With its delightful illustrations and impactful message of conflict resolution, this book is a must-have for home and classroom libraries.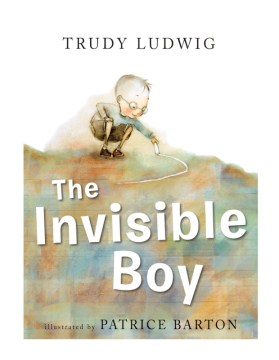 The Invisible Boy by Trudy Ludwig; illustrated by Patricia Barton, 2013
(Ages 5 and up)
All too often introverted children can be overlooked in a classroom setting. This poignant story presents Brian in black and white as he quietly keeps to himself while secretly longing to make a friend. When a new boy finally notices him, Brian relishes in feeling accepted and is able to shine. An excellent discussion guide is also included.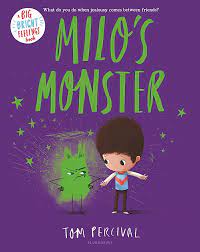 Milo's Monster by Tom Percival
When a new girl named Suzi moves to Milo's neighborhood and starts hanging out with his best friend Jay, he grows jealous. His feelings manifest into a green monster who confirms that Jay and Suzi are having more fun without him leading Milo to avoid them. When Suzi talks with Milo about how much Jay misses him, he realizes he has let his jealousy get the best of him. He apologizes and the three become good friends. Changing friendships is extremely challenging and this story does a good job of showing how helpful it is to talk to our friends about our feelings instead of letting our insecurities overwhelm us.
My Friend Maggie by Hannah E. Harrison, 2016
This is such a powerful and relatable story about peer pressure and standing up for your friends. Paula and Maggie have been best friends all their lives, but when another girl, Veronica, says something unkind about Maggie, Paula begins rethinking their long friendship. Paula starts playing with Veronica only to have Veronica then say something mean to her. Luckily, Maggie generously forgives Paula and stands up for her demonstrating what true friendship looks like.
I love everything Hannah E. Harrison creates and this accessible friendship tale is especially moving and beautifully illustrated.
I Walk With Vanessa: a story about a simple act of kindness by Kerascoet, 2018
(Ages 5 and up)
With themes of kindness, courage, and anti-bullying, I Walk With Vanessa is a must-have for classroom libraries.
When a young girl observes a hurtful act toward a new classmate, she decides to take action and extend kindness to the victim by walking with her to school. Soon several classmates join together and form a united front.
The book is made even more powerful by its lack of text. It allows readers to interpret the characters' expressions and develop their own conclusions. This story is an excellent tool for teaching anti-bullying standards. It touches upon a child demonstrating bullying behavior, a victim, and a bystander. The story can be used to prompt an important discussion about each character's role and the actions they take. Students can take turns role playing the characters and because there is no text, children can create their own dialogue further internalizing the situation.
My children were captivated by this story and asked for repeated readings, creating several important discussions.
Sometimes It's Hard to Be Nice by Maggie C. Rudd; illustrated by Kelly O'Neill, 2021
(Ages 5 and up)
This impactful book, takes very relatable situations and demonstrates to children that even though it may, at times, be challenging to be kind, it is well worth it! I love how this book acknowledges that doing the right thing is not always easy. Sometimes it takes practice and even courage to be nice. The relatable scenarios are sure to resonate with many readers and help them see the benefits of offering compassion.
The Color Collector by Nicholas Solis; illustrated by Renia Metallinou, 2021
(Ages 5 and up)
When an observant young boy helps a new girl feel welcome, an incredible friendship flourishes. This tender tale skillfully depicts the impact of the boy's kindness in black and white illustrations that light up with color as the friendship blooms. The acts of saying hello and listening may seem simple, but this story demonstrates the powerful effect empathy can have in changing someone's life and helping them feel seen.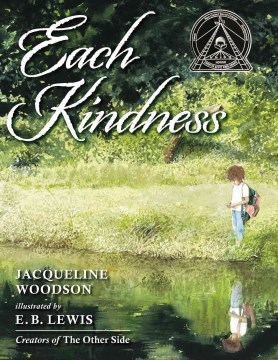 Each Kindnessby Jacqueline Woodson; illustrated by E.B. Lewis, 2012
(Ages 6 and up)
This thought-provoking picture book uses a poignant story and lovely watercolor illustrations to present a unique view of kindness.
When Maya, a new student, comes to school wearing second hand clothes, Chloe has the opportunity to befriend her, but time after time chooses to be hurtful instead. When Maya moves away, Chloe regretfully realizes she has forever lost her chance to be kind to Maya.
In a compelling scene, Chloe's remorse is skillfully captured as she throws a stone into a pond remembering her teacher's words, "This is what kindness does. Each little thing we do goes out like a ripple, into the world. Each kindness, makes the whole world a little bit better." Chloe's shameful realization that she has lost her opportunity to be kind to Maya will hopefully inspire children to be kind every chance they get!
You may also like: