Sharks are such a fascinating topic for children! With their giant teeth, telltale fins, and mysterious nature, it is no wonder these notorious predators of the deep capture our attention.
Since sharks are a subject that kids love reading about, I wanted to put together a list of our favorite books about sharks that are perfect for sharing during the upcoming Shark Week starting on July 24th or for enjoying all year long!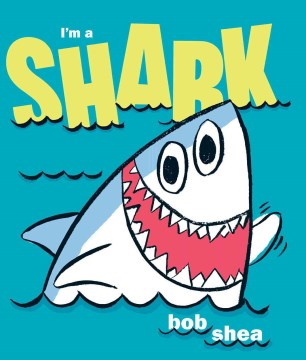 I'm a Shark by Bob Shea, 2011
(Ages 3 and up)
Bob Shea's books always crack me up and this one is no exception. Expressive illustrations feature a boastful shark bragging of his awesomeness. As a fierce apex predator, there isn't anything Shark is afraid of…..or is there? This silly story makes a great read aloud.
Misunderstood Shark by Ame Dyckman ; illustrated by Scott Magoon, 2018
(Ages 4 and up)
This entertaining picture book combines a comical story with fun facts about sharks. A jellyfish sporting a fedora hosts an educational underwater television program when a shark chasing a fish interrupts the broadcast. When the host warns the shark not to eat the fish, Shark replies, "I was just showing him my new tooth!" Several other creatures appear to be in danger, but each time Shark informs everyone that they misunderstood his actions. My kids loved learning interesting facts about sharks and couldn't get enough of the overall silliness of the story.
Shark Vs. Train by Chris Barton; illustrated by Tom Lichtenheld, 2010
(Ages 3 and up)
There is a reason this book is a New York Times best seller. Kids absolutely love it! The premise is simple, two boys are playing with a shark toy and a train toy and introduce various competitions to see who is the ultimate champion. Chris Barton's clever dialogue between the two adversaries sets the humorous tone of the story and Tom Lichtenheld's illustrations perfectly capture each comical competition.
I Am the Shark by Joan Holub; illustrated by Laurie Keller, 2021
(Ages 4 and up)
When a Great White Shark claims to be the biggest, smartest, fastest, and sneakiest shark, a variety of other sharks jump in with arguments asserting that they hold each of those titles.
Full of expression, the bold collage-style illustrations are a real feast for the eyes! There are also so many fascinating facts packed into this amusing story, it is sure to make a splash with both kids and adults!
We also love the sequel Misunderstood Shark: Friends Don't Eat Friends .
Land Shark by Beth Ferry; illustrated by Ben Mantle, 2015
(Ages 4 and up)
Bobby is a shark lover through and through. After giving his parents hints that he wants a shark for his birthday, he is disappointed to receive a dog. The puppy engages in several amusing hijinks to the dismay of the family, but that eventually win over this tried and true shark lover. With Beth Ferry's clever text, this engaging book is just as much fun to read aloud as it is to listen to!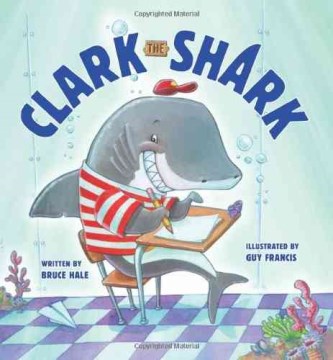 Clark the Shark by Bruce Hale; illustrated by Guy Frances, 2013
(Ages 4 and up)
Clark the Shark loves school, but his classmates think he can be a little "too loud, too wild, and just too much shark sometimes." With guidance from his teacher, Clark comes up with rhymes that help him remember to keep his body calm and that there is a time and place for everything.
NONFICTION
Shark Lady: The True Story of How Eugenie Clark became the Ocean's Most Fearless Scientist by Jess Keating; illustrated by Marta Alvarez Miguens, 2017
(Ages 5 and up)
My science-oriented kids love this interesting story about a determined female scientist who overcame criticism to become one of the leading zoologists to study sharks. This colorful picture book biography introduces children to Eugenie Clark, who discovered new species of fish, published several books on sharks, and was the first to train sharks proving their intelligence. A "Shark Bite" section in the back educates readers with additional facts about sharks while a timeline shares highlights of Eugenie's impressive life.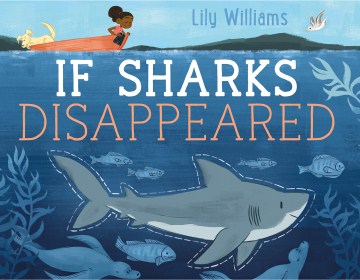 If Sharks Disappeared by Lily Williams , 2017
(Ages 5 and up)
A young girl introduces the importance of a balanced ecosystem and the danger the extinction of sharks could pose in this illuminating book. While sharks may seem scary, they play a critical role in keeping our oceans stable. A glossary, author's note, and instructions on how to help save sharks further enhance this enlightening book.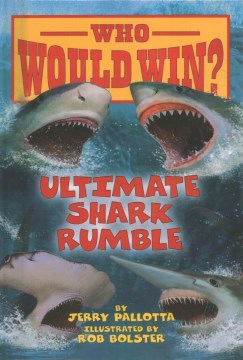 Who Would Win? Ultimate Shark Rumble by Jerry Pallotta; illustrated by Rob Bolster, 2020
(Ages 5 and up)
A variety of sharks face off in this informative and fun book. After being presented with facts about each species of shark, readers make an educated guess of who will prevail in a head-to-head fight. This series is extremely popular for a reason. It is such an entertaining and engaging way to learn about animals. We also love Hammerhead vs. Bull Shark.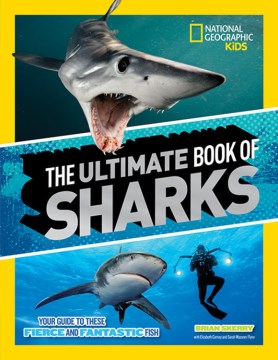 The Ultimate Book of Sharks (National Geographic Kids) by Brian Skerry, 2018
(Ages 5 and up)
Jam packed with fintastic facts and striking photographs, this is the perfect book for kids who want to know more about sharks. From introducing different types of sharks to giving an overview of their anatomy, habits, and life cycle, as well as busting myths about these beasts from the deep, there is a myriad of information kids will love!