Summer is filled with magical childhood moments including exploring the great outdoors, eating ice cream before it melts on a hot day, and vacations to the beach. We've created a list of our favorite books that celebrate this wonderful season. Enjoy!
*This post contains affiliate links. To read my full disclosure CLICK HERE.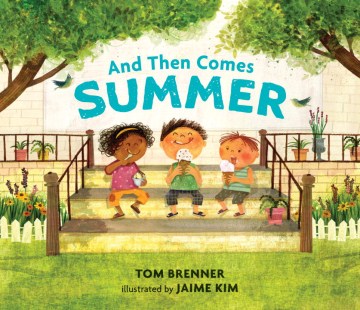 And Then Comes Summer by Tom Brenner, illustrated by Jaime Kim, 2017
(Ages 3 and up)
The essence of summer is beautifully captured in this enchanting book about the joyful adventures our warmest season brings. From lemonade stands, games of hide and seek, vacations, and fireworks, childhood memories are eloquently celebrated with colorful illustrations and engaging text.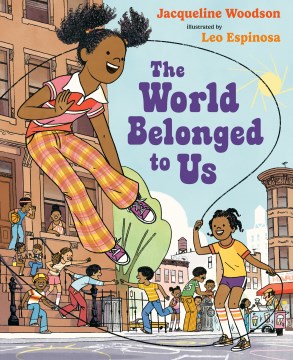 The World Belonged to Us by Jacqueline Woodson, illustrated by Leo Espinosa, 2022
(Ages 4 and up)
This may be one of the most quintessential summer reads I've ever seen. The vibrant story begins on the last day of school as a group of students burst through the doors and rush home to their Brooklyn block to celebrate the next few weeks where they will rule their neighborhood. The upbeat text is a joy to read aloud while the bright illustrations perfectly capture the joy found in the carefree days of summer!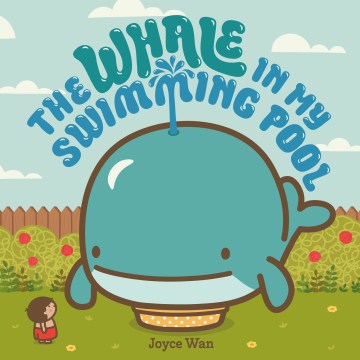 The Whale in My Swimming Pool by Joyce Wan, 2016
(Ages 3 and up)
When a young boy discovers a whale in his swimming pool, comical hijinks ensue as he attempts to remove him. Joyce Wan's signature rounded artwork is adorable and the silly storyline is sure to make young children giggle. You also won't want to miss the humorous sequel, The Bear in My Bed.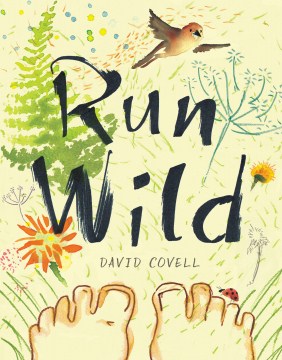 Run Wild by David Covell, 2018
(Ages 3 and up)
Is there any better feeling than being barefoot on a warm summer day? Run Wild uses lovely lush illustrations and flowing rhymes to encapsulate the carefree joys of playing outside as a child. When a young girl passes a boy sitting on the couch using an electronic device, she invites him to chase the wind. The device is thrown aside and the children race through the woods, splash in puddles, explore, and swim. This energetic story is a wonderful celebration of those happy-go-lucky summer days.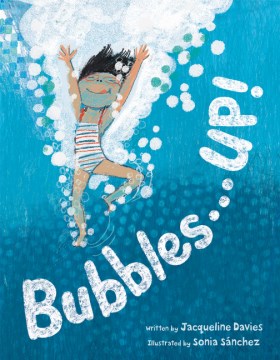 Bubbles Up! by Jacqueline Davies, illustrated by Sonia Sánchez, 2021
(Ages 3 and up)
The water holds such an element of wonder for kids and that awe-inspiring sensation of first jumping into a pool is skillfully captured in the new book BUBBLES UP!
The lyrical lines are full of whimsy and a complete joy to read aloud. My children were smiling ear to ear as they followed a young girl zooming through the water having adventures both above and below the surface. While the rhythmic text and imaginative illustrations expertly depict the magic of swimming on a hot summer day, my favorite part of this book is how it empowers young children. Swimming can be scary for some, but a book showcasing a child reveling in the utter delight of swimming is a good way to bolster them to take the plunge!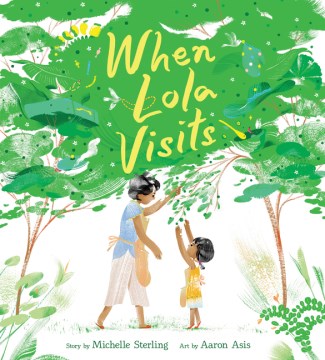 When Lola Visits by Michelle Sterline, illustrated by Aaron Asis, 2021
(Ages 4 and up)
This heartwarming story uses beautifully descriptive language to capture the essence of summer through a young girl's nose. Whether it's "gooey sunscreen and salt-soaked swimsuits at the beach" or "suman steaming on the stove", each glorious scent is a connection with her grandmother who visits every summer from the Philippines. The beautiful illustrations use a soft pastel pallet that captures the tender tone of the story while the text evokes the magic found in childhood memories and in the joy of family. This one is a real standout!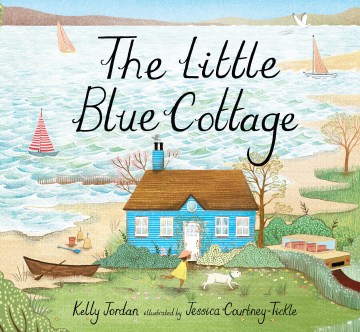 The Little Blue Cottage by Kelly Jordan, illustrated by Jessica Courtney, 2020
(Ages 4 and up)
In this charming book, a young girl and her family vacation in a cottage by the sea. Delightfully descriptive language is perfectly paired with cheerful illustrations capturing the joyful vacation. One summer, however, the girl stays away and the cottage eventually falls into disrepair until the girl, now a woman, returns with her own children to make new memories.
⠀⠀⠀⠀⠀⠀⠀⠀⠀
This heartwarming story has a timeless feel that makes it destined to become a classic summer read.
⠀⠀⠀⠀⠀⠀⠀⠀⠀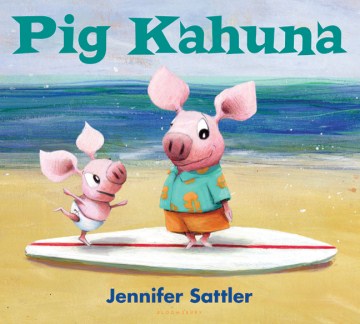 Pig Kahuna by Jennifer Sattler, 2014
(Ages 4 and up)
Fergus and his little brother, Dink, love collecting items that wash up on shore. Fergus prefers to keep his distance from the "lurking, murky ickiness" of the ocean, but when their treasured surfboard floats away, Fergus bravely conquers his fear and retrieves their prized possession.
This feel-good story starring two charming pigs, is a fun summertime read aloud that will leave children excited to comb the beaches for their own adventure.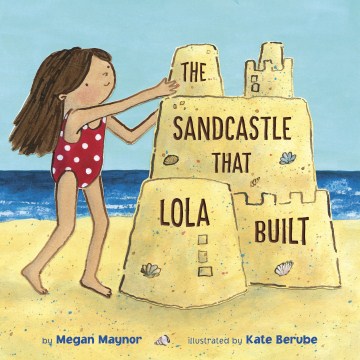 The Sandcastle That Lola Built by Megan Maynor, illustrated by Kate Berube, 2018
(Ages 4 and up)
With an adorable cumulative storyline loosely based on the classic, "The House That Jack Built" combined with underlying messages of inclusion and team work, The Sandcastle That Lola Built has become a quick favorite in our house.
Lola is working hard on her sandcastle when a boy accidentally steps on her creation. Instead of erupting in anger, Lola invites the boy to build with her fixing the portion he destroyed. She encounters several other mishaps with children, but each time she politely addresses them and encourages the children to join her making new friends in the process.
I love how Lola asserts herself, but in a very nice way and is welcoming to all. Her new friends range in color and age. Lola includes everyone she meets, and with this group effort, the children create a truly spectacular sandcastle. This book is delightful, charming, and perfect for summer!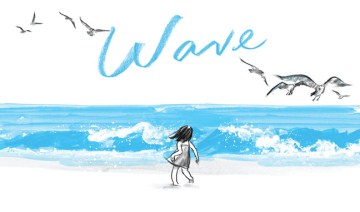 Wave by Suzy Lee, 2008
(Ages 3 and up)
This beautiful wordless picture book follows a little girl as she visits the beach for the first time. Suzy Lee cleverly uses her illustrations to demonstrate a dance between the girl and the ocean as she plays with the ebbing and flowing tide. Her emotions are skillfully captured as she timidly approaches the water at first only to roar at the breaking waves moments later. This is a delightful portrayal youthful exploration.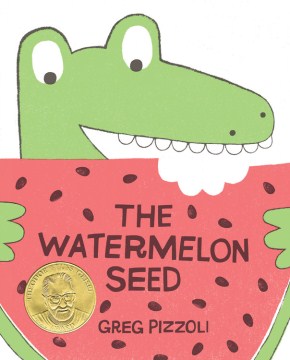 The Watermelon Seed by Greg Pizzoli, 2013
(Ages 4 and up)
Watermelon is a delicious summertime snack, but who among us hasn't worried about swallowing a seed? In this funny picture book, a watermelon-loving crocodile does just that. Greg Pizzoli's vivid artwork shines as he comically depicts the crocodile's neurosis that a watermelon is now growing inside him.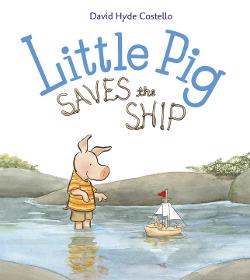 Little Pig Saves the Ship by David Hyde Costello, 2017
(Ages 4 and up)
When Little Pig's older siblings attend sailing camp, he and his grandfather make a toy sailboat to sail in a nearby stream. Filled with charming illustrations, this is a delightful summertime read.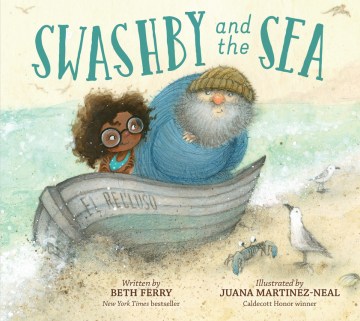 Swashby and the Sea by Beth Ferry, illustrated by Juana Martinez-Neal, 2020
(Ages 4 and up)
New York Times bestselling author Beth Ferry and Caldecott Honor winner Juana Martinez-Neal have teamed up to create an outstanding book that is just the right amount of humor and tenderness.
Swashby, a retired captain, prefers to live his life alone with his only friend, the sea. One day his peacefulness is interrupted by an exuberant young girl and her grandmother who move in next door. He tries to convince them to leave him alone with messages in the sand, but when parts of the message are swept away by the ocean, they have an entirely new meaning.
The gorgeous illustrations are perfectly paired with the playful text that provides a whimsical feeling to this sweet tale of intergenerational friendship.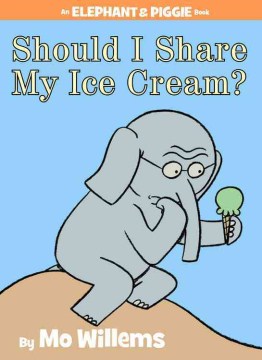 Should I Share My Ice Cream? (The Elephant and Piggie series) by Mo Willems, 2011
(Ages 4 and up)
I have yet to meet a child who doesn't love the Elephant and Piggie books by Mo Willems. In this hilarious installment, Gerald has a big decision to make. He is excited to eat his ice cream, but then considers that his best friend, Piggie, might want to share it with him. What ensues is a laugh-out-loud struggle between the benefits of splitting the delicious dessert or not.
Beginning readers will enjoy reading this Easy Reader independently, but the outlandish drama makes this an excellent choice for reading aloud to a group of children.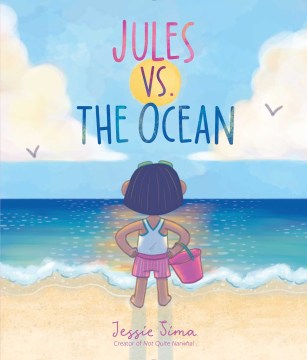 Jules Vs. The Ocean by Jessie Sima, 2020
(Ages 4 and up)
Jules is determined to get her big sister's attention by building "the biggest, fanciest, most excellent" sandcastle on the beach. Unfortunately, she attempts to create her structure a little too close to the ocean resulting in a disastrous, but hilarious outcome.
I just adore Jules' can-do attitude and the loving relationship between the two sisters. Throw in the charming illustrations and droll text and this amusing book is absolutely irresistible.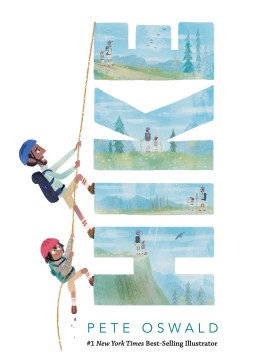 Hike by Pete Oswald, 2020
(Ages 4 and up)
This wordless wonder follows a boy and his father as they hike through the forest together. There are so many standout details in the story most notably the expressions of the characters as they discover wildlife, take in the beauty of the natural world, overcome fears, and, best of all, foster a special connection between parent and child. Readers will be elated at the heartwarming ending revealing that this hike is a special trip passed down through generations.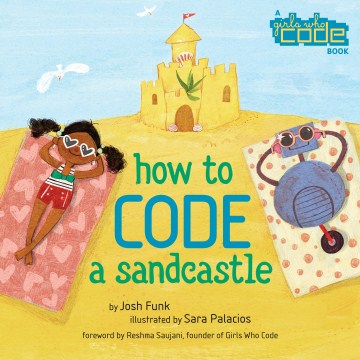 How to Code a Sandcastle by Josh Funk, illustrated by Sara Palacios, 2018
(Ages 5 and up)
How to Code a Sandcastle skillfully explains the core concepts of coding in a child-friendly manner. Not only that…it's an entertaining story! Kids are going to love the idea of a robot helping build a sand castle and the comical trial and errors that ensue. Parents are going to love the little girl's determination, imagination, and perseverance in the face of adversity.
This is one that should be on every child's summer reading list. Coding is so much more than just working with computers. Understanding the basic concepts of coding also helps children build skills in problem solving and critical thinking. This amusing and educational book is a real winner!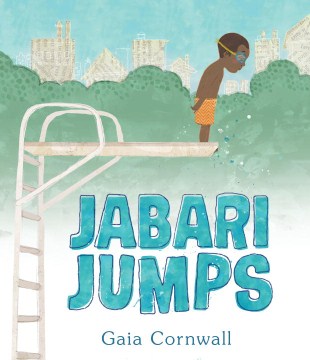 Jabari Jumps by Gaia Cornwall, 2017
(Ages 4 and up)
Gorgeous illustrations adorn this lovely book on facing your fears.
Jabari has just finished his swim lessons and is now ready to tackle the high dive at his local pool. Jabari appears confident, but hesitates when it is his turn to climb onto the diving board. His dad pulls him aside for some sound advice. "It's okay to feel a little scared. Sometimes, if I feel a little scared, I take a deep breath and tell myself I am ready. And you know what? Sometimes it stops feeling scary and feels a little like a surprise." With his father's encouragement, Jabari pushes is fear aside and takes the plunge, ready for a "surprise double back-flip" as his next feat.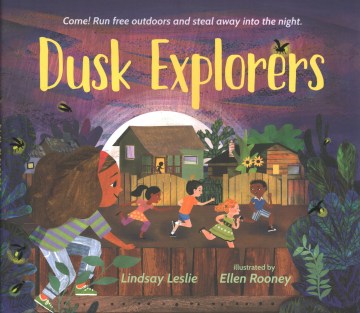 Dusk Explorers by Lindsay Leslie, illustrated by Ellen Rooney, 2020
(Ages 4 and up)
There is something magical in those late afternoon, early evenings of summer. Filled with after-dinner bike rides to our local ice cream store or walks around the neighborhood admiring the lightning bugs, twilight has recently become one of our favorite times of the day. Best of all are those special nights where we get to use sparklers!
This enchanting time is brilliantly captured in the new book Dusk Explorers. Eye-catching illustrations beautifully highlighting the hues of a sunset fill the pages of this bewitching story showcasing the joys of summer. I highly suggest scrolling through to check out the incredible artwork in this one.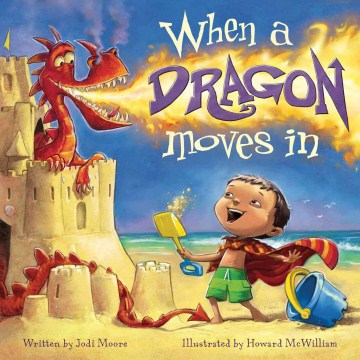 When a Dragon Moves In by Jodi Moore, illustrated by Howard McWilliam, 2011
(Ages 4 and up)
Full of imagination, cartoony illustrations, and an amusing storyline, this is one of my kids' favorite stories about the beach. When a boy creates the perfect sandcastle, a dragon moves in causing a bit of havoc, but mostly a lot of fun!
Dandy by Ame Dyckman, illustrated by Charles Santoso, 2019
(Ages 4 and up)
As a child, I adored dandelions. The magical sensation of making a wish and then blowing the seeds never got old. As an adult, however, I despise the way they greedily take over our yard.
DANDY is a hilarious new book that plays on this dichotomy of a love/ hate relationship with dandelions. A daddy lion prides himself on his well-kept lawn and is horrified to discover a dandelion has popped up in the middle of it. To his dismay, his daughter has adopted the weed as her new friend and even named her Charlotte. What ensues is a comical look at the outlandish attempts one dad will take to keep his lawn pristine while balancing the happiness of his daughter.
This humorous and heartfelt story is one that both adults and children will enjoy!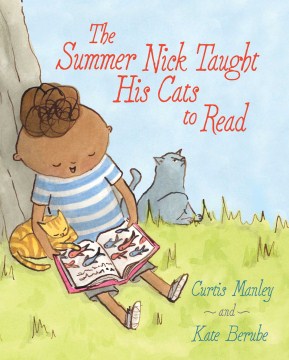 The Summer Nick Taught His Cats to Read by Manley Curtis, 2016
(Ages 4 and up)
This book makes me laugh every time I read it. Nick loves books so much that he decides to teach his cats to read as well. While Verne eagerly works with Nick, Stevenson, portrayed as a grumpy gray cat, is quite resistant. The charming illustrations comically capture Stevenson's initial displeasure and delightfully reveal his true talent.
Both book lovers and reluctant readers won't be able to resist this droll story!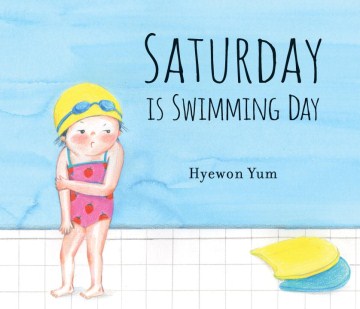 Saturday is Swimming Day by Hyewon Yum, 2018
(Ages 4 and up)
Many children are fearful of starting swimming lessons, but books like Saturday is Swimming Day can be a perfect way to teach them that while trying something new might be scary, it can also be very rewarding.
The story focuses on a realistic scenario of a young girl who tries to avoid her swimming lessons each week. Once her teacher finally coaxes her into the pool, however, the girl discovers that she loves the water. This quiet story is perfect for helping children build their confidence to try new things.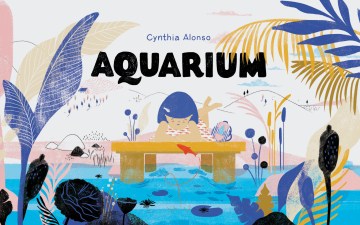 Aquarium by Cynthia Alonso, 2018
(Ages 4 and up)
Aquarium uses stunning illustrations to tell the story of a young girl who dreams of swimming with the fish in a nearby river. After capturing a little orange fish, she attempts to use a myriad of different containers to create a happy environment for her new friend. When the fish jumps out of its new pool, however, she realizes it belongs in its natural habitat. Putting her own happiness aside, the girl returns the fish to its home creating a bittersweet, but gratifying ending.
This poignant wordless wonder touches on imagination, exploration, innovation, empathy, and letting go.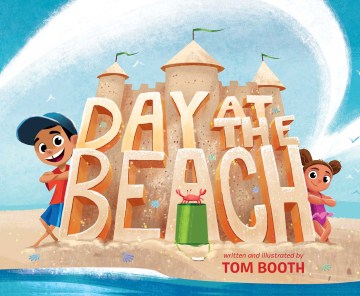 Day At the Beach by Tom Booth, 2018
(Ages 4 and up)
Gideon and his sister, Audrey, usually spend the summer working as a team to create sandcastles on the beach, but this summer he vows to work alone to create the best sandcastle the beach as ever seen. He soon discovers that fame and glory are not what they are cracked up to be and sometimes spending time with loved ones can lead to the most fun.
The cartoony illustrations immediately draw the reader in and many children will relate to the realistic scenario between siblings. This is an entertaining and heartwarming summer-themed story.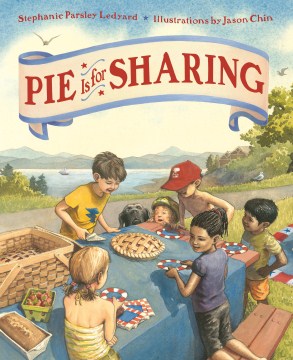 Pie is for Sharing by Stephanie Parsley, 2018
(Ages 4 and up)
Full of Americana, this charming book stars a group of friends who gather at a picturesque lakeside picnic for food and fireworks. Lyrical text describes how they not only share pie, but also a book, a tree, toys, a blanket, and even the breeze and sky. Filled with diverse family members and friends, this lovely book is a true celebration of community.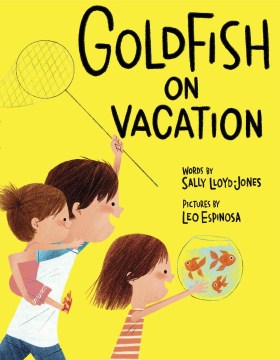 Goldfish on Vacation by Sally Lloyd-Jones, 2018
(Ages 4 and up)
When three siblings prepare for a staycation in their city apartment, they are thrilled to discover their pet goldfish is invited to vacation in a nearby fountain. Soon the siblings meet new friends and have their own adventures while visiting the goldfish. This is a cheerful summer tale based on true events.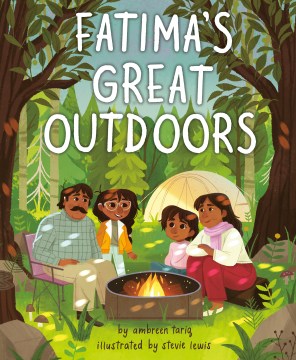 Fatima's Great Outdoors by Ambreen Tariq, illustrated by Stevie Lewis, 2021
(Ages 5 and up)
After a rough week at school, Fatima is excited to venture into the woods on her very first camping trip with her family. Here she finds her element where she regains her confidence. This sweet coming-of-age story effortlessly weaves in components of Indian culture while celebrating family. Kids will be clamoring to go on their own camping trips after reading this sweet story!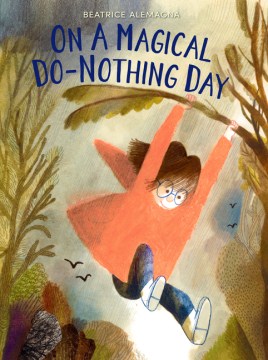 On A Magical Do-Nothing Day by Beatrice Alemagna, 2017
(Ages 5 and up)
After a boy accidentally drops his video game in a lake, he begins to notice his surroundings and becomes immersed in the beauty of the natural world. This celebration of imagination and the enchantment of childhood is perfect for inspiring children to explore their own backyards.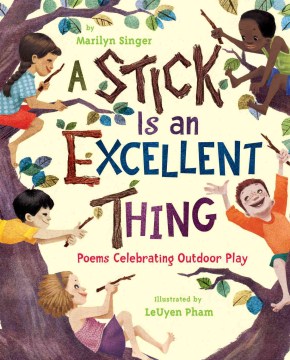 A Stick is an Excellent Things: poems celebrating outdoor play by Marilyn Singer, illustrated by LeUyen Pham, 2012
(Ages 5 and up)
Eighteen poems varying in style showcase the wonderful imagination of children and the exciting outdoor activities summer brings. The charming illustrations feature a group of diverse children and breathe life into the delightful poems.
YOU MAY ALSO LIKE: