You scream, I scream, we all scream for ice cream BOOKS! Ice cream is not only fun to eat, it's also a joy to read about!
Using my favorite dessert as the subject, I've compiled a myriad of deliciously sweet stories that entertain, start conversations about life lessons, familiarize children with other cultures, and introduce them to creative geniuses who revolutionized frozen desserts!
*This post contains affiliate links. To read my full disclosure CLICK HERE.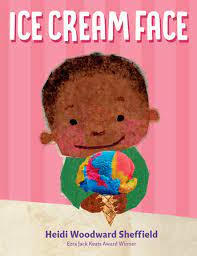 Ice Cream Face by Heidi Woodward Sheffield
(Ages 3 and up)
Ice cream lovers will rejoice for this delectable story that could not be sweeter! As a little boy excitedly explains his love of ice cream, he also shares his frustration of waiting in line and the dire consequences of eating an ice cream too quickly. Colorful eye-catching illustrations perfectly encapsulate the rollicking rollercoaster of emotions the boy experiences while getting his favorite dessert.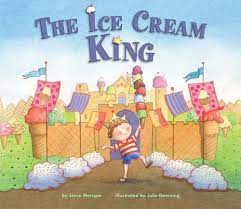 The Ice Cream King by Steve Metzger, illustrated by Julie Downing
(Ages 3 and up)
When a boy enters an ice cream shop with his mother, he dreams of a fantastical world made of ice cream. In his imagination he is the ice cream king who greedily devours everything in sight until he realizes ice cream is even sweeter when you share. With its endearing ending, this is one that both children and adults will appreciate.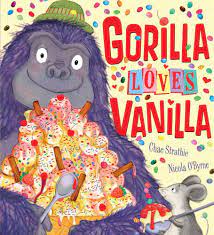 Gorilla Loves Vanilla by Chae Strathie, illustrated by Nicola O'Byrne
(Ages 3 and up)
Upbeat rhymes share the story of Sam Sundae who can always produce the perfect ice cream concoction no matter how strange the request. Five animals demonstrate this when they ask for flavors including cheese, fish, worms, grass, and mud! Gorilla, however, introduces them to the best flavor of all. This is such a fun read aloud that is also perfect for inviting little ones to invent their own funny flavor.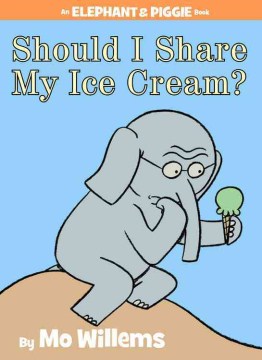 Should I Share My Ice Cream? (The Elephant and Piggie series) by Mo Willems
(Ages 4 and up)
I have yet to meet a child who doesn't love the Elephant and Piggie books by Mo Willems. In this hilarious installment, Gerald has a big decision to make. He is excited to eat his ice cream, but then considers that his best friend, Piggie, might want to share it with him. What ensues is a laugh-out-loud struggle between the benefits of splitting the delicious dessert or not.
Beginning readers will enjoy reading this Easy Reader independently, but the outlandish drama makes this an excellent choice for reading aloud to a group of children.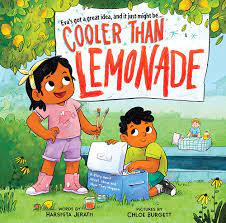 Cooler Than Lemonade by Harshita Jerath, illustrated by Chloe Burgett
(Ages 4 and up)
When Eva opens a lemonade stand, she is frustrated by her neighbor who opens a competing business. The resilient Eva develops new ways to grow her business in this wonderful story about creativity and entrepreneurship. There is so much to love about this one including a recipe for a special treat at the end!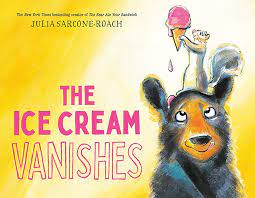 The Ice Cream Vanishes by Julia Sarcone-Roach
This adorable story stars a squirrel who wants to be a magician. When he accidentally makes an ice cream cone disappear by placing it on a hot rock, he is convinced that he truly has magical powers. With the help of his assistant, Bear, he puts on a memorable show for all his forest friends. With the perfect combination of humor and eye-catching illustrations, this charming book is not to be missed.
I also highly recommend Julia Scarone-Roach's other books The Bear Ate Your Sandwich and There Are No Bears in This Bakery.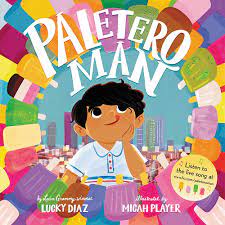 Paletero Man
by Lucky Diaz, illustrated by Micah Player
(Ages 4 and up)
Bold, bright colors adorn the pages of this lively read following a boy searching for the paletero man serving delicious paletas. The rolling rhymes sprinkled with Spanish vocabulary are a joy to read aloud while the sweet ending celebrating the kindness of neighbors is sure to bring a smile to both children and adults.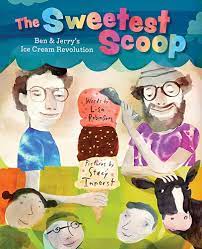 The Sweetest Scoop: Ben & Jerry's Ice Cream Revolution by Lisa Robinson, illustrated by Stacy Innerst
(Ages 4 and up)
This entertaining story introduces children to the creators of some of the most wacky, but delicious flavors of ice cream! Sprinkled with ice cream jokes, the inspiring book captures the many obstacles Ben and Jerry faced when creating their frozen dessert empire and all the good deeds they did once they reached the top.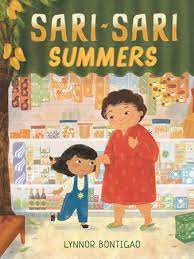 Sari-Sari Summers by Lynnor Bontigao
(Ages 4 and up)
Nora loves spending the summers with her lola and this summer she is especially excited about working in her sari-sari store! When a heat wave keeps the customers away, Nora brilliantly has the idea to make mango ice candy. This adorable intergenerational story could not be sweeter! We can't wait to try to make our own mango ice candy with the recipe in the back!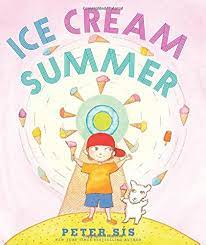 Ice Cream Summer by Peter Sís
(Ages 5 and up)
In a letter to his grandfather, a young boy depicts all the ways he is continuing to learn over the summer. While he describes how he is reading, researching, and solving word problems, he fails to mention all of his studies surround ice cream. This is a clever tale that is both entertaining story and inspiration for learning!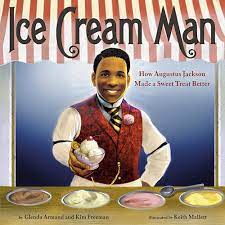 Ice Cream Man: How Augustus Jackson Made a Sweet Treat Better by Glenda Armand and Kim Freeman, illustrated by Keith Mallett
(Ages 5 and up)
At twelve-years-old August Jackson headed to Washington D.C. to pursue his dream of cooking. His hard work and talent led him to cook for the President of the United States in the White House. There he developed a new dream to make ice cream more accessible to everyone. Through lots of trial and error he discovered how to produce ice cream more quickly and he developed new ice cream flavors that we still enjoy today!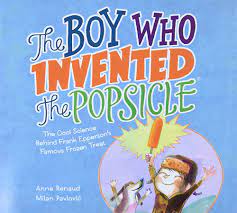 The Boy Who Invented the Popsicle: The Cool Science Behind Frank Epperson's Famous Frozen Treat by Anne Renaud, illustrated by Milan Pavlović
(Ages 5 and up)
Frank Epperson was born curious and spent his boyhood experimenting and inventing. He especially loved playing with liquids and soda water was his favorite. After leaving his soda water out one cold night, he discovered it transformed into a delicious frozen drink on a stick. As an adult, Frank continued perfecting his icy concoction until he got the popsicle we know and love today.
As a special treat, several experiments are included for young scientists to try out on their own.
YOU MAY ALSO LIKE: