I don't remember ever seeing a character with a disability in any of the books I read growing up. And I read A LOT of books! I'm so grateful that my children won't have to say the same thing. Inclusion has been an important new trend in children's literature and I am over the moon to see more books featuring diverse characters including those with disabilities.
The below standout stories will inform, inspire, empower, and build empathy while also opening up conversations about disabilities.
*This post contains affiliate links. To read my full disclosure CLICK HERE.
Picture Books
What Happened to You? by James Catchpole; illustrations by Karen George
(Age 5 and up)
So rarely have I found a book that can make my children laugh out loud and also fill their hearts with empathy and understanding of others' feelings.
Joe simply wants to play his favorite game on the playground. Unfortunately, the other children are distracted by the fact that he only has one leg. Each one asks him what happened to it, offering outlandish and humorous guesses. Eventually, a girl joins in on Joe's game. Then all of the children start playing together and realize that Joe's missing leg is irrelevant to their fun.
This incredible own-voices story is a must-read! Its spot-on text is perfectly combined with eye-catching illustrations that give the story tons of kid appeal and a priceless message of compassion and accepting differences. The story is further enhanced by an author's note that provides grown-ups with tips on how to talk with children about disabilities.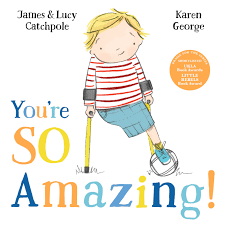 You're So Amazing! by James & Lucy Catchpole, illustrated by Karen George, 2023
I am beyond impressed with the way James and Lucy Catchpole have managed to balance humor with the heartfelt story of Joe, a boy who wants to simply be seen as a normal kid instead of as an inspirational person with a disability.
Everywhere Joe goes, adults call him amazing even for performing the easiest of tasks. When this happens, however, Joe doesn't feel amazing. A wonderful visual illustrates his discouraged feelings as his imaginative games with his friends shift to ordinary ones every time someone calls him amazing. It is evident that Joe is at his happiest, when he is treated like everyone else.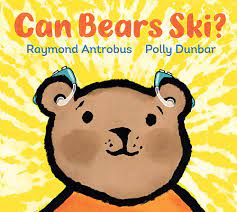 Can Bears Ski? by Raymond Antrobus
(Ages 4 and up)
This is a well-crafted story about a little Bear discovering his hearing loss and learning to adapt and thrive.
Song in the City by Daniel Bernstrom, illustrated by Jenin Mohammed
(Ages 4 and up)
Vibrant onomatopoeia fills the pages of these sensational story starring a young blind girl and her grandmother traveling through a bustling city. While the grandmother is in a hurry, her granddaughter helps her slow down and appreciate the beauty found in the sounds that surround them.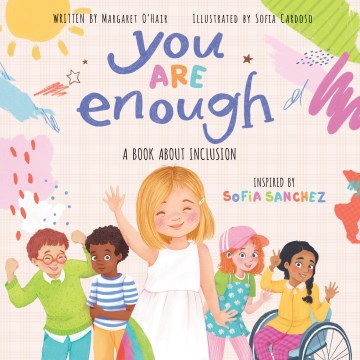 You Are Enough: A Book About Inclusion
by Margaret O'Hair; illustrated by Sofia Cardoso
(Ages 4 and up)
Originally born in Ukraine with Down syndrome, Sophia Sanchez was adopted by an American family who taught her the value of self-love. Full of confidence, Sophia now advocates for others with Down syndrome and works to inspire all children to love themselves.
This uplifting book inspired by Sophia carries on that mission of building self-esteem in kids. Beautifully inclusive illustrations feature a variety of children with different skin colors and abilities, helping readers see a reflection of themselves in the pages. The thoughtful text encourages children to celebrate differences, embrace their uniqueness, and respect everyone making this an excellent choice for classroom and home libraries.
A Walk in the Words by Hudson Talbot
(Ages 6 and up)
Any child who has ever struggled with reading will find a friend in this reassuring and captivating story that is essential for classrooms!
Using comical illustrations, the author describes his journey to overcome the difficulties he faced when reading. His insecurity grew as the books he was given grew longer and more challenging. Though initially intimidated, his love of stories urged him to find strategies like breaking larger words into smaller words. Instead of feeling ashamed at the speed in which he read, he marveled in savoring the story and even became a storyteller himself.
Awesomely Emma: A Charley and Emma Story by Amy Webb; illustrated by Merrilee Liddiard
(Ages 5 and up)
While Emma has no hands and uses a wheelchair, she refuses to be defined by her disability and demonstrates a courageous spirit that is truly inspiring. When she attends a field trip to an art museum, she is disappointed that there is no ramp and grows frustrated when her friend Charley tries to help because he feels sorry for her.
This inclusive story is perfect for starting conversations on disabilities and how to be a good friend to others. Emma's self-confidence is contagious and I hope that children will remember her words, "No bodies are wrong. All bodies are right. We're all different colors, sizes, and heights. My body works differently – I love being me! Because ME is an awesome thing to be."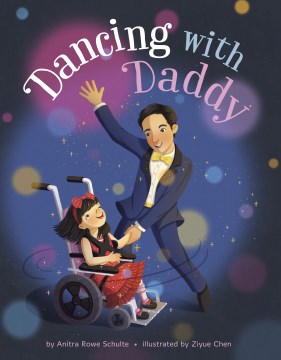 Dancing with Daddy by Anitra Rowe Schulte; illustrated by Ziyue Chen
(Ages 4 and up)
Inspired by her daughter who has Wolf-Hirschhorn Syndrome (WHS), the author created a touching story of a nonverbal little girl named Elsie who excitedly prepares for a Daddy Daughter Dance. Elsie's need for a wheelchair and special book to communicate don't inhibit her ability to enjoy the dance in the slightest and the love felt between her and her other family members, especially her dad, is palpable.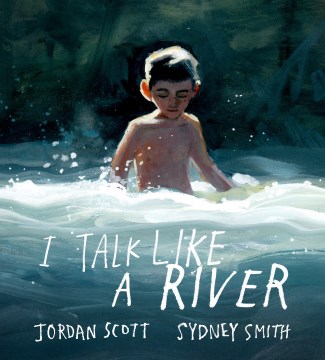 I Talk Like a River by Sydney Smith, written by Jordan Scott
(Ages 5 and up)
A young boy's father helps him better understand his stutter by comparing it to a river. While the text is quite poignant, the illustrations subtly set the tone for this quiet and tender tale. The gentle watercolor, ink, and gouache illustrations illuminate the father's words by displaying the different movements of a river. The muted colors highlighted by rays of light shining on the water both capture the boy's feeling of sadness and frustration while also offering hope and peace.
This Beach is Loud by Samantha Cotterill
(Ages 4 and up)
I adore the Little Senses series that features children with sensory sensitivities. This installment stars an exuberant little boy who can't wait to visit the beach for the first time. Amusing illustrations follow him as he eagerly prepares for the big day. Once he arrives, however, he finds the beach crowded, loud, and the sand uncomfortable. His dad patiently calms him down by taking deep breaths and counting. They find a quiet spot and the boy slowly finds enjoyment in his new environment.
Aaron Slater Illustrator by Andrea Beaty; illustrated by David Roberts
(Ages 5 and up)
Aaron Slater Illustrator joins his friends Iggy Peck, Rosie Revere, Ada Twist, and Sofia Valdez in The Questioneers series with a hopeful story that is simply magnificent.
Aaron Slater is a creative, joyful boy whose dreams are dashed when he starts school and secretly struggles with dyslexia. While he tries to hide and blend in with his class, his new teacher is the first to really see him and in doing so gives him the help he needs and encourages him to express himself the best way he can, through his art.
From its powerful prose to its dazzling artwork and inspiring storyline, this book is exquisite on many levels.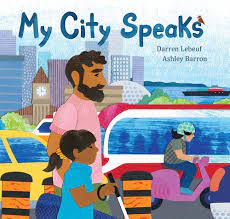 My City Speaks by Darren Lebeuf, illustrated by Ashley Barron
(Ages 3 and up)
Children follow a visually impaired girl who provides a detailed sensory experience of traveling through her city with her father. This is a great story to inspire children to share their own observations about their neighborhoods.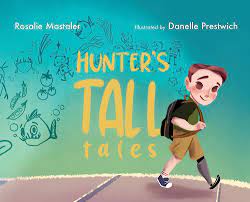 Hunter's Tall Tales by Rosalie Mastaler, illustrated by Danelle Prestwich,
(Ages 5 and up)
Inspired by her son, Hunter, Rosalie Mastaler shares the story of a young boy frustrated by questions about his prosthetic leg. To combat the barrage of inquiries on his first day of school, Hunter makes up outlandish stories to put off his insensitive classmates. When one boy simply asks Hunter to play soccer, he finally feels seen and accepted.
This standout story uses humor to build empathy, model friendship, and raise awareness about disabilities. The book is further enhanced by an author's note that provides grown-ups with tips on how to talk with children about disabilities.
Biographies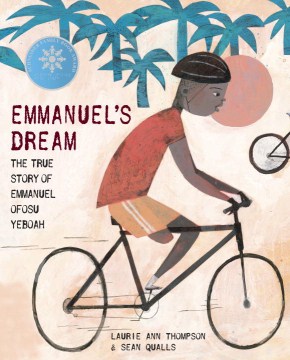 Emmanuel's Dream: The True Story of Emmanuel OfosuYeboahby Laurie Ann Thompson
(Ages 5 and up)
This incredible true story shares the life of Emmanuel Ofosu Yeboah who was born in Ghanna with a severely deformed leg. Though discriminated against because of his disability, Emmanuel was determined to teach the world that "being disabled does not mean being unable." His mother carried him to school and when he became too heavy, he hopped. He learned to play soccer on crutches and rode a bike 400 miles throughout Ghana to spread awareness of the capabilities of the disabled. He is now a national hero and activist whose powerful story teaches readers to persevere and never give up.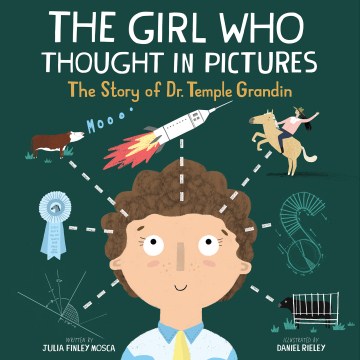 The Girl Who Thought in Pictures: The Story of Dr. Temple Grandin by Julia Finley Mosca; illustrated by Daniel Rieley
"Each person is special- so UNIQUE are our minds. This world needs YOUR ideas. It takes brains of ALL kinds." What an important lesson to learn! When Temple Grandin was diagnosed with autism as a child, few people expected her to go far life in. Her brain worked differently and while that made traditional school and some social situations difficult for her, it is also what helped her earn three degrees and understand farms and animals better leading her to invent safer and more comfortable transportation for livestock. While Temple didn't learn to speak until she was four, she now travels the world speaking to crowds and advocating for people with autism.
Not only does this book celebrate an important woman in history, it also gives children a better understanding of how someone with autism might think and feel allowing them to see that while people with autism might be different, they are certainly not less!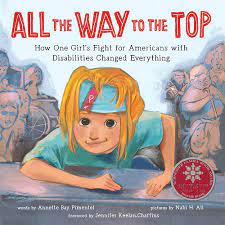 All the Way to the Top: How One Girl's Fight for Americans with Disabilities Changed Everything by Annette Bay Pimentel; illustrations by Nabi H. Ali
(Ages 5 and up)
Frustrated by the lack of access for people in wheelchairs, Jennifer Keelan-Chaffins began advocating for disability rights as a child. Despite her young age, she became very active in the movement and became famous during a protest where she crawled up the Capitol stairs to demonstrate the lack of access for all. I love books that show children making a difference and this is a truly inspiring tale.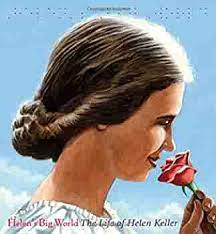 Helen's Big World: The Life of Helen Keller by Doreen Rappaport
(Ages 5 and up)
The story of Helen Keller learning to thrive despite being both deaf and blind, is nothing short of miraculous. I used this story to introduce biographies to my second grade students and they were completely enthralled by this captivating book!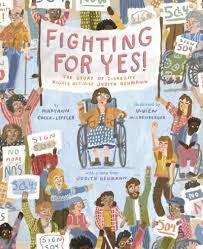 Fighting for Yes! The Story of Disability Rights Activist Judith Heumann by Maryanne Cocca-Leffler; illustrated by Vivien Mildenberger
(Ages 5 and up)
Tired of hearing the word "no" all her life, Judith Heumann became an important disability rights activist. The story chronicles the exasperation she felt as a child being limited due to her wheel chair and how she staged an important sit-in that led to changes that became the foundation for the Americans with Disabilities Act. This is a powerful story enhanced by an afterward by Judith Heumann.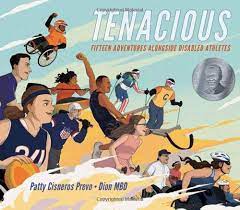 Tenacious: Fifteen Adventures Alongside Disabled Athletes by Patty Cisneros Prevo, illustrated by Dion M.B.D
This story presents fifteen extraordinary athletes who demonstrate perseverance and passion in their everyday lives and in their sport of choice. I especially love how the inspiring stories include a brief overview of the athlete alongside a daily challenge and a daily joy.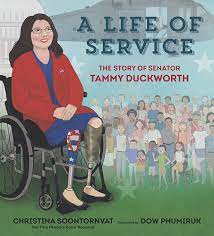 A Life of Service: The Story of Senator Tammy Duckworth by Christina Soontornvat, illustrated by Dow Phumiruk
(Ages 5 and up)
This picture book biography chronicles the remarkable life of Tammy Duckworth who accomplished many firsts in her career including the first Thai American elected to Congress and the first woman with a disability to serve in the House and Senate.
You May Also Like: