Names are immensely powerful and should be pronounced correctly and celebrated. The below collection captures stories of children who have experienced frustration with their names, but have learned to own their identity and demand the respect they deserve.
*I am an associate with the Amazon Affiliates Program, which means that I receive a very small compensation for books that are purchased through the links in my posts.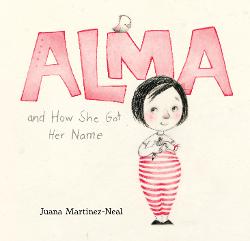 Alma and How She Got Her Name by Juana Martinez-Neal, 2018
(Ages 4 and up)
Alma Sofia Esperanza Jose Pura Candela thinks her name is too long until she learns about all the incredible family members she was named after. She discovers that each ancestor is a part of her and now it is time for her to make her story with her own unique name, Alma.
The story alone makes this a standout picture book, but the small details Juana Martinez-Neal breezily infuses into the book makes this tender story shine even brighter.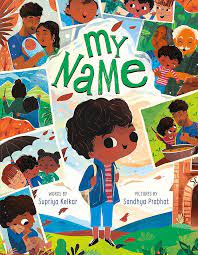 My Name by Supriya Kelkar, illustrations by Sandhya Prabhat, 2023
(Ages 4 and up)
"Your name means you're different. Your name means you're you." I just love how this heartwarming book encourages children to remember that our names make us special, which is why it is so important to take the time to learn and pronounce everyone's name correctly. The story follows a young Indian American boy who feels alienated on the first day of school when people say his name inaccurately. His loving parents help him embrace the uniqueness of his name and celebrate it.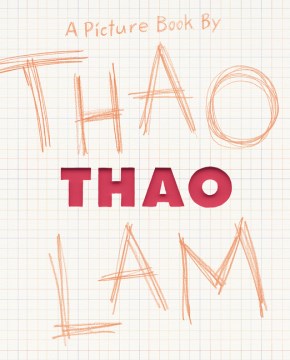 Thao by Thao Lam, 2021
(Ages 4 and up)
In her new autobiographical picture book, Thao, she skillfully infuses charming text that both amuses and conveys the heartbreak when others misspell or mispronounce a name. Thao felt like such an outsider growing up, she wanted to change her name to Jennifer. When her mom packs her favorite Vietnamese lunch, however, she is reminded of the pride she feels in her culture and embraces her identity.
While the text is brief, the message is compelling. Names hold such power and it is extremely hurtful when others don't take the time to learn how to say or spell someone's name correctly. Thao's story is one that many kids will relate to and that will build empathy and understanding for others.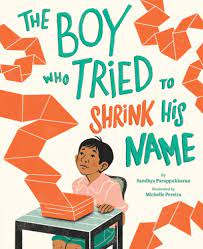 The Boy Who Tried to Shrink His Name by Sandhya Parappukkaran, illustrated by Michelle Pereira, 2023
(Ages 5 and up)
Full of similes and other impressive figurative language, this enchanting story follows a young boy who shortens his name to make it easier for his classmates to say. When he meets a new friend, however, she teaches him to skateboard as he slowly shows her how to say his full name.
This powerful story emboldens children to own who they are and to not change themselves in order to fit in with others.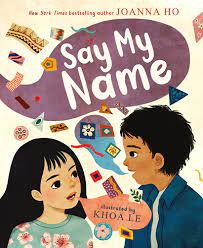 Say My Name by Joanna Ho, illustrated by Khoa Le, 2023
(Ages 4 and up)
Six children from different cultures share the pride they feel in their names in this standout story. Stunning illustrations expertly highlight elements of each heritage while the text reinforces the power that names hold. They represent our history, our family, and make up our identity making it crucial that names be pronounced correctly. This point is further emphasized with the inclusion of a pronunciation guide included with additional information about each name included in the book.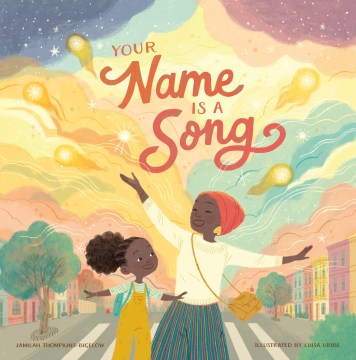 Your Name is a Song by Jamilah Thompkins-Bigelow; illustrated by Luisa Uribe, 2020
(Ages 5 and up)
Names hold such power and when they are inadvertently pronounced incorrectly, it stings. This compelling story stars a young girl who is devastated when her classmates and teachers cannot say her name correctly. Her mother teaches her the lyrical nature of names; a lesson that is elegantly captured through enchanting illustrations. Most notably, her mother shares the importance of one's cultural heritage and how it shapes identity. With a new-found confidence, the girl returns to school and shares her knowledge with the class.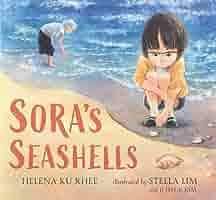 Sora's Seashells by Helena Ku Rhee, illustrated by Stella Lim with Ji-Hyuk Kim, 2023
It is hard to find the words to accurately describe how moving this tender story is. Sora and her grandmother Halmoni love scouring the beach for seashells during Halmoni's yearly summer visits. Sora is dismayed to be teased for her name upon starting kindergarten and even more devastated when she receives news that Halmoni has passed away. In a beautiful scene, Sora's parents bring her to the beach to explain that her name means seashell in Korean and Halmoni suggested she be named Sora because, like a beautiful shell, she is their greatest gift.
When she returns to school, Sora explains to the class the origin of her name and shares her most beloved seashells with all of them including the kids who teased her with surprising results. With its incredible lesson in kindness and generosity, this book is a true standout.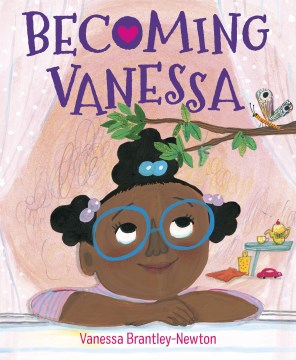 Becoming Vanessa by Vanessa Brantley-Newton, 2021
(Ages 4 and up)
On the first-day-of school, Vanessa carefully chooses her outfit of a colorful tutu, feather boa, and shiny new shoes to express her specialness. Halfway through the day, however, her feathers are falling off, her shoes are pinching her feet, and worst of all, it takes her a lot longer to write her name than everyone else. Frustrated at the difficulty of her name, Vanessa informs her parents that she wants to change it. After hearing the origin of her name, however, Vanessa realizes that it fits her perfectly and she can't wait to return to school to show the kids how extraordinary she really is.
With its strikingly lush illustrations and uplifting storyline about being yourself, this is a must-read!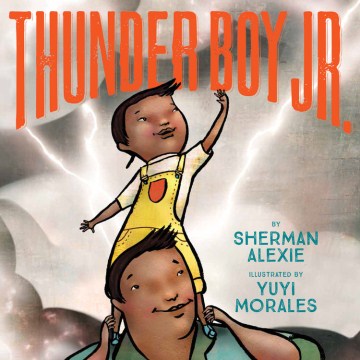 Thunder Boy Jr. by Sherman Alexie and Yuyi Morales, 2016
(Ages 5 and up)
This comical story stars a young Native American boy who dislikes his name. Striking illustrations and humorous text reveal all the possibilities he dreams up for a new name. In the end, his father helps him pick the perfect name. With themes of identity and culture presented in such an engaging way, this story is a standout!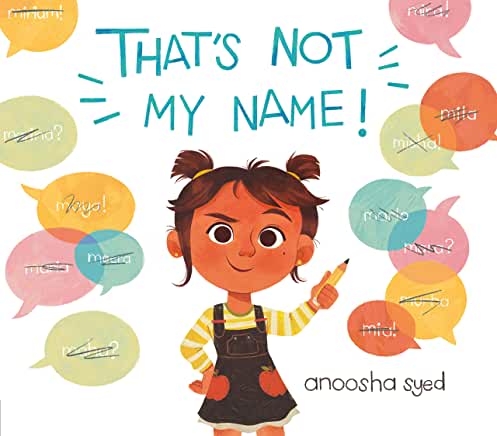 That's Not My Name by Anoosha Syed, 2022
(Ages 4 and up)
Inspired by her own childhood experience, Anoosha Syed has created a relatable and empowering story of a young girl embracing her identity and speaking out when her teacher and her classmates say her name incorrectly.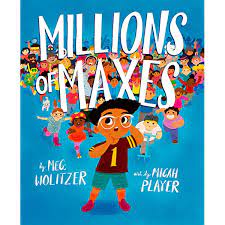 Millions of Maxes by Meg Wolitzer, illustrated by Micah Player, 2022
(Ages 4 and up)
While most of this books on this list address children with unique names, Millions of Maxes captures the frustration some children experience when other people have the same name as them. I love how this one reminds readers that while we may share some traits with others, we are all special and unique in our own way.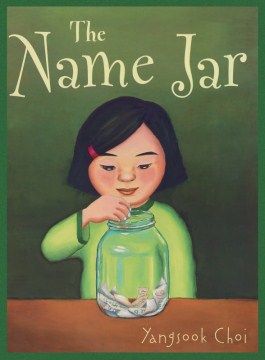 The Name Jar by Yangsook Choi, 2001
(Ages 5 and up)
When Unhei moves from Korea to the United States, her new classmates tease her about her name. She decides to change it to a more American name and the other students fill a jar with suggestions. When a new friend realizes her name has special meaning, her classmates encourage her to keep her Korean name and teach them the correct pronunciation. This sweet story is perfect for discussing cultural diversity.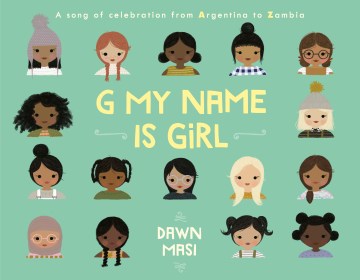 G My Name is Girl by Dawn Masi, 2021
(Ages 4 and up)
From Argentina to Zambia, girls from twenty-six countries are featured in this jubilant ABC book. Eye-catching illustrations transport readers to a different part of the world while the text introduces each girl, her country, and an affirming characteristic. A map is also included with an invitation for readers to share their own name and story.
YOU MAY ALSO LIKE: