With many food and coat drives taking place around this time of year, I've found it very helpful to read stories about the act of giving. The below books not only emphasize the importance of kindness but also offer children a deeper understanding of the impact of their donations and the reasons behind them. They delicately introduce concepts of food insecurity and poverty in a child-friendly manner, encouraging valuable conversations and inspiring young readers to make a difference in any way they can.
*This post contains affiliate links. To read my full disclosure CLICK HERE.
Pa, Me, and the Sidewalk Pantry by Toni Buzzeo, illustrated by Zara González Hoang, 2023
(Ages 4 and up)
This heartfelt story stars a boy and his grandfather who expands their Little Free Library from a place that can "Feed Your Mind" to a sidewalk pantry that also feeds those in need. The boy is so immensely thoughtful in what he places in the pantry and is elated to see when another little boy takes the food and leaves a note. The book is further enhanced with resources about Little Free Pantries and how kids can get involved.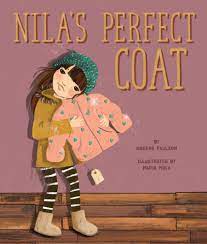 Nila's Perfect Coat by Norene Paulson, illustrated by Maria Mola, 2023
(Ages 4 and up)
Nila longs for a pink puffy coat she spots at a thrift store, but when Nila notices her classmate, Lily, doesn't have a coat at all, she rethinks what it means to want something versus needing something. In a generous act of kindness, Nila buys the pink coat with her birthday money and gives it to Lily. This beautiful and inspiring story is enhanced further with tips for kids to donate their own coats to those in need.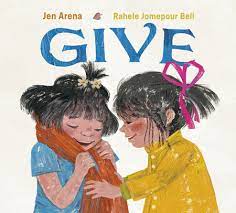 Give by Jen Arena, illustrated by Rahele Jomepour Bell, 2023
(Ages 3 and up)
Though not specifically about donating or giving gifts, I love how this book encourages readers to share a piece of kindness to make the world a better place. The story presents several typical every-day moments where one child offers a random act of kindness to another changing the course of their day. Though the language is simple, the message of giving love is profound.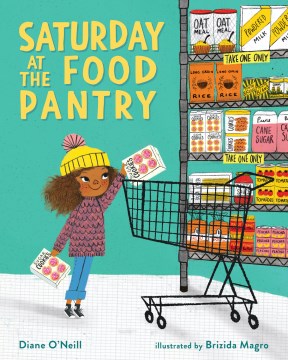 Saturday at the Food Pantry by Diane O'Neill; illustrated by Brizida Magro, 2021
(Ages 5 and up)
In this impactful book, a young girl experiences a variety of emotions as she and her mother visit a food pantry for the first time. Ultimately, she learns that there is nothing wrong with needing help sometimes and that she, too, has the power to help through acts of kindness.
An informative author's note educates readers on the more than fifty million people in the United States who struggle to consistently afford nutritious food. This can be due to illness, a lost job, or a number of other factors that are out of a person's control. This affirming book teaches readers that there is no shame in visiting food pantries. As the author states, "Together, we can help one another go from hungry to hopeful."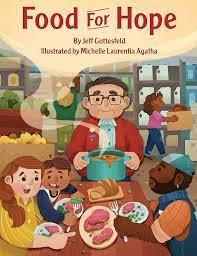 Food for Hope by Jeff Gottesfeld, illustrated by Michelle Laurentia Agatha
(Ages 4 and up)
When John van Hengel, lost everything he found himself relying on soup lines for food. Soon he was working at a local church helping others in need when one woman inspired him to start a food bank. He visited supermarket warehouses persuading them to give him food they couldn't sell. Before he knew it, John was working with the government to spread food banks all across the country.
This is a wonderful inspirational tale about a compassionate and selfless man who has helped millions with his generosity. While it is an excellent choice for reading any time of year, I think it is especially relevant to read around Thanksgiving to discuss food drives and their importance.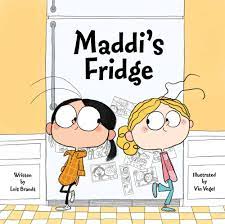 Maddi's Fridge by Lois Brandt, illustrated by Vin Vogel, 2014
(Ages 5 and up)
When Sofia discovers her best friend Maddi's fridge is empty because her family can't afford food, Sofia has a difficult decision to make whether or not to keep Maddi's secret. This enlightening tale about childhood hunger is also an excellent example of empathy and friendship.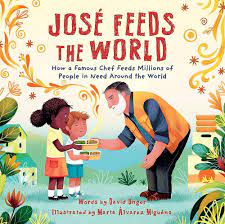 José Feeds the World: How a Famous Chef Feeds Millions of People in Need Around the World by David Unger, illustrated by Marta Alvarez Miguéns, 2023
José Andrés developed a love for cooking at an early age. As he grew into his talent, he not only received numerous awards for his delicious food, he used his gift to give back to the world. He founded the World Central Kitchen, a nonprofit organization that provides free meals to those in need. Whether there was a natural disaster or a war, José traveled the globe providing food for others and empowering thousands to become volunteer Food Fighters. This is a truly beautiful story of how one man used his gift to make the world a better place.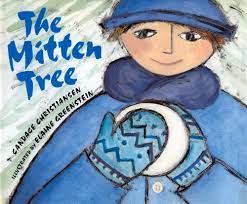 The Mitten Tree by Candace Christiansen, illustrated by Elaine Greenstein, 2009
(Ages 4 and up)
When Sarah notices a boy standing in the cold waiting for a school bus, she kindly knits him mittens and leaves them on the tree outside her house. She continues the act for each child in need. This became one of our school's favorite books to read when conducting our own mitten drive.
Thank You, Omu!
by Oge Mora, 2018
(Ages 4 and up)
Not only is
Thank You, Omu!
a wonderful story about generosity, community, and kindness, the artwork is spectacular! Gorgeous collages created with acrylic paint, china markers, pastels, patterned paper, and old book clippings adorn this tender story that is not only perfect for Thanksgiving, but all year long!
In this heartwarming tale, Omu prepares a thick red stew that she believes will be the best dinner she has ever had. The delicious aroma wafts through the city bringing people to Omu's door where she graciously shares her stew until her pot is finally empty. She doesn't have to stay hungry for long, however. The members of the community return with their own culinary gifts to share with Omu in what turns out to be the best dinner she ever had.
"While Omu's big fat pot of thick red stew was empty, her heart was full of happiness and love." I just love this sweet story that will touch your heart long after closing the book!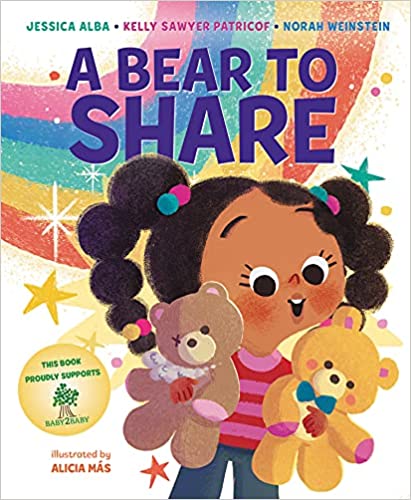 A Bear to Share by Jessica Alba; illustrated by Kelly Sawyer Patricof; illustrated by Alicia Más, 2021
While a young girl named Tiana loves toting around her beloved teddy bear, her mother thinks it is time to replace the tattered stuffed animal with a new one. Tiana turns to her best friend Timothy for advice, but is shocked to discover his parents have never been able to afford to buy him a teddy bear of his own. In a powerful scene, Tiana shares the new bear with Timothy. As he lights up with happiness, she feels her heart shine as well.
A Bear to Share provided the perfect opportunity to open up a valuable conversation with my kids about why it is so important to help others and what generous acts we could do this holiday season.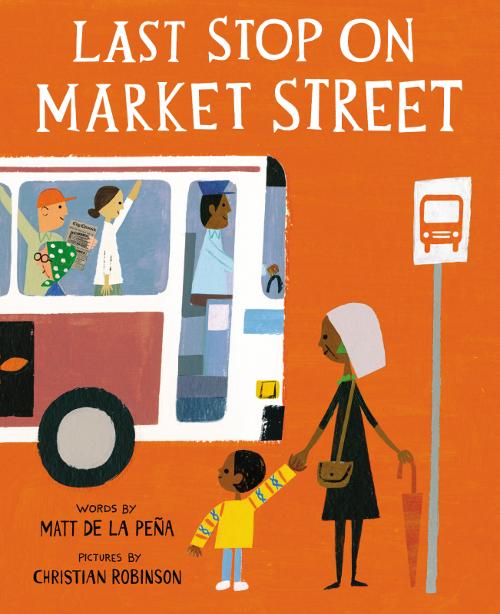 Last Stop on Market Street by Matt de la Peña; illustrated by Christian Robinson, 2015
(Ages 5 and up)
This award winner is the exceptional story of a boy named C.J. and his grandmother traveling through the city on a bus on their way to a soup kitchen. On their journey, they meet a group of diverse people and the grandmother teaches C.J. what it means to be part of a community, be grateful, and to find beauty in your surroundings.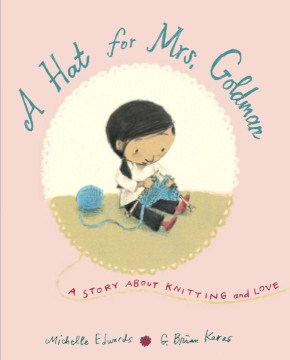 A Hat for Mrs. Goldman: a story about knitting and love by Michelle Edwards; illustrated by G. Brian Kara, 2016
(Ages 4 and up)
This is one of those wonderful books that makes you feel warm and fuzzy on a cold winter day! When Sophia discovers that her neighbor Mrs. Goldman, who has made winter hats for others, does not have one of her own, she takes on the challenge of learning to knit.
The soft color palette and charming illustrations perfectly capture the tone of this delightful story about kindness. Sophia and Mrs. Goldman are lovable characters and serve as wonderful role models. Readers can't help but smile as they follow Sophia on her journey demonstrating determination, perseverance, and compassion.
The book concludes with directions on how children can make their own knitted caps, hopefully to gift to others. This heartwarming story is perfect to read one-on-one or to a class to promote a conversation about empathy and kindness.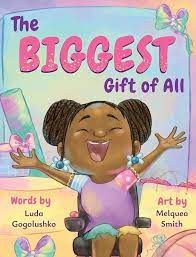 The Biggest Gift of All by Luda Gogolushko, illustrated by Melquea Smith, 2023
This inclusive story with disability representation offers a great lesson that it's not the size of a gift that counts, but the thought and kindness behind it. Tasha is excited to share her present for Sam's birthday, but when other friends bring larger sized gifts than hers, she feels insecure. She quickly learns that the gift of friendship can't be measured by material objects.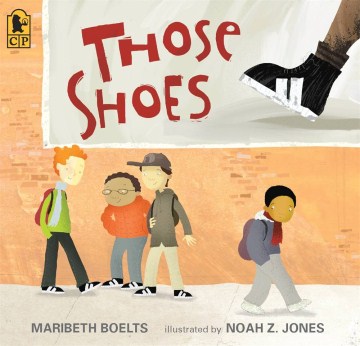 Those Shoes by Maribeth Boelts; illustrated by Noah Z. Jones, 2007
(Ages 5 and up)
This powerful story will stay with readers long after closing the book. Jeremy desperately wants a pair of black high-tops with two white stripes, but his grandmother cannot afford them. He sadly watches as all of his friends come to school with the coveted shoes. Finally, he finds his own pair at a secondhand store. Even though they are too small, he squeezes his feet in them each day until he notices one of his friends has shoes being held together with tape. In a heartfelt act of generosity, Jeremy gives his friend the popular shoes.
This thought-provoking book does an excellent job of reinforcing messages of need and want with kindness and compassion in a realistic scenario. It is one of my absolute favorite read alouds on kindness for elementary age children.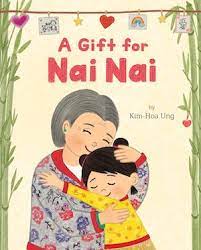 A Gift for Nai Nai by Kim-Hoa Ung, 2023
Full of perseverance, a young girl works hard to make a special crochet hat for her Nai Nai (grandmother) in this sweet intergenerational story. I love that when Lyn Lyn has difficulty first making the hat, she enlists the help of her Nai Nai instead of giving up. The act of working together strengthens their bond and gives even more meaning to the hat when Lyn Lyn presents her final work to her grandmother as a surprise. There is even directions for children to crochet their own hat!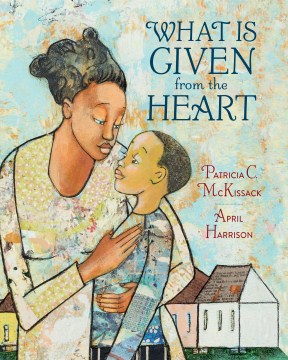 What is Given From the Heart by Patricia C. McKissack ; illustrated by April Harrison, 2019
(Ages 6 and up)
James Otis is having a rough few months. He lost his father and his family has very little money. When another family loses all of their possessions in a fire, however, he discovers a way to bring them joy with a gift from the heart.
This moving story exquisitely conveys the messages of empathy and kindness and acts as a true celebration of faith, hope, and community.
YOU MAY ALSO LIKE: