Books featuring elements of STEM (Science Technology Engineering and Math) are perfect for inspiring budding engineers and inventors to start creating! Listed here are a few of our absolute favorite stories that have not only entertained my children, but also given them the encouragement to start making their own innovations.
*This post contains affiliate links. To read my full disclosure CLICK HERE.
BOARD BOOKS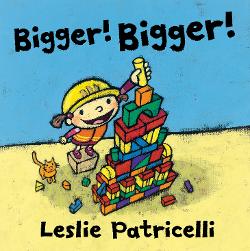 Bigger! Bigger! by Leslie Patricelli, 2018
(2 and up)
This all-too relatable story stars a little girl excitedly using her imagination to build bigger and bigger creations with her blocks until her little brother knocks them down. Although frustrated, she invites her brother to build an even stronger tower together. With themes of creativity and forgiveness, this is an excellent SEL story that should also inspire children to build their own giant towers.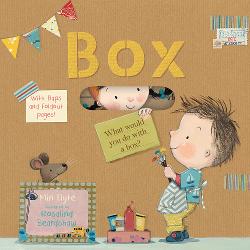 Box by Min Flyte, illustrated by Rosalind Beardshaw, 2016
(Ages 3 and up)
A cardboard box's infinite ability to become anything a child can think of is the premise for this fun and engaging lift-the-flap book. Four children discover boxes of multiple sizes with different toys in each. After playing with the toys, the children look toward the boxes for their next adventure. With a little imagination, each box is transformed into something new including a castle, a boat, a plane, and in two beautiful spreads the boxes are featured as a rocket ship that lifts off the page and a train that appears over two fold-out pages. Children will be begging for their own cardboard boxes after reading this gem.
I also recommend Not a Box by Antoinette Portis (2006), What To Do With a Box by Jane Yolen (2016), The Nowhere Box by Sam Zuppardi (2013)
PICTURE BOOKS
Boxitects by Kim Smith, 2020
(Ages 4 and up)
Meg is excited to attend maker school and further develop her impressive skills of building with boxes. When she meets Simone, a fellow boxitect, however, she becomes jealous of the new student and dismayed when they are forced to work as a team. After a failed experiment, the two engineers realize they both have valuable skills and can do better when working together.⠀⠀⠀⠀⠀⠀⠀
Instructions on how to build a "Boxitect Tunnel" and "Boxitect Castle" are included in the back and inspired my children to build their own creations!
Jabari Tries by Gaia Cornwall, 2020
(Ages 4 and up)
The courageous character from Jabari Jumps returns with another standout story. Jabari is excited to build a flying machine until each design fails. As his frustration grows, his father helps him overcome his irritation and learn to persevere. Jabari takes on his little sister as a partner and together they are able to reach their goal. From the beautiful collage-style illustrations to overcoming big emotions and a positive sibling relationship, there is a lot to love about this sweet story!
If I Built a School by Chris Van Dusen, 2019
Rhyming text and Chris Van Dusen's signature artwork shine in this amusing school-themed story about a boy who dreams of designing his own school. The vivid illustrations and imaginative story line have tons of kid appeal and will inspire fun conversations about what children would want to include in their own inventive schools. The other two books in this series, If I Built a Car and If I Built a House are also excellent choices for read alouds.
Rosie Revere, Engineer, Ada Twist, Scientist, and Iggy Peck, Architect by Andrea Beaty; illustrated by David Roberts
(Ages 4 and up)
We absolutely adore the books in the Questioneers series and especially love Rosie's creativity, Ada's curiosity, and Iggy's desire to do what he loves. Rhyming text and engaging illustrations featuring diverse characters who demonstrate passion and perseverance make these excellent read aloud choices.
Charlotte the Scientist is Squished by Camille Andros; illustrated by Brianne Farley, 2017
(Ages 4 and up)
Charlotte is a serious scientist who is ready to conduct experiments. The only problem is that she has no room to run her tests because she is constantly surrounded by her many brothers and sisters. Being a proper scientist, she uses the Scientific Method to solve her problem. Charlotte's first few experiments fail, but Charlotte's persistence pays off as she finds success and a new perspective. Budding scientists will especially enjoy the last few pages that review the simplified version of the scientific method.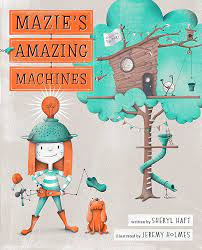 Mazie's Amazing Machines by Sheryl Haft, illustrated by Jeremy Holmes, 2023
(Ages 4 and up)
Mazie McGear was born to be an engineer. Whenever she encounters a problem, she immediately sets to solving it. Through the use of 6 simple machines, Mazie helps her family overcome a variety of obstacles. When her dog becomes stuck on the roof, however, the entire McGear family will have to work together to save the day.
Mazie's enthusiasm for engineering is infectious and I just love the way simple machines are effortlessly introduced. Additionally, the eye-catching color palette with a surprise pop-up page adds to the fun of this engaging read aloud.
The Little Red Fort by Brenda Maier, illustrated by Sonia Sanchez, 2018
(Ages 3 and up)
This updated version of The Little Red Hen stars a small Latina girl named Ruby who invites her brothers to help her build a fort. When they respond that they are too busy, she perseveres and creates an impressive structure. In the end, the brothers make amends by creating additions to the fort and all the siblings enjoy a feast to celebrate their hard work.
Children and adults will love Ruby's resourcefulness, determination, and self-reliance. They will also adore the last page sharing examples of easy forts to make.
The Most Magnificent Thing by Ashley Spires, 2014
(Ages 5 and up)
With the help of her pet dog, a girl embarks on a special mission to create something truly spectacular. After several attempts, however, she grows frustrated by her failures and quits. Taking a break by playing with her dog, however, gives her clarity and inspiration. She perseveres and her hard work pays off when she invents something remarkable. This engaging tale entertains while teaching children to never give up!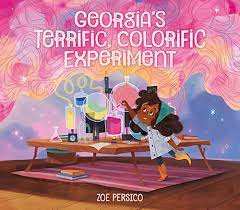 Georgia's Terrific Colorific Experiment by Zoe Persico , 2019
(Ages 4 and up)
Georgia is from a family of artists, but her passion is science. Feeling at odds with the other members of her family, she retreats to her lab where she experiments with color creating a new discovery that both she and her family will admire.The rich illustrations particularly shine in this debut picture book, which will leave budding scientists eager to start experimenting themselves.
How to Code a Sandcastle by Josh Funk ; illustrated by Sara Palacios, 2018
(Ages 5 and up)
How to Code a Sandcastle skillfully explains the core concepts of coding in a child-friendly manner. Not only that…it's an entertaining story! Kids are going to love the idea of a robot helping build a sand castle and the comical trial and errors that ensue. Parents are going to love the little girl's determination, imagination, and perseverance in the face of adversity.
This is one that should be on every child's summer reading list. Coding is so much more than just working with computers. Understanding the basic concepts of coding also helps children build skills in problem solving and critical thinking. This amusing and educational book is a real winner!
Nerdycorn by Andrew Root; illustrated by Erin Kraan, 2021
(Ages 5 and up)
A story starring a confident, kind unicorn interested in STEM? Yes, please!
Meet Fern! Unlike the other unicorns in her community, she prefers chemistry more than glitter. Fern may be different, but she is proud of who she is and always does her best to be a good friend and help others. When she encounters a few rude unicorns who tease her, however, she questions whether or not to help them when they are in need. She ultimately realizes that staying true to herself and doing the right thing is more important than holding on to a grudge. The unicorns come to appreciate Fern's many talents and aim to be more like her.
The bright cover has tons of kid appeal and adults will love how this story opens up discussions on friendship and celebrating differences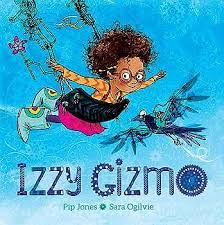 Izzy Gizmo
by by Pip Jones, illustrated by Sara Ogilvie, 2018
(Ages 4 and up)
Izzy is a little girl who loves to invent, but gets frustrated when her creations don't always turn out as planned. When she finds a crow with a broken wing, she learns from each of her mistakes and perseveres through every failure to finally construct a device that helps the crow soar again.This is a great lesson in empathy, determination, and persistence that children are going to love.
NONFICTION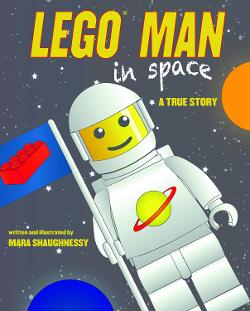 Lego Man In Space
by Mara Shaughnessy, 2013
(Ages 5 and up)
Did you know that a toy Lego Man was actually launched into space by two kids? It's true and Lego Man In Space tells the astonishing story.
Younger children will love learning how a Lego Man entered space and older children, aided with additional resources and ideas in the back of the book, will be inspired to design their own creations. I love books that show real kids doing incredible things because it encourages other children that anything is possible and they too can accomplish something amazing. My five-year-old is in full fledge Lego mode at the moment and could not get enough of this incredible nonfiction book.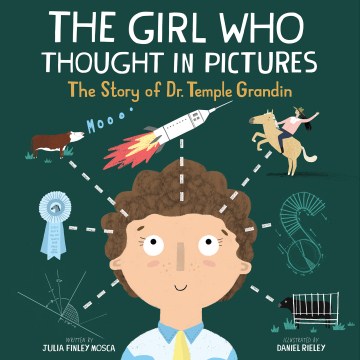 The Girl Who Thought in Pictures: The Story of Dr. Temple Grandin by Julia Finley Mosca; illustrated by Daniel Rieley, 2017
"Each person is special- so UNIQUE are our minds. This world needs YOUR ideas. It takes brains of ALL kinds." What an important lesson to learn! When Temple Grandin was diagnosed with autism as a child, few people expected her to go far life in. Her brain worked differently and while that made traditional school and some social situations difficult for her, it is also what helped her earn three degrees and understand farms and animals better leading her to invent safer and more comfortable transportation for livestock. While Temple didn't learn to speak until she was four, she now travels the world speaking to crowds and advocating for people with autism.
Not only does this book celebrate an important woman in history, it also gives children a better understanding of how someone with autism might think and feel allowing them to see that while people with autism might be different, they are certainly not less!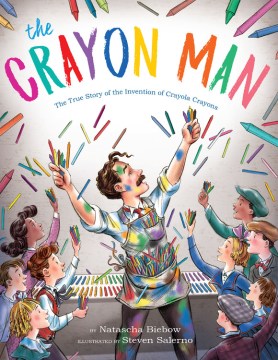 The Crayon Man: The True Story of the Invention of Crayola Crayons by Natascha Biebow; illustrated by Steven Salerno.
The Crayon Manis the true story of the invention of one of our favorite everyday items, Crayola Crayons! Through hard work and persistence, Edwin Binney found a way to bring the beautiful colors of nature into children's hands.
Superbly detailed illustrations capture his journey and the informative text is perfect for sharing with a wide age-range of readers. Additional text boxes provide more scientific descriptions of the process and photographs in the back matter show the method of manufacturing crayons today.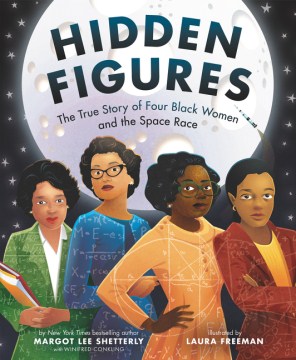 Hidden Figures: The True Story of Four Black Women and the Space Race by Margot Lee Shetterly; illustrated by Laura Freeman, 2018
This standout book introduces children to four exceptional women who used their impressive knowledge of math to help NASA launch astronauts into space and return safely. The child-friendly text shares the stories of Dorothy Vaughan, Mary Jackson, Katherine Johnson, and Dr. Christine Darden and how they combatted racism and excelled in their field. Complete with a timeline, additional biographical information on each woman, a glossary, and an author's note, this is a truly outstanding book.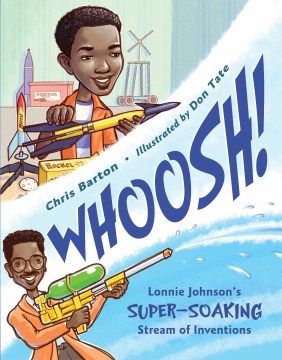 Whoosh! Lonnie Johnson's Super-Soaking Stream of Inventions by Chris Barton; illustrated by Don Tate, 2016
(Ages 5 and up)
Even as a child, Lonnie Johnson loved to tinker and invent. After years of prejudice and failures, he persevered becoming an engineer at NASA and the inventor of the Super Soaker! Children will love reading about this brilliant man and the invention of a beloved toy!
Code Breaker, Spy Hunter: How Elizabeth Friedman Changed the Course of Two World Wars by Laurie Wallmark; illustrated by Brooke Smart, 2021
(Ages 6 and up)
The extraordinary story of how Elizabeth Friedman who loved literature stumbled into a job breaking codes and became an expert in the field of cryptology is utterly fascinating! Because of her brilliant deciphering skills, she was able to imprison a group of smugglers during prohibition, aid the U.S. military with a cipher during WWI, and capture Nazi spies during WWII. Historians now believe that Elizabeth's ability to identify many of the Nazi's military secrets through code breaking saved thousands of lives and shortened the war.
Sprinkled with quotes from Elizabeth and adorned with attention-grabbing artwork, Code Breaker, Spy Hunter is an excellent choice for sharing one-on-one with a child who is interested in STEM or history. The substantial backmatter includes more information on codes and ciphers, a code for kids to break, a description of cryptography today, a timeline, and a bibliography.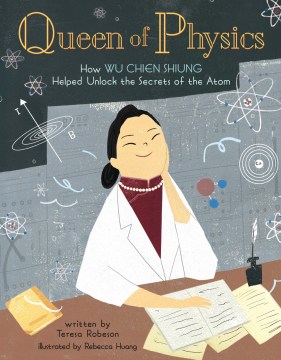 Queen of Physics: How Wu Chien Shiung Helped Unlock the Secrets of the Atom by Teresa Robeson; illustrated by Rebecca Huang, 2019
(Ages 5 and up)
Born over 100 years ago during a time when girls were not considered smart enough to attend school, Wu Chien's progressive parents pushed her to follow her dreams and become anything she wanted to be. Her name means "Courageous Hero" and after standing up to sexism and racism, she truly lived up to her name dominating her scientific field and earning the reputation The Queen of Physics. Wu Chien's extraordinary story is captured in this beautiful picture book biography encouraging children to boldly follow their passions no matter what obstacles stand in their way.
YOU MAY ALSO LIKE: