What better way to celebrate Thanksgiving than to teach your children about gratitude? The following books will hopefully inspire children and help them appreciate the many gifts in their lives.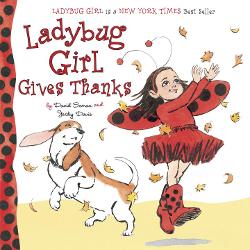 Ladybug Girl Gives Thanks (Ladybug Girl board book series) by David Soman and Jacky Davis, 2016
(Ages 2 – 5)
The New York Times best-selling Ladybug Girl picture book series has branched out into board books. Ladybug Girl Gives Thanks carries on the adorable illustrations and charm from the picture books and teaches children how to be grateful for the people and things around them.
Lulu, who loves to dress as her alter ego, Ladybug Girl, is thankful for her dog, her friends, trees, books, pumpkin pie, and her family. Even though this is a board book, there is an air of sophistication and whimsy added to the story through the text. For example, "Ladybug Girl is thankful for trees. Trees are the best! You can climb on them, swing from them, or just daydream under them." This is a nice quiet read, that will remind children of the wonderful things that surround them in their everyday lives.
The Thankful Book by Todd Parr, 2012
(Ages 2 – 6)
Todd Parr uses bright colors and engaging illustrations to remind children of the many things to be thankful for. Some things include personal characteristics such as, "I am thankful for my feet because they help me run and play." Other things are more comical such as, "I am thankful for underwear because I like to wear it on my head." Most children will be able to relate to everything listed and will smile at the end with the last two-page spread, "I am thankful for holidays because they bring my family together!"
This book can be used as a read aloud, but with some sentimental offerings, I think it is perfect for reading with a loved one. Todd Parr's signature letter in the back of the book encourages children to try and remember something they are thankful every day.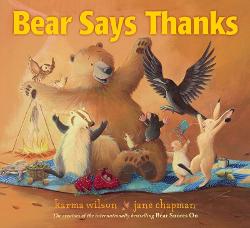 Bear Says Thanks (Bear series) by Karma Wilson; illustrated by Jane Chapman, 2012
(Ages 3 – 6)
Bear wants to make a feast to share with his forest friends, but his cupboard is bare. Luckily his friends turn up at his cave with an assortment of foods. Each time a friend arrives, Bear let's out a boisterous "Thanks!" Right before they dig in, however, Bear frets that he has contributed nothing to the wonderful meal. His friends reassure him that while he couldn't provide food, he can share stories. They gather around and listen to Bear's tales while they enjoy a beautiful feast together.
With its flowing rhymes and chorus of "Thanks", this is a perfect book for a Thanksgiving themed storytime. This was one of my son's favorite series when he was around three-years-old and was very popular with the Pre-Kindergarten students at my old school. This is a sweet story of friendship, gratitude, and sharing that is simply charming.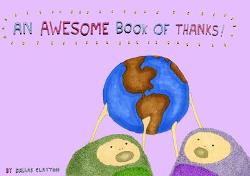 An Awesome Book of Thanks by Dallas Clayton, 2010
(Ages 3 – 8)
This fantastic book reminds us all of how important it is to be thankful for everything and everyone around us and for all things that may be possible or even impossible such as "Girelephants in silly hats skipping rope with jungle cats." There is no real story here except the narrator's appreciation of various things. It's length, pacing, strong message, and whimsicalness reminds me of Oh the Places You'll Go by Dr. Seuss. It is a fun book that is engaging and leaves readers with the terrific message of being thankful.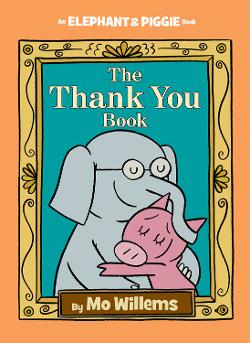 The Thank You Book (Elephant and Piggie series) by Mo Willems, 2016
(Ages 4 – 8)
Hearts were broken everywhere when Mo Willems announced that he would be ending his famous Elephant and Piggie series, but the final book makes a great lesson in gratitude.
In their last book, Piggie, exuberant as ever, realizes she has a lot to be thankful for and she better get thanking! The worrisome, Gerald, fears that she will forget someone. The rest of the story is a comical review of past characters who appeared in the other books in the series. Gerald nags Piggie throughout that she is forgetting someone and while the audience might think Gerald is hinting that he has been forgotten, it is actually the reader Piggie overlooks.
As my five-year-old son and I read this book together, he erupted in a fit of giggles at the characters silly expressions and got a huge smile on his face when Piggie finally thanks the reader. "Thank you for being our reader! We could not be 'us' without you. You are the best!" I am so thankful for Mo Willems and the wonderful books that he writes!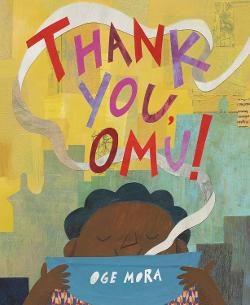 Thank You, Omu!
by Oge Mora, 2018
(Ages 4 – 8)
Not only is
Thank You, Omu!
a wonderful story about generosity, community, and kindness, the artwork is spectacular! Gorgeous collages created with acrylic paint, china markers, pastels, patterned paper, and old book clippings adorn this tender story that is not only perfect for Thanksgiving, but all year long!
In this heartwarming tale, Omu prepares a thick red stew that she believes will be the best dinner she has ever had. The delicious aroma wafts through the city bringing people to Omu's door where she graciously shares her stew until her pot is finally empty. She doesn't have to stay hungry for long, however. The members of the community return with their own culinary gifts to share with Omu in what turns out to be the best dinner she ever had.
"While Omu's big fat pot of thick red stew was empty, her heart was full of happiness and love." I just love this sweet story that will touch your heart long after closing the book!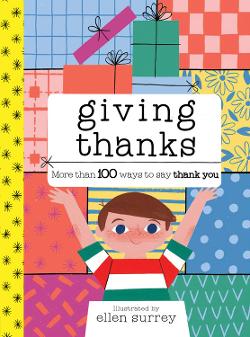 Giving Thanks: more than 100 ways to say thank you by Ellen Surrey, 2016
(Ages 3 – 6)
As the title implies, this book provides a plethora of ideas of how to thank important people in children's lives.
The first page introduces a little boy named Andy who engages the reader by asking who they would like to say thank you to. The two-page spread is broken into panels featuring a variety of people most likely part of a child's life including parents, siblings, teachers, pets, friends, stuffed animals, etc. Each spread follows the same format of asking a question such as, "What would you like to say thank you for?" or "If you could give them a gift, what you would give?" alongside panels of examples.
For me, it became a little redundant, but I included it in this list because it also prompted a great conversation with my five-year-old about who he is thankful for and the fun ways he could show his gratitude. I also appreciated the ideas in the back such as making your own gratitude jar and creating thank-you cards for your friends and family.