What better way to celebrate Thanksgiving than to teach your children about gratitude? The following books will hopefully inspire children and help them appreciate the many gifts in their lives.
*This post contains affiliate links. To read my full disclosure CLICK HERE.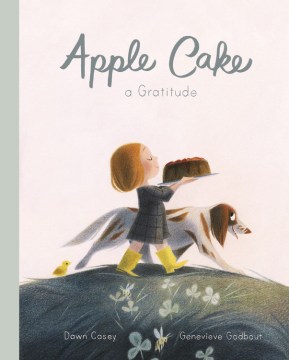 Apple Cake: A Gratitude by Dawn Casey; illustrated by Genevieve Godbout, 2019
(Ages 3 and up)
Short text and charming illustrations follow a young girl and her adorable dog as they collect ingredients to make an apple cake. Simple rhymes verbalize the girl's appreciation for all around her. The cozy illustrations and words create a feeling of warmth and happiness most likely inspiring readers to use the recipe in the back of the book to make their own delicious apple cake!
The Thankful Book by Todd Parr, 2012
(Ages 2 and up)
Todd Parr uses bright colors and engaging illustrations to remind children of the many things to be thankful for. Some highlights include personal characteristics such as, "I am thankful for my feet because they help me run and play," while other listings are more comical and heartwarming. With its vivid illustrations and concise text, this is an excellent read aloud for young children.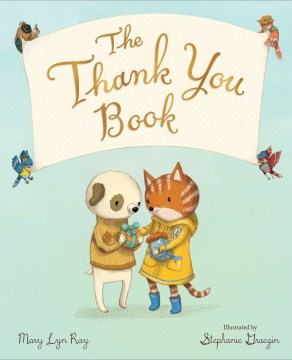 The Thank You Book by Mary Lyn Ray; illustrated by Stephanie Graegin, 2018
(Ages 3 and up)
This delightful book teaches children that saying "thank you" isn't just part of being polite. Concise text and sweet illustrations present a myriad of experiences many children will recognize in their everyday lives and teaches readers how to appreciate them.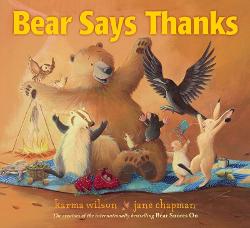 Bear Says Thanks (Bear series) by Karma Wilson; illustrated by Jane Chapman, 2012
(Ages 3 and up)
Bear wants to make a feast to share with his forest friends, but his cupboard is bare. Luckily his friends turn up at his cave with an assortment of foods. Each time a friend arrives, Bear let's out a boisterous "Thanks!" Right before they dig in, however, Bear frets that he has contributed nothing to the wonderful meal. His friends reassure him that while he couldn't provide food, he can share stories. They gather around and listen to Bear's tales while they enjoy a beautiful feast together.
With its flowing rhymes and chorus of "Thanks", this is a perfect book for a Thanksgiving themed storytime. This was one of my son's favorite series when he was around three-years-old and was very popular with the Pre-Kindergarten students at my old school. This is a sweet story of friendship, gratitude, and sharing that is simply delightful.
Thankfulby Elaine Vickers; illustrated by Samantha Cotterill, 2021
(Ages 4 and up)
With its stunning 3-D illustrations and heartfelt message of gratitude, this enchanting story is a must-have. As a young girl makes a thankful chain and articulates a variety of things she appreciates in the world, readers will be inspired to reflect on all that they have to be grateful for as well. With its warm color tones and cheerful text, this book exudes a cozy feeling making it one you will want to revisit often.
Whether read to inspire children to make their own thankful chains or as a comforting bedtime story, this is one you will not want to miss!
We Give Thanks by Cynthia Rylant; illustrated by Sergio Ruzzier, 2021
(Ages 4 and up)
This endearing tale uses flowing rhymes to follow a rabbit and frog as they share all they are grateful for in their community. Both the text and illustrations have just the right amount of humor to make readers smile while they reflect on the many things they appreciate. This warm and inviting story ends with the rabbit and frog hosting a feast for their friends making this an excellent choice for Thanksgiving and all year long.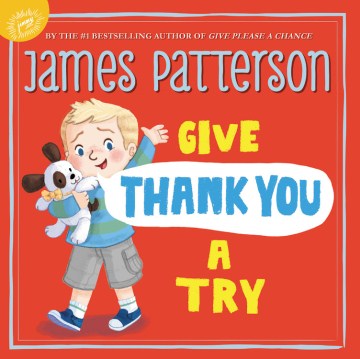 Give Thank You A Try by James Patterson, 2017
(Ages 3 and up)
James Patterson, who is famous for writing thrilling books for adults, has now turned his talents to picture books. Featuring a variety of artists, each two-page-spread is a different celebration of giving thanks. The types of gratitude range from everyday joys such as "PB&Js in our PJs" to more sentimental moments such as a mother thankful for her family's support while in the hospital. We enjoyed looking at the diverse styles of illustrations and all of the things in life to be thankful for.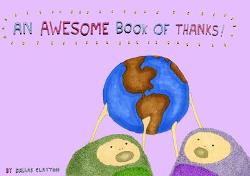 An Awesome Book of Thanks by Dallas Clayton, 2010
(Ages 3 and up)
This silly book reminds us all of how important it is to be thankful for everything and everyone around us and for all things that may be possible or even impossible such as "Girelephants in silly hats skipping rope with jungle cats." There is no real story here except the narrator's appreciation of various things. It's length, pacing, strong message, and whimsy reminds me of Oh the Places You'll Go by Dr. Seuss. It is a fun book that is engaging and leaves readers with the terrific message of being thankful.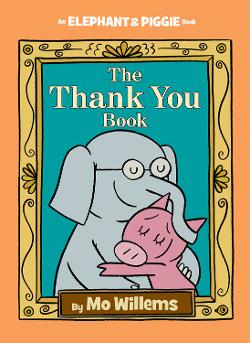 The Thank You Book (Elephant and Piggie series) by Mo Willems, 2016
(Ages 4 and up)
Hearts were broken everywhere when Mo Willems announced that he would be ending his famous Elephant and Piggie series, but the final book makes a great lesson in gratitude.
In their last book, Piggie, exuberant as ever, realizes she has a lot to be thankful for and she better get thanking! What follows is a comical review of past characters who appeared in the other books in the series.

This is another winner that makes me realize how thankful I am for Mo Willems and the wonderful books that he writes!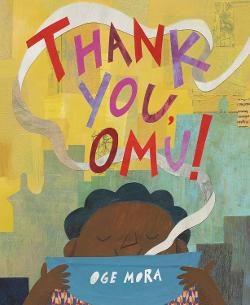 Thank You, Omu!
by Oge Mora, 2018
(Ages 4 and up)
Not only is
Thank You, Omu!
a wonderful story about generosity, community, and kindness, the artwork is spectacular! Gorgeous collages created with acrylic paint, china markers, pastels, patterned paper, and old book clippings adorn this tender story that is not only perfect for Thanksgiving, but all year long!
In this heartwarming tale, Omu prepares a thick red stew that she believes will be the best dinner she has ever had. The delicious aroma wafts through the city bringing people to Omu's door where she graciously shares her stew until her pot is finally empty. She doesn't have to stay hungry for long, however. The members of the community return with their own culinary gifts to share with Omu in what turns out to be the best dinner she ever had.
"While Omu's big fat pot of thick red stew was empty, her heart was full of happiness and love." I just love this sweet story that will touch your heart long after closing the book!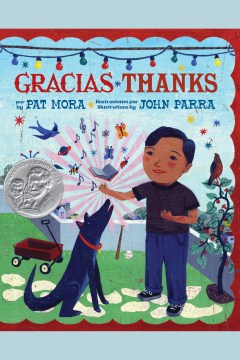 Gracias Thanks by Pat Mora; illustrated by John Parra, 2009
(Ages 4 and up)
From nature to everyday items and events, a boy shares all the things he is grateful for. Colorful illustrations fill the pages while the lyrical text is presented in both English and Spanish. Many of the blessings the boy recounts may seem simple, but that is what makes this such a relatable and enjoyable book. It inspires readers to take the time to pause and appreciate small moments that we may otherwise take for granted.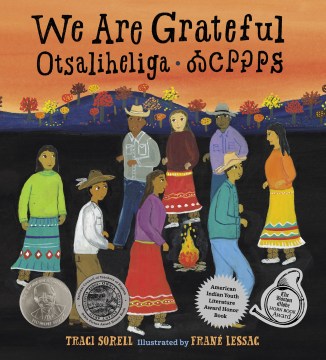 We Are Grateful: Otsaliheliga by Traci Sorell; illustrated by Frané Lessac, 2018
(Ages 4 and up)
Vibrant illustrations follow a Cherokee family through the seasons as they share in their tradition of saying "otsaliheliga" to express gratitude for everything around them. With Cherokee words sprinkled into the text and extensive backmatter providing a glossary, author's note, and the Cherokee alphabet, this unique glimpse into a Native American culture is beautiful and informative.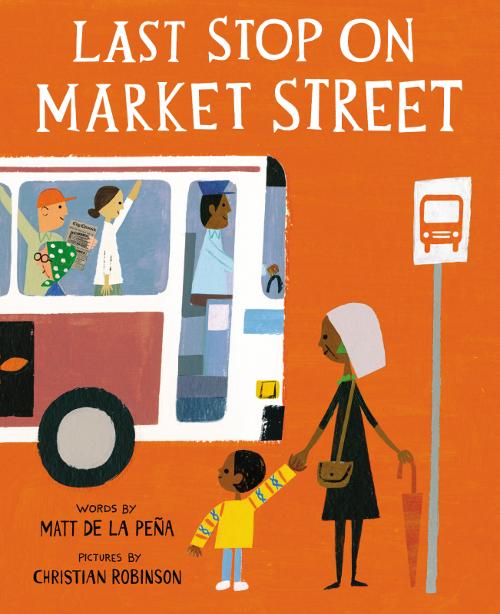 Last Stop on Market Street by Matt de la Peña; illustrated by Christian Robinson, 2015
(Ages 5 and up)
This award winner is the exceptional story of a boy named C.J. and his grandmother traveling through the city on a bus. On their journey, they meet a group of diverse people and the grandmother teaches C.J. what it means to be part of a community, be grateful, and to find beauty in everything around him.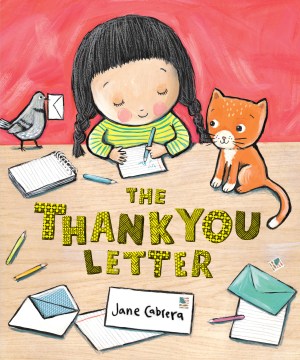 The Thank You Letter by Jane Cabrera, 2019
(Ages 5 and up)
After her birthday party, Grace writes thank you letters for all of her gifts. When she finishes, she realizes that she is not only thankful for her presents, but for other people in her community. She busily writes more notes alerting people and even animals how grateful she is. In a sweet ending, she returns home to find a ton of letters showing other's appreciation for her.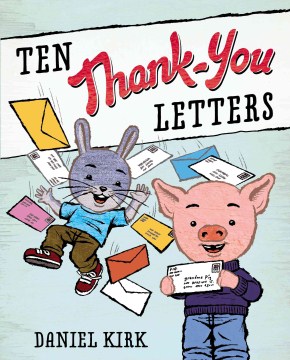 Ten Thank-You Letters by Daniel Kirk, 2014
(Ages 5 and up)
When Rabbit stops at Pig's house to play, he discovers that Pig is writing a thank you note to his grandmother. Rabbit is inspired and borrows paper, envelopes, and stamps to write his own thank you letters. While Pig composes a long, detailed letter, Rabbit creates several short letters to a variety of people.
This is a great book to use to motivate children to reflect on people in their family or community they appreciate and encourage them to write thank you notes of their own.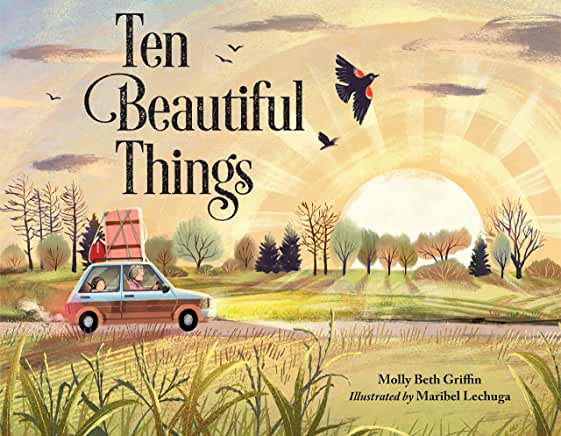 Ten Beautiful Things by Molly Beth Griffin; illustrated by Maribel Lechuga
So much of life is about perspective and this tender and profound story teaches readers that even when we are feeling at our lowest, we can find beauty and hope in the simple pleasures of life.
Feeling hollow and empty, Lily gloomily climbs into her grandmother's car to embark upon a road trip to their new home. When Gram suggests they look for ten beautiful things along the way, Lily is doubtful she will find anything that resembles beauty in the barren landscape. A stunning sunrise takes her by surprise, however, and soon Lily and her grandmother find themselves surrounded by beauty even in the most unexpected places such as a decrepit barn, in the smell of mud, and in the sound of a gurgling stream. With each item on the list, Lily begins to feel the empty spaces inside her fill back up until, at last, she finds a feeling of peace.
I get goosebumps every time I read this story. While it is unclear why Lily is moving in with her grandmother, it is evident that she is experiencing a feeling of loss. Gram's challenge of finding ten beautiful things helps Lily change her mindset and while she accepts that her current situation is not easy, she discovers a sense of belonging and hope for the future.
This standout story is heartfelt, thought-provoking, and simply phenomenal.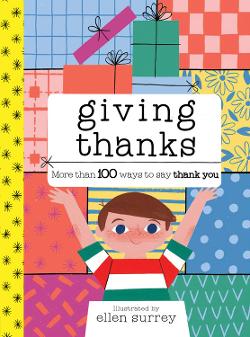 Giving Thanks: more than 100 ways to say thank you by Ellen Surrey, 2016
(Ages 3 and up)
As the title implies, this book provides a plethora of ideas of how to thank important people in children's lives.
The first page introduces a little boy who engages the reader by asking who they would like to say thank you to. The two-page spread is broken into panels featuring a variety of people including parents, siblings, teachers, pets, friends, stuffed animals, etc. Each spread follows the same format of asking a question such as, "What would you like to say thank you for?" or "If you could give them a gift, what you would give?" alongside panels of examples.
For me, it became a little redundant, but I included it in this list because it also prompted a great conversation with my five-year-old about who he is thankful for and the fun ways he could show his gratitude. I also appreciated the ideas in the back such as making your own gratitude jar and creating thank-you cards for your friends and family.