With stores already putting out Christmas decorations, it is not too hard to imagine winter right around the corner. The below books do a wonderful job describing the transition from fall to winter and will get children excited about the upcoming season!
*This post contains affiliate links. To read my full disclosure CLICK HERE.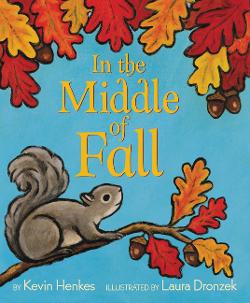 In the Middle of Fall by Kevin Henkes; illustrated by Laura Dronzek, 2017
(Ages 2 – 6)
With simple, lyrical language and clear illustrations, this is the perfect book to use for a fall storytime. It eloquently captures the essence of fall through its colorful leaves, chilled air, frisky squirrels, and apples that hang off trees like ornaments. I also love how it reminds children to hold on to the memory of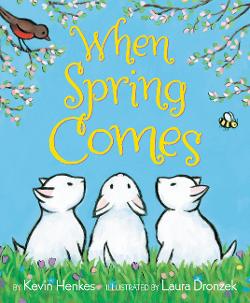 fall because it can be so brief and "very soon the sky will be white and empty – ready to fill up with snow." This is a well written picture book that belongs in
many preschool classrooms. Since it focuses on memories of fall, but ends with the upcoming winter, it provides a great prompt for what students can look forward to in the approaching season. 
When the weather becomes warm again, be sure to check out When Spring Comes by Kevin Henkes and illustrated by Laura Dronzek (2016).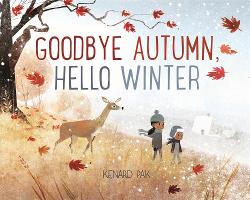 Goodbye Autumn, Hello Winter by Kenard Pak 2017
(Ages 4 – 8)
This beautifully illustrated book follows two children as they travel from a wooded hilltop to their house greeting everything around them from the leaves to birds to flowers, and in turn, receive an informative response from the plants and animals as they prepare for winter. "'Hello leaves.' 'Hello. Now that the wispy winds have come, we fall from the oak tree branches and are swept into the sky!'" As the children approach their house, night falls and the reader sees a busy town preparing for winter holidays including Hanukkah, Kwanza, and Christmas. The quiet night brings the frost and the children wake up to a beautiful snow-filled morning. The book ends with the children saying farewell to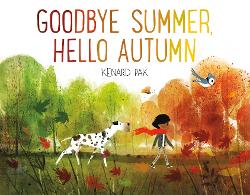 fall and welcoming winter with a snowman.  This is a charming story that will educate young children about how their surroundings will change as winter approaches. The artwork is lovely and perfectly captures the beauty of both fall and winter.
Check out the companion book Goodbye Summer Hello Autumn by Kenard Pak (2016).