Thanksgiving is around the corner and I've got some amazing read alouds for you to share with your children and students!
This mix of old and new favorites is packed with kid appeal and has themes of gratitude or celebrate aspects of the Thanksgiving holiday.
*This post contains affiliate links. To read my full disclosure CLICK HERE.
Apple Cake: A Gratitude by Dawn Casey; illustrated by Genevieve Godbout, 2019
(Ages 3 and up)
Short text and charming illustrations follow a young girl and her adorable dog as they collect ingredients to make an apple cake. Simple rhymes verbalize the girl's appreciation for all around her. The cozy pictures and words create a feeling of warmth and happiness. As an extra bonus there is a recipe in the back of the book to make a delicious apple cake!
Bear Says Thanks (Bear series) by Karma Wilson; illustrated by Jane Chapman, 2012
(Ages 3 and up)
Bear wants to make a feast to share with his forest friends, but his cupboard is bare. Luckily his friends turn up at his cave with an assortment of foods. Each time a friend arrives, Bear let's out a boisterous "Thanks!" Right before they dig in, however, Bear frets that he has contributed nothing to the wonderful meal. His friends reassure him that while he can't provide food, he can share stories. They gather around and listen to Bear's tales while they enjoy a beautiful feast together.
This series is a favorite of our family's and was also very popular with my Pre-Kindergarten students. With its sweet storyline focusing on friendship and flowing rhymes, this is a perfect book for a Thanksgiving themed storytime.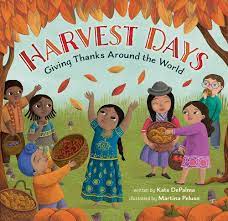 Harvest Days: Giving Thanks Around the World by Kate DePalma, illustrated by Martina Peluso, 2022
(Ages 4 and up)
I just love the global perspective this book gives children by sharing 11 different harvest celebrations from around the world. The short gentle rhymes make this a good choice to read aloud while the breakout boxes offering additional details create an opportunity for further exploration.
Fry Bread by Kevin Noble Maillard; illustrated by Juana Martinez-Neal, 2019
(Ages 3 and up)
This award-winning own-voices story, uses rolling rhymes and beautiful illustrations to demonstrate how a special family recipe can be so much more than just a meal. The delightful story starring a Native American family preparing the bread is enhanced further with an eye-opening author's note explaining how fry bread became an integral part of many Indigenous communities.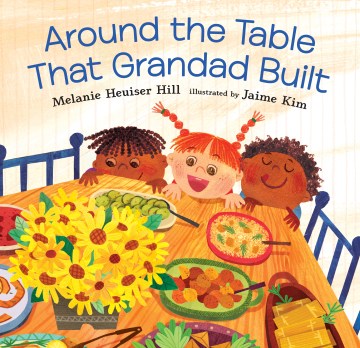 Around the Table That Grandad Built
by Melanie Heuiser Hill; illustrated by Jaime Kim, 2019
(Ages 3 and up)
In this lovely ode to family, multiracial relatives set the table for a large meal together. Whether it's the sunflowers picked by the cousins, the napkins sewn by the mom, or the food made by different members of the family, almost every line of the cumulative text emphasizes how each element of the meal honors traditions or people in the family. This beautiful story is perfect for sparking a conversation on tradition in one's own family.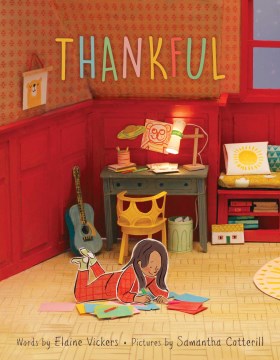 Thankful by Elaine Vickers; illustrated by Samantha Cotterill, 2021
(Ages 4 and up)
With its stunning 3-D illustrations and heartfelt message of gratitude, this enchanting story is a must-have. As a young girl makes a thankful chain and articulates a variety of things she appreciates in the world, readers will be inspired to reflect on all that they have to be grateful for as well. With its warm color tones and cheerful text, this book exudes a cozy feeling making it one you will want to revisit often.
Whether read to inspire children to make their own thankful chains or as a comforting bedtime story, this is one you will not want to miss!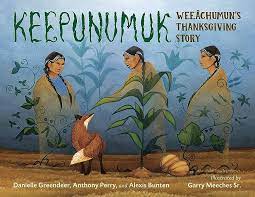 Keepunumuk: Weeachumun's Thanksgiving Story by Danielle Greendeer, Anthony Perry, and Alexis Bunten; illustrated by Garry Meeches Sr., 2022
(Ages 4 and up)
This important book shares a modern Wamponoag family's retelling of the first Thanksgiving through a Native American's perspective. The insightful tale melds together the legend of the Three Sisters with the lore of the woodland creatures spirits' who inspired the Wamponoag tribe to help the pilgrim's survive their first winter. With additional information on the Wampanoag tribe and their traditions, this is a must-read to a gain a more comprehensive look at the first Thanksgiving.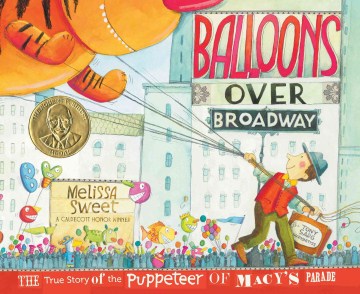 Balloons Over Broadway: The True Story of the Puppeteer of Macy's Parade by Melissa Sweet , 2011
(Ages 5 and up)
I love watching children's eyes light up when they learn about Tony Sarg, the man who invented the giant balloons seen every year in the Macy's Day Parade. The incredible collage-style illustrations capture Tony's creativity and enlighten readers on the origin of a beloved Thanksgiving tradition.
Thank You, Omu!
by Oge Mora, 2018
(Ages 4 and up)
Not only is
Thank You, Omu!
a wonderful story about generosity, community, and kindness, the artwork is spectacular! Gorgeous collages created with acrylic paint, china markers, pastels, patterned paper, and old book clippings adorn this tender story that is not only perfect for Thanksgiving, but all year long!
In this heartwarming tale, Omu prepares a thick red stew that she believes will be the best dinner she has ever had. The delicious aroma wafts through the city bringing people to Omu's door where she graciously shares her stew until her pot is finally empty. She doesn't have to stay hungry for long, however. The members of the community return with their own culinary gifts to share with Omu in what turns out to be the best dinner she ever had.
"While Omu's big fat pot of thick red stew was empty, her heart was full of happiness and love." I just love this sweet story that will touch your heart long after closing the book!
We Are Grateful: Otsaliheliga by Traci Sorell; illustrated by Frané Lessac, 2018
(Ages 4 and up)
Vibrant illustrations follow a Cherokee family through the seasons as they share in their tradition of saying "otsaliheliga" to express gratitude for everything around them. With Cherokee words sprinkled into the text and extensive backmatter providing a glossary, author's note, and the Cherokee alphabet, this unique glimpse into a Native American culture is beautiful and informative.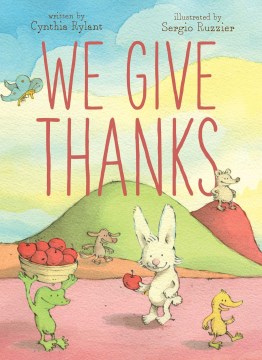 We Give Thanks by Cynthia Rylant; illustrated by Sergio Ruzzier, 2021
(Ages 4 and up)
This endearing tale uses flowing rhymes to follow a rabbit and frog as they share all they are grateful for in their community. Both the text and illustrations have just the right amount of humor to make readers smile while they reflect on the many things they appreciate. This warm and inviting story ends with the rabbit and frog hosting a feast for their friends making this an excellent choice for Thanksgiving and all year long.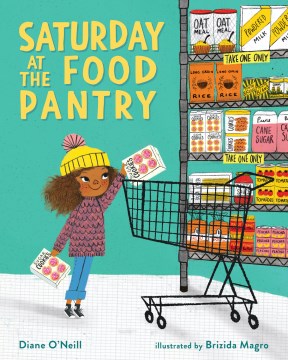 Saturday at the Food Pantry by Diane O'Neill; illustrated by Brizida Magro, 2021
(Ages 5 and up)
Many food drives take place around Thanksgiving, but not many stories give children an insight into where that food is going and why it is needed. Saturday at the Food Pantry is a powerful and important story that helped my children better appreciate the importance of food pantries and allowed us to open up a valuable conversation about food insecurity.
In this impactful book, a young girl experiences a variety of emotions as she and her mother visit a food pantry for the first time. Ultimately, she learns that there is nothing wrong with needing help sometimes and that she, too, has the power to help through acts of kindness.
An informative author's note educates readers on the more than fifty million people in the United States who struggle to consistently afford nutritious food. This can be due to illness, a lost job, or a number of other factors that are out of a person's control. This affirming book teaches readers that there is no shame in visiting food pantries. As the author states, "Together, we can help one another go from hungry to hopeful."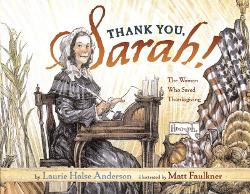 Thank You Sarah: The Woman Who Saved Thanksgiving by Laurie Halse Anderson, illustrated by Matt Faulkner, 2002
(Ages 5 and up)
Attention-grabbing text entertains readers while informing them about the remarkable Sarah Hale who was America's first female magazine editor, composed the song "Mary Had a Little Lamb", raised five children, and wrote persuasive letters for decades to make Thanksgiving a national holiday. Discover her incredible and inspiring story in this phenomenal tale.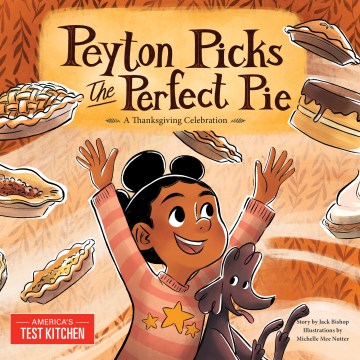 Peyton Picks the Perfect Pie: A Thanksgiving Celebration by Jack Bishop; illustrated by Michelle Mee Nutter, 2020
(Ages 5 and up)
Peyton may be particular about the food she eats, but she is ready to be a little more adventurous. This Thanksgiving she vows to try pie for the first time. Her parents host a large get together with family, friends, and neighbors who bring a variety of pies using recipes from around the world. I loved seeing the inclusive meal that makes this Thanksgiving story feel fresh and modern with a positive message of trying new things. There is even a recipe for apple pie for those who want to help with their own Thanksgiving meal this year.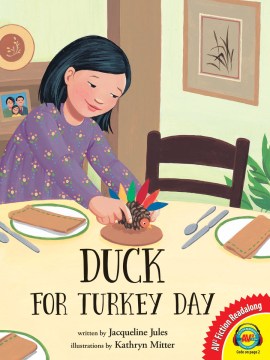 Duck for Turkey Day by Jacqueline Jules; illustrated by Kathryn Mitter, 2009
(Ages 5 and up)
Tuyet is excited for Thanksgiving, but concerned her family is making duck instead of turkey. On the big day, she enjoys a wonderful time visiting with her cousins and grandparents and even has seconds of the duck. When it's time to return to school, however, she frets she will be judged for not eating turkey. In a clever twist, she happily discovers that lots of children ate other foods besides turkey, teaching her the important lesson that there is no right or wrong when it comes to family traditions.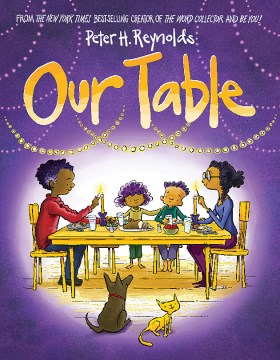 Our Table by Peter H. Reynolds
(Ages 5 and up)
While not specifically a Thanksgiving book, I love the thought-provoking reminder of the importance of slowing down and fitting in family time that is so perfectly demonstrated in this heartfelt story.
Violet remembers the joyful times her family spent around their table, but now it seems that everyone is too busy to eat there. Readers will cheer as the resourceful Violet finds a way to connect with her family on their terms and bring everyone together once again to make many more magical memories. This heartwarming cautionary tale is an important reminder of the impact of being present with family members making OUR TABLE a timely read that is sure to resonate with many.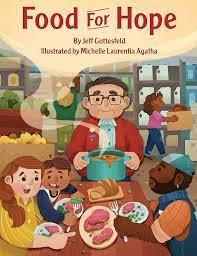 Food for Hope by Jeff Gottesfeld, illustrated by Michelle Laurentia Agatha, 2023
(Ages 4 and up)
When John van Hengel, lost everything he found himself relying on soup lines for food. Soon he was working at a local church helping others in need when one woman inspired him to start a food bank. He visited supermarket warehouses persuading them to give him food they couldn't sell. Before he knew it, John was working with the government to spread food banks all across the country.
This is a wonderful inspirational tale about a compassionate and selfless man who has helped millions with his generosity. While it is an excellent choice for reading any time of year, I think it is especially relevant to read around Thanksgiving to discuss food drives and their importance.
You may also like: