One of the best ways to get children excited about the upcoming school year is to make them feel connected to their classmates and teachers. Many books on this list convey the message that classes are a different type of family who support each other and help one another grow. Most children thrive in caring environments and these read alouds help children feel seen and heard while also building a community in the classroom.
*This post contains affiliate links. To read my full disclosure CLICK HERE.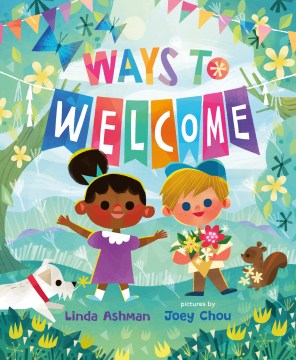 Ways to Welcome by Linda Ashman; illustrated by Joey Chou, 2020
(Ages 3 and up)
Simple rhymes and rich, bold illustrations featuring a diverse group of people demonstrate a variety of ways to make others feel welcome. This sweet book is an excellent choice for the beginning of the year to prompt a discussion on friendliness and helping students feel accepted.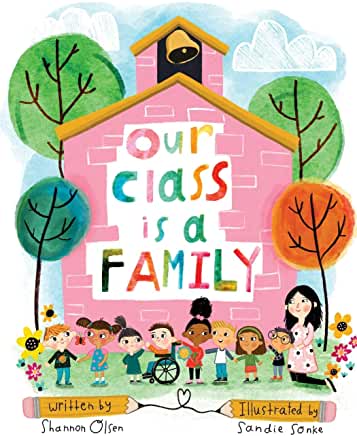 Our Class is a Family by Shannon Olsen; Sandie Sonke, 2020
(Ages 3 and up)
Most of us have spent A LOT of time with our family over the last few months and the idea of leaving one's home to go to school may cause separation anxiety for some children. This uplifting book shares the message that school is a safe place where children can take risks, learn from mistakes, and form a special bond with other students who become almost like a second family. The delightful rhymes, positive message, and bright illustrations makes this a good choice for the first day of school.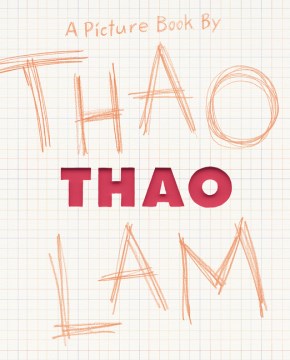 Thao by Thao Lam, 2021
(Ages 4 and up)
In her new autobiographical picture book, Thao, she skillfully infuses charming text that both amuses and conveys the heartbreak when others misspell or mispronounce a name. Thao felt like such an outsider growing up, she wanted to change her name to Jennifer. When her mom packs her favorite Vietnamese lunch, however, she is reminded of the pride she feels in her culture and embraces her identity.
While the text is brief, the message is compelling. Names hold such power and it is extremely hurtful when others don't take the time to learn how to say or spell someone's name correctly. Thao's story is one that many kids will relate to and that will build empathy and understanding for others.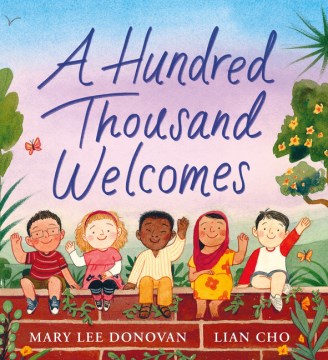 A Hundred Thousand Welcomes by Mary Lee Donovan; illustrated by Lian Cho, 2021
(Ages 3 and up)
Lively rhymes invite readers on a journey around the world learning thirteen different ways to say welcome in this stirring new release.
The beautiful illustrations use food as a common theme connecting people of all different cultures coming together. Hidden within the charming pictures is the correct pronunciation of each word for welcome. The theme of inclusivity is reinforced in a final impressive four-page spread featuring a diverse group of people enjoying a large meal together.
One by Kathryn Otoshi, 2008
(Ages 3 and up)
This brilliant book uses numbers and colors to create a clever story about bullying and acceptance. Red is hot headed and enjoys picking on Blue. The other colors are too intimidated to help until the number One enters and teaches them all a meaningful lesson. This is one of my favorite books – a must-read.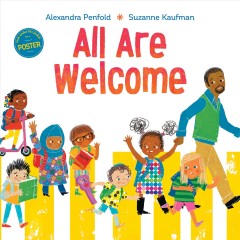 All Are Welcome by Alexandra Penfold; illustrated by Suzanne Kaufman, 2018
(Ages 4 and up)
Poignant language paired with colorful illustrations featuring a diverse group of students drive home the message that school is an inclusive and welcoming place to ALL. This is sure to become a classic classroom read aloud that is reread every year.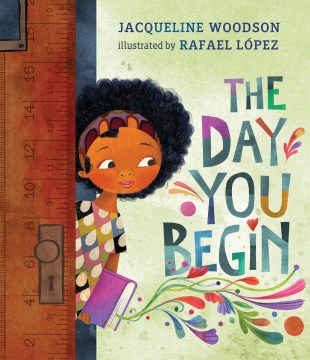 The Day You Begin by Jacqueline Woodson; illustrated by Rafael López, 2018
(Ages 5 and up)
At some point in our lives just about everyone feels like they don't belong. This complex feeling can be especially confusing and scary for children. The Day You Begin is a powerful book that encourages children to celebrate their uniqueness and share their stories. In doing so, they will often find commonalities with others. With moving text and beautiful illustrations, this special story will resonate with a number of age groups.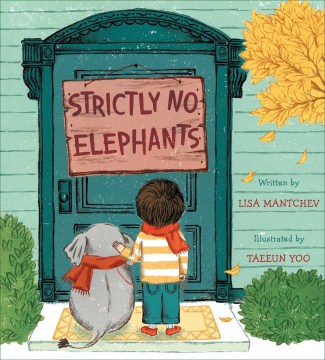 Strictly No Elephants by Lisa Mantchev; illustrated by Taeeun Yoo, 2015
(Ages 4 and up)
This charming story is a must-have. When a boy and his pet elephant are excluded from a pet club, he finds other children with unusual pets and they form their own club that welcomes everyone. Without being overly didactic, this lovely friendship story teaches children the beauty of inclusion.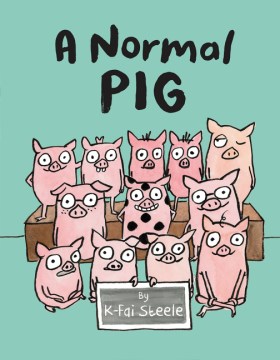 A Normal Pig by K-Fai Steele, 2019
(Ages 5 and up)
Pip feels like a normal pig until a new pig comes to school and makes her question the things she likes. This engaging story takes a realistic scenario and helps reinforce the importance of celebrating differences and individuality.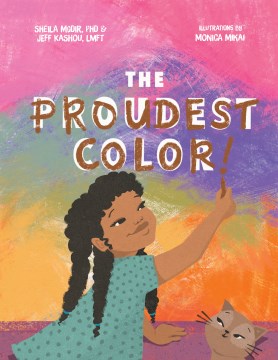 The Proudest Color by Sheila Modir and Jeff Kashou; illustrated by Monica Mikai, 2021
(Ages 4 and up)
A young girl associates several moods with colors and loves brown the most because it makes her feel proud. When she arrives for her first day of school and discovers she is the only one with brown skin, however, her confidence wanes. At home, her parents lift her spirits by sharing stories of a myriad of people with brown skin who have accomplished great things. There is a lot to love about this emboldening story, but I especially adore all the details particularly in the last few pages and the end papers.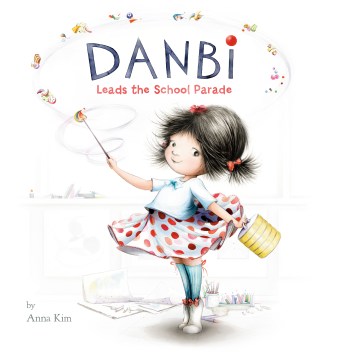 Danbi Leads the School Parade by Anna Kim, 2020
(Ages 5 and up)
This beautifully illustrated story follows Danbi, a young South Korean girl, who bravely starts school in America. While each activity feels strange and different, she tries her best. At lunchtime, the other students are intrigued by her Korean lunch and she encourages them to try using her chopsticks. The students discover that while it is difficult to eat with the chopsticks, it is fun to make music with them. They soon band together in a parade through the school forming new friendships.
The real strength of this enchanting story is how it teaches children that by being themselves, they can find commonalities with others and form bonds that can even surpass language barriers. It also demonstrates the benefits of trying something new and learning from others that are different from you.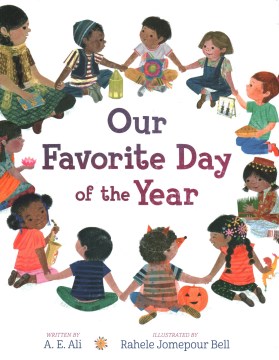 Our Favorite Day of the Year by A.E. Ali; illustrated by Rahele Jomepour Bell, 2020
(Ages 5 and up)
On the first day of kindergarten, a teacher helps her diverse group of students become better acquainted by sharing their favorite day of the year. Eid Al-Fitr, Rosh Hashanah, Las Posadas, and Pi Day are all highlighted giving children a windows and mirrors experience where they may see themselves reflected in the characters or learn about new cultures. Additional information on each holiday is provided in the backmatter.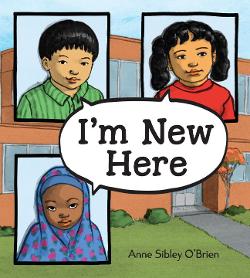 I'm New Here (2015) and Someone New (2018) by Anne Sibley O'Brien are powerful tools to teach children empathy, point of view, and acceptance.⠀⠀
I'm New Here follows three immigrant children who are starting school for the first time in America. They initially struggle, but over time and through hard work, they make friends and become confident and happy in their new surroundings.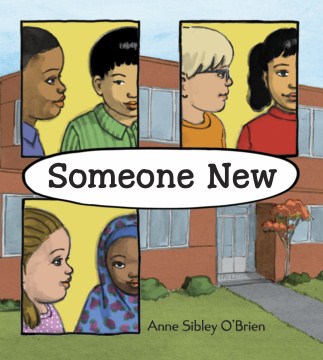 The companion book, Someone New shows the same story from three American students' perspectives. At first, they are not sure how to react to their new classmates. They want to welcome them, but have a difficult time communicating without speaking the same language. Through small acts of kindness, they find common ground and build friendships.
Buy I'm New Here Buy Someone New Here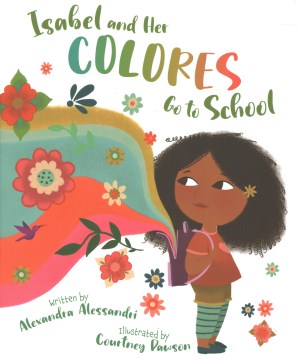 Isabel and Her Colores to go School by Alexandra Alessandri; illustrated by Courtney Dawson, 2021
This beautiful bilingual book provides readers a glimpse into the distress non-English speaking children may feel when starting a new school and demonstrates how friendship has the power to penetrate language barriers.
Spanish-speaking Isabel is worried that she won't fit in at her English-speaking school, but happily discovers she is able to communicate with her new classmates through her favorite pastime, drawing. Spanish vocabulary is cleverly woven into the text while the vivid illustrations expertly capture Sophie's changing feelings. The story is enhanced further with a Spanish-English glossary.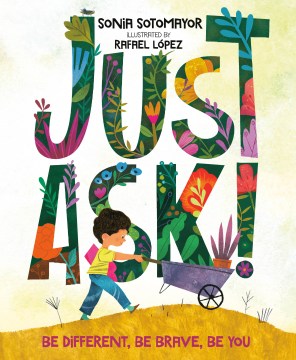 Just Ask! by Sonia Sotomayor; illustrated by Rafael Lopez, 2019
(Ages 6 and up)
Inspired by her own experience with juvenile diabetes, Supreme Court Justice Sonia Sotomayor has created a vibrant picture book encouraging children to ask questions and learn more about people's differences to better understand and embrace them.
This is a beautiful book that raises awareness about conditions that many children face such dyslexia, autism, Tourrette syndrome, ADHD, and several others. Questions are posed to the reader creating an interactive element that allows children to connect with the characters in the book and learn that even though we all may be different, we also share commonalities. Using a garden as a metaphor, Sonia Sotomayor shares the important message that just like plants "each of us has unique powers to share with the world and make it more interesting and richer."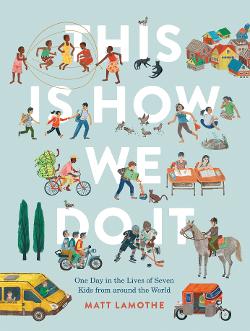 This is How We Do It: One Day in the Lives of Seven Kids from Around the World by Matt Lamothe
(Ages 5 and up)
This brief glimpse into the life of seven children from countries including Uganda, Italy, Japan, India, Russia, Peru, and Iran provides readers with insight into how other people may live. The book follows the children as they prepare for a typical day starting with what their homes and families are like, what they eat for meals, an overview of their school day, and how they play.
The book ends with one final spread featuring the moon and the stars with the simple text, "This is my night sky" signifying that no matter how different our lives may be, we all have something in common. Photographs of the real families the book is based on appear in the back along with a glossary of words in different languages and a map of where the children live.
This is a fascinating book that gives children more of a global perspective.