"I'm Sorry" are two very important words that can also be extremely hard to say for kids (and adults!). Luckily, there are amazing books like the ones listed below that help kids take ownership of their complex emotions and navigate the ins and outs of friendship.
*I am an associate with the Amazon Affiliates Program, which means that I receive a very small compensation for books that are purchased through the links in my posts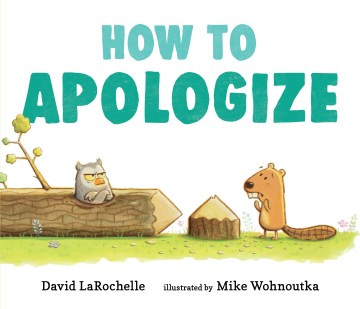 How to Apologize by David LaRochelle, illustrated by Mike Wohnoutka
(Ages 4 and up)
Using just the right amount of humor and charm, all-stars David LaRochelle and Mike Wohnoutka have created the perfect read aloud for teaching kids why and how to apologize! This entertaining story reassures readers that everyone makes mistakes, but it is important to rectify them with a heartfelt apology. With its delightful illustrations and impactful message of conflict resolution, this book is a must-have for home and classroom libraries.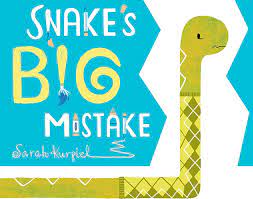 Snake's Big Mistake by Sarah Kurpiel, 2023
(Ages 4 and up)
This brilliant book tackles themes of jealousy, honesty, and making amends in such a child-friendly and relatable way. When his teacher mixes up Snake's pottery for Turtle's, Snake takes the praise without giving the credit to his friend. He feels so guilty afterwards, he breaks the pot. Though it is difficult, Snake ultimately apologizes to Turtle, confesses to the teacher, and helps Turtle make a new pot repairing their friendship in the process. This is a great addition to social emotional learning collections!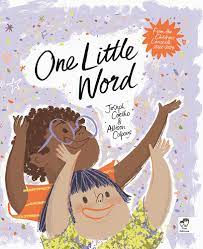 One Little Word by Joseph Coelho, illustread by Allison Colpoys, 2023
(Ages 5 and up)
An argument between two best friends is personified by a monster who grows bigger and bigger as the two continue to quarrel. The monster is a perfect visual to demonstrate how the fight not only affects the two friends, but the other children on the playground as well. Though small, an apology is the only thing that can shrink the monster into oblivion. This inclusive book has tons of fantastic details making it an excellent conversation starter on conflict resolution.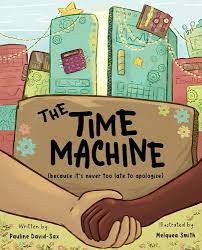 The Time Machine by Pauline David-Sax, illustrated by Melquea Smith, 2023
(Ages 4 and up)
After offending her best friend Nia, Bailey wants to apologize, but finds it difficult to express her remorse. She sets upon building a time machine to go back and undo her mistake. When she struggles to finish the project, Nia unexpectantly aids in the completion of the time machine. Together, they both venture into the contraption, enabling Bailey to deliver a heartfelt apology. This pivotal moment allows the two friends to mend their relationship and move forward. I especially appreciate the "Apologizing Do's and Don'ts" included in the back to help guide readers when making their own amends.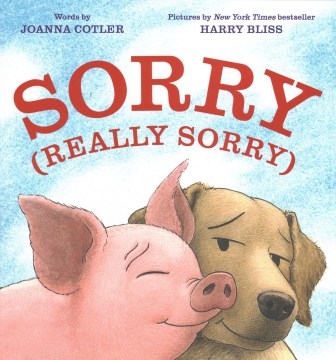 Sorry (Really Sorry) by Joanna Cotler, illustrated by Harry Bliss
(Ages 4 and up)
When a cow steps in mud, her bad mood causes a chain reaction that spreads throughout the farm. When a sincere apology is made, however, acts of kindness are shared uplifting everyone's moods. There are so many valuable lessons to take away from this beguiling story! It is one that we reread often.
Tomorrow is a Brand-New Day by Davina Bell; illustrated by Allison Colpoys, 2022
(Ages 4 and up)
This is a book that all children need to hear! With flowing rhymes and vibrant artwork, this clever story brilliantly captures life's frustrations that can cause us to not be our best selves and weaves in a message of hope and forgiveness stating that children will be loved no matter what.
The story follows two girls who have several ups and downs throughout the day ending with an argument. The next morning they wake up ready to apologize and set things right. I think it is so important for kids to learn at an early age that everyone makes mistakes, but when we do, we also need to make amends.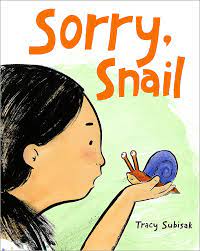 Sorry Snail by Tracy Subisak, 2023
When a very angry Ari comes across a snail, she decides to take her foul mood out on the innocent creature saying some very unkind words. That night Ari is visited by the snail who demands an apology. This laugh-out-loud story not only entertained our family, but also opened up an important conversation about sincere apologies and making amends.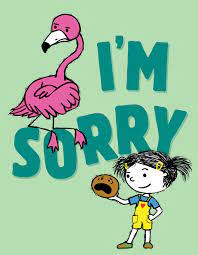 I'm Sorry by Michael Ian Black, illustrated by Debbie Ridpath Ohi, 2021
In the fourth story of the
I'M book
series, potato has hurt Flamingo's feelings and he's unsure what to do about it. Luckily, a wise little girl coaches him through making a heartfelt apology. I just love how Michael Ian Black and Debbie Ridpath Ohi effortlessly use humor to present powerful feelings to children in an accessible and impactful way. Their first three books delicately tackle boredom, sadness, and anxiety while this one opens up conversations about apologizing and forgiveness.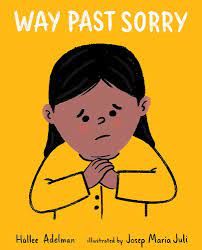 Way Past Sorry by Hellee Adelman, illustrated by Josep Maria Juli, 2023
I absolutely love this series that highlights very realistic scenarios children face and provides helpful advice to navigate complex feelings. When a girl breaks a promise to sit with her friend Sage on a bus ride and chooses to sit with another friend instead, she lets her guilty feelings cloud her judgement and make even more mistakes that affect her friendship with Sage. At the end of the field trip, she makes a sincere apology to Sage and works hard to be a better friend.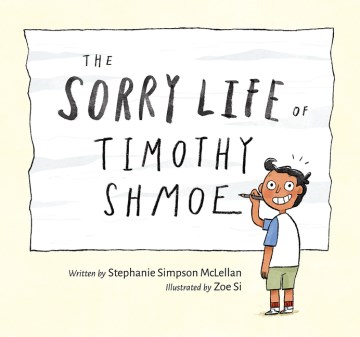 The Sorry Life of Timothy Shmoe by Stephanie Simpson McLellan; illustrated by Zoe Si, 2021
(Ages 5 and up)
Written in a series of comical apology letters, Timothy Shmoe expresses his regret for his many mostly unintentional mistakes. This brilliant story skillfully captures the hardships of growing up while trying to figure out the ins and outs of family. While Timothy owns his slip-ups, he also shares in his letters his frustration and confusion over life's rules. Many children will relate to Timothy and feel reassured that he (and readers) are loved no matter what missteps they may make. My son in particular has found a kindred spirit in Timothy and this has become his absolute favorite new book.
YOU MAY ALSO LIKE: