Going back to school is an exciting time to reconnect with old friends and make new ones, but it can also be a stressful time with complex emotions. The following books are excellent conversation starters on what it means to be a good friend, how to work through conflicts, the importance of inclusion, and the power of a sincere apology and making amends.
*This post contains affiliate links.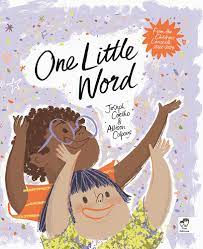 One Little Word by Joseph Coelho, illustread by Allison Colpoys, 2023
(Ages 4 and up)
An argument between two best friends is personified by a monster who grows bigger and bigger as the two continue to quarrel. The monster is a perfect visual to demonstrate how the fight not only affects the two friends, but the other children on the playground as well. Though small, an apology is the only thing that can shrink the monster into oblivion. This inclusive book has tons of fantastic details making it an excellent conversation starter on conflict resolution.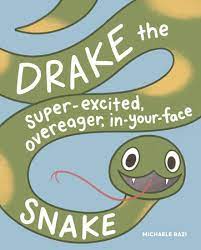 Drake the Super-Excited, Overeager, In-Your-Face Snake by Michaele Razi, 2023
(Ages 4 and up)
The concepts of respecting other people's personal space and creating healthy boundaries are skillfully addressed in this amusing story of an overly-friendly snake. After scaring his friends away with his surprise appearances and insistent hugs, he realizes communication is a key part to friendship.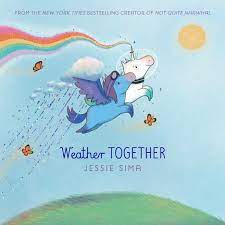 Weather Together by Jessie Sima, 2023
(Ages 4 and up)
Best friends Nimbus and Kelp have the most wonderful time playing together, which is why Nimbus hides her cloudy moods. She tries to weather her gloomy feelings on her own, but it is only when she opens up to Kelp that she discovers good friends will be there for you during both the good and bad times.
There is a lot to love about this adorable exploration of friendship, most notably the importance in sharing one's feelings.
I also highly recommend Not Quite Narwhal and Perfectly Pegasus.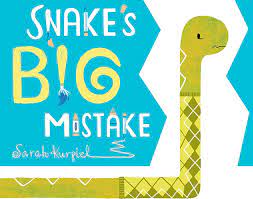 Snake's Big Mistake by Sarah Kurpiel
(Ages 4 and up)
This brilliant book tackles themes of jealousy, honesty, and making amends in such a child-friendly and relatable way. When his teacher mixes up Snake's pottery for Turtle's, Snake takes the praise without giving the credit to his friend. He feels so guilty afterwards, he breaks the pot. Though it is difficult, Snake ultimately apologizes to Turtle, confesses to the teacher, and helps Turtle make a new pot repairing their friendship in the process. This is a great addition to social emotional learning collections!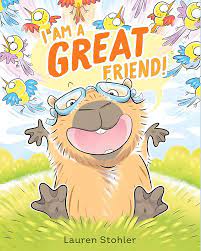 I Am a Great Friend by Lauren Stohler, 2023
(Ages 4 and up)
Capybaras have a reputation for being friendly with all animals especially birds who enjoy resting on their backs, which is why Baby Capybara is so frustrated. His exuberant nature seems to be scaring off his potential bird friends, so he attempts to change in order to fit in. It is only when he stays true to himself, however, that he discovers a faithful friend who shares the same interests. I just adore this funny and sweet book about finding your people.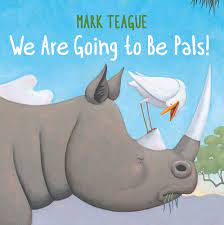 We Are Going to Be Pals by Mark Teague, 2023
(Ages 4 and up)
A loquacious egret befriends a stoic rhinoceros in this comical story introducing symbiotic relationships. Through the egret's comical chatter, readers learn the keys to a successful friendship including showing respect, compromising, communication, and demonstrating kindness. With its clever puns and expressive illustrations this is one fun read aloud!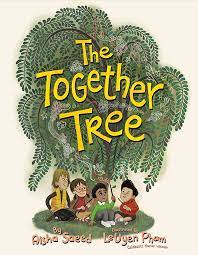 The Together Tree by Aisha Saeed, illustrated by LeUyen Pham
(Ages 5 and up)
On his first day in a new school, Rumi finds solace under an old willow tree after being bullied by a boy named Asher. When Asher's unkindness continues, another boy named Han steps in to befriend Rumi creating a chain reaction that brings more classmates together. This beautiful friendship story is an excellent conversation starter on the power of bystanders, giving people second chances, and the importance of inclusion.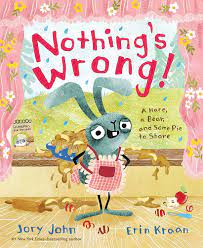 Nothing's Wrong! A Hare, A Bear, and Some Pie to Share by Jory John, illustrated by Erin Kraan, 2023
How many times have you told someone that nothing's wrong when there is actually something bothering you? This amusing friendship story touches on this relatable scenario demonstrating the importance of sharing our feelings and how to be a good friend to others by either offering space or a listening ear.
When Anders' accidentally ruins the special pie he baked for a picnic with his best friend Jeff, he pretends all is well even though Jeff quickly notices something is amiss. When the truth is finally revealed, Anders discovers that much like dessert, a good friend is always there for you at the end of the day.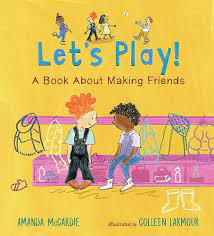 Let's Play: A Book About Making Friends by Amanda McCardie, illustrated by Colleen Larmour, 2021
(Ages 4 and up)
This brilliant book showcases how making a friend can start with a simple smile and keeping one entails being supportive, loyal, and kind. The book introduces several relatable and realistic scenarios about friendship, making this an excellent social emotional-learning story.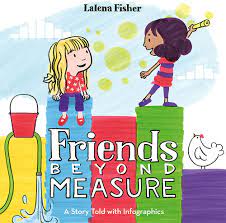 Friends Beyond Measure by Lalena Fisher
(Ages 4 and up)
This ingenious story chronicles the journey of a friendship through the use of infographics. Both entertaining and educational, the sweet tale follows two girls as they process the news of one of them moving away. A description of the charts used in the book is provided in the back to inspire readers to create their own infographics.
YOU MAY ALSO LIKE: