Sharing is no easy task, especially for young children! These books are the perfect conversation starters on what sharing means, how we share, and why we share.
*This post contains affiliate links. To read my full disclosure CLICK HERE.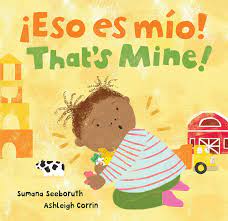 That's Mine! by Sumana Seeboruth, illustrated Ashleigh Corrin, 2022
This adorable bilingual board book follows a young girl in preschool who drives away potential friends by hoarding all the toys. Once she sees the affect her action has, she offers the toys to others, so that everyone can play together. With simple language and expressive illustrations, this book expertly demonstrates the fun that can be had when sharing with friends.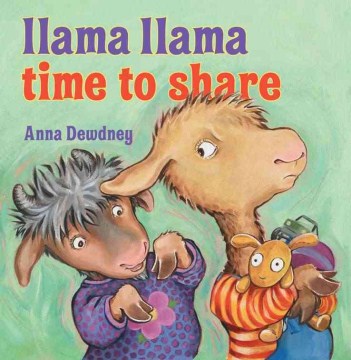 Llama Llama Time to Share by Anna Dewdney, 2012
(Ages 3 and up)
The New York Times best-selling Llama Llama series is one of our favorites and this installment is a real standout! When Little Llama meets his new neighbor Nelly Gnu, he happily shares his toys until she reaches for his extra special doll. In a fit of anger, Llama grabs it back, ripping the doll and creating a rift between him and his new friend. Luckily, Mama Llama shares a few words of wisdom that teaches Llama a lesson in sharing.
Can I Play Too? by Samantha Cotterill, 2020
(Ages 4 and up)
Friendships can be hard to navigate, especially for young children. Can I Play Too? is an engaging read aloud that cleverly teaches children the importance of social cues and helps them develop their social-emotional skills.
When a boy asks to help his classmate build a train track, he excitedly begins constructing it the way he envisions, not noticing that the other boy is becoming upset at the way he is taking over the project. When the other child storms off claiming that he ruined his track, the boy is left sad and confused. The attentive teacher helps him recognize warning signs that a friend might feel frustrated and arms him with the language to find out what is wrong. The next time the boys play together and a problem arises, they are able to work it out and enjoy their time together.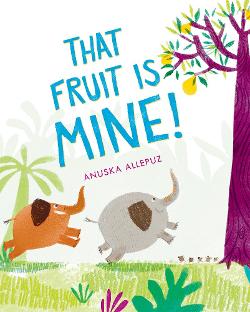 That Fruit is Mine! by Anuska Allepuz, 2018
(Ages 3 and up)
When an exotic fruit appears high in the branches of a tree, a group of animals become determined to obtain the delicious new food. With shouts of, "Mine!", five elephants selfishly (and a bit comically) attempt to reach the fruit on their own. Five tiny mice, on the other hand, work as a team, successfully being the first to reach the desired prize. Observing this feat, the elephants change their tone and with cries of, "Ours", they too learn to work together to achieve their goal. Sweet and amusing, this book became an instant favorite in our house.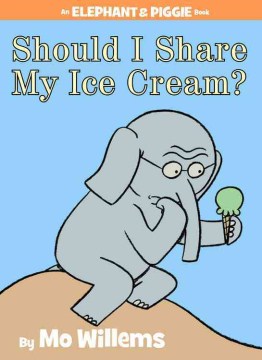 Should I Share My Ice Cream? (The Elephant and Piggie series) by Mo Willems
(Ages 4 and up)
I have yet to meet a child who doesn't love the Elephant and Piggie books by Mo Willems. In this hilarious installment, Gerald has a big decision to make. He is excited to eat his ice cream, but then considers that his best friend, Piggie, might want to share it with him. What ensues is a laugh-out-loud struggle between the benefits of splitting the delicious dessert or not.
Beginning readers will enjoy reading this Easy Reader independently, but the outlandish drama makes this an excellent choice for reading aloud to a group of children.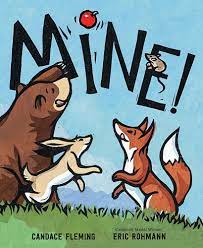 Mine! by Candace Fleming, illustrated by Eric Rohmann, 2023
(Ages 3 and up)
A variety of forest creatures drool over a delicious red apple dangling from a tree in this delightful tale about sharing. The rich vocabulary describing each animal's desire to eat the apple makes this such a fun book to read aloud while the perfectly satisfying ending makes it an excellent conversation starter on sharing. With the assortment of characters and engaging dialogue, this would also be a good choice for reader's theater in a classroom.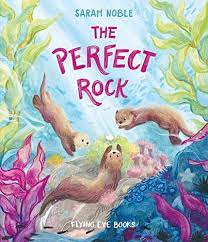 The Perfect Rock by Sarah Noble, 2022
(Ages 4 and up)
Oh my goodness, this story could not be cuter! Beautiful, lush illustrations follow three otter siblings as they search for the perfect rock. Once they find it, however, they fight over it until it is lost. On their way home, they face a giant storm and realize that while there are plenty of excellent rocks in the sea, their family is the only rock they truly need.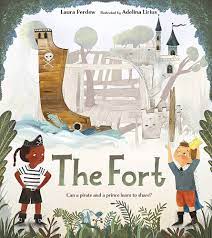 The Fort by Laura Perdew, illustrated by Adelina Lirius, 2020
(Ages 4 and up)
When two children unwittingly use an abandoned fort as their own imaginary play areas, they are shocked to find remnants of the other child present. Upon finally meeting, the boy demands to use the fort as his palace while the girl claims the fort is her pirate ship. During their heated argument, they both realize they can use the fort as a spacecraft and enjoy an adventure together. The whimsical illustrations bring the children's imaginations to life in this enchanting story.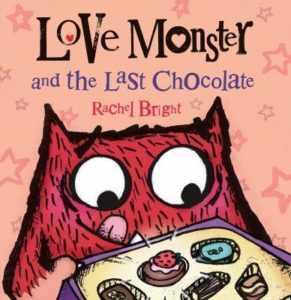 Love Monster and the Last Chocolate by Rachel Bright, 2015
(Ages 4 and up)
Love Monster returns from a vacation to find a box of chocolates on his doorstep. He excitedly plans to eat the entire box, when he is struck by the idea of sharing with his friends. He proceeds to have an inner struggle debating whether or not to share the delicious treats . In the end, he decides to share… he is a love monster after all, but in a surprising twist, discovers that his friends are the ones who had shared the last candy with him. The ending leaves the reader with a perfect lasting thought, "You see, sometimes it's when you stop to think of others…that you start to find out just how much they think of you."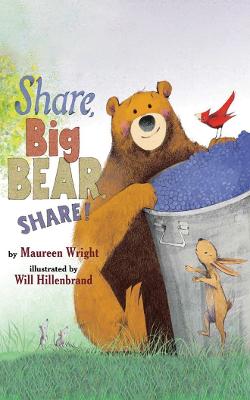 Share, Big Bear Share! (Big Bear series) by Maureen Wright, illustrated by Will Hillenbrand, 2017
(Ages 3 and up)
Bear has found a large pile of blueberries and is about to dig in when a large tree reminds him, "Share, Big Bear, share!" With each prompting, Bear mishears the tree and performs a comical task. When my kids were little, they could not get enough of this story and loved participating in the refrain of "Share, Big Bear, share!" and giggled at each misunderstanding. When Bear finally understands the tree, he happily shares with his forest friends." The cheerful artwork, rhyming text, and uplifting storyline make this series a winner. Each book in this series has flowing rhymes and takes place in a different season reminiscent of Karma Wilson's Bear series.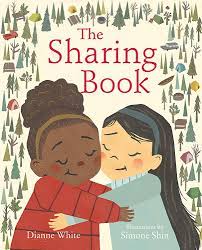 The Sharing Book by Dianne White, illustrated by Simone Shin, 2023
(Ages 4 and up)
Through the lens of a camping trip, lyrical language beautifully describes the wonder and awe
found in sharing special moments with friends. From meals, to adventures, and laughter there is a lot to be shared with loved ones!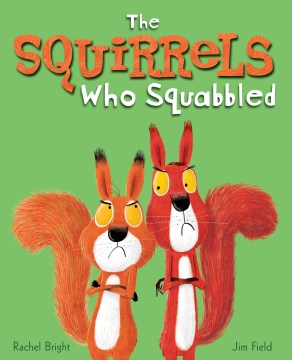 The Squirrels Who Squabbled by Rachel Bright, illustrated by Jim Field, 2017
(Ages 4 and up)
I absolutely love reading Rachel Bright's flowing rhymes out loud, so I'm always happy when my kids ask for her books at bedtime! The Squirrels Who Squabbled is the amusing tale of two squirrels gathering food for the winter when they both spot the last pinecone of the season. An epic chase ensues ending with a lesson in sharing and friendship. Jim Field's expressive illustrations are mesmerizing and the text is so captivating that even my husband came in to listen to the story when he heard us reading.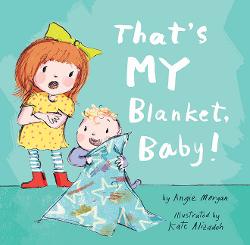 That's My Blanket Baby! by Angie Morgan; illustrated by Kate Alizadeh, 2017
(Ages 3 and up)
When Bella was born she was given a beautiful new baby blanket. As she grows, the blanket accompanies her everywhere she goes. Even though it becomes covered in paint and mud, it remains her most prized possession. When her new baby brother becomes attached to her blanket, however, she is faced with a difficult decision. Instead of grabbing her blanket back, she includes her brother and his new baby blanket in her adventures creating art and splashing in mud. Soon the baby's blanket is as dirty and smelly as hers allowing them to each have their own special blanket filled with memories.
Bella is a sweet sister who loves her brother. When faced with a dilemma, she finds a kind solution that makes them both happy. Bella and her brother demonstrate the fun that siblings can share together. This is a good choice for the addition of a new baby and children experiencing sibling rivalry.