It's National Dog Day (August 26th) and I'm sharing a list of our paws-itively favorite books about dogs!
*This post contains affiliate links.
PICTURE BOOKS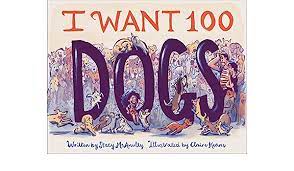 I Want 100 Dogs by Stacy McAnulty, illustrated by Claire Keane, 2023
(Ages 4 and up)
This amusing story about a girl who asks her parents for 100 dogs perfectly matches humor with subtraction skills to make one charming book!
Each time the girl asks her parents, they provide comical what-if scenarios of what life would be like with so many dogs. As the book progresses, her requests count down from 100 to 90 to 80 and so on until she reaches one adorable and manageable dog.
This book is an absolute delight with the most perfect satisfying ending! Highly recommend!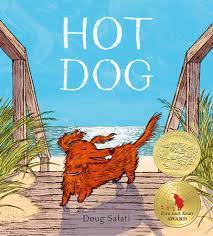 Hot Dog
by Doug Salati, 2022
(Ages 3 and up)
Utterly delightful, this charming book features an adorable dachshund who can't take the heat of a stifling day in the city for another second. After laying in the street and refusing to move, his owner whisks him away to a beach vacation where he can frolic along the shore and take in the glorious breeze. The deliciously descriptive language is beautifully matched with the expressive illustrations capturing the elements of summer. Readers can almost feel the sun on their face and the wind in their hair while reading this amusing story encapsulating the joy of a getting away.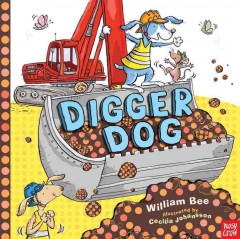 Digger Dog by William Bee; illustrated by Cecilia Johansson , 2014
(Ages 3 and up)
A dog uses a variety of construction equipment to search for buried treasure. There is a fun pop up page at the end revealing that he found more than just your typical dog bone. My son could not get enough of this book and we checked it out from the library multiple times.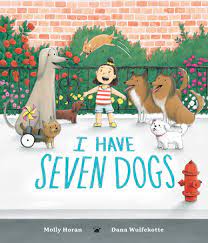 I Have Seven Dogs by Molly Horan, illustrated by Dana Wulfekotte, 2023
(Ages 4 and up)
This book is the perfect story for anyone who has ever wanted a dog, but hasn't been able to get one.
Even though a young girl isn't allowed to have dogs in her apartment building, she finds lots of furry friends in her community. My kids loved meeting all of the dogs and discovering their adorable quirks while I appreciated the main character's resiliency, positive attitude, and problem-solving skills.
Land Shark by Beth Ferry; illustrated by Ben Mantle, 2015
(Ages 4 and up)
Bobby is a shark lover through and through. After giving his parents hints that he wants a shark for his birthday, he is disappointed to receive a dog. The puppy engages in several amusing hijinks to the dismay of the family, but that eventually win over this tried and true shark lover. With Beth Ferry's clever text, this engaging book is just as much fun to read aloud as it is to listen to!
Will You Help Doug Find His Dog? by Jane Caston; illustrated by Carmen Saldana, 2017
(Ages 3 and up)
Poor Doug has lost his dog. An unseen narrator asks for the reader's help in finding his pet. Doug is sitting on a bench in a dog park surrounded by a number of frisky canines. After asking Doug a series of questions, children have to narrow down the group of dogs to find Doug's special one. This book stands out to me because it helps children build their reading comprehension skills. They have to listen to instructions and then apply an action matching the auditory clue with a visual.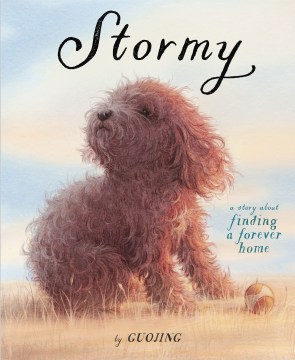 Stormy by Guojing
(Ages 4 and up)
Using only beautifully detailed illustrations, Stormy shares the tender story of a stray dog finding a home. Scared and alone in a park, a small pup is gently approached by a caring woman. While the dog is hesitant to come too near the stranger, she patiently returns day after day trying to gain the dog's trust. During a big storm, the two find an emotional connection and a new friendship is forged.
Guojing's skillful storytelling through evocative, dramatic illustrations is nothing short of remarkable. I dare you to read this phenomenal book and not fall in love with Stormy.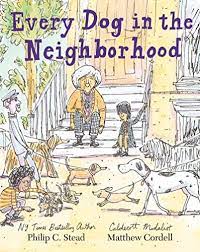 Every Dog in the Neighborhood by Philip c. Stead; illustrated by Matthew Cordell, 2022
(Ages 4 and up)
Every Dog in the Neighborhood is not only an adorable story starring a boy longing for a pet, this sweet intergenerational tale is also a great example of standing up for what you believe in and working to make a difference!
When Louis asks his grandmother for a dog, she responds that their neighborhood already has dogs. Desperate to find out the exact number of dogs that live nearby, Louis canvasses his block recording the various canine inhabitants. Meanwhile, his grandmother is hard at work on a project of her own. Both children and adults will appreciate the delightful humor and the gratifying ending that is sure to leave readers of all ages smiling.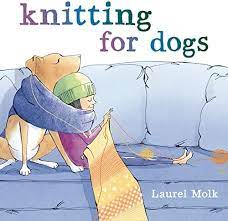 Knitting for Dogs by Laurel Molk
(Ages 4 and up)
With her dog Max at her side, Izzy loves to make things. From birdhouses to catapults, she excels at creating, which is why she thinks learning to knit will be easy. As she makes mistake after mistake, she tells Max, "failure is part of the creative process. We just aren't used to it." Though she perseveres, she never does get that sweater just right. Inspired by Max, however, she comes up with an even better use for her misshapen sweaters.
From the expressive illustrations featuring the loving relationship between a girl and her dog to the lesson in resilience, determination, and out of the box thinking, there is so much to love about this charming new book.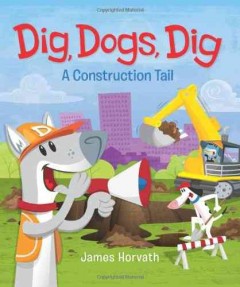 Dig Dogs Dig: a construction tail (series) by James Horvath, 2013
In this fun series, Duke the foreman leads a group of dogs as they perform important construction related duties such as laying a new road, erecting a building, and building a park. In this first installment, the dogs and their pet cat discover a mysterious bone as they work as a team to build a park. There are lots of silly antics along the way making this a fun series for construction lovers. My son could not get enough of these books. We checked out all three books in the series multiple times. The bright colors, cartoony illustrations, and rhyming text makes this a fun read aloud.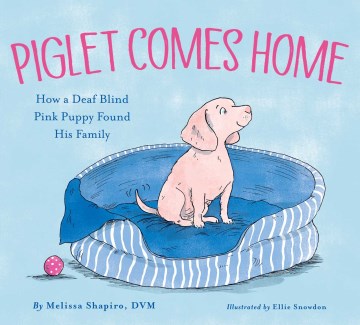 Piglet Comes Home: How a Deaf Blind Pink Puppy Found His Family by Melissa Shapiro; illustrated by Ellie Snowdon, 2022
(Ages 4 and up)
My kids immediately fell in love with the adorable Piglet in this sweet book based on a true story. When a foster mother brings home a small pink puppy who is blind and deaf, the other dogs aren't sure what to make of the strange creature. They all do their best to communicate and make the puppy feel at home. My kids literally let out an "aaaaah" sound when one of the dogs got in bed and snuggled next to Piglet to help comfort her. With time, Piglet learns to thrive and even helps the other dogs during a thunderstorm. Piglet's story is truly amazing and one that will steal readers' hearts.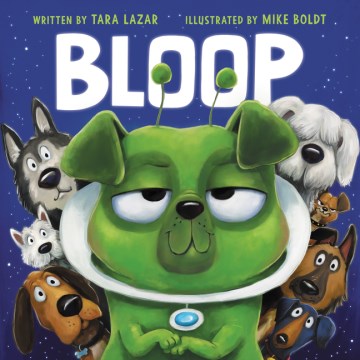 Bloop by Tara Lazar; illustrated by Mike Boldt, 2021
(Ages 4 and up)
My kids just adore this little green alien dog! Hailing from Planet XYZ, Bloop is on a mission to rule Earth. When Bloop notices humans carrying, feeding, and scooping up after dogs, he assumes the canines are the superior race and studies their ways to assume position as the supreme leader. In an adorable twist, he is adopted by a loving family and finds a new mission.
Bloop may not have succeeded in ruling Earth, but he does rule readers' hearts! With its bright, expressive illustrations and funny storyline, you won't want to miss this one!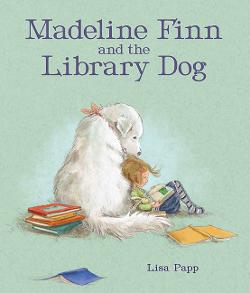 Madeline Finn and the Library Dog by Lisa Papp, 2016
(Ages 4 and up)
Madeline Finn is a struggling reader. She yearns for a star from her reading teacher, but continues to receive heart-shaped "keep trying" stickers. One Saturday, her mom takes her to the library where they are holding a special program to read to a dog. Madeline is paired with a big, beautiful white dog named Bonnie. At first, Madeline begins nervously and mixes up the words she reads aloud. Madeline feels encouraged by Bonnie's supportive presence, however, and continues reading with her several Saturdays gaining more confidence each time. Madeline's hard work pays off and after an exciting moment of reading aloud at school, she finally ascertains her beloved star.
This sweet and tender story is perfect for struggling readers and libraries that host Read to Dog programs. It can also be used by teachers to encourage students to read to puppets, stuffed animals, or pets at home to build confidence as a reader.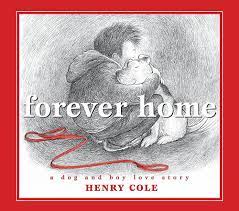 Forever Home: A Dog and Boy Love Story by Henry Cole, 2022
This heartwarming wordless wonder shares the story of how a boy who desperately wants a pet and a homeless dog find each other. Henry Cole's detailed illustrations with pops of red shine in this moving tale.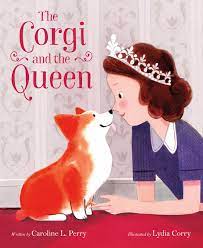 The Corgi and the Queen by Caroline L. Perry; illustrated by Lydia Corry, 2022
(Ages 4 and up)
My kids immediately fell in love with this fascinating tale about Queen Elizabeth and her beloved Corgis. Upon her father's coronation, eleven-year-old Elizabeth moves to Buckingham Palace and becomes a queen-in-waiting. With all her responsibilities, it was hard for Elizabeth to make friends, but she found a constant companion in her dog, Susan. This enthralling story goes on to describe Elizabeth's reign and legacy and her strong connection with her dogs. My children especially loved the family tree in the back of the book tracing both Elizabeth and Susan's families.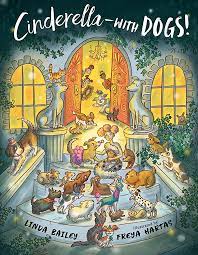 Cinderella With Dogs by Linda Bailey, illustrated by Freya Hartas
In this funny fractured fairytale, Cinderella is visited by a fairy dogmother whose magic has humorous outcomes. This enchanting read deserves two paws up!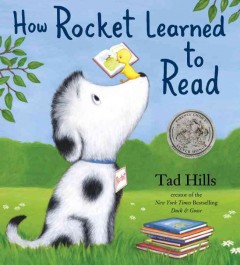 How Rocket Learned to Read by Tad Hills, 2010
(Ages 3 and up)
A little yellow bird teaches Rocket, a dog, how to read by introducing him to the alphabet. This is a sweet story about persistence that will inspire any budding reader. The little bird is patient, creative, and exemplifies the many talents of a good teacher.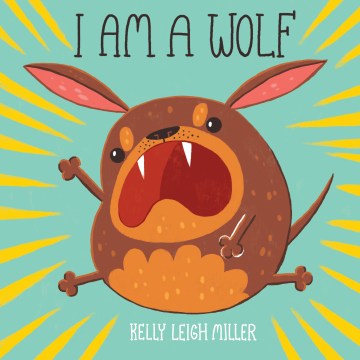 I Am A Wolf by Kelly Leigh Miller, 2019
(Ages 3 and up)
A ferocious little dog considers himself a lone wolf until he meets a potential new pack at an animal shelter. The sparse, but expressive text draws readers in and it is almost impossible not to giggle at the illustrations of this small, feisty pooch. Despite Wolf's arguments that he is not cute, readers will adore this lovable dog!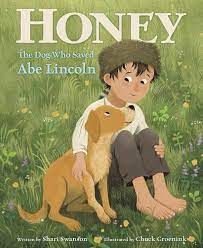 Honey: The Dog Who Saved Abe Lincoln by Shari Swanson; illustrated by Chuck Groenink, 2020
(Ages 4 and up)
Inspired by true events, HONEY gives readers a brief glimpse into the childhood of one of America's greatest presidents. Young Abraham Lincoln was a curious, kind child who loved animals. When he discovered a dog with a broken leg in the forest, he mended him back to health despite being only seven-years-old. The two became fast friends spending all their time together. When Abe's leg gets caught in the rocks of a cavern, it is Honey who runs back to town for help.
With its engaging illustrations and heartwarming storyline, this little-known tale about Abraham Lincoln is a perfect read aloud all throughout the year.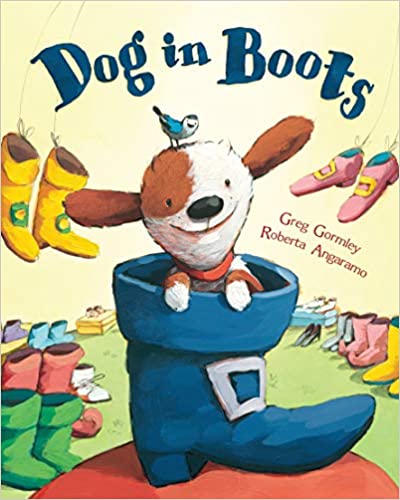 Dog in Boots by Greg Gormley; illustrated by Roberta Angaramo, 2011
(Ages 3 and up)
Inspired by his favorite fairy tale, Puss in Boots, an adorable dog visits a shoe store looking for his own special shoes. After trying on a variety of shoes, the dog discovers that he already has the best footwear he needs. This one isn't exactly a fractured fairy tale, but it is a delightful story with fairy tale connections that make it a lot of fun.
EASY READERS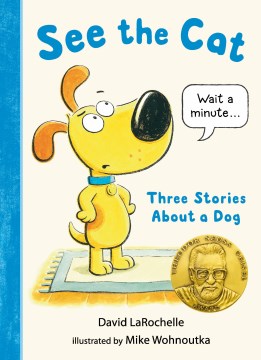 See the Cat: Three Stories About a Dog by David LaRochelle; illustrated by Mike Wohnoutka
(Ages 4 and up)
This witty book is full of humor and fun and, best of all, perfect for emerging readers! A dog politely disagrees with an unseen narrator about what is occurring in this story with hilarious results! The short sentences are made up of mostly sight words and words that can be sounded out while the brief dialogue and the expressive illustrations allow children to practice reading with expression. It was no surprise that this lovable story won the 2021 Geisel Award! Buy It Here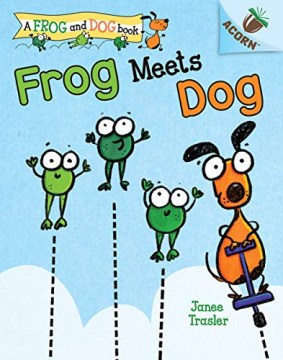 Frog Meets Dog (Frog and Dog series) by Janee Trasler, 2020
Part of Scholastic's new Acorn line, which combines easy-to-read text with color illustrations and engaging storylines, Frog Meets Dog is an excellent choice for emergent readers. Very simple words, many of which rhyme and are repeated, follow a dog who tries to befriend a trio of frogs. The action-packed illustrations contain several instances of physical humor, which will result in giggles from readers. Drawing instructions and a writing prompt are also included in the back for extra fun. Lexile: 50L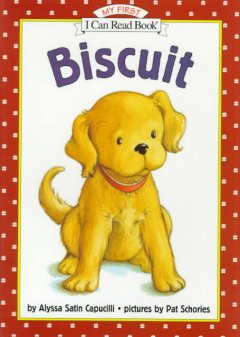 Biscuit (Biscuit Easy Reader series) by Alyssa Satin Capucilli, 1996
It's almost impossible to resist the charms of the adorable Biscuit! This series may be over twenty years old, but its timeless quality has kept it popular all these years. With simple storylines and easy-to-read text, this is a great series for animal lovers. My own daughter can't get enough of this darling puppy and has read almost every book in the series!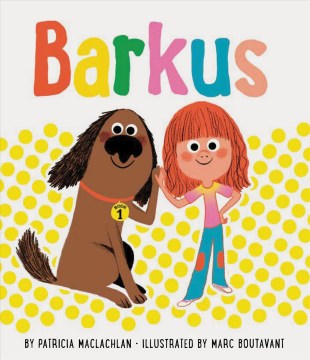 Barkus by Patricia MacLachlan; illustrated by Marc Boutavant, 2022
Large colorful pictures accompany short chapters that share the adventures of a girl and her large brown dog. Animal lovers will particularly enjoy following along as Barkus meets his new family, sneaks into school, celebrates his birthday, and makes a new friend. Guided Reading Level: L
You May Also Like: