We read A LOT of books in our house and while my children enjoy a variety of genres, the funny stories are ALWAYS their favorite. Prepare for some serious giggling while reading these laugh-out-loud funny books!
*This post contains affiliate links.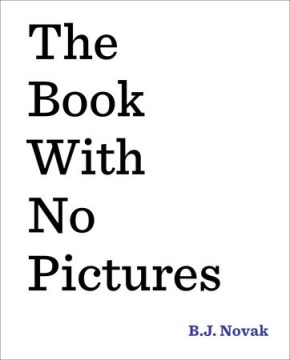 The Book with No Pictures by B.J. Novak, 2014
(Ages 3 and up)
This book may not have pictures, but it has plenty of humor! The goal of this unique nonsensical story is to make the reader say a variety of silly words and sounds out loud equating to arguably one of the funniest picture books of all time!
I also highly recommend the interactive version My Book With No Pictures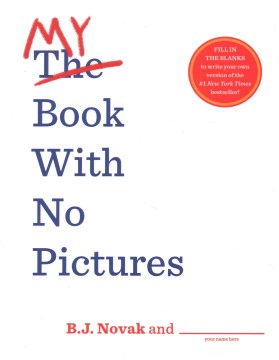 that invites children to write in their own silly words! I love any story that can make the entire family laugh while also encouraging my children's creativity and writing skills. Both of these stories are must-haves!
Don't Let the Pigeon Drive the Bus (Pigeon series) by Mo Willems, 2003 and Knuffle Bunny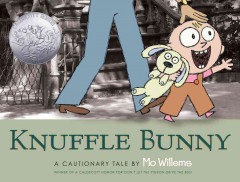 (series) by Mo Willems, 2004
(Ages 3 and up)
You can't go wrong with anything by Mo Willems! He is the King of Kid Lit and I have yet to meet a child who doesn't love the Pigeon or Knuffle Bunny books. Both of these award-winning stories are staples in classroom and home libraries!
Buy Don't Let The Piegon Drive the Bus Buy Knuffle Bunny Here
Still Stuck by Shinsuke Yoshitake, 2017
(Ages 3 and up)
When a stubborn toddler insists on getting dressed by himself and becomes stuck in his shirt, he imagines what life would be like if he remains in his shirt forever. Obstinate children are sure to find a kindred spirit in this character and adults will relate to this situation all too well!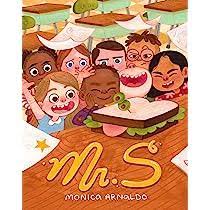 Mr. S by Monica Arnaldo
(Ages 5 and up)
This ridiculously quirky story is without a doubt my children's favorite book of the year so far. When a group of children start school for the first time, they walk in to find the room empty except for a sandwich at the teacher's desk. After much debate, they ultimately decide that the sandwich must be their teacher. What ensues is an abundance of comical events ending with a giant surprise.
Froodle by Antoinette Portis, 2014
(Ages 3 and up)
Little Brown Bird wants to try something new, so one day he makes up a silly word instead of his usual chirping sound that results in mixed responses from the neighborhood. One of the things that is guaranteed to make children laugh is nonsense words or sounds. My son would erupt in a fit of giggles while we read this book. I also loved that there is an underlying message of taking risks and trying new things.
Interrupting Chicken Cookies for Breakfast by David Ezra Stein, 2021
(Ages 3 and up)
I honestly don't know who enjoyed this one more, me or my kids! It's morning and Little Chicken is ready for breakfast, but his dad wants to sleep in. They compromise by snuggling and reading in bed with their favorite nursery rhymes. With each story, however, Chicken interrupts with comical comments about eating cookies for breakfast.
We love every book in this series especially the first one Interrupting Chicken.
Underwear by Jenn Harney, 2019
(Ages 2 and up)
Just the word "underwear" is usually enough to make kids laugh, so you know an entire book about the subject is going to be a hit.
This comical story stars a mischievous little bear who attempts to avoid bedtime with some amusing word play. Rolling rhymes and energetic illustrations make this one fun bedtime story!
Fly by Mark Teague, 2019
(Ages 3 and up)
No words are needed to understand the hilarious conversation between a mother and her baby in Mark Teague's new book, Fly . When a mama robin encourages her little one to fly on his own, the hatchling comes up with several funny alternatives. This wordless wonder made both my children and me laugh at the relatable interaction between parent and child and the sweet ending always resulted in a warm embrace.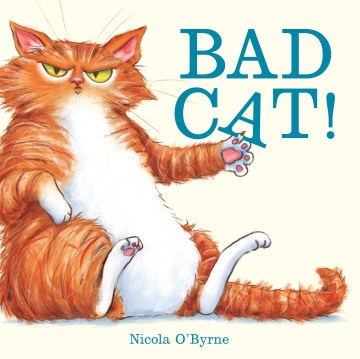 Bad Cat by Nicola O'Byrne, 2021
(Ages 3 and up)
It is nearly impossible not to laugh at the naughty Fluffykins who, much to his owner's dismay, causes havoc around the house. The big orange cat is seen knocking over vases, unravelling yarn, and getting into a whole mess of trouble. The comical expressions portrayed by Fluffykins perfectly compliment the droll text making this an excellent read aloud for cat lovers.
Hangry by Drew Brockington, 2019
(Ages 3 and up)
This is one story that is sure to resonate with children and adults alike! When a young lizard excitedly travels to a big city to enjoy a delicious hot dog, he is disappointed the restaurant he wants to visit is closed. He is hungry and angry and before he knows it, he has transformed into a giant monster who is hangry!
This engaging story is as fun to read aloud as it is to listen to. I know one thing for sure; it is way more enjoyable to share a story about a hangry monster than experience it in real life with a toddler!
Piranhas Don't Eat Bananas by Aaron Blabey, 2019
(Ages 3 and up)
While most piranhas are carnivores, Brian prefers fruits and vegetables. He tries to convince the other fish to extend their palettes, but through amusing rhyming text, they counter with funny retorts.
I had so much fun reading this book aloud to my kids using a silly voice and even after the 10thtime hearing it, they still erupted in a fit of giggles.
No More Naps by Chris Grabenstein; illustrated by Leo Espinosa, 2020
(Ages 3 and up)
When Annalise Devin McFleece refuses to nap, her father strolls her through a city attempting to lull her to sleep. A man sitting on a park bench offers to take her nap for her and suddenly all of the townspeople begin to snooze. In a comical twist, Annalise soon discovers that all of the naps are taken and she can no longer sleep herself. With a sweet and satisfying ending, attention-grabbing text, and bold artwork, this humorous story is one that both adults and children will relate to and want to revisit often.
Dragons Love Tacos (2012) and Dragons Love Tacos 2: the sequel (2017) by Adam Rubin; illustrated by Daniel Salmieri
(Ages 4 and up)
We all know that most kids love tacos, but who knew that dragons loved them even more? In this silly story, an omniscient narrator informs a boy and his dog of taco-loving dragons, but warns them against serving any spicy salsa in fear that it will cause the dragons to breathe fire. Good thing the boy only serves mild salsa at his taco party. Wait a second, what is that fine print on the salsa label? "Now with spicy Jalapeno peppers?" Oh boy.
The story is completely ridiculous, which is probably why children love it so much.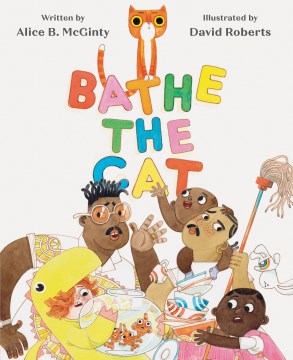 Bathe the Cat by Alice B. McGinty; illustrated by David Roberts, 2022
(Ages 4 and up)
This rollicking, rhyming story stars a family attempting to clean the house before Grandma arrives. The only problem is that their feisty feline mixes up the letters of their to-do list creating hysterical chores such as feeding the floor and sweeping the dishes. There is nothing kids love more than an unexpected, silly story and with its bright colors, comical expressive illustrations, and flowing text, this one is a standout!
Mina by Matthew Forsythe, 2022
(Ages 4 and up)
This book is so delightfully unexpected and magnificent in its visual storytelling! Shrouded in stunning illustrations, the story follows a book-loving mouse named Mina and her well-meaning, but naïve father. Her father loves bringing home surprises for Mina, but when he adopts a squirrel as a pet that is actually a cat, hilarious hijinks ensue.
The lush illustrations are full of rich colors that beautifully blend together creating a charming vintage feel. While the pictures are gorgeous, the understated details steal the show. For example, Mina's wide-eyed expressions in reaction her father's decisions are laugh-out-loud funny and perfectly compliment the droll text.
Llama Destroys the World by Jonathan Stutzman; illustrated by Heather Fox, 2019
(Ages 4 and up)
Silliness abounds in this humorous tale of a llama whose overeating causes a domino effect that results in the end of the world. Over-the-top narration is perfectly paired with the playful illustrations. The goofy llama is oddly charming and his limited vocabulary of "I am Llama" and "Dat" just adds to the comedic tone of the story. My son loved impersonating the llama and repeating his tag lines.
King Baby by Kate Beaton, 2016
(Ages 4 and up)
The hilariously accurate portrayal of parents serving their child's every whim, makes for a highly entertaining picture book. I honestly don't know who will laugh more from this story adults or children. I personally had so much fun reading the baby's commanding, imperious commentary. "King Baby is generous. You will have smiles and laughs and kisses. But your king also has many demands! Feed me! Burp me! Change me!" The illustrations, especially the baby's expressions, are comical. Eventually the baby begins to grow into a big boy and he worries for his poor "subjects". Luckily his successor, Queen Baby, joins the family for more adventures.
Something's Wrong: A Bear, a Hare, and Some Underwear by Jory John; illustrated by Erin Kraan, 2021
(Ages 4 and up)
When a bear walks through the forest and notices other animals looking at him funny, he feels like something isn't quite right, but can't figure out what it is. Obvious to the reader, however, is that he is wearing underwear over his fur. Luckily, his best friend has his back and finds a way to diffuse the embarrassing situation proving that good friends really are like good underwear. "They're reliable and they're supportive."
It's Not Little Red Riding Hood by Josh Funk; illustrated by Edwardian Taylor, 2020
(Ages 5 and up)
When an unseen narrator attempts to tell the story of Little Red Riding Hood, he is interrupted by each character questioning the plot of the story. The results are absolutely hilarious. The narrator grows more and more frustrated as nothing goes according to plan. Little Red's cape rips, so she has to wear blue and funniest of all, Captain Hook fills in for the wolf when the villain calls out sick.
The expressive illustrations add to the humor and children will love searching for the myriad of fairy tale characters hidden in the pictures. My kids are literally obsessed with this series and I also highly recommend It's Not Jack and the Beanstalk and It's Not Hansel and Gretel.
Sam and Dave Dig a Hole by Mac Barnett; illustrated by Jon Klassen, 2014
Adults might not immediately see the appeal of this quirky, offbeat book, but once you read it to a group of children, you will immediately notice the magical effect this story has on them.
While Sam and Dave work tirelessly digging for treasure, they can't seem to find anything of value. The reader, however, will notice that with each change of direction, they narrowly miss finding spectacular diamonds. Children usually love pointing out the gems encouraging Sam and Dave to go the other way. Observant children will also notice that while it appears Sam and Dave return to their home, slight differences in the illustrations may lead some to believe differently creating an interesting discussion about the ending of the book.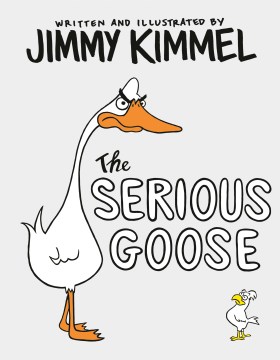 The Serious Goose by Jimmy Kimmel, 2019
(Ages 4 and up)
This hilarious book stars a grumpy goose who refuses to smile despite the narrator's comical attempts. When children are invited to make a funny face or sound, however, the goose has a hard time resisting their silliness.
My kids loved the interactive element of this book and begged for multiple readings. This book is perfect for reading aloud to a group or one-on-one and is sure to be a hit!
Children Make Terrible Pets by Peter Brown, 2010
(Ages 4 and up)
This has always been one of my favorite read alouds for elementary school. Children just love the image of a bear in a tutu and the idea of children as pets. The simple story follows an exuberant bear named Lucy as she adopts a small child as a pet only to find out that children really do make terrible pets. Peter Brown's writing is witty and his illustrations are adorable. Equally as fun is Lucy's next adventure, You Will Be My Friend (2011).
Misunderstood Shark by Ame Dyckman ; illustrated by Scott Magoon, 2018
This entertaining picture book combines a comical story with fun facts about sharks. A jellyfish sporting a fedora hosts an educational underwater television program when a shark chasing a fish interrupts the broadcast. When the host warns the shark not to eat the fish, Shark replies, "I was just showing him my new tooth!" Several other creatures appear to be in danger, but each time Shark informs everyone that they misunderstood his actions. My kids loved learning interesting facts about sharks and couldn't get enough of the overall silliness of the story.
Unstoppable by Adam Rex; illustrated by Laura Park, 2020
(Ages 4 and up)
If you are a fan of off-beat, humorous stories, you simply must read Unstoppable. It makes our family laugh every time we read it. When a crab and a bird decide to combine forces, they transform into crabbird! Their team grows bigger and bigger as they encounter more forest animals with unique talents. When their home is threatened by the construction of a new shopping center, they enlist the help of the President and Congress to become truly unstoppable.
The attention-grabbing text combined with the colorful, cartoony illustrations makes this a great choice for a read aloud. Children will especially love chiming in on the refrain of "unstoppable" throughout the comical story.
You Don't Want a Unicorn by Ame Dyckman; illustrated by Liz Climo, 2017
(Ages 4 and up)
Hilarious hijinks ensue when a boy's wish for a unicorn comes true. Although he loves flying with the magical beast at first, the boy soon discovers what a disaster unicorns can be. They shed golden dust, they chew the furniture, and they poop cupcakes. Worst of all, they like throwing parties with other unicorns, which turns out to be "the most destructive force in the universe." Colorful, cartoonish illustrations are perfectly blended with the droll text to make an amusing read.
Potato Pants! by Laurie Keller, 2018
(Ages 4 and up)
Yes, the idea of a potato wearing pants is completely ridiculous, but that is why kids are going to love this book. Silly and nonsensical, they won't be able to resist this robot dancing, suspender wearing potato. With underlying messages of point-of-view, righting wrongs, and forgiveness, adults and children will be clamoring for this comical read aloud.
Crash, Splash, or Moo
by Bob Shea, 2018
(Ages 4 and up)
Get your cheesy game show voice ready because you are going to want to read this hilarious book again and again! Mr. McMonkey, an energetic, banana-loving monkey, is the host to this wacky game show that stars Action Clam and a run-of-the-mill cow as daredevils who perform amazing stunts. Before each dangerous act, Mr. McMonkey polls the audience for their guess whether the outcome will be a crash, splash, or moo.
⠀⠀⠀⠀⠀⠀⠀⠀⠀
The comical illustrations are full of high-energy action and Mr. McMonkey's request that readers raise their hands to show their prediction provides a fun interactive element that makes this story irresistible.
On Account of the Gum by Adam Rex, 2020
(Ages 5 and up)
When a child wakes up with gum in their hair, family members offer up comical solutions for dislodging it that end with disastrous results. With each turn of the page, the story gets funnier and funnier ending with a sidesplitting punch line that makes our family giggle no matter how many times we've read this story. I continue to be in awe of Adam Rex's clever, quirky storytelling and could not love his latest creative tale more.
Tiny Cedric by Sally Lloyd-Jones; illustrated by Rowboat Watkins, 2021
Prepare for tons of giggles while reading this royally funny tale! While he may be short in stature, King Cedric has an enormous ego. He is so narcissistic he banishes anyone in his kingdom taller than himself. This leaves only the babies of the kingdom. In a colossally comical twist, King Cedric is forced to care for them resulting in the shrinking of his self-importance and the growing of his heart.
The hilarious illustrations add to the comedic off-beat tone of the story making this a fun read aloud that is sure to be a hit with a variety of ages.
The Legend of Rock Paper Scissors by Drew Daywalt; illustrated by Adam Rex, 2017
(Ages 4 and up)
The completely over the top dialogue and narration make this book almost as much fun to read aloud as it is to listen to. As the title suggests, this hilarious picture book explains the origin of the popular game, Rock, Paper, Scissors. This one is sure to be a winner with anyone who loves outrageously silly books!