My kids get along perfectly and never fight…. said no one ever! When my kids bickering gets out of hand, I love turning to bibliotherapy for help.
Packed with kid appeal these sweet stories about sibling rivalry are perfect for opening up conversations about jealousy, collaboration, and sharing. While these books have not solved all of our problems, they have been a great way to remind my children that their special bond as siblings will long outlast their fleeting disagreements.
*This post contains affiliate links. To read my full disclosure CLICK HERE.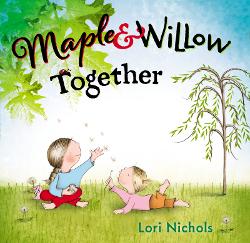 Maple and Willow Together by Lori Nichols, 2014
(Ages 3 and up)
I absolutely love this beautifully illustrated and skillfully told story of sibling rivalry. Maple and Willow are sisters and best friends. The story follows them through their adventures until they have a disagreement that leads to some unkind words , tears, and ultimately forgiveness. My son made me read this book again and again. He and his sister are very close and I think he liked the idea that even though Willow and Maple do everything together, they still might have the occasional disagreement that seems Earth shattering, but they are able to make up in the end.
The other books in the series are equally as sweet and charming. They are all family favorites.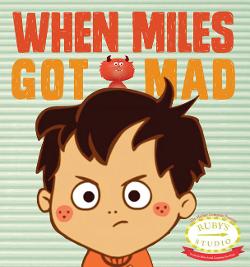 When Miles Got Mad by Samantha Kurtzman-Counter and Abbie Schiller, 2013
(Ages 3 and up)
When Miles' little brother accidentally breaks one of his favorite toys, he gets angry. His cheeks burn, his hands curl into fists, and he screams at his brother. After his little brother leaves the room crying, Miles catches a glimpse of himself in the mirror. He is no longer Miles, but a large red monster symbolizing what Miles feels like when he is mad. The Monster gives several suggestions to help him calm down. As Miles begins to talk about his anger, the monster becomes smaller and smaller and Miles feels better. He realizes that the broken toy was an accident and he invites his brother to help him fix it.
Arguing over a toy is a typical scenario that many children face and this book is sure to resonate with many. My own children really related to Miles and the story served as a way for us to talk about better ways to speak to each other when we are feeling hurt and angry.
This book is part of a series from The Mother Company aimed at helping children build social and emotional skills. I can't wait to check out their other stories.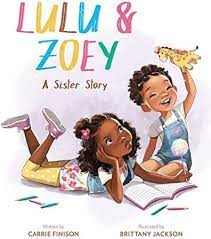 Lulu & Zoey: A Sister Story by Carrie Finison; illustrated by Brittany Jackson, 2022
(Ages 4 and up)
"Sometimes they fight. Sometimes they're friends. A sister story never ends." This realistic portrayal of two sisters could not be more charming. Many children will relate to Lulu and Zoey who occasionally get on each other's nerves, but who also love each other dearly and enjoy spending time together.
Kindness Grows by Britta Teckentrup, 2019
(Ages 3 and up)
Kindness Grows uses lyrical, rhyming language to describe how hurtful actions can create distance between people while kind acts blossom into something beautiful. Die-cuts are brilliantly integrated to demonstrate the widening crack created by upsetting actions set opposite a stunning tree growing from caring deeds.
What makes this book a real standout is how the stunning illustrations effectively demonstrate to children the gap unkindness creates and then conversely how kindness can bring us together.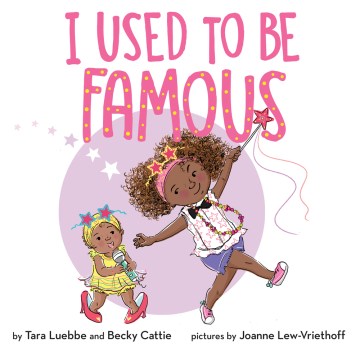 I Used To Be Famous by Tara Luebbe and Becky Cattie; illustrated by Joanne Lew-Vriethoff, 2019
(Ages 3 and up)
I Used To Be Famous is such a clever and cute take on sibling rivalry stories. Playing on the idea of parents as paparazzi and personal chefs, a young girl named Kiely takes on the persona of a celebrity. Her fame seems fleeting,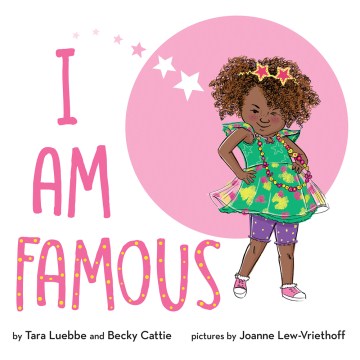 however, when her adorable younger sister steals the spotlight. Luckily, Kiely discovers she loves her new starring role as big sister and is excited to have a co-star. Buy It Here
Be sure to check out the first book starring the exuberant Kiely in I Am Famous (2018).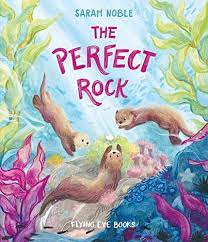 The Perfect Rock by Sarah Noble, 2022
(Ages 4 and up)
Oh my goodness, this story could not be cuter! Beautiful, lush illustrations follow three otter siblings as they search for the perfect rock. Once they find it, however, they fight over it until it is lost. On their way home, they face a giant storm and realize that while there are plenty of excellent rocks in the sea, their family is the only rock they truly need.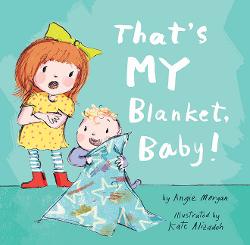 That's My Blanket Baby! by Angie Morgan; illustrated by Kate Alizadeh, 2017
(Ages 3 and up)
When Bella was born she was given a beautiful new baby blanket. As she grows, the blanket accompanies her everywhere she goes. Even though it becomes covered in paint and mud, it remains her most prized possession. When her new baby brother becomes attached to her blanket, however, she is faced with a difficult decision. Instead of grabbing her blanket back, she includes her brother and his new baby blanket in her adventures creating art and splashing in mud. Soon the baby's blanket is as dirty and smelly as hers allowing them to each have their own special blanket filled with memories.
Bella is a sweet sister who loves her brother. When faced with a dilemma, she finds a kind solution that makes them both happy. Bella and her brother demonstrate the fun that siblings can share together. This is a good choice for the addition of a new baby and children experiencing sibling rivalry.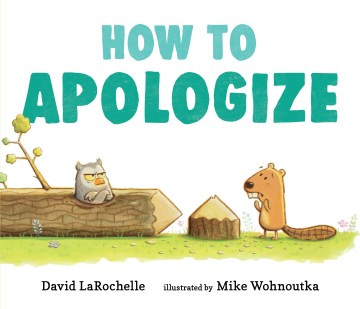 How to Apologize by David LaRochelle; illustrated by Mike Wohnoutka
(Ages 4 and up)
Using just the right amount of humor and charm, all-stars David LaRochelle and Mike Wohnoutka have created the perfect read aloud for teaching kids why and how to apologize! This entertaining story reassures readers that everyone makes mistakes, but it is important to rectify them with a heartfelt apology. With its delightful illustrations and impactful message of conflict resolution, this book is a must-have for home and classroom libraries.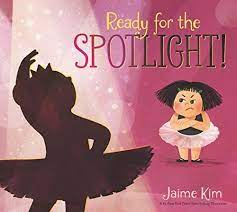 Ready for the Spotlight by Jaime Kim, 2022
(Ages 4 and up)
Younger children everywhere will relate to this amusing tale of sibling rivalry! Tessie believes she is the best dancer in her class and continuously grows jealous that her older sister Maya is the one in the spotlight. After a heart to heart, the two sisters realize they each have a lot to learn from the other and find a way to share stardom the day of the show. This engaging story is both entertaining and a realistic view of the competition often felt between siblings.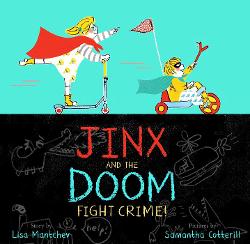 Jinx and the Doom Fight Crime by Lisa Mantchev; illustrated by Samantha Cotterill, 2018
(Ages 3 and up)
Jinx and her little brother, the Doom used to fight each other. "But then they realized they could use their powers for good and not evil." So now they sport their capes and masks and defend the innocent. They find that it is much more fun to be a team than adversaries.
This adorable book uses simple text and engaging illustrations to bring Jinx and her brother's vivid imaginations to life. Shadows are transformed into monsters while mundane chores such as washing the dog morph into exciting missions. I especially love the incredible 3D illustrations that make this book look so unique. I just couldn't get enough of the color palette, patterns, and exuberance present in each page. The perfect amount of humor is also thrown in to make this a terrific read aloud.
Many books on sibling rivalry focus on a conflict between siblings, but I like how this one is a nice reminder of just how much fun brothers and sisters can have when they work together.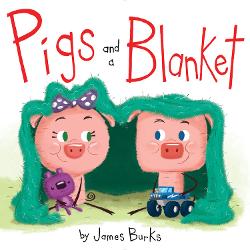 Pigs and a Blanket by James Burks, 2016
(Ages 3 and up)
The book opens to two piglet siblings describing why they love their blanket. The reader soon discovers that they love the same blanket. They are happily sharing it until one accidentally yanks it away from the other causing an argument that ends with a ripped blanket. Each tries to play with their own piece of the blanket, but soon discovers that it is much more fun enjoying the prized possession together.
With the text restricted to the dialogue between the siblings, the illustrations have a chance to shine and really make children pause and read the pigs' emotions during a few wordless spreads. This prompted a wonderful conversation with my two children. We discussed how the pigs were feeling during various scenes and what they could have done differently. Arguing over the same toy is a constant battle in our household (why do kids always seem to want the one their sibling has when they have 100 other ones to choose from?), so this book served as an excellent tool to demonstrate consequences and model alternative behaviors in a similar situation.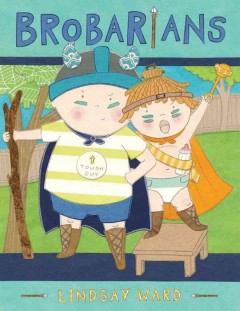 Brobarians by Lindsay Ward, 2017
(Ages 4 and up)
Two brothers who were once at peace with each other go to war over a broken cookie jar. The energetic brothers each wear household items to complete their imaginative image of "brobarians". This book is a hilarious look at sibling rivalry. The over-the-top narration makes this book so much fun to read out loud, which worked out well for me since my son asked me to read it to him night after night.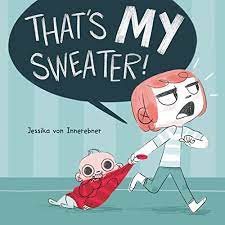 That's My Sweater by Jessika von Innerebner, 2022
(Ages 4 and up)
When Olivia outgrows her favorite sweater, she is irate to discover it has been handed down to her baby brother. In a giggle-worthy ending, however, Olivia learns the truth of the sweater's origin and develops a new appreciation for hand-me-downs. This relatable story is perfect for opening up discussions on sharing among siblings.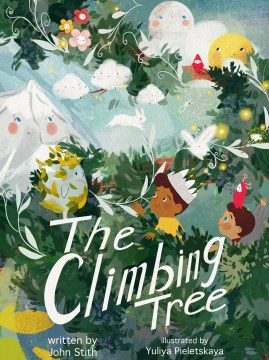 The Climbing Tree
by John Stith ; illustrated by Yuliya Pieletskaya, 2019
(Ages 4 and up)
The dynamics between siblings are complex. Younger siblings often look up to their older brothers or sisters and easily become frustrated when they can't keep up.
The Climbing Tree
is a gorgeous new book that beautifully personifies this situation.
⠀⠀⠀⠀⠀⠀⠀⠀⠀
When an older brother easily climbs a tree, the younger brother yearns to join him in the branches. When he is finally able to scale the tree, he fears that his older brother will always be out of reach making him feel less significant. One day, however, his brother invites him to join him at the top as equals. This simple act of kindness means everything to the younger brother and in a heartwarming ending, readers will feel reassured that each sibling is special in their own way.
⠀⠀⠀⠀⠀⠀⠀⠀⠀
Many readers will relate to this tender story and be enchanted by the imaginative illustrations that cleverly capture the emotions of the characters.
⠀⠀⠀⠀⠀⠀⠀⠀⠀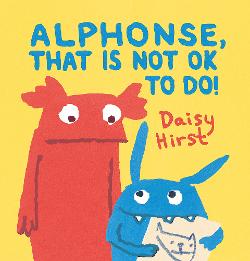 Alphonse That is Not OK To Do by Daisy Hirst, 2016
(Ages 4 and up)
Natalie mostly enjoys spending time with her little brother, Alphonse, but there are some times when he can get on her nerves. When Natalie is having a particularly frustrating day, she finds Alphonse eating her favorite book. She yells at him and after drawing a picture to get out her frustration, she attempts to relax in a bubble bath. When she hears commotion outside the door, she fears something has happened to Alphonse. When she checks on him, she discovers the noise was him attempting to fix her book. In a sweet conclusion, they both apologize and celebrate their rekindled friendship by drawing pictures together.
Our family loves this sweet and quirky book. The relationship between Natalie and Alphonse rings true and gave us lots of opportunities for discussion.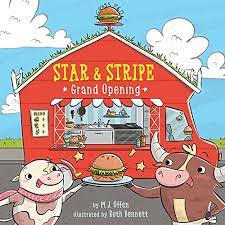 Star and Stripe Grand Opening! by M.J. Offen; illustrated by Ruth Bennett, 2022
(Ages 5 and up)
Star and Stripe are siblings and best friends. While planning to open a restaurant, they quickly discover that "when they butt heads, things go wrong, but when they hold hooves, great things happen." With plenty of puns, this amusing story is a great lesson in collaboration.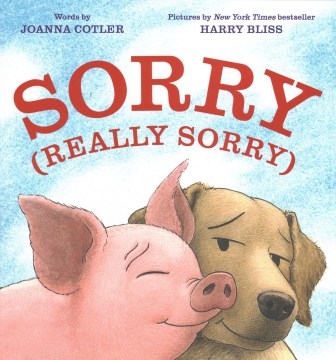 Sorry (Really Sorry) by Joanna Cotler; illustrated by Harry Bliss
(Ages 4 and up)
When a cow steps in mud, her bad mood causes a chain reaction that spreads throughout the farm. When a sincere apology is made, however, acts of kindness are shared uplifting everyone's moods. There are so many valuable lessons to take away from this beguiling story! It is one that we reread often.
You May Also Like: