Patience may be a virtue, but it is certainly not an easy one! Impulse control is something many children (and adults) struggle with and the below books are excellent conversation starters on the value of learning to wait.
*This post contains affiliate links.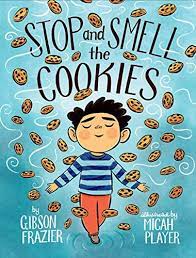 Stop and Smell the Cookies by Gibson Frazier; illustrated by Micah Player, 2022.
Dash struggles with self-control. Whether it is shouting out an answer in class or blowing out someone else's birthday candles, Dash can't help but give into his impulses. Later, he regrets his reactions and feels overwhelmed by his large feelings. When his mother teaches him a breathing and counting technique, however, he is finally able to manage his urges and be more patient.
Waiting is Not Easy by Mo Willems, 2014
This award-winning easy reader is filled with hilarious illustrations and comical dialogue following the exuberant Piggie who has a special surprise for her best friend Gerald. Unfortunately, Gerald has to wait for the big reveal and patience is not proving to be his strong suit. Whether shared as a read aloud or read independently, this humorous tale is an excellent lesson that the best things in life are worth waiting for.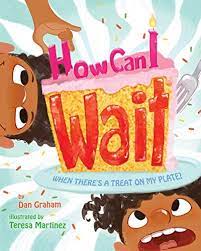 How Can I Wait When There's a Treat On My Plate? by Dan Graham; illustrated by Teresa Martinez, 2021
When twin brothers Dell and Pete are given the option of eating a marshmallow for a snack now or waiting for ice cream later, Pete devours his small treat immediately while Dell chooses to wait. Later on, Pete regrets his decision as he watches his brother enjoy his delicious ice cream cone. Dell helps him come up with strategies to distract him from giving in to immediate gratification.
This useful story is helpful in opening up conversations with children about self-discipline and providing strategies to increase self-control.
The Very Impatient Caterpillar by Ross Burach
Ross Burach cleverly intertwines scientific terms like metamorphosis and chrysalis with a zany story about a caterpillar who seems to know nothing about the magical transformation caterpillars experience.
This humorous read aloud is perfect for a lesson on patience and as an introduction into the life cycle of a butterfly.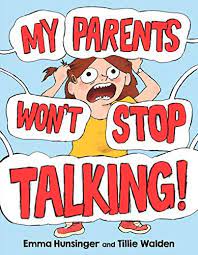 My Parents Won't Stop Talking by Emma Hunsinger and Tillie Walden, 2022
This hilarious story brilliantly captures the frustration one child feels while waiting for her parents to finish their endless conversation so that they can continue on to the park. The comical writing is equally matched by the funny expressive pictures that had both my kids and I giggling.
This amusing lesson in patience is sure to resonate with many.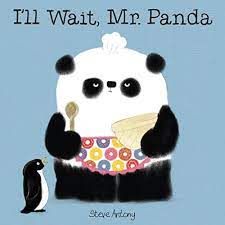 I'll Wait Mr. Panda by Steve Antony, 2016
Mr. Panda is baking something delicious and all of his friends want to know what it is. Bored by the prospect of waiting, all the other animals go on their way. Penguin, however, is the only one to exert patience and is rewarded with a gigantic surprise. This amusing series is an excellent conversation starter in manners.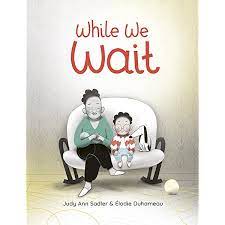 While We Wait by Judy Ann Sadler & Élodie Duhameau, 2022
With a wonderful rolling rhythm and delightfully charming illustrations, this sweet story follows a boy and his grandmother as they wait for a big surprise. The two fill the long hours by knitting, talking, and dancing, until finally his parents arrive with a new baby. The boy has the perfect handmade gift for his new sibling providing the sweetest of endings.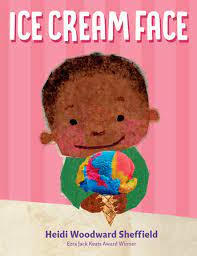 Ice Cream Face by Heidi Woodward Sheffield, 2022
Ice cream lovers will rejoice for this delectable story that could not be sweeter! As a little boy excitedly explains his love of ice cream, he also shares his frustration of waiting in line and the dire consequences of eating an ice cream too quickly. Colorful eye-catching illustrations perfectly encapsulate the rollicking rollercoaster of emotions the boy experiences while getting his favorite dessert.
The Magical Yet by Angela DiTerlizzi; illustrated by Lorena Alvarez, 2020
This story is perfect for empowering children to take risks, embrace mistakes, and patiently work toward a goal. Rhyming text and colorful illustrations follow a young girl who struggles to learn to ride a bike. Just as she is determined to walk forever, she meets the Magical Yet. Presented as a glowing pink flower-like object, the Magical Yet teaches the girl that with determination, practice, and grit, she can tackle any problem.
The engaging illustrations feature a diverse group of children learning to accomplish a variety of tasks giving this charming book wide appeal.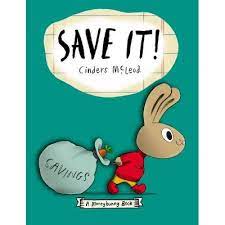 Save It by Cinders McLeod, 2019
It can be so temping to buy something that you want immediately, but this brilliant story teaches the value in fiscal responsibility. Cartoony illustrations and simple text skillfully explain how to earn money, make tough decisions regarding how to spend it, and ultimately save for something you really want.
Other books in the series include: Earn It! (2017), Spend It! (2019), and Give It! (2022)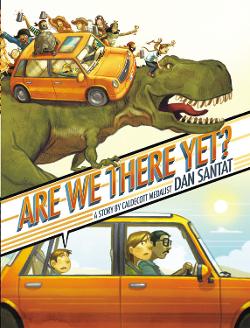 Are We There Yet? by Dan Santat
"Are we there yet?" is the dreaded question parents detest on road trips. As a boy travels to his grandmother's house, his imagination runs away with him creating one rollicking good tale and demonstrating the power we have to entertain ourselves.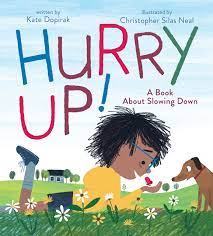 Hurry Up: A Book About Slowing Down by Kate Dopirak; illustrated by Chrostopher Silas Neal, 2020⠀⠀⠀⠀⠀⠀
This story perfectly encapsulates a child's feeling of rushing through life. The simple rhyming text and engaging pictures initially display the chaotic sensation of speeding through activities and the calming, joyful sentiment in slowing things down. When the boy stops hurrying, he suddenly appears happier and notices beauty all around him. This book is so well done and its powerful message is sure to resonate with children and adults alike.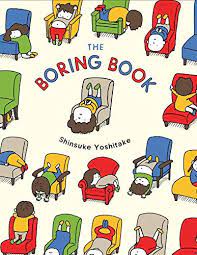 The Boring Book by Shinsuke Yoshitake, 2019⠀⠀⠀⠀⠀⠀⠀⠀⠀
This creative story is perfect for encouraging little minds to look at boredom differently and use their imaginations to make their own fun.⠀⠀⠀⠀⠀⠀⠀⠀⠀
When a boy finds himself bored, he begins questioning what boredom really means and why some things are boring while others are not. His philosophical journey is both entertaining and thought-provoking. If you need another reason to check this one out, it was also named a New York Times Best Illustrated Book of the Year.
Interrupting Chicken by David Ezra Stein, 2010
It's time for bed and Little Red excitedly awaits her Papa's bedtime stories. As he reads each classic fairy tale, the exuberant Little Red can't help but interrupt each one with comical results. This enchanting Caldecott Honor book is a ton of fun to read aloud and is a great way to approach a conversation about not interrupting.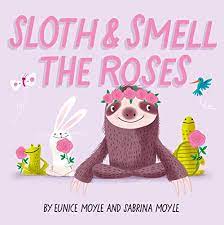 Sloth & Smell the Roses by by Sabrina Moyle and Eunice Moyle
When so much of life is go go go, it is helpful for kids to meet Mindful Mo! This adorable sloth teaches children the value of slowing down to find peace in the present, processing their emotions through deep breaths, and using words to express their feelings. Mindfulness is made manageable with this helpful board book.