Graphic novels have grown in popularity for good reason! There are many benefits to reading them, and, best of all, they have the power to engage and excite children about reading.
With their short chapters and humorous storylines, the below graphic novels are perfect for enticing and entertaining newly independent readers between the ages of 5 and 8.
Are you or your little ones fans of graphic novels? Have you read any of these yet?
*This post contains affiliate links.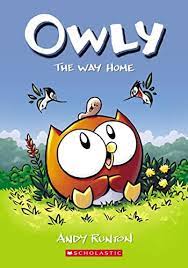 Owly: The Way Home by Andy Runton, 2020
With brightly colored illustrations and limited text, this alluring series about an owl in search of a friend is perfect for new readers.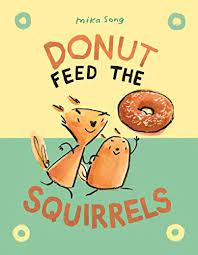 Donut Feed the Squirrels by Mika Song, 2020
This ridiculously cute graphic novel stars two hungry squirrels who simply want the sweet deliciousness of a donut. While they mastermind a plot to steal the donuts from a local food truck, their plans go awry with rib-tickling results.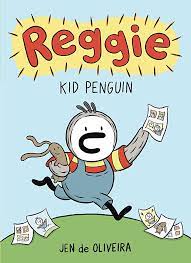 Reggie Kid Penguin by Jen de Oliveira, 2023
My daughter and I were both giggling at the hilarious antics of Reggie, a spunky penguin with lots of heart. Reggie may be a penguin, but his curiosity, energy, and imagination are reminiscent of so many children I know.
From grumbling over his outfit for picture day to creating a bug village with his friends and working through a power struggle with his cousin, Reggie is a very relatable character. I have no doubt many children and adults will connect with him and his comical stories.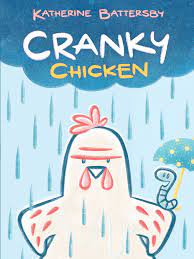 Cranky Chicken by Katherine Battersby, 2021
This seriously silly story has been on repeat at our house. Both my 7 year-old daughter and 10 year-old son can't get enough of the hilarious hijinks of Cranky Chicken! In the classic case of opposites attracting, a friendly outgoing worm befriends a very grumpy chicken. It is so downright entertaining to watch their friendship bloom over three comical chapters.
We are also enjoy the sequel Cranky Chicken: Party Animals.
Bug Scouts: Out in the Wild by Mike Lowery, 2022
Filled with wordplay and amusing illustrations, this new series featuring a group of endearing bugs working to collect their badges is tons of fun. With large font and short chapters, this one is perfect for reluctant readers to gain their confidence while falling in love with reading. We can't wait to read the other books in this series.
Scaredy Squirrel in a Nutshell by Melanie Watt, 2021
There is just something irresistible about this adorably anxious little squirrel and his outlandish preparations. Just as his name implies, Scaredy Squirrel is afraid of, well, everything. When he spots a nut just outside of his tree, he goes through great lengths to retrieve it with the upmost care and hilarious consequences. With its appealing artwork and silly situations, I was not surprised at all that my daughter absolutely loved this book.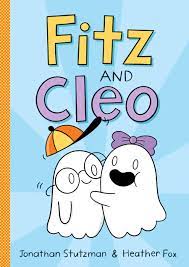 Fitz and Cleo by Jonathon Stutzman; illustrated by Heather Fox, 2022
Our family has enjoyed everything that Jonathon Stutzman and Heather Fox have created and Fitz and Cleo is no exception. When sibling ghosts Fitz and Cleo discover a cat in their attic, hilarious hijinks ensue as they experience the trials and tribulations of owning a pet. The illustrations could not be cuter, while the text is laugh-out-loud funny!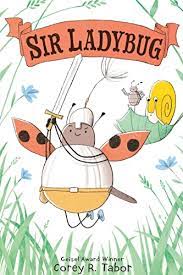 Sir Ladybug by Corey R. Tabor, 2022
Once again, the two-time Geisel Award winning author and illustrator Corey R. Tabor works his magic with a new easy reader series filled with humor and heart. Sir Ladybug and his two loyal companions, a snail and a roly-poly bug, travel the countryside helping any insect in need. With plenty of amusing dialogue and themes of teamwork and resilience, there is a lot to enjoy about this new series!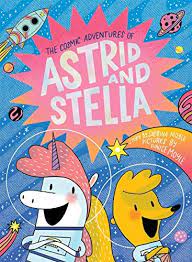 The Cosmic Adventures of Astrid and Stella by Hello Lucky, 2022
Colorful illustrations match the cheerful feel of these two best friends who can do anything together! With their mantras of "We can do hard things" and "Progress not perfection," these two quirky characters can take on the world and then some as they zoom around the universe experiencing one stellar adventure after another.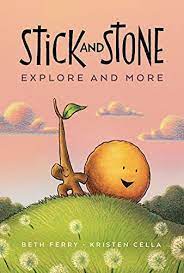 Stick and Stone Explore and More by Beth Ferry; illustrated by Kristen Cella, 2022
Based on the characters in the bestselling picture book Stick and Stone, the lovable friends return for two new adventures in this charming graphic novel. In the first story, the two best buddies become part of a nature scavenger hunt and search for ice cream with surprising results in the second. I especially enjoyed the added educational elements such as the Nature Girl A-Z Checklist for an outdoor scavenger hunt and three recipes for S'mores!
Baloney and Friends (series) by Greg Pizzoli, 2020
Baloney is a pig who can't wait to star in his very own book. Unfortunately, his friends have decided to crash the story creating humorous results! Greg Pizzoli is well known for his popular picture books and his fans with be thrilled with this quirky new series that is a ton of fun to read. Kids will also be excited to find instructions on how to draw the lovable characters. Lexile: 430L
Narwhal: Unicorn of the Sea by Ben Clanton, 2016
The cheerful Narwhal and no-nonsense Jelly Fish are two unlikely friends who could not be more adorable. Upon meeting, they each believe the other is imaginary and the comical hijinks continue from there. Both my children enjoyed listening to this series as a read aloud and my son couldn't wait to start reading these delightful books on his own.
These charming books use a graphic novel format with large panels and dialogue to draw the reader in. There are three short stories in each book that are full of humor that both adults and children will appreciate. As a bonus, there are fun facts about sea creatures in between each chapter. Lexile: 490
Happy Paws (Layla and the Bots series) by Vicky Fang; illustrated by Christine Nishiyama, 2020
Meet Layla, an inventor and rock star whose kindness and problem-solving skills are admirable. With its colorful illustrations and positive role model, kids and adults will love this new STEM-themed transitional chapter book! Lexile: 500L Buy It Here
Fox & Rabbit (series) by Beth Ferry; illustrated by Gergely Dudás, 2020
This sweet friendship story could not be more charming! Told in five vignettes, this delightful tale follows a cheerful fox and an anxious rabbit who help each other overcome their fears, go on adventures, and learn what friendship is all about!
Pea, Bee, & Jay, Stuck Together (series) by Brian Smith, 2020
When a brave pea rolls past the border of his farm, he encounters a bee and a blue jay who become fast friends. This delightful friendship story is full of silly puns, cartoony illustrations, and an engaging storyline that will make readers excited for the next book in the series.
You May Also Like: