With their eye-catching illustrations, engaging dialogue, and action-packed storylines, graphic novels are wonderful tools to engage reluctant readers or anyone who is looking for a fun story.
Here are a few reasons why graphic novels are a good choice for many children.
The paneling format helps children build sequencing skills.
The images help kids decode the text and more fully comprehend the plot.
The large amount of dialogue helps children practice reading with expression.
They give reluctant readers a confidence boost.
They are fun! There are dynamic characters presented with exciting conflicts that create a fast-paced storyline.
Listed below are some of our favorite graphic novels and transitional chapter books that weave in graphic novel elements that have proven to be popular with my own children and my former students.
*This post contains affiliate links. To read my full disclosure CLICK HERE.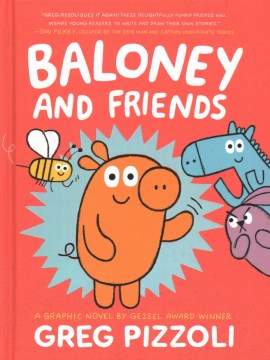 Baloney and Friends (series) by Greg Pizzoli, 2020
Baloney is a pig who can't wait to star in his very own book. Unfortunately, his friends have decided to crash the story creating humorous results! Greg Pizzoli is well known for his popular picture books and his fans with be thrilled with this quirky new series that is a ton of fun to read. Kids will also be excited to find instructions on how to draw the lovable characters.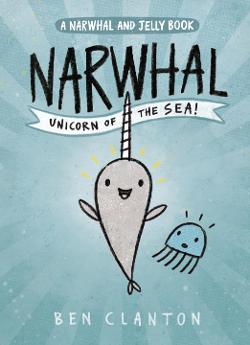 Narwhal: Unicorn of the Sea by Ben Clanton, 2016
The cheerful Narwhal and no-nonsense Jelly Fish are two unlikely friends who could not be more adorable. Upon meeting, they each believe the other is imaginary and the comical hijinks continue from there. Both my children enjoyed listening to this series as a read aloud and my son couldn't wait to start reading these delightful books on his own.
These charming books use a graphic novel format with large panels and dialogue to draw the reader in. There are three short stories in each book that are full of humor that both adults and children will appreciate. As a bonus, there are fun facts about sea creatures in between each chapter.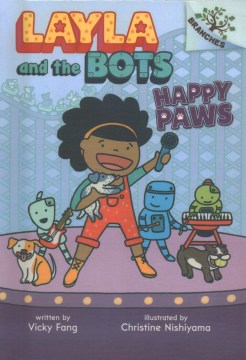 Happy Paws (Layla and the Bots series) by Vicky Fang; illustrated by Christine Nishiyama, 2020
Meet Layla, an inventor and rock star whose kindness and problem-solving skills are admirable. With its colorful illustrations and positive role model, kids and adults will love this new STEM-themed transitional chapter book!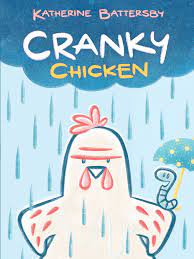 Cranky Chicken by Katherine Battersby, 2021
This seriously silly story has been on repeat at our house. Both my 7 year-old daughter and 10 year-old son can't get enough of the hilarious hijinks of Cranky Chicken! In the classic case of opposites attracting, a friendly outgoing worm befriends a very grumpy chicken. It is so downright entertaining to watch their friendship bloom over three comical chapters.
We are also enjoy the sequel Cranky Chicken: Party Animals.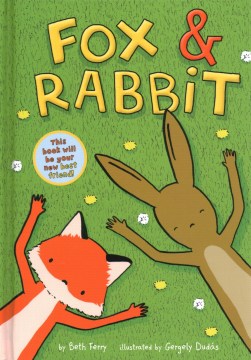 Fox & Rabbit (series) by Beth Ferry; illustrated by Gergely Dudás, 2020
This sweet friendship story could not be more charming! Told in five vignettes, this delightful tale follows a cheerful fox and an anxious rabbit who help each other overcome their fears, go on adventures, and learn what friendship is all about!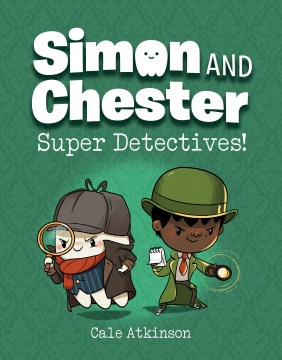 Simon and Chester Super Detectives (series) by Cale Atkinson, 2021
My son could not love this book more! Sir Simon, a ghost with a big personality, teams up with his friend, Chester, a boy with a big imagination, to solve mysteries around their house. Cale Atkinson's expressive illustrations are absolutely hysterical and my son loved the droll text so much that he started quoting funny lines from the book. This is such a fun one with tons of kid appeal!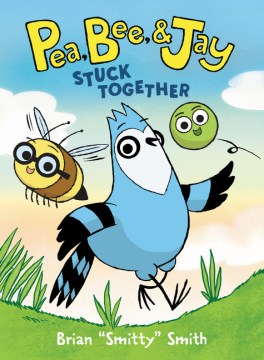 Pea, Bee, & Jay, Stuck Together (series) by Brian Smith, 2020
When a brave pea rolls past the border of his farm, he encounters a bee and a blue jay who become fast friends. This delightful friendship story is full of silly puns, cartoony illustrations, and an engaging storyline that will make readers excited for the next book in the series.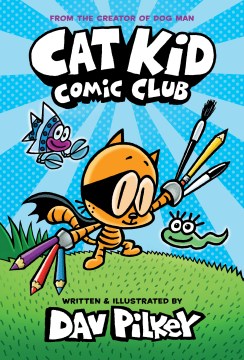 Cat Kid Comic Club by Dav Pilkey, 2020
This hysterical new series stars a cat and his sidekick who form a club to teach a class of young frogs how to make a comic. While it is completely zany, it is also packed with kid appeal and helpful advice about the creative process.
The parent advising the club is initially shocked and disappointed with some of the ridiculous story lines the students come up with, but he comes to understand that kids need a little freedom to create and explore topics that interest them. With a variety of comic formats and inspirational ideas, I have no doubt that this humorous graphic novel will motivate budding writers to pick up their own pencils and get writing!
My son could not put this book down and it had our entire family laughing out lou
The Coldfire Curse (Dragon Kingdom of Wrenly series) by Quinn Jordan; illustrated by Ornella Greco, 2021
This exciting spinoff of the popular Kingdom of Wrenly series is full of action, humor, and adventure. Ruskin, the pet dragon of Prince Lucas, is compelled to help the dragons of Crestwood fight an evil curse that threatens all of Wrenly. This is an excellent choice for fantasy lovers who are aren't quite ready for more difficult chapter books.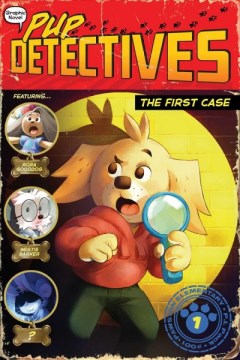 Pup Detectives, the First Case (series) by Felix Gumpaw; illustrated by Walmir Archanjo, 2021
A lunchtime bandit is stealing snacks at Pawston Elementary School, but luckily a team of courageous pups team up to find the villain! With playful puns and engaging characters, kids are going to love this new mystery series!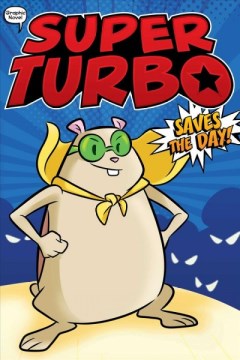 Super Turbo Saves the Day (series) by Edgar J. Powers; illustrated by Salvatore Costanza, 2021
Turbo is not only a classroom pet, he is also a superhero who will do anything to keep his classroom safe. During a snow day, he unexpectedly meets other classroom pets who band together to defeat an evil mischief of mice who want to take over the school and the world. The bold, colorful illustrations add to the fun of this amusing graphic novel that is perfect for newer readers transitioning to longer chapter books.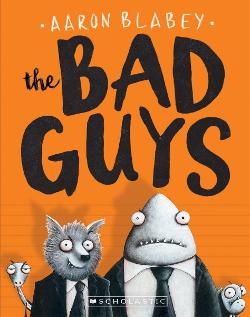 The Bad Guys (series) by Aaron Blabey, 2017
Fans of funny stories are not going to be able to resist this one! When four traditional villains attempt to lead better lives and help people, hilarious hijinks ensue. The black and white illustrations are full of expression and the comical text has tons of kid appeal!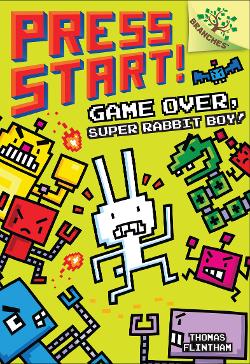 Game Over, Super Rabbit Boy (series) by Thomas Flintham, 2017
Video game lovers will immediately be attracted to this action-packed transitional chapter book. When a singing dog is abducted by the evil King Viking in a video game, it is up to Super Rabbit Boy to save the day. The bright colors and fast-past storyline, makes this an excellent choice for reluctant readers.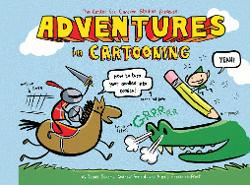 Adventures in Cartooning (series) by James Sturm, 2009
From the Publisher
In this action-packed cartooning adventure, kids will have as much fun making comics as reading them!
Once upon a time . . . a princess tried to make a comic. And with the help of a magical cartooning elf, she learned how – well enough to draw her way out of an encounter with a dangerous dragon, near-death by drowning, and into her very own adventure! Like the princess, young readers will discover that they already have the drawing and writing skills it takes to make a comic – they just need a little know-how. And Adventures in Cartooning supplies just that.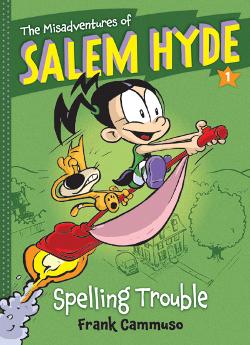 The Misadventures of Salem Hyde: Spelling Trouble (series) by Frank Cammuso, 2013
From the Publisher
Salem Hyde just isn't like other kids. For one thing, she's stubborn, independent, and impulsive. For another, she's a witch. Salem acts first and thinks later–which means most of her thinking involves coming up with excuses! Good thing she's been assigned an animal companion, Lord Percival J. Whamsford III. This over-anxious cat doesn't like Salem calling him "Whammy," and Salem doesn't like listening to his long-winded explanations as to why she shouldn't do something . . . like enter the class spelling bee. Salem knows she can beat all her classmates at spells, no problem. Too late, she realizes the competition is about spelling words, not magic. And there's nothing like a misspelled spell to cause all kinds of havoc!
Lexile: 520 Buy It Here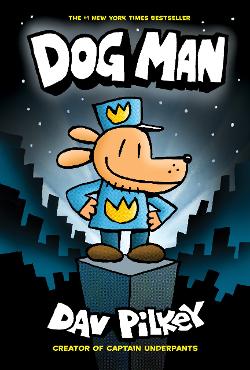 Dog Man (series) by Dav Pilkey; illustrated by George Beard, 2016
From the Publisher
There's a new breed of justice in town,and he's ready to sniff out criminals-as soon as he stops chasing his own tail! From the creator of Captain Underpants, it's Dog Man, the crime-biting canine who is part dog, part man, and ALL HERO! George and Harold have created a new hero who digs into deception, claws after crooks, and rolls over robbers. When Greg the police dog and his cop companion are injured on the job, a life-saving surgery changes the course of history, and Dog Man is born. With the head of a dog and the body of a human, this heroic hound has a real nose for justice. But can he resist the call of the wild to answer the call of duty?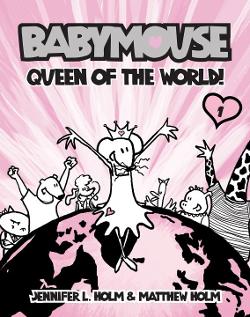 Babymouse: Queen of the World (series) by Jennifer Holm and Matthew Holm, 2005
From the Publisher
Meet Babymouse–Her dreams are big! Her imagination is wild! Her whiskers are ALWAYS a mess! In her mind, she's Queen of the World! In real life…she's not even Queen of the lunch table. NEW YORK TIMES bestselling, three-time Newbery Honor winning author Jennifer Holm teams up with Matthew Holm to bring you a fully illustrated graphic novel series packed with humor and kid appeal–BABYMOUSE! It's the same thing every day for Babymouse. Where is the glamour? The excitement? The fame?!? Nothing ever changes, until…Babymouse hears about Felicia Furrypaws's exclusive slumber party. Will Babymouse get invited? Will her best friend, Wilson, forgive her if she misses their monster movie marathon? Find out in Babymouse.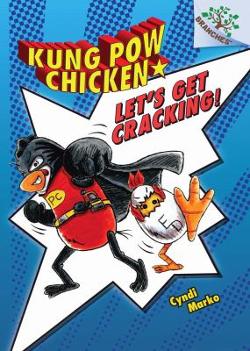 Kung Pow Chicken: Let's Get Cracking (series) by Cyndi Marko, 2014
From the Publisher
In this exciting full-color series, Gordon Blue transforms into Kung Pow Chicken, an avian superhero who fights crime in the city of Fowladelphia. The first book in the series kicks off when Gordon's birdy senses lead him to a festival. Suddenly, POOF! Feathers fill the air and shivering naked chickens are everywhere. Why have all these chickens lost their feathers? Forced to wear wooly sweaters, the city itches for a hero. Kung Pow Chicken hops into his Beakmobile to save the day!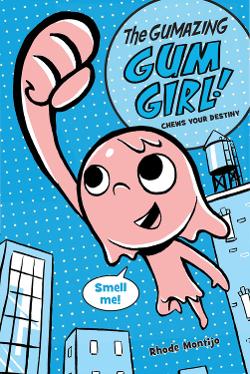 Gumazing Gum Girl: Chews Your Destiny by Rhode Montijo, 2013
Gabby Gomez loves chewing gum so much she eventually turns into it! She uses her new sticky form to transform herself into a superhero who helps those in need. This action-packed story is full of humor and a ton of fun!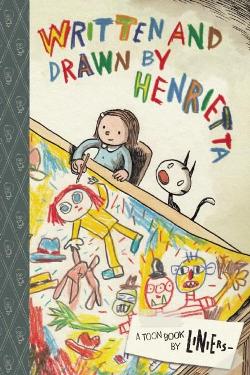 Written and Drawn by Henrietta by Liniers, 2015
From the Publisher
Reading books is fun . . . but what about making them? Armed with new colored pencils, Henrietta's ready to try. Peek over her shoulder as she draws the story of a brave young girl, a three-headed monster, and an impossibly wide world of adventure. Whether read aloud to a toddler or discovered by a young reader, Liniers' celebration of the creative process is sure to make everyone want to bring out their pencils.
Ricardo Siri Liniers, known as Liniers, is the author of Macanudo, a daily comic strip hugely popular in Argentina, now available in English. His US debut, The Big Wet Balloon, a TOON Book, was nominated for an Eisner Award and chosen as one of Parents' Top 10 Children's Books. He lives in Buenos Aires with his wife and three daughters, Matilda, Clementina, and Emma, whom he credits as inspirations for this book.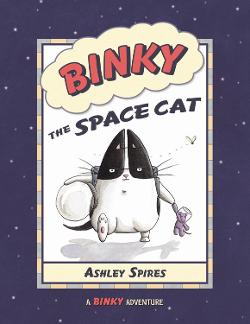 Binky the Space Cat (series) by Ashley Spires, 2009
From the Publisher
Binky is a space cat – at least in his own mind. He's really a house cat who has never left the family home (space station). Unlike other house cats, Binky has a mission: to blast off into outer space (outside), explore unknown places (the backyard) and battle aliens (bugs). Binky must undergo rigorous training so he can repel the alien attacks that threaten his humans. As he builds his spaceship, he must be extremely careful with his blueprints – the enemy is always watching. Soon Binky is ready to voyage into outer space. His humans go out there every day and he's sure they need a certified space cat to protect them. But just as he's about to blast off with his co-pilot, Ted (stuffed mousie), Binky realizes that he's left something very important behind … and it's not the zero-gravity kitty litter. In the first book in the Binky Adventure series, graphic-novel readers will delight in watching where this lovable and quirky cat's imagination takes him.
Hilo: The Boy Who Crashed to Earth (series) by Judd Winick, 2015
D.J. and his friend Gina consider their lives boring until they meet Hilo, a robot from another planet who looks like a boy. Together the three friends try to unlock the secrets to Hilo's past while also battling giant robotic insects. This fast-paced story is funny, adventurous, and full of heart resulting in a winning combination.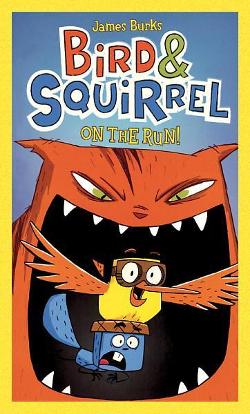 Bird and Squirrel on the Run (series) by James Burks, 2012
From the Publisher
Bird and Squirrel outwit Cat and become best friends in this zany adventure. Squirrel is afraid of his own shadow. He teams up with Bird, who is fearless but grounded by a wounded wing, to head south for the winter. Bird doesn't have a care in the world. And Cat wants to eat Bird and Squirrel. Of course, he'll have to catch them first, and that's not going to be easy. Join this trio as they head south for the winter in a hilarious road trip. But watch out! Cat is waiting around every bend, and he's one pesky feline.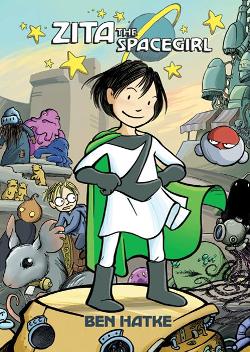 Zita the Spacegirl (series) by Ben Hatke, 2010
When a mysterious red button appears in front of Zita and her friend Joseph, they can't resist pushing it and are transported to an alien planet. With its imaginative storyline and quirky humor, it is hard to resist this engaging book!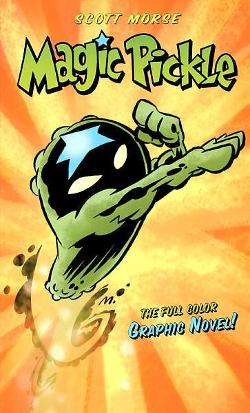 Magic Pickle (series) by Scott Morse, 2008
Meet the Magic Pickle, a flying kosher dill secret weapon, created in a secret government lab under the floor of little JoJo Wigman's bedroom. The Magic Pickle is here to save the world from The Brotherhood of Evil Produce who are threatening to take over the world or at least kill us with fruit and vegetable puns!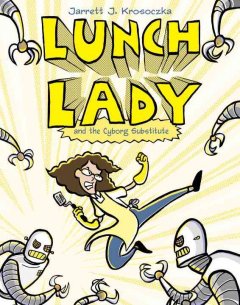 Lunch Lady and the Cyborg Substitute (series) by Jarrett Krosoczka, 2009
From the Publisher
Hector, Terrence, and Dee have always wondered about their school lunch lady. What does she do when she isn't dishing out the daily special? Where does she live? Does she have a lot of cats at home? Little do they know Lunch Lady doesn't just serve sloppy joes–she serves justice! Whatever danger lies ahead, it's no match for LUNCH LADY!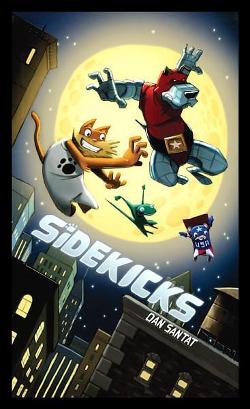 Sidekicks by Dan Santat, 2011
From the Publisher
Captain Amazing, superhero and savior of Metro City, is getting old. He's out all hours battling arch-villains, catching thieves, and helping little old ladies cross the street. He doesn't even have time for his house full of pets. He needs–a sidekick! Captain Amazing's pets agree. But each one of them thinks he should get the sidekick spot–and a chance for one-on-one time with the Captain. Get ready for sibling rivalry royale as pets with superpowers duke it out for the one thing they all want–a super family. A bold and brilliant graphic novel romp by whiz kid Dan Santat.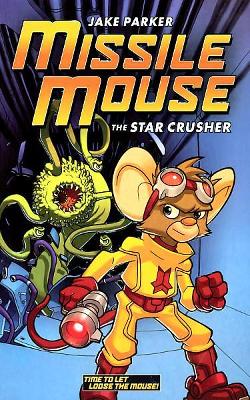 Missile Mouse: The Star Crusher by Jake Parker, 2010
From the Publisher
Missile Mouse, secret agent for the Galactic Security Agency, is a risk taker and a rule breaker, which is why he's in hot water at GSA headquarters. Then RIP, the Rogue Imperium of Planets, kidnaps a scientist who knows about the Star Crusher, a doomsday machine capable of destroying the entire universe.
Time to let loose the mouse! Missile Mouse battles giant space slugs, corrupt agents, killer bugs, and a pair of shark headed thugs to save the day (and the scientist!).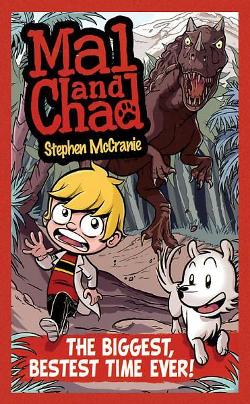 Mal and Chad: the Biggest, Bestest Time Ever (series) by Stephen McCranie, 2011
From the Publisher
Mal is a super kid genius and Chad is a talking dog, but no one knows it. What's it like to be so extraordinary and yet so invisible? Not even Megan, Mal's secret crush, has any idea that Mal is anything more than a dork. Fortunately, Mal and Chad are best friends with a penchant for adventure . . . even if the time-traveling does get them grounded by Mal's mom. Introducing the first in a series of illustrated chapter books by talented newcomer Stephen McCranie that are laugh-inducing, clever, and full of heart. Give this to any kid who's a reluctant reader or is just leaving picture books and be prepared to answer the question- 'When can I read the next one?'
*This post contains affiliate links. To read my full disclosure CLICK HERE.
YOU MAY ALSO LIKE: