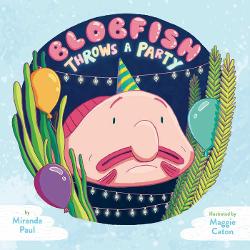 Blobfish Throws a Party by Miranda Paul; illustrated by Maggie Caton, 2017
(Ages 4 – 8)
Poor Blobfish lives all alone at the bottom of the deep, dark ocean. He desperately wants lights, friends, and treats and can think of only two ways to get them: 1. Throw a party or 2. Save the world in true hero style. Thinking option one sounds easier, Blobfish shouts in his loudest voice, "Deep-Sea Party! Bring a treat to share!" Unfortunately, the mermaids hear, "Cheap, free party! Sling on a sheet to wear!" Similar to the game of telephone, the message becomes more distorted and ridiculous to each new listener.  When the invitation reaches children, they hear, "Be a smarty! Fling your underwear!" Just as aliens invade Earth, their spaceship is splattered with underwear. They are disgusted and flee. When the original message is traced back to Blobfish, he is celebrated as a hero. He finally receives the bright lights, friends, and treats he dreamed of. This quirky book is pure silly fun. My five-year-old son thought each new misheard message was hilarious and requested this book several times. It is sure to be a popular read aloud.
For some reason, Blobfish and Narwahls are exceptionally popular today in children's literature. Check out these other great stories about some unique animals: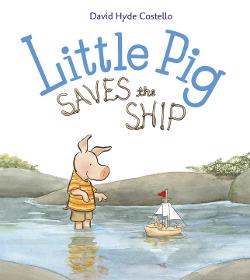 Little Pig Saves the Ship by David Hyde Costello, 2017
(Ages 3 – 7)
My children and I are mildly obsessed with this new series. Little Pig is a darling character that many children will adore. As the youngest of five siblings, he is disappointed to be left behind as his older brothers and sisters attend sailing camp. Tiny, his oldest brother leaves him with a book of knots to practice while they are away and Little Pig's grandfather builds him his own wooden boat to sail in a nearby stream. Each day the two enjoy playing with the boat until disaster strikes on Friday. The small boat disappears down a waterfall and both Little Pig and his grandfather run after it. Little Pig uses his knot-tying knowledge to loop a rope around the boat and pull it up to safety. When his siblings return, they celebrate Little Pig's new boat and sail together as a family.
The sequence of the boat floating down the river while the grandfather and Little Pig chase after provided the perfect amount of drama for my five-year-old. The charming watercolor illustrations make this sweet story come to life and add to the wholesome feel of the book. We also really enjoyed the first book in this series, Little Pig Joins the Band by David Hyde Costello (2011) and hope there are more adventures for Little Pig and his giant family.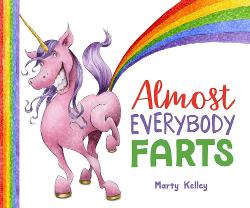 Almost Everybody Farts by Marty Kelley, 2017
(Ages 3 – 8)
I personally despise potty-humor, but my five-year-old son loves it, so when I saw this book published I had to try it with him. It was no surprise that he became obsessed with it and I have to confess it even made me chuckle a bit. In a series of comical illustrations, people, animals, and even mythical creatures are seen passing gas. Everyone except for mothers that is. A cynical looking mom pops into the book to interrupt the narrator. "Sisters fart. Brothers fart. Sometimes even mother f- No. Mothers do not fart." The book is completely silly and therefore will cause uncontrollable laughter from most children.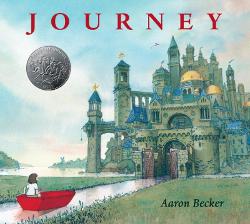 Journey by Aaron Becker, 2013
(Ages 4 – 8)
Many parents find wordless picture books difficult to read out loud since there are no words, but many children love wordless picture books. It gives them a chance to make up their own story based on their pictures. I gave Journey to my son and asked him to "read" it to me. At first, he seemed apprehensive, but then he had a blast creating the story. After he finished, he turned to me with a huge smile on his face and said, "I read my first book!" He then asked if we could get more wordless picture books. Journey is the first book in a trilogy and its beautiful illustrations that won a Caldecott Honor Medal tell the story of a girl whose imagination takes her to new worlds. It is very popular in my school library and has proved to be a winner with a wide range of children. 
Check out the other great books in this trilogy: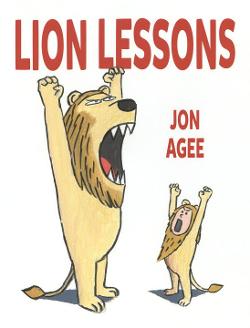 Lion Lessons by Jon Agee, 2016
(Ages 4 – 8)
A little boy walks passed karate, violin, tutor, Spanish, yoga, knitting, baking signs and enters a storefront with a sign that reads "Lion Lessons 7 Easy Steps". Taught by a lion professional, an actual lion, a boy practices his roar, his agility, his speed, etc. to become the perfect lion. After checking his scores, the lion announces "Not very promising", but the boy aces Step 7: Looking Out for Your Friends. When a kitten is chased by a dog, the boy uses everything he has learned and lets out a ferocious roar, bares his claws, sprints to the dog and pounces, saving the kitten. And that is how he gets his diploma…and makes a lot of new feline friends. My son loved the quirky text paired with Jon Agee's signature illustrations. Not only is this a fun story, it could also serve as a great book for "How To" units in schools.