Get ready for some serious laughter from these hysterical new releases. My kids can't get enough funny books and the below stories have been their favorites so far in 2023.
*This post contains affiliate links. To read my full disclosure CLICK HERE.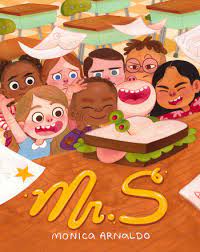 Mr. S by Monica Arnaldo, 2023
(Ages 5 and up)
This ridiculously quirky story is without a doubt my children's favorite book of the year so far. When a group of children start school for the first time, they walk in to find the room empty except for a sandwich at the teacher's desk. After much debate, they ultimately decide that the sandwich must be their teacher. What ensues is an abundance of comical events ending with a giant surprise.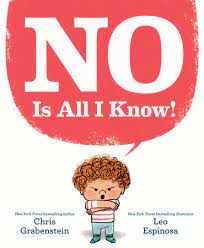 No Is All I Know! by Chris Grabenstein, illustrated by Leo Espinosa
Oliver McSnow loves to say "No!" all the time. Hysterically expressive illustrations follow him as he nopes each meal, book, and offer to do anything. Everything changes, however, when he is introduced to his cousin Jess who prefers to say "Yes". This book is not only laugh-out-loud funny, it is also a great conversation starter on trying new things.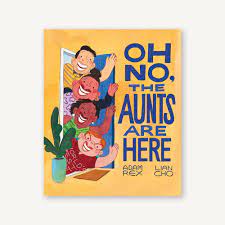 Oh No, the Aunts Are Here by Adam Rex, illustrated by Lian Cho
This all too relatable story about a group of aggressively loving aunts is absolutely hilarious. Filled with comical details that will have both adults and children giggling, Adam Rex has another winning book on his hands.
I also highly recommend On Account of the Gum , Unstoppable, and The Legend of Rock Paper Scissors.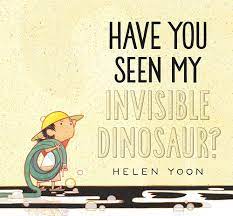 Have You Seen My Invisible Dinosaur? by Helen Yoon
Utterly delightful, this imaginative tale stars a young boy who has lost his invisible dinosaur after giving him a bath. I continue to be impressed with Helen Yoon's uniquely creative and comical stories! Off-Limits is another favorite of ours.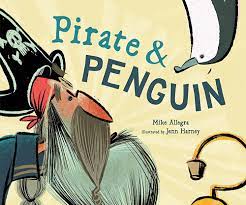 Pirate & Penguin by Mike Allegra, illustrated by Jenn Harney
Oh my, this one is so much fun to read aloud! When a pirate mistakes a penguin for his new pet parrot, hilarious hijinks ensue. The plethora of pirate dialogue makes this an excellent choice for reading on Talk Like A Pirate Day in September. You arrrren't going to want to pass this one up!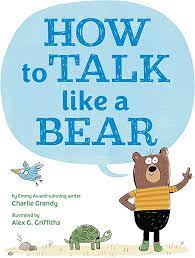 How to Talk Like a Bear by Charlie Grandy, illustrated by Alex G. Griffiths
This new interactive gem invites readers to growl like a bear at varying volume levels creating lots and lots of giggles.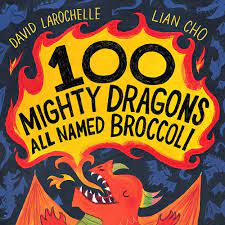 100 Mighty Dragons All Named Broccoli by David Larochelle, illustrated by Lian Cho
I love books that combine learning and entertainment! This silly romp skillfully works in math skills as readers count down from 100 dragons to only one. The best part is the surprise ending!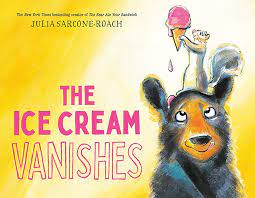 The Ice Cream Vanishes by Julia Sarcone-Roach
This adorable story stars a squirrel who wants to be a magician. When he accidentally makes an ice cream cone disappear by placing it on a hot rock, he is convinced that he truly has magical powers. With the help of his assistant, Bear, he puts on a memorable show for all his forest friends. With the perfect combination of humor and eye-catching illustrations, this charming book is not to be missed.
I also highly recommend Julia Scarone-Roach's other books The Bear Ate Your Sandwich and There Are No Bears in This Bakery.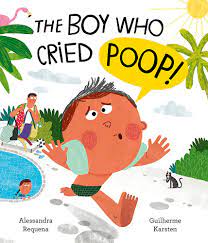 The Boy Who Cried Poop! by Alessandra Requena, illustrated by Guilherme Karsten
As soon as a family descends down 168 steps to their apartment's swimming pool, the little brother, Marc, immediately needs to go to the bathroom. Back up they go only to discover it's a false alarm. Up and down the family continues to go passing a myriad of people along the way. Both funny and surprisingly reassuring, this relatable story is a real winner.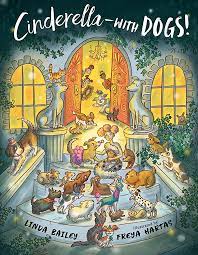 Cinderella With Dogs by Linda Bailey, illustrated by Freya Hartas
In this funny fractured fairytale, Cinderella is visited by a fairy dogmother whose magic has humorous outcomes. This enchanting read deserves two paws up!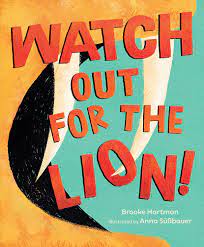 Watch Out for the Lion by Brooke Hartman, illustrated by Anna Sübbauer
Readers are warned that a lion is lurking in the pages of this book and that only the brazen should read on. With each turn of the page, there is a clever surprise that will have little ones giggling!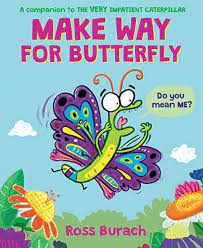 Make Way for Butterfly by Ross Burach
The exasperated butterfly from The Very Impatient Caterpillar is back with another entertaining and educational story this time focusing on pollination. My kids always get a kick out of the animated illustrations and I love that they pick up on some great facts about insects!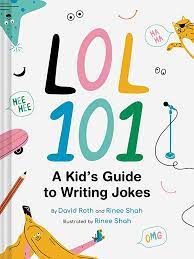 LOL 101: A Kid's Guide to Writing Jokes by David Roth and Rinee Shah, 2023
Oh, how I love this book! Teaching children to create their own jokes is a wonderful way to build language skills. The bold colors engage readers while the tips on writing jokes are not only funny, but extremely helpful! My kids had a blast thinking up their own jokes after reading this book!
YOU MAY ALSO LIKE: