Summer is not only the perfect time for children to explore the outdoors, visit new places, and spend extra time with family and friends, it is also the perfect time to maintain reading momentum and develop new skills by sharing picture books.
While it can be fun to browse the library shelves, sometimes it is also helpful to have a list of recommended books that are kid tested and parent-approved. I've worked tirelessly to put together a list of 101 picture books to read with your little ones. I've included some new books, award winners, and some old favorites. They range in age level, tone, genre, and illustration style, so hopefully there is a little something for everyone!
You can find downloadable lists in alphabetical order by title and author at the bottom of the page.
If you would like more picture book suggestions make sure you follow me on Instagram where I post regularly.
Happy Reading!!
*This post contains affiliate links. To read my full disclosure CLICK HERE.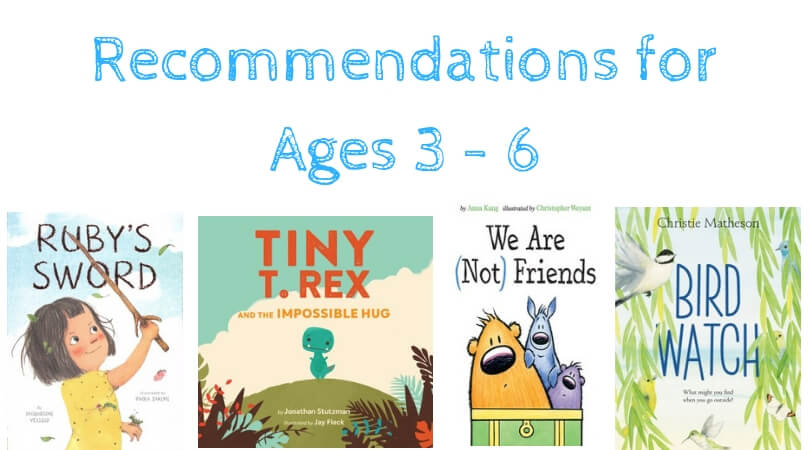 Bird Watch by Christie Matheson Gorgeous illustrations adorn the pages of this interactive treasure where readers are invited to search for birds hidden among beautiful spreads of a forest in full bloom.
Ruby's Sword by Jacqueline Veissid; illustrated by Paola Zakimi When Ruby is excluded by her big brothers, she uses her imagination to transform everyday objects into magical adventures.
Summer Supper by Rubin Pfeffer; illustrated by Mike Austin This colorful picture book, uses words that begin with the letter "S" to showcase how food is grown, harvested, and prepared for a family meal.
Push! Dig! Scoop!: a construction counting rhyme by Rhonda Gowler Greene; illustrated by Daniel Kirk This play on the song "Over in the Meadow" is so much fun to sing or read aloud. Young children will love counting the vehicles as they perform important tasks on a construction site.
Arrr, Mustache Baby by Bridget Heos; illustrated by Joy Ang Over-the-top narration and comical illustrations add to the fun of this hilarious book starring two toddlers with facial hair who act like pirates during a day at the pool.
Tiny R. Rex and the Impossible Hug by Jonathon Stutzman; illustrated by Jay Fleck It is almost impossible not to love the kind, compassionate, determined Tiny T. Rex. Despite his small arms, he works hard to find a way to cheer up his friend with a huge hug.
Don't Blink by Amy Krouse Rosenthal; illustrated by David Roberts A large-eyed owl promises the reader that they can stay up past their bedtime if they are able to refrain from blinking during the length of the book. Filled with a variety of clever tactics including optical illusions, children will be entranced by this hilarious read aloud.
The Doll Hospital by Kallie George; illustrated by Sara Gillingham With its delightful illustrations and theme of teamwork, you are not going to want to miss this adorable book that can also serve as the inspiration for lots of playful learning including sorting buttons, writing to-do lists, and of course setting up a doll hospital of your own!
My Tree and Me: a book of seasons by Jo Witek; illustrated by Christine Roussey Poetic text and playful die-cuts immediately draw readers in to this fabulous read aloud about a girl who befriends a tree. Whether it is quietly listening, providing leaves for projects, or shade for picnics, the tree is an instrumental part of the young girl's life during each passing season.
Captain Jack and the Pirates by Peter Bently; illustrated by Helen Oxenbury Upbeat rhymes filled with pirate lingo share the story of three young boys who pretend to be pirates while playing at the beach with their families.
We Are (Not) Friends by Anna Kang; illustrated by Christopher Weyant Navigating the ins and outs of friendship can be hard at any age, but especially for children. We Are (Not) Friends uses minimal text and engaging illustrations to capture the delicate emotions present when a new person is introduced into an established friendship of two.
The Sandcastle That Lola Built by Megan Maynor ; illustrated by Kate Berube With a charming cumulative storyline loosely based on the classic, "The House That Jack Built" combined with underlying messages of inclusion and team work,  The Sandcastle That Lola Built has become one of our favorite summertime reads.
Not a Box by Antoinette Portis Spare text and simple illustrations cleverly demonstrate the magnificence of a child's imagination and their ability to convert a cardboard box into exciting creations.
That Fruit is Mine! by Anuska Allepuz When an exotic fruit appears high in the branches of a tree, a group of animals become determined to obtain the delicious new food.
Don't Wake Up the Tiger by Britta Teckentrup This interactive picture book invites children to help distract a sleeping tiger, so that a group of animals can prepare a surprise.
Chicken in Space by Adam Lehrhaupt; illustrated by Shahar Kober Zoey is an exuberant chicken who has determination, big dreams, and an even bigger imagination!
Three Grumpy Trucks by Todd Tarpley; illustrated by Guy Parker-Rees Filled with bouncy rhymes, exciting onomatopoeia, and bright illustrations, both children and adults will enjoy this comical story featuring three toddler-like constructions trucks.
Shark vs. Train by Chris Barton; illustrated by Tom Lichtenheld A toy shark and train square off in a series of humorous competitions.
Little Pig Saves the Ship by David Hyde Costello When Little Pig's older siblings attend sailing camp, he and his grandfather make a toy sailboat to sail in a nearby stream. Filled with charming illustrations, this is a delightful summertime read.
Max Attacks by Kathi Appelt; illustrated by Penelope Dullaghan Rhyming text follows a frisky feline as he energetically plays with objects in his house. Children are going to love this mischievous kitty!
The Three Billy Goats by Jerry Pinkney Award-winning illustrator, Jerry Pinkney's paintings shine in this gorgeous retelling of a classic folktale.
The Little Red Cat Who Ran Away and Learned His ABC's (the Hard Way) by Patrick McDonnell In this ingenious ABC book, readers are challenged to put their phonemic skills to the test as they follow along as a cat is chased through the alphabet.
A Squiggly Story by Andrew Larsen; illustrated by Mike Lowery When a young boy who is just learning his letters wants to write a story like his big sister, she encourages him to write symbols to represent the story he wants to tell.
Seagull and Sea Dragon by Sydni Gregg Two inquisitive animals discover each other and form a friendship based on their curiosity and desire to discover more about their worlds. 
How Rocket Learned to Read by Tad Hills A little yellow bird teaches a dog named Rocket to read by introducing him to the alphabet in this endearing book.
Beep, Beep Go To Sleep by Todd Tarpley This entertaining bedtime story features a young boy who is trying to get his energetic robots to sleep.
Old MacDonald Had a Truck by Steve Goetz Trucks, construction vehicles, girl power, and a catchy tune… these are just a few of the things that make this clever adaptation of the old folk song a standout.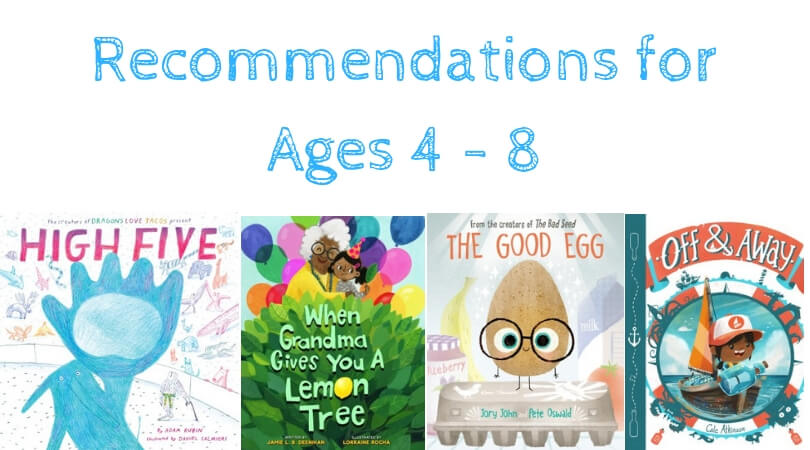 We Are the Gardeners by Joanna Gaines; illustrated by Julianna Swaney This beautifully illustrated treasure, shares the trials and tribulations of growing a garden. Not only does the book include helpful information about gardens themselves, but there are so many wonderful life lessons mixed into the story that set We Are the Gardeners apart from many other books with a similar subject.
Hello Lighthouse by Sophie Blackall With its absolutely stunning illustrations, this exquisite book took home the Caldecott Medal this year. The story transports readers to another time when lighthouses required keepers to faithfully tend to them to ensure the safety of ships passing by.
A Normal Pig by K-Fai Steele Pip feels like a normal pig until a new pig comes to school and makes her question the things she likes. This engaging story takes a realistic scenario and helps reinforce in children the importance of celebrating differences and individuality.
Crab Cake: Turning the Tide Together by Andrea Tsurumi This adorable new book not only celebrates sea life and provides a clear message of the importance of preserving our oceans, it also stars a lovable crab who models bravery in a time of uncertainty.
Mapping Sam by Joyce Hesselberth This simple story about a cat exploring his neighborhood is an ingenious way to introduce maps to children.
Imagine by Raul Colon This gorgeous wordless book is a celebration of art and imagination. When a boy visits a museum, the artwork comes alive and joins the boy in adventures around New York City.
High Five by Adam Rubin; illustrated by Daniel Salmieri The team who brought you Dragons Love Tacos is back with a funny interactive book challenging readers to the ultimate high five competition.
The Wall in the Middle of the Book by Jon Agee This clever book is an entertaining story for younger children and an excellent discussion starter for older children on perspective, assumptions, and current events.⠀⠀⠀⠀⠀⠀⠀⠀
The Panda Problem by Deborah Underwood; illustrated by Hannah Marks When a narrator attempts to tell the story of a panda with a problem, the main character refuses to cooperate arguing that he has a carefree life with no difficulties. The storyline is quite comical and is sure to inspire budding writers to grab their pencils and start creating their own imaginative tales!
Alma and How She Got Her Name by Juana Martinez-Neal Alma Sofia Esperanza Jose Pura Candela thinks her name is too long until she learns about all the incredible family members she was named after.
The Good Egg by Jory John; illustrated by Pete Oswald An adorable egg strives to be perfect and helpful in every way despite his crate mates who are quite naughty. When the pressure of being the good egg causes him to literally crack up, he realizes he needs a little self-care. This amusing book is an excellent reminder that no one is perfect and that they shouldn't have to be!
The Three Ninja Pigs by Corey Rosen Schwartz; illustrated by Dan Santat This hilarious retelling of the Three Little Pigs has a great message of hard work and perseverance.
Say Something by Peter Reynolds Master storyteller, Peter Reynolds, encourages children to express themselves through words and actions. Whether it is by painting, writing, or speaking, everyone has something to say and a way to communicate it.
Be Kind by Pat Zietlow Miller ; illustrated by Jen Hill There are many books that cover the subject of kindness, but Be Kind stands apart. It does a remarkable job of providing an overview of kindness along with clear examples that make this abstract concept more concrete for children.
Walrus in the Bathtub by Deborah Underwood; illustrated by Matt Hunt When a boy moves into a new house, he and his family discover a walrus living in their bathtub. The boy proceeds to list all the positive and negatives of the situation resulting in an amusing read aloud.⠀⠀⠀⠀⠀
When Grandma Gives You a Lemon Tree by Jamie L.B. Deenihan; illustrated by Lorraine Rocha This clever book takes the proverbial phrase, "When life gives you lemons, make lemonade!" and incorporates it into a child-friendly story teaching resilience and self-reliance.
Perfect by Max Amato When an eraser is determined to keep his page perfectly clean, he meets a mischievous pencil who teaches him the valuable lesson that perfection does not always equal happiness.
There's a Giraffe in My Soup by Ross Burach When a little boy visits a fancy restaurant, he finds a myriad of animals in his soup bowl, which is whisked away by an exasperated waiter. Full of puns and action-packed illustrations, this silly story is sure to make both adults and children giggle.
Great, Now We've Got Barbarians! by Jason Carter Eaton; illustrated by Mark Fearing Children will be running to clean their rooms after reading this humorous story about a group of barbarians who move in when a boy relishes in his messy room.
Off & Away by Cale Atkinson This is a fantastical maritime story filled with engaging illustrations and a positive message of overcoming one's fear.
There Are No Bears in This Bakery by Julia Sarcone-Roach While perusing the outside of a bakery one night, an orange cat hears strange sounds coming from the backroom and discovers a surprise visitor. I just love the descriptive language and the skillful use of onomatopoeia and similes paired with the delightful illustrations!
Misunderstood Shark by Ame Dyckman; illustrated by Scott Magoon This amusing picture book combines a comical story with fun facts about sharks to entertain and educate children.
Hattie & Hudson by Chris Van Dusen Hattie is shocked to discover an enormous sea monster living in the lake beside her house, but is delighted to learn that he is friendly. This sweet story of an unlikely friendship is beautifully told through vivid illustrations and has several underlying messages of acceptance, compassion, and not judging others based solely on their appearances.
Bunny's Book Club by Annie Silvestro; illustrated by Tatjana Mai-Wyss Bunny loves listening to storytimes held outside the library, but when the air turns cool and storytimes are moved indoors, Bunny must come up with a plan! This quiet celebration of books and reading could not be more charming!
Flashlight Night by Matt Forrest Esenwine; illustrated by Fred Koehler Short, lyrical text and enchanting illustrations capture the adventures of three children who explore their backyard with a flashlight.
Little Red and the Very Hungry Lion by Alex T. Smith This humorous version of Little Red Riding Hood stars an exuberant girl who travels through Africa to deliver medicine to her aunt when she is stopped by a naughty lion.
Charlotte the Scientist is Squished by Camille Andros; illustrated by Brianne Farley When Charlotte realizes she does not have enough room in her house to conduct her experiments, she uses the Scientific Method to solve her problem.
After the Fall by Dan Santat Using stunning illustrations, Dan Santat shares the story of how Humpty Dumpty brushed himself off after his big fall and gets back on that wall! This is a fun reimagining of a classic nursery rhyme with themes of perseverance and overcoming adversity.
Thank You, Omu! by Oge Mora Not only is Thank You, Omu! a heartwarming story about generosity, community, and kindness, the artwork is spectacular!
Dear Dragon by Josh Funk; illustrated by Rodolfo Montalvo Blaise Dragomir and George Slair have been assigned as pen pals for a school project. Although each is a reluctant writer, they are surprised by how much they enjoy writing to each other. Unbeknownst to them, however, is that Blaise is a dragon and George is a boy!
Everything You Need for a Treehouse by Carter Higgins; illustrated by Emily Hughes This whimsical look at treehouses is sure to inspire children to begin drawing up plans for their own fantastical treehouse!
Tyrannosaurus Rex vs. Edna The Very First Chicken by Douglas Rees; illustrated by Jed Henry As we all know, Tyrannosaurus Rexes are quite fierce, but did you also know that chickens are brave and resourceful? This is a comical underdog story that is fun to read aloud.
Blobfish Throws a Party by Miranda Paul; illustrated by Maggie Caton Poor Blobfish lives all alone at the bottom of the deep, dark ocean. When he tries to invite other sea creatures to a party, the mermaids mishear his offer and a comical game of "telephone" ensues with hilarious results.
The Airport Book by Lisa Brown I love this book on so many levels. Not only is it the perfect book to travel with because the setting is an airport, but additionally there are two parallel stories that can be read together or one at a time depending on how long you want to look through the book. With its detailed illustrations, this is one of those magical stories that you can read again and again and always notice something new.
The Night Gardener by The Fan Brothers Grimloch Lane appears to be a bleak and sad place until a stranger inspires magic and hope through the creation of beautiful topiaries resembling animals. Each night a new one is constructed leaving the townspeople in awe. A young boy soon discovers the mysterious night gardener and spends an enchanting evening aiding him in his creations.
Stegothesaurus by Bridget Heos ; illustrated by T.L. McBeth The protagonist in this amusing story is no ordinary dinosaur. He is a Stegothesaurus and loves using synonyms to describe the world around him. The comical illustrations and clever storyline make this a fabulous read aloud!
Accident by Andrea Tsurumi Lola, an armadillo, is cartwheeling through the house when the unthinkable happens. She falls into a table and spills red juice all over a chair. She panics and runs through the town witnessing accidents everywhere. This incredible book makes the concept of accidents more relatable to children.
The Little Red Fort by Brenda Maier; illustrated by Sonia Sanchez Filled with a spunky heroine, lively illustrations, and engaging text, you will not want to miss this fun take on the classic folktale, The Little Red Hen.  I can't tell you how many forts this book as inspired in our house!
Teddy's Favorite Toy by Christian Trimmer; illustrated by Madeline Valentine Although Teddy has many toys, his absolute favorite is his doll, Bren-Da, Warrior Queen of Pacifica. When tragedy strikes and Bren-da is accidentally thrown away, Teddy's mom showcases her own superhero skills. This entertaining book not only defies gender norms, but it has humor, excitement and a happy ending!
The Summer Nick Taught His Cats to Read by Manley Curtis; illustrated by Kate Berube Both book lovers and reluctant readers won't be able to resist this droll story of a boy trying to teach his cats to read!
Sun by Sam Usher Hints of whimsy fill the pages of this sweet book about the adventure of a boy and his grandfather on a hot summer day.
Pie is for Sharing by Stephanie Parsley Full of Americana, this charming book stars a group of friends who gather at a picturesque lakeside picnic for food and fireworks.
On a Magical Do-Nothing Day by Beatrice Alemagna After a boy accidentally drops his video game in a lake, he begins to notice his surroundings and becomes immersed in the beauty of the natural world.
The Bear and the Piano and the Dog and the Fiddle by David Litchfield Gorgeous illustrations adorn this reflective story about friendship, jealousy, and forgiveness.
Stop That Yawn! by Caron Levis; illustrated by LeUyen Pham Many children will relate to this whimsical book featuring a girl who attempts to avoid bedtime by traveling to a magical world where everyone stays away all night long.
Aquarium by Cynthia Alonso Stunning illustrations tell the story of a young girl who dreams of swimming with the fish in a nearby river. This poignant wordless wonder touches on imagination, exploration, innovation, empathy, and letting go.
Not Quite Narwhal by Jessie  Sima This adorable story about acceptance and identity stars a unicorn who lives among a colony of narwhals.
Dandy by Ame Dyckman; illustrated by Charles Santoso A daddy lion prides himself on his well-kept lawn and is horrified to discover that his daughter has befriended the weed. What ensues is a comical look at the outlandish attempts one dad will take to keep his lawn pristine while balancing the happiness of his daughter.
Jabari Jumps by Gaia Cornwall Jabari has just finished his swim lessons and is now ready to tackle the high dive at his local pool when a fear of heights sets in. His dad helps him build confidence and find a way to overcome his trepidation.
When a Dragon Moves In by Jodi Moore; illustrated by Howard McWilliam Full of imagination, cartoony illustrations, and an amusing storyline, this is one of my kids' favorite stories about the beach. When a boy creates the perfect sandcastle, a dragon moves in causing a bit of havoc, but mostly a lot of fun!
How to Code a Sandcastle by Josh Funk ; illustrated by Sara Palacios This book does an excellent job of explaining the core concepts of coding in a child friendly manner. Not only that…it's an entertaining story!
Sweety by Andrea Zuill Sweety is a naked mole rat whose love for interpretive dance and mushrooms often leaves her feeling like an outsider. With some wise advice from her aunt, Sweety realizes that staying true to herself is the best way to be happy and find like-minded people.
Finding Winnie: the true story of the world's most famous bear by Lindsay Mattick; illustrated by Sophie Blackall This award-winner explains the true-story behind the bear that inspired Winnie the Pooh. This special tale is heartwarming and beautifully illustrated.
Are We There Yet? by Dan Santat This inventive book uses engaging illustrations to capture a boy's imagination as he takes a road trip to his grandmother's house.
Poetree by Shauna LaVoy Reynolds; illustrated by Shahrzad Maydani When a shy girl writes poems and leaves them tied to a tree, she is shocked to find poems from the tree in return. This quiet story is a lovely ode to nature, poetry, and budding friendship.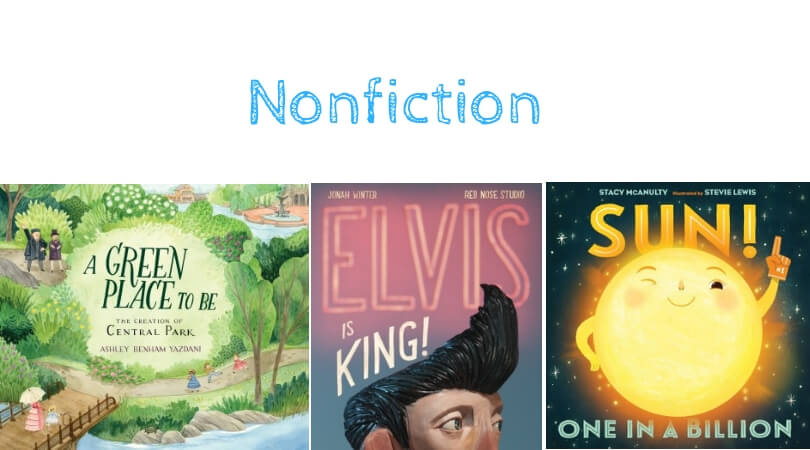 Sun: One in a Billion by Stacy McAnulty; illustrated by Stevie Lewis An anthropomorphic sun explains to readers why he is such a big deal. This book is funny and educational!
Mary Wears What She Wants by Keith Negley My daughter was shocked to learn there was a time when girls were not allowed to wear pants. Luckily this is no longer the case thanks to strong women like Mary Edwards Walker who helped challenge social norms.
A Green Place to Be by Ashley Benham Yazdani This lovely nonfiction offering gives the fascinating history behind Central Park in New York City and how it was transformed from a muddy swampland to one of the most beautiful and well-known parks in the world.
 Give Bees A Chance by Bethany Barton Bethany Barton has discovered the perfect mix of information, humor, and clever illustrations to bring nonfiction books alive to children. Give Bees A Chance skillfully presents interesting facts about bees with a comical dialogue between an unseen narrator and a boy who is terrified of bees.
Mae Among the Stars by Roda Ahmed; illustrated by Stasia Burrington This beautiful picture book biography uses simple text and child-friendly illustrations to show how Mae Jemison achieved her dream of becoming an astronaut through hard work and perseverance.
Cold, Crunchy, Colorful: using our senses by Jane Brocket Descriptive language and striking photography invite readers to use all five senses to experience the world around them.
Gravity by Jason Chin Using simple language and beautiful artwork, Jason Chin presents the complex subject of gravity in an accessible way for children.
Brothers At Bat: The True Story of an Amazing All-Brother Baseball Team by Audrey Vernick; illustrated by Steven Salerno This is the fascinating true story of a family of twelve brothers who started their own semi-pro baseball team in the 1930's.
Shark Lady; the true story of how Eugenie Clark became the ocean's most fearless scientist by Jess Keating; illustrated by Marta Alvarez Miguens This fabulous picture book biography uses imaginative illustrations to introduce children to Eugenie Clark who overcame criticism to become one of the leading zoologists to study sharks.
Lego Man In Space by Mara Shaughnessy Did you know that a toy Lego Man was actually launched into space by two kids? It's true and Lego Man In Space tells the astonishing story.⠀⠀⠀⠀⠀⠀⠀
Volcano Rising by Elizabeth Rusch Dramatic artwork captures the power of volcanoes and how they have the ability to destroy and create. Short text using onomatopoeia is accompanied by longer paragraphs giving more details making this book appropriate for a number of ages.
Otis and Will Discover the Deep: the record-setting dive of the Bathysphere by Barb Rosenstock; illustrated by Katherine Roy This is the intriguing story two men who worked as a team to make the first deep-sea dive to explore the mysteries of the ocean. The detailed illustrations capture the peril the men faced and the engaging text makes readers feel as though they are accompanying the men on their initial dive.
Lovely Beasts: the surprising truth by Kate Gardner; illustrated by Heidi Smith  This gorgeous nonfiction book not only shares interesting facts about animals, but also reminds readers of the important message of looking beyond first impressions.
Water is Water by Miranda Paul; illustrated by Jason Chin Poetic language and lovely watercolor illustrations teach children about the water cycle in a child-friendly way.
Planting Stories: The Life of Librarian and Storyteller Pura Belpré by Anika Aldamuy Denise; illustrations by Paola Escobar Readers learn about Pura Belpré who enriched children's literature with her enchanting Puerto Rican folktales. She was a pioneer, creating the first mainstream Latinx storybooks in America.
 Extreme Animals series by Steve Jenkins Steve Jenkins is the master of nonfiction for children and we are loving his series featuring his signature artwork and attention-grabbing facts that showcase the speediest, stinkiest, deadliest, and trickiest animals.
Elvis is King by Jonah Winter; illustrated by Red Nose Studio Elvis' life is portrayed through short poems and eye-catching artwork. Who knew Elvis was originally blonde?
Malala's Magical Pencil by Malala Yousafzai; illustrated by Kerascoet This autobiographical story informs readers of Malala's desire to fight for the rights of others from a young age. Even though Malala's life is difficult and tragic, she does an incredible job of making her story accessible and hopeful to all who read this stunning book.
Mirror, Mirror: A Book of Reversible Verse by Marilyn Singer; illustrated by Josee Masse This unique book presents short poems about fairytale characters frontward and backward. When read in reverse, readers gain a new perspective. This clever book is mesmerizing!
DOWNLOADABLE LISTS:
You can download the full list in alphabetical order by TITLE here: 101 Picture Books Alphabetical by TITLE 2019
You can download the full list in alphabetical order by AUTHOR here: 101 Picture Books Alphabetical Order by AUTHOR 2019