Yo ho ho, who is ready for an exciting pirate tale? Swashbuckling adventures are often a popular theme with children and young buccaneers aren't going to be able to resist this treasure trove of pirate stories.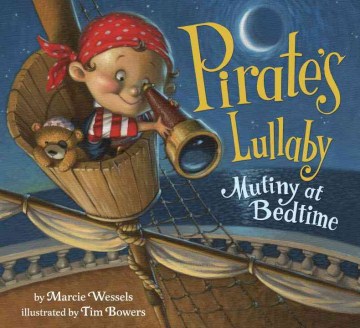 Pirate's Lullaby: mutiny at bedtime by Marcie Wessels; illustrated by Tim Bowers, 2015
(Ages 3 – 5)
Told through flowing rhymes, this is the endearing story of a pirate captain attempting to put his son to bed. There is an abundance of pirate lingo and plenty of fun as they clean up the ship, hunt for a stuffed bear, and finally snuggle in for bedtime. Tiny swashbucklers will love this cuddly pirate-themed bedtime story.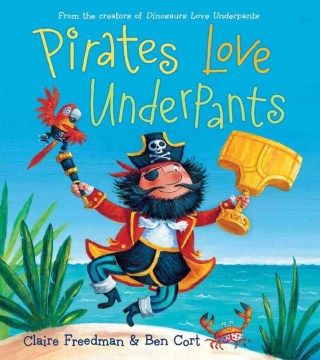 Pirates Love Underpants by Claire Freedman; illustrated by Ben Cort, 2013
(Ages 3 – 6)
Children who love silly adventures will be drawn into this comical tale following a group of underwear-loving pirates who journey across the seas in search of the fabled Pants of Gold. Bright, colorful illustrations fill the pages of this humorous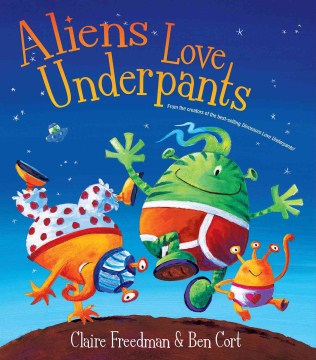 story. Most children can't help but giggle at the mention of undies and are sure to request this one again and again.
Don't miss the companion book, Aliens Love Underpants.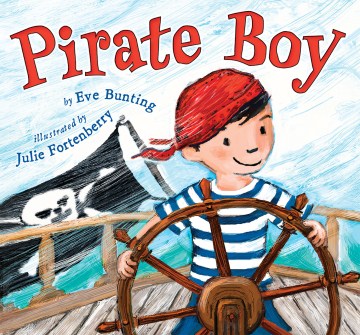 Pirate Boy by Eve Bunting; illustrated by Julie Fortenberry, 2011
(Ages 3 – 6)
This imaginative book may star pirates, but at its heart, it is a story about the bond between a mother and son. After reading a book about pirates, a young boy asks his mother a series of questions related to what she would do if he joined a pirate crew. Each of her responses reconfirms that no matter the situation, she will always be there for her child. This comforting and tender story is sure to result in cuddling while reading.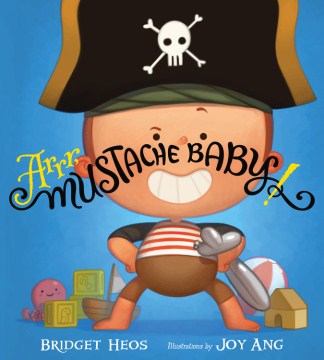 Arrr, Mustache Baby by Bridget Heos; illustrated by Joy Ang, 2019

(Ages 3 – 8)
This is one of my favorite series to read to children. Just the idea of a baby with a mustache is enough to make them giggle. Over-the-top narration and comical illustrations add to the fun of this hilarious series.
In Arrr, Mustache Baby, Billy and Javier are two toddlers with facial hair who are enjoying a day at the pool when they observe two other toddlers acting as pirates up to no good. When they swoop in to save the day, however, they become enticed by the lure of treasure and soon transform into scallywags themselves.
My children could not get enough of this humorous book and asked for it night after night. It is a fun and silly read aloud that you won't want to miss.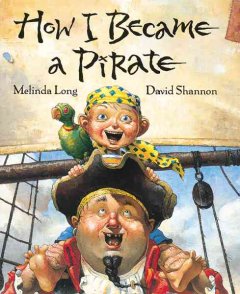 How I became a Pirate by Melinda Long; illustrated by David Shannon, 2003
(Ages 4 – 8)
When a little boy named Jeremy Jacob joins a band of pirates, he initially relishes in his new life without rules or vegetables. Before too long, however, he realizes that being a pirate is not all its cracked up to be. David Shannon's illustrations shine as he perfectly captures pirate life in this comical story.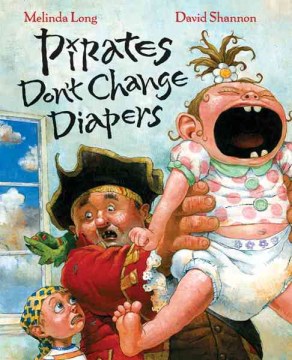 Be sure to also check out the hilarious sequel, Pirates Don't Change Diapers! The same motely crew is back to find their buried treasure in Jeremy Jacob's backyard, but first they must face one of their greatest challenges yet, Jeremy's baby sister.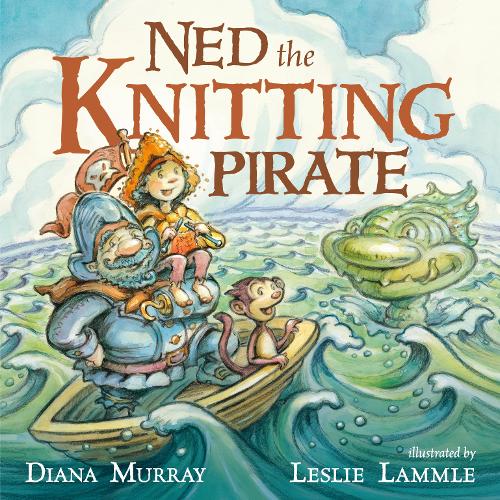 Ned the Knitting Pirate by Diana Murray; illustrated by Leslie Lammle
(Ages 4 – 8)
Some books about pirates can be a bit scary, but the soft water-color illustrations and bouncy, upbeat text mixed with the message of celebrating one's uniqueness make this a sweet story sure to be treasured by many children.
Ned is a pirate who loves to knit. Despite his crew's attempt to convince him that knitting is not rough and tough enough for a pirate's life, Ned stays true to himself and continues partaking in his favorite hobby.
This book begs to be read out loud and it is almost impossible for children not to join in on Ned's sing-song refrain about his passion. My son could not get enough of this book and we read it so many times he memorized the pirates' songs.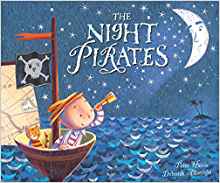 The Night Pirates by Peter Harris; illustrated by Deborah Allwright, 2006
(Ages 4 – 8)
Lyrical language and engaging illustrations fill the pages of this entertaining pirate story. Tom is asleep in his bed when he is awoken by a rough and tough crew of girl pirates. He joins them for a nighttime adventure tricking adult pirates and stealing their treasure. With flowing text and just the right amount of drama, children will love this enchanting escapade.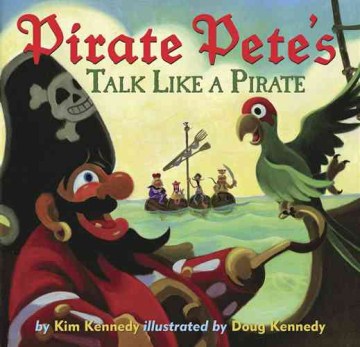 Pirate Pete's Talk Like a Pirate by Kim Kennedy; illustrated by Doug Kennedy, 2007
(Ages 4 – 8)
Pirate Pete is looking for a new pirate crew, but he has a few requirements with the most important being that they have to talk like real pirates. The interviews do not go well. Upon visual inspection, many meet his initial prerequisites, but all of them speak too properly. He finally discovers that he has all the crew he needs in his pirate speaking parrot.
This book was as fun to read aloud as it was to listen to. I had a blast doing funny voices for each interviewee and my son cracked up each time they responded in proper English instead of silly pirate talk. With its comical storyline and sweet ending, this book is the perfect read aloud for Talk Like A Pirate Day in September!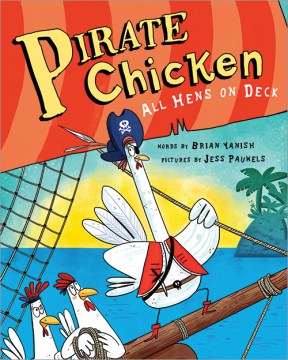 Pirate Chicken: All Hens on Deck by Brian Yanish; illustrations by Jess Pauwels, 2019
(Ages 4 – 8)
Lily is a chicken who has always dreamed of a life of adventure. When her flock is kidnapped by a group of pirates, she doesn't cower in fear. Instead, she studies the swashbuckling crew and when the opportunity strikes, she seizes the ship as her own.
Lily is a high achiever and soon transforms into the dreaded pirate, Redfoot. While she is a successful pirate, she proves to be a demanding leader and soon her feathered crew is crying for mutiny. Luckily, she is able to use her quick wits to avoid "squawking the plank."
This amusing story is sure to be a hit with young buccaneers!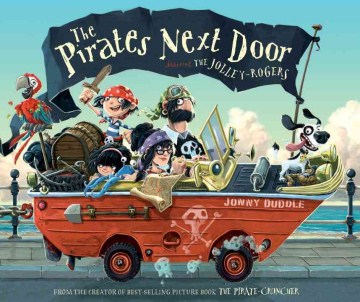 The Pirates Next Door: starring the Jolley-Rogers by Jonny Duddle, 2012
(Ages 4 – 8)
When pirates come to live in a gloomy seaside town, they are not immediately welcomed in by the townspeople except for a pig-tail wearing girl named Matilda. While Matilda appreciates the pirates for who they are, it is not until after they leave that the townspeople discover the pirates secret and hope for their return in the future.
Although I wish the townsfolk felt more remorse for their mistreatment of the pirates, my children absolutely loved the detailed illustrations and the bouncy rhyming text of this amusing pirate tale.