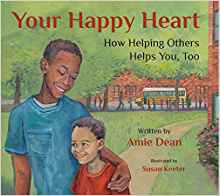 Your Happy Heart: How Helping Others Helps You, Too by Amie Dean ; illustrated by Susan Keeter, 2019

(Ages 5 and up)
I am always looking for books with messages of kindness, empathy, and self-love, so I was thrilled when I was presented with the opportunity to partner with the National Center for Youth Issues on their new release, Your Happy Heart: How Helping Others Helps You, Too.

When fifth grader, Javon, is paired with Richard as his kindergarten book buddy, he quickly realizes Richard shares some of the same angry feelings he had in kindergarten. Javon uses the tools his teachers shared with him to help Richard find things he loves about himself and in doing so feel calmer.
From the idea of helping others to the useful tips in the author's note, there are so many great takeaways from this book. I was inspired by one of the activities the characters performed and emulated it with my own children. I drew hearts and asked my children to fill them with pictures of things that make them happy. We hung the hearts in their rooms, so that the next time they are feeling upset, they can more easily recall special memories or items that bring them happiness.
With the positive role modeling and ideas for how to better cope with difficult emotions, Your Happy Heart is powerful and important picture book.
I encourage you to check out the National Center for Youth Issues' website at https://ncyi.org. Many valuable resources are listed to help counselors, teachers, and parents foster healthy social, emotional, and physical development in children.