Super Manny Stands Up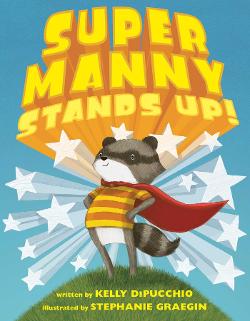 ! (2017) and Super Manny Cleans Up! (2018) by Kelly DiPucchio ; illustrated by Stephanie Gaegin
We are loving Kelly DiPucchio's courageous racoon, Manny! Using his vivid imagination, he battles pretend monsters until he encounters real-life problems.
In Super Manny Stands Up, the heroic racoon witnesses an act of bullying. Even though he is frightened, he confronts the unkind child and makes a new friend in the process. Buy It Here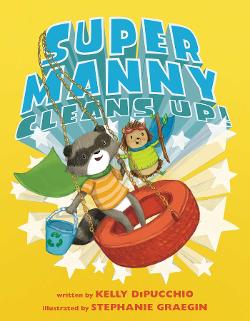 In Super Cleans Up!, Manny and his new partner, Gertie, continue battling evil adversaries until they encounter trouble in the form of littering. They work as a team to make their park a beautiful place for all. Buy It Here
There is so much to love about these books! The artwork is adorable and even the monsters appear cute and cuddly. Manny is a wonderful role model who is creative, brave, friendly, and stands up for what is just. Most of all he is inspiring. In both books, his honorable acts motivate others to do the right thing as well. My son asked for repeated readings of both books, so hopefully they will encourage him to make good choices too!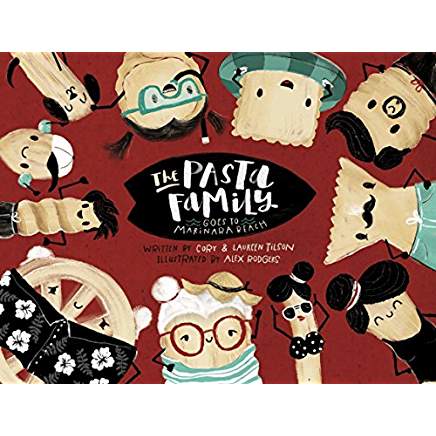 The Pasta Family Goes to Marinara Beach by Cory and Laureen Tilson ; illustrated by Alex Rodgers, 2018
Summer might be over, but there is always a good time to read about a family made of pasta going to the beach! Children will love meeting this adorable family and sharing in their adventures as they search for their lost dog and enter a surf competition with a mysterious master surfer.
My three-year-old could not get enough of this book and loved pointing out all the different characters. And, of course. we had to pull out our own boxes of pasta to play with (and eventually eat) after reading. Such fun!
Note: A copy of this book was provided to LibraryMom in exchange for an honest review.
Jack B. Ninja by Tim McCanna ; illustrated by Stephen Savage, 2018
(Ages 3 – 6)
Raise your hand if you like updated versions of old nursery rhymes! JACK B. NINJA is such a fun new take on the classic, Jack Be Nimble. Filled with flowing rhymes, Stephen Savage's engaging action-packed illustrations, and ninjas, children are not going to want to miss the charming read aloud!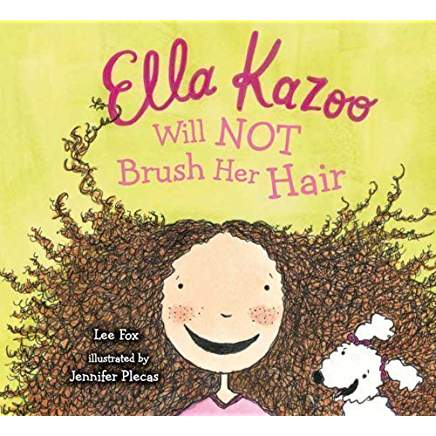 Ella Kazoo Will Not Brush Her Hair by Lee Fox ; illustrated by Jennifer Plecas, 2010
(Ages 3 – 8)
To say that my daughter does not enjoy brushing her hair is an understatement. She throws a tantrum almost every time we try to comb her beautiful locks. The result is that she often looks like this wild, feral child. It is no wonder she found a kindred spirit in Ella Kazoo.
Ella Kazoo Will Not Brush Her Hair tells the story of a young girl who refuses to brush her hair until it becomes completely unmanageable. The upbeat rhymes and amusing illustrations make this a fun read aloud. My daughter finds it quite comical and it has become a bedtime favorite.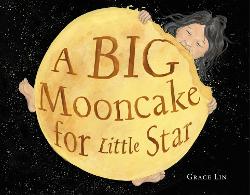 A Big Mooncake for Little Star by Grace Lin, 2018
You will never look at the moon the same way after reading this enchanting story by Grace Lin. A Big Mooncake for Little Star mixes in elements of fantasy and Chinese culture to create a charming story of Little Star who wakes each night to nibble away at the giant mooncake she and her mother baked together. With each bite, children will begin to see the various phases of the moon.
My mischievous daughter is completely enamored with this delightful story and it has become a bedtime favorite. It has also inspired us to find out more about the Chinese Mid-Autumn festival and make our own version of a moon pie. Buy It Here
I have been a big fan of Grace Lin for quite some time and I was lucky enough to meet her when she spoke at my old school. She is as delightful and funny in real life as the characters in her books. Don't miss her other incredible books: