Wow, this has been a great year for books with monsters, ghosts, and all things Halloween. My family and I have been having a blast reading the spooky and often cute and comical stories seen below. I hope you enjoy them this Halloween season!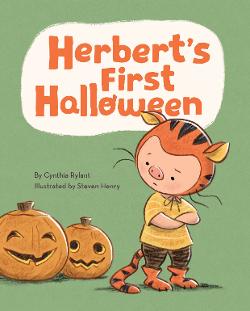 Herbert's First Halloween by Cynthia Rylant; illustrated by Steven Henry, 2017
(Ages 2 – 5)
Herbert is preparing for his first Halloween, but is feeling anxious about the scary elements of the holiday. His father tries to calm his nerves by sharing his own Halloween experience of dressing up like a cowboy. Herbert requests a tiger costume and his father immediately sets to work on creating the costume while Herbert practices his roar in his closet. Herbert's father helps to build his courage by engaging in other fun Halloween activities such as carving a pumpkin with a large smile "because the pumpkin was so happy to be at Herbert's house." When the big day arrives, Herbert is excited for the candy and greets many other children in costume. He never becomes frightened and enjoys Halloween so much that he begins planning his costume for next year.
When my son was three, he was frightened of our neighbor's Halloween decorations and I was very nervous of how he would react to scary costumes he might see while trick-or-treating. I wish I had had this book to read to him at the time. Halloween can be a lot of fun, but also scary for many children, especially little ones, who have a hard time understanding the ghoulish creatures that appear this time of year. This is a great story to reassure nervous kids and focus on the fun components of Halloween such as carving jack-o-lanterns and receiving candy while trick-or-treating. Cynthia Rylant is a veteran storyteller and has created another charming story that young listeners will enjoy.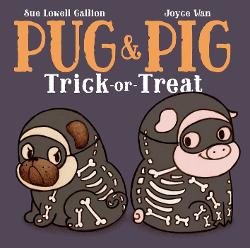 Pug and Pig Trick-or-Treat (series) by Sue Lowell Gallion; illustrated by Joyce Wan, 2017
(Ages 2 – 6)
Pug and Pig are two best friends who do everything together including wearing the same skeletal costume at Halloween. While Pig loves the snug fit, bones that glow in the dark, and mask, dog dislikes all of these features and decides he is done with Halloween. Then he sees how important the holiday is to his best friend and in an unselfish act, he finds a creative new costume and accompanies his friend trick-or-treating.
This book is just adorable! Pug, Pig, and their surroundings are sweetly illustrated creating a cheerful tone to this delightful Halloween story.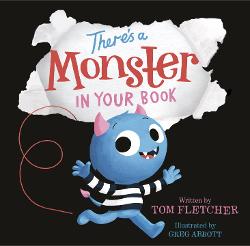 There's a Monster in Your Book by Tom Fletcher; illustrated by Greg Abbott, 2017
(Ages 2 – 6)
My two-year-old daughter absolutely loved this interactive book. The premise of the story is that a monster has found his way into the book and the reader has to follow the narrator's instructions to get him out by tilting, shaking, and spinning the book. The monster is moved all around the story until he is finally blown out of the book, but now he is in your room! Readers have to call him back into the book where he can be safely contained.
The monster is very cutely drawn and is not at all scary. I was a little worried that my daughter would be frightened by the concept of the monster being in her room, but she had so much fun calling him back into the book, that it didn't faze her one bit. The last page features the monster curling up to go to sleep and she loved petting the monster and saying good night. It became one of her favorite bedtime books.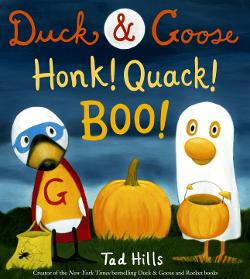 Duck and Goose Honk! Quack! Boo! (series) by Tad Hills, 2017
(Ages 3 – 6)
As Duck and Goose sit watching the sunset together, Duck poses the question, "So Goose, what are you going to be tomorrow?" Goose responds, "Well, I think I will be myself, Duck. It's important to always be yourself." And so begins the charming story of two friends preparing for their first Halloween. As Duck explains the concept of Halloween to Goose, their friend Thistle appears and warns them to beware the swamp monster on Halloween. Most older readers will guess that Thistle is the swamp monster, but will still enjoy watching Duck and Goose as they put on their own costumes of a superhero and ghost and engage in trick-or-treating. When the swamp monster approaches, they initially hide in a bush, but then channel their costumes for bravery and confront the monster who of course is Thistle.
This delightful story contains just the right amount of drama for young children. I first read this book to my two-year-old daughter and five-year-old son while we were enjoying a snack and they became so absorbed in the story that food literally fell out of my daughter's hand as she shared in Duck and Goose's fear and then relief at the discovery of the swamp monster. This sweet story became one of our Halloween favorites.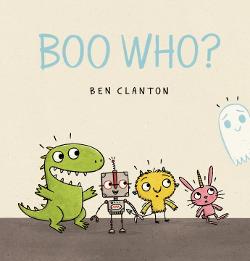 Boo Who? by Ben Clanton, 2017
(Ages 3 – 7)
Little Boo, a transparent ghost, is new to school. His friendly classmates (a dinosaur, robot, a unicorn-bunny, and a monster) are very accepting and invite Boo to join their games, but Boo still feels like he has trouble fitting in. He can't catch a ball, or pick up twigs, or play tag, but he soon discovers that he excels at hide-and-seek. The story's ending line, "This is Boo. He's new, but he fits right in," should help ease fears for students who may be new to school or anyone who has felt like they don't belong. This is a great book for building empathy and reinforcing the importance of inclusion.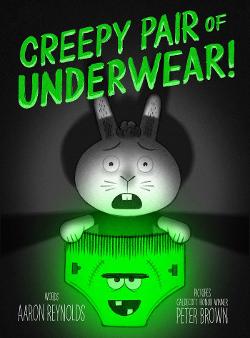 Creepy Pair of Underwear by Aaron Reynolds; illustrated by Peter Brown, 2017
(Ages 4 – 8)
The dynamic duo who created Creepy Carrots (2012) is back with another perfectly crafted spooky tale. This time, their hero, Jasper Rabbit, is in need of new underwear. As he is about to leave the underwear store with his mother and his plain white underwear, he spots them…glowing Creepy Underwear. So creepy! So comfy! Jasper has to have them. That night he happily sports his new undies, but once the lights go out he quickly discovers they glow a ghoulish, green light. He tries to get rid of them every way he can think of, but much to Jasper's dismay and terror, they keep coming back! After he mails them to China and the underwear return…with souvenirs, Jasper is driven to extreme measures. He buries them on top of Crakenhopper Hill. That night as he turns off the light to go to sleep, he is finally at peace, but discovers his room is now filled with complete darkness. He retrieves his creepy undies and returns to the store to purchase even more to create a line of ghoulishly green glowing underwear to serve as a nightlight. "That night Jasper wasn't scared at all. As he lay down to sleep, he smiled. And so did his underwear – because they had finally found somebody who wasn't scared…of Creepy Underwear."
The Creepy Underwear, which resembles Frankenstein, is pictured with various comical expressions balancing the scary factor with humor. As a school librarian, I received requests for Halloween stories almost all year round. This is one of those books that children will be drawn to and want to read again and again. It is perfect for reading out loud to a group or simply one on one. When I read the title to my son, he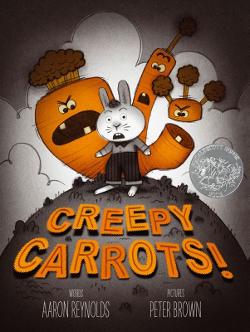 started laughing and immediately wanted to read it and then asked to reread it again and again.
Be sure to check out Jasper's first adventure in Creepy Carrots!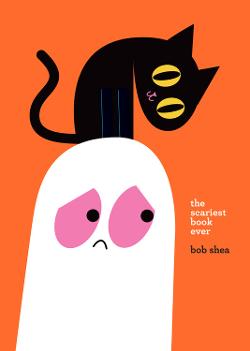 The Scariest Book Ever by Bob Shea, 2017
(Ages 4 – 8)
This may not be the scariest book ever, but it may be one of the funniest Halloween read alouds ever. A skittish ghost invites the reader to join him in the deep, dark woods. We soon learn that the ghost is putting up a front and is really quite scared of the woods. He comes up with excuse after excuse to avoid entering the spooky forest. First, he spills orange juice on his white sheet, which he then removes creating a "naked" ghost only seen with a transparent gloss that my children loved touching throughout the book. Then he needs to clean his bathroom and then has to rest after eating too many creepy doughnuts. Meanwhile, the story flashes to the "spooky" woods to reveal the adorable forest creatures who spend their time pumpkin picking and preparing for a costume party. When the ghost finally ventures out, he sees the forest friends in their Halloween attire and is frightened away, but happily joins in the fun once he realizes they are in costumes.
Full of sarcasm, wit, and Bob Shea's trademark whimsical illustrations and sharp humor, this book will definitely make a great read aloud to a group or be enjoyed one-on-one.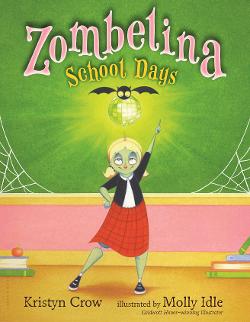 Zombelina School Days (series) by Kristyn Crow; illustrated by Molly Idle, 2017
(Ages 4 – 8)
Zombelina is simply a kid who loves to dance hip hop. She also happens to be a zombie whose body parts continually become dislodged. She can't wait to show off her moves during show and tell, but then she gets tangled up in her limbs. Even after her own failure, she encourages new student Mort, a glowing ghost-like boy, as he shares his talent of singing. While most students dislike Mort's music, Zombelina and her friend Lizzie cheer him on. They become fast friends and enjoy collecting bugs together. Even though they are different, the other children reach out to them and ask Zombelina to share her moves prompting her to have a dance party and then share their own collections at the next show and tell.
The clever text that is filled with spooky puns is brought alive by Molly Idle's fabulous illustrations guaranteeing that this book will be popular both around Halloween and during the back-to-school craze. I love Molly Idle's artistic style that won her a Caldecott Honor for Flora and the Flamingo (2013) and enjoyed seeing the fluidity and movement she brought to Zombelina as she dances her way through life. Zombelina is passionate, resilient, and a good friend. What else could you want in a zombie? My son really enjoyed this book and when he noticed the other books in the series pictured on the back cover, he asked if we could get Zombelina's other adventures from the library too.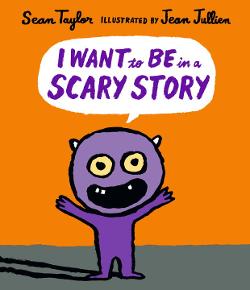 I Want to Be in a Scary Story by Sean Taylor; illustrated by Jean Jullien, 2017
(Ages 4 – 8)
The book follows a conversation between an cartoonish purple monster and an unseen narrator as the monster requests to be in a scary story. At first the monster is excited to be cast in a spooky story, but quickly discovers that dark forests and haunted houses are much creepier than he first suspected. The monster asks for several edits to the story until he is the one who gets to do the scaring. The monster has so much fun being in a story that he ends the book by asking, "So, can I be in a story again tomorrow?" creating the perfect intro to a writing prompt or an interesting discussion with a child on what the monster's next adventure could be. My five-year-old son decided to draw his own story about the monster and then narrate it to me. I had a blast listening to his creative imagination at work.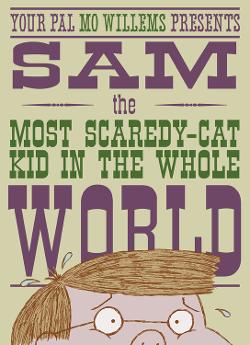 Sam the Most Scaredy-Cat Kid in the Whole World by Mo Willems, 2017
(Ages 4 – 8)
In Mo Willems' book, Leonardo The Terrible Monster (2005), readers are first introduced to Leonardo, whose failure at frightening others makes him a terrible monster, but whose compassion makes him an excellent friend. Willems' latest work focuses on Leonardo's friend, Sam, who is petrified of everything from spiders to puppies…everything except Leonardo that is. When Sam meets another monster named Frankenthaler, and her friend Kerry, the second most scaredy-cat kid in the world, the two kids scream in horror at the sight of the other. The monsters exit the book to allow the children to "figure it out" forcing them to overcome their fear and eventually bond over their mutual terror of the world. Sam and Kerry discover that while they have a lot in common, they also have a lot of different interests, which is okay too. The book ends with the new friends popping out to scare the monsters.
While I enjoyed the message of stepping out of one's comfort zone to make new friends, this story fell a little flat for me personally. My five-year-old liked it, but didn't ask for repeated readings. That said, Mo Willems' books are always a huge success and I'm sure kids will be clamoring for this one.
Check out our other favorite Halloween Books: