Fluency is the ability to read with accuracy, speed, and expression. It is a critical building block of reading because it is directly linked to reading comprehension. The following books are perfect tools for children to practice their fluency. Children will have so much fun reading these amusing and engaging stories, they won't even realize they are building important fluency skills at the same time!  
*This post contains affiliate links. To read my full disclosure CLICK HERE. 
Say Zoop! by Hervé Tullet, 2017
(Ages 3 – 8)
Hervé Tulllet, author of the New York Times bestselling book, Press Here (2011), is back with another whimsical, interactive book that encourages children to play with sounds. Readers are drawn in right away as they are greeted by a blue dot who asks children to, "Put your finger on this dot and say 'OH!' Well done! Now put your finger on the little dot and say a little 'oh!'" The blue dot continues to change in size, number, and shape enticing readers to say the word "Oh" various ways depending on the context. Soon the blue dot meets a red dot that says, "Ah!" and things get really interesting. Readers are invited to imagine what the blue dot and red dot would say to each other, what kind of song they could create, and what it would sound like if they got into an argument. Lastly, a yellow dot who makes the sound, "Waahoo!", is introduced into the mix and things get even more wild as the reader makes the sounds of all three dots bouncing on a trampoline, singing like birds, and acting like cars. After playing with all kinds of wacky sounds, readers are encouraged to create their own language.
This book provides the perfect combination of visual symbols with auditory cues. Since Say Zoop! is pure fun, children don't even realize they are also practicing reading with emotion by linking sounds to the condition of the dot. The book supplies scaffolding by introducing simple concepts of saying "OH" loudly when the size of the dot is large and saying "oh" quietly when it is small. This concept builds and builds with different situations from the dot shivering when it is cold to crying when it is sad until the blue dot meets the red dot and children can really begin practicing their fluency by interpreting the scene based on the text and visual clues creating their own corresponding auditory sound clips. This book seems so simple, but is so effective in getting children to add intonation to different sounds based on the situation.
Check out Hervé Tullet's other imaginative, interactive books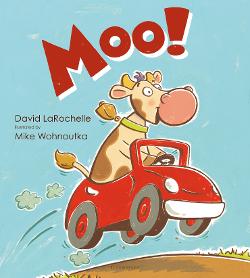 Moo! By David LaRochelle; illustrated by Mike Wohnoutka, 2013
(Age 3 – 8)
Using only the word, "Moo", the reader follows a cow's adventure when he discovers a car for sale. The initial illustrations picture the cow happily munching on grass, with the text, "Moo." written above him. The next two-page spread features the curious bovine looking at a farmer preparing a car for sale, with the text, "Moo?" The question mark completely changing the meaning of the initial "Moo". On the next page, the reader sees the cow excitedly jumping into the car shouting, "Moo!", the punctuation again changing the significance of the word. The story goes on allowing the reader to infer the situation based on the punctuation, size of the text, and illustrations. This is a fun book that I have used many times with students to practice reading out loud with enthusiasm. It's simplicity and comical storyline appeal to a number of children at almost any age. My four-year-old at the time thought it was hysterical and it was equally loved by the third graders I read it to at my school.  It is a silly story that always makes children laugh and gives them an opportunity to practice important skills at the same time.
Check out these other great picture books with a similar concept: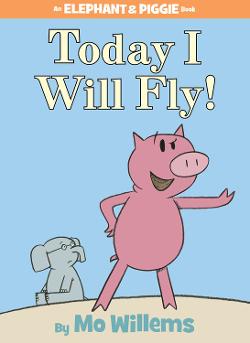 Today I Will Fly (Elephant and Piggie series) by Mo Willems, 2007
(Ages 4 – 8)
Elephant and Piggie is one of my favorite series and was one of the most checked out series in my school library. It is hard to resist the charm of the exuberant Piggie and the perpetual worrier and naysayer, Gerald. In the first installment of this popular series, Piggie declares that she will fly. Despite Gerald's skepticism, Piggie takes risks and never gives up hope resulting in an impressive and comical outcome.
Not only is this series of books fun for both children and adults to read out loud, they help reinforce important early literacy skills. The stories are told mostly through speech bubbles with a variety of punctuation and different size text. The words that are featured in both large and small fonts visually indicate that the text should be read loudly or quietly. Many of the words are repeated with different meaning depending on the punctuation giving new readers practice changing their intonation based on the context. There are also visual clues from the emotions displayed on the characters' faces and through their body language to help budding readers practice reading with feeling.
One great way for children to practice fluency skills is by choral reading, when a group of children read aloud together. Since there are two main characters who converse back and forth, the Elephant and Piggie series is perfect for choral reading. After reading one the books out loud to a class, one of my favorite activities as a school librarian was to then divide the class in two groups.  One group would read aloud Gerald's part and the other group would read Piggie's. Reading as a group takes away attention on a single student, so they can feel more comfortable taking a risk when they read aloud and don't have to worry as much about making a mistake. It is also a lot of fun hearing everyone read with emotion, so it encourages even the quietest child to participate.
What can parents do to help their child read more fluently?
One of the best ways to help a child read more fluently is to model it by reading out loud to them. Have fun when you read and make sure you use plenty of expression in your own reading. Don't be afraid to even use silly voices.

Encourage your child to re-read their favorite books. Re-reading a book gives children more confidence in their reading and since they are already familiar with the story, they are usually able to read it at a faster speed more accurately while comprehending more of the story.