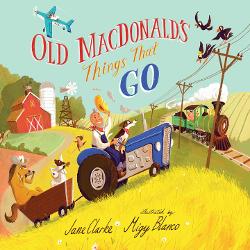 Old MacDonald's Things That Go by Jane Clarke; illustrated by Migy Blanco, 2017
(Ages 2 – 6)
This is a fun spin on an old classic. Old MacDonald and his animals are as busy as ever as they explore the farm with an array of vehicles including a plane, bicycle, combine harvester, train, tractor, truck, and boat, etc. Detailed pictures feature a myriad of farm animals performing busy tasks, providing interesting things to look at during multiple readings. The book is a large size making it perfect to read out loud to a group or one-on-one. Both my five-year-old son and my two-year-old daughter loved this book and the large size made it easy for them both to cuddle together with me and admire the illustrations while we read it. My five-year-old easily memorized the song, and wanted to "read" the book to anyone who would listen. For a week straight he sang the book to my two-year-old daughter at bedtime.
Here are a couple other great Old Macdonald adaptations: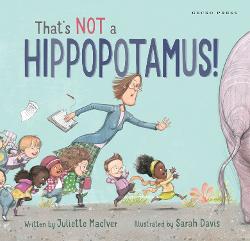 That's Not a Hippopotamus! By Juliette Maclver; illustrated by Sarah Davis, 2016
(Ages 3 – 7)
I had so much fun reading this New Zealand import and both my five-year-old son and two-year-old daughter couldn't get enough of it. During a class trip to the zoo, a hippo goes missing. The eager students declare themselves the best hippo hunters in the land and search high and low. Unfortunately, they have never seen a hippo and mistake a variety of animals for the large beast. Liam is the only one who sees the hippo hiding throughout the zoo, but he is quickly dismissed by his frazzled teacher. The rhyming text begs to be read aloud and the illustrations featuring a group of diverse and expressive children are fun to look at. Both my children loved hunting for the hippo on each page and began quoting lines from the story. We even acted it out creating our own "hippo" hunt throughout the house.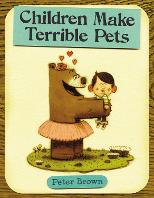 Children Make Terrible Pets by Peter Brown, 2010
(Ages 4 – 8)
This has always been one of my favorite read alouds for elementary school. Children just love the image of a bear in a tutu and the idea of children as pets. The simple story follows an exuberant bear named Lucy as she adopts a small child as a pet only to find out that children really do make terrible pets. Peter Brown's writing is witty and his illustrations are adorable. Equally as fun is Lucy's next adventure, You Will Be My Friend (2011). While at the library, I was desperate for another bedtime book for my five-year-old, so I went with one that I knew was a winner and was not disappointed. He loved the story and asked for multiple readings.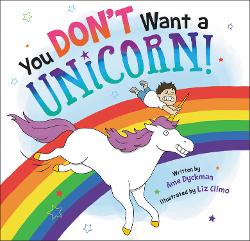 You Don't Want a Unicorn by Ame Dyckman; illustrated by Liz Climo, 2017
(Ages 4 – 8)
An unseen narrator tries to convince a young boy not to wish for a unicorn when he drops a penny into a fountain. Unfortunately, he does not heed the warning and even though he loves flying with the magical beast at first, he soon discovers what a disaster unicorns can be. They shed golden dust, they chew the furniture, and they poop cupcakes. Worst of all, they like throwing parties with other unicorns, which turns out to be "the most destructive force in the universe." The boy quickly grabs his piggy bank and runs to the fountain to wish away the unicorns. Unfortunately, the boy doesn't learn his lesson as he gets the idea to wish for a fire breathing creature next.
Colorful, cartoonish illustrations are perfectly blended with the droll text to make a hilarious read. This is such a fun book that is sure to illicit giggles from both girls and boys. My son in particular loved that the unicorn burped rainbows and could not be house trained. This became one of his favorite bedtime stories for weeks.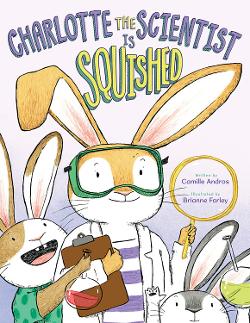 Charlotte the Scientist is Squished by Camille Andros; illustrated by Brianne Farley, 2017
(Ages 4 to 8)
Charlotte is a serious scientist who is ready to conduct experiments. The only problem is that she has no room to run her tests because she is constantly surrounded by her many brothers and sisters. Being a proper scientist, she uses the Scientific Method to solve her problem. She identifies her question of how to create more space, forms her hypotheses, conducts her experiment, makes her observation, and reaches a conclusion. Charlotte's first few experiments fail, but Charlotte's persistence pays off as she finds solidarity after traveling to the moon. While she finds the space she needs, she also becomes lonely, so she revisits her initial hypothesis and creates her own lab out of her spaceship back on Earth. After a lot of hard work, Charlotte finally concludes that she can have the room she needs while still being close to her large family. Children will love this charming story and budding scientists will enjoy the last few pages that review the simplified version of the scientific method.  Charlotte is an inspirational character who demonstrates creativity and persistence. My five-year-old son absolutely loves this charming story and there is no doubt that it will be popular among children, parents, and teachers alike.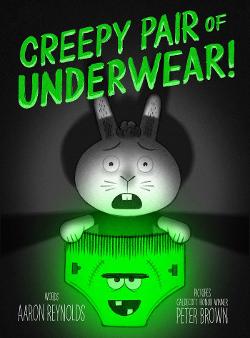 Creepy Pair of Underwear by Aaron Reynolds; illustrated by Peter Brown, 2017
(Ages 4 – 8)
The dynamic duo who created Creepy Carrots (2012) is back with another perfectly crafted spooky tale. This time, their hero, Jasper Rabbit, is in need of new underwear. As he is about to leave the underwear store with his mother and his plain white underwear, he spots them…glowing Creepy Underwear. So creepy! So comfy! Jasper has to have them. That night he happily sports his new undies, but once the lights go out he quickly discovers they glow a ghoulish, green light. He tries to get rid of them every way he can think of, but much to Jasper's dismay and terror, they keep coming back! After he mails them to China and the underwear return…with souvenirs, Jasper is driven to extreme measures. He buries them on top of Crakenhopper Hill. That night as he turns off the light to go to sleep, he is finally at peace, but discovers his room is now filled with complete darkness. He retrieves his creepy undies and returns to the store to purchase even more to create a line of ghoulishly green glowing underwear to serve as a nightlight.  "That night Jasper wasn't scared at all. As he lay down to sleep, he smiled. And so did his underwear – because they had finally found somebody who wasn't scared…of Creepy Underwear."
The Creepy Underwear, which resembles Frankenstein, is pictured with various comical expressions balancing the scary factor with humor. As a school librarian, I received requests for Halloween stories almost all year round. This is one of those books that children will be drawn to and want to read again and again. It is perfect for reading out loud to a group or simply one on one. When I read the title to my son, he started laughing and immediately wanted to read it and then asked to reread it again and again.
Be sure to check out Jasper's first adventure in Creepy Carrots!