With their ability to inform, inspire, and entertain, books really do make the perfect gifts and 2021 has had some standout stories you are not going to want to miss!
For your convenience, I've organized the books into the following categories:
Books That Will Make Kids Laugh
Books That Will Inspire and Empower
Cozy Books for Bedtime
Books That Will Inform and Entertain
Gifts for Parents
I hope you enjoy the list and find the perfect gift for a child in your family!
*This post contains affiliate links.
BOOKS THAT WILL MAKE KIDS LAUGH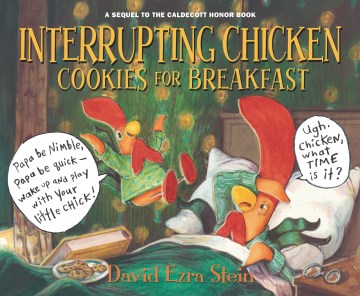 Interrupting Chicken Cookies for Breakfast by David Ezra Stein, 2021
(Ages 3 and up)
I honestly don't know who enjoyed this one more, me or my kids! It's morning and Little Chicken is ready for breakfast, but his dad wants to sleep in. They compromise by snuggling and reading in bed with their favorite nursery rhymes. With each story, however, Chicken interrupts with comical comments about eating cookies for breakfast. This book is pure fun and one that I know we will read over and over again.
Itty-Bitty Kitty-Corn by Shannon Hale; illustrated by LeUyen Pham, 2021
(Ages 4 and up)
From its glittery cover to its self-assured protagonist, there is so much to love about this standout story. Kitty believes she is a unicorn and despite Parakeet's and Gecko's negativity, she confidently parades around as one until she meets a real unicorn. In a delightful twist, the unicorn wants to be a kitty and the two become kitty-corns!
Yes, this is an adorable unicorn story, but it is also so much more! There is a powerful underlying message of being true to yourself and being "seen" and accepted by others. It also sparked a great conversation in our house about how real friends treat and speak to each other.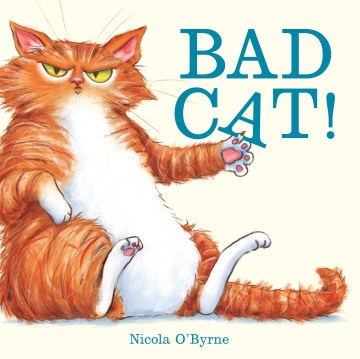 Bad Cat by Nicola O'Byrne, 2021
(Ages 3 and up)
It is nearly impossible not to laugh at the naughty Fluffykins who, much to his owner's dismay, causes havoc around the house. The big orange cat is seen knocking over vases, unravelling yarn, and getting into a whole mess of trouble. The comical expressions portrayed by Fluffykins perfectly compliment the droll text making this an excellent read aloud for cat lovers.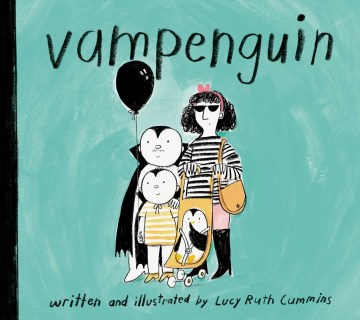 Vampenguin by Lucy Ruth Cummins, 2021
(Ages 4 and up)
From its adorable under-the-jacket reveal, giggle-worthy illustrations, and amusing storyline, there is a lot to love about this unique tale! While the text describes the Dracula family's seemingly ordinary visit to the zoo, the clever illustrations comically capture a baby vampire switching places with a penguin. The rest of the family is oblivious of the swap, but the other animals at the zoo don't miss a thing. There is so much underlying humor in this charming story, we can't get enough of it!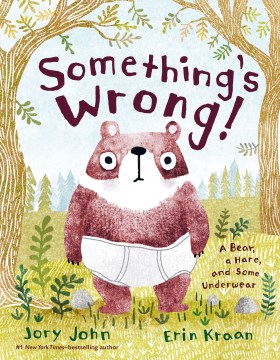 Something's Wrong: A Bear, a Hare, and Some Underwear by Jory John; illustrated by Erin Kraan, 2021
(Ages 4 and up)
Prepare for a fit of giggles while reading this hilarious story! When a bear walks through the forest and notices other animals looking at him funny, he feels like something isn't quite right, but can't quite figure out what it is. Obvious to the reader, however, is that he is wearing underwear over his fur. Luckily, his best friend has his back and finds a way to diffuse the embarrassing situation proving that good friends really are like good underwear. "They're reliable and they're supportive."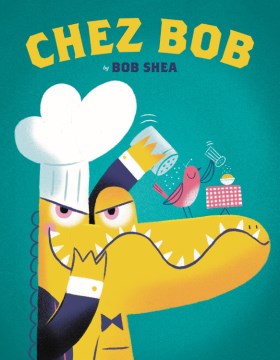 Chez Bob by Bob Shea, 2021
(Ages 4 and up)
My kids always gravitate toward Bob Shea's well known zany offbeat humor and his newest story is no exception. Bob is a lazy alligator with a brilliant plan. He slyly opens a restaurant serving birdseed on his long snout with the idea of feasting upon his customers. Before long, however, the birds set up a community around him making Bob realize he is hungrier for friends than a good meal. Attention-grabbing illustrations and humorous text fill the pages of this surprisingly sweet read aloud!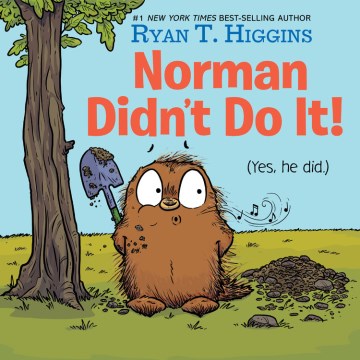 Norman Didn't Do It! (Yes he did) by Ryan T. Higgins, 2021
(Ages 4 and up)
Norman is very happy with his life. He spends his days playing with his best friend Mildred who happens to be a tree. When a new sapling sprouts up, however, things get complicated. Norman grows envious of the budding friendship between the trees and sneakily removes the interloper. Racked with guilt, he makes amends and realizes things can be even more fun with a group of three.
Expressive illustrations are laugh-out-loud funny and many readers will relate to Norman's feelings of jealousy. While this book is absolutely hysterical, Ryan T. Higgins also skillfully captures the delicate emotions present when a new person is introduced into an established friendship of two making this an excellent read aloud choice for home and classroom libraries.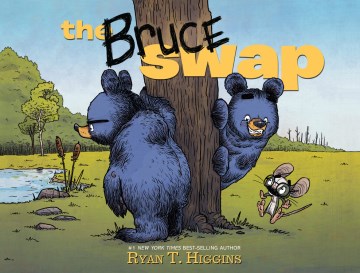 The Bruce Swap by Ryan T. Higgins, 2021
(Ages 4 and up)
In the newest installment of this amusing series, the irritable Bruce is back and as cranky as ever. When he refuses to have fun with his family, he takes a fishing trip for a little alone time. Meanwhile, his cousin, Kevin, who loves fun arrives and takes merriment to the extreme. Soon, the house is a mess and Bruce's family learns an important lesson in balance. They are thrilled to welcome back their beloved bear who discovers a few droll surprises on his return.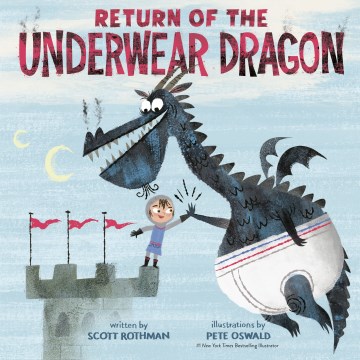 Return of the Underwear Dragon by Scott Rothman; illustrated by Pete Oswald, 2021
Kids who love to laugh will adore this hilarious story with heart! I mean who can resist a giant dragon sporting tighty whities?
Last year, we read Attack of the Underwear Dragon and met the brave Cole who fulfills his dream of becoming a knight by defeating the fearsome Underwear Dragon with courage and wit. In the sequel, Cole realizes the Dragon is attacking his kingdom because he cannot read. In a series of comical scenes, Cole and the dragon practice their reading and with a little help from a girl named Claire, they finally succeed in their mission saving the kingdom and making new friends in the process.
Though the stories are completely silly, there are also important lessons in perseverance and helping others. The text has a nice flow, making it a joy to read aloud while the expressive illustrations are laugh-out-loud funny!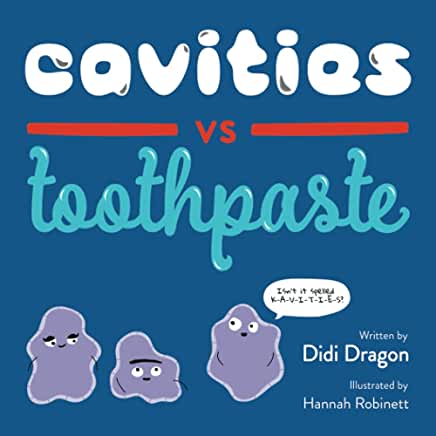 Cavities vs. Toothpaste by Didi Dragon; illustrated by Hannah Robinett, 2021
(Ages 4 and up)
I know, I know, a book about brushing your teeth doesn't sound like something I kid would be excited to receive, but this book is so funny and as an extra bonus it is effective in encouraging kids to brush their teeth! It's really a gift for you and them!
Using child-friendly language, an unseen narrator describes how cavities form on teeth while an amusing group of bacteria happily party it up inside a child's mouth creating loads of lactic acid or what they call "sugarpoo." This story had us laughing out loud while also learning an important lesson in dental hygiene.
BOOKS THAT WILL INSPIRE AND EMPOWER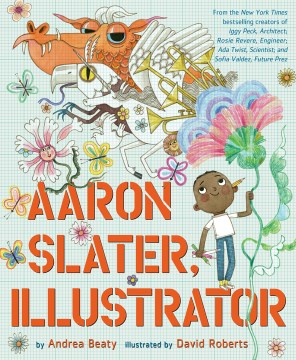 Aaron Slater Illustrator by Andrea Beaty; illustrated by David Roberts, 2021
(Ages 5 and up)
Aaron Slater Illustrator joins his friends Iggy Peck, Rosie Revere, Ada Twist, and Sofia Valdez in The Questioneers series with a hopeful story that is simply magnificent.
Aaron Slater is a creative, joyful boy whose dreams are dashed when he starts school and secretly struggles with dyslexia. While he tries to hide and blend in with his class, his new teacher is the first to really see him and in doing so gives him the help he needs and encourages him to express himself the best way he can, through his art.
From its powerful prose to its stunning artwork and inspiring storyline, this book is exquisite on many levels.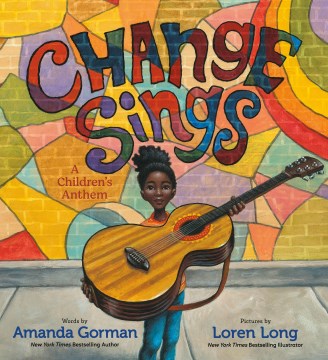 Change Sings by Amanda Gorman; illustrated by Loren Long, 2021
(Age 5 and up)
Presidential Inaugural Poet Amanda Gorman has created a rousing lyrical story that inspires children to be agents of change. Whether it's including others, helping those in need, or organizing efforts to improve a community, Gorman edifies children that they have the power to make a difference.
The uplifting text is perfectly complimented with Loren Long's stunning illustrations. The lush pictures are rich with color, emotion, and meaning adding to the beauty of this standout story. With its poignant, powerful message, this is sure to become a new favorite in classrooms and as a gift for little dreamers!
Ambitious Girl by Meena Harris; illustrated by Marissa Valdez, 2021
(Ages 4 and up)
"Don't let anyone tell you who you are. You tell them who you are." So begins the empowering story of Ambitious Girl . After seeing her aunt, Kamala Harris, criticized for being too ambitious, Meena Harris was motivated to create Ambitious Girl to encourage little girls to "define their own unique purpose in the world" and feel the freedom not to be too much of any one thing.
Filled with positive affirmations and eye-catching illustrations featuring an inclusive group of diverse girls and women, this upbeat story is sure to embolden girls everywhere.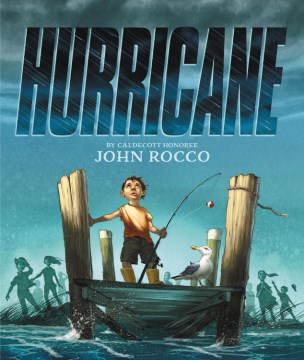 Hurricane by John Rocco, 2021
(Ages 4 and up)
We are huge John Rocco fans and his newest book Hurricane is a real stunner! The story follows a little boy who loves fishing on a dock near his home. When a hurricane ravages the dock and most of his street, he helps his neighbors repair the damage. Upon finding the dock destroyed, the resilient boy works day after day to fix it. Ultimately, the entire community comes together and rebuilds the dock for everyone to enjoy.
Clever child-friendly analogies explain the dramatic effect of the hurricane while the rich illustrations skillfully capture the beauty of the boy's world. Best of all, readers will feel reassured and inspired by the community's ability to come together and create something good from a difficult situation.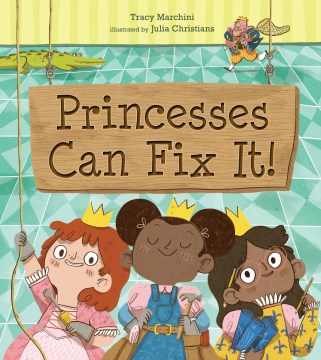 Princesses Can Fix It! by Tracy Marchini; illustrated by Julia Christians, 2021
Say good-bye to tired gender stereotypes with this new standout story! When a castle is overrun by alligators, it is up to three clever princesses to construct a contraption to rid their home of the unwanted pests. Unfortunately, the king believes that proper princesses should not build. Naturally, this doesn't stop the three determined girls who stay awake each night assembling the perfect invention to return the gators to the moat.
While the focus is on the three STEM-oriented sisters, I also love that their brother who enjoys sewing follows his heart too. With its playful pictures and empowering storyline, this has become a new favorite in our house!
COZY BOOKS FOR BEDTIME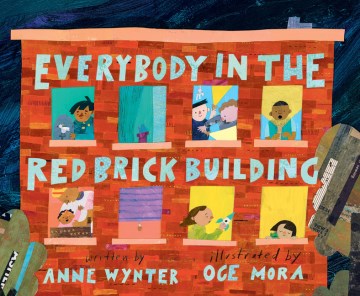 Everybody In the Red Brick Building by Anne Wynter; illustrated by Oge Mora, 2021
(Ages 3 and up)
Filled with lively onomatopoeia and stunning illustrations, this new bedtime book is SO much fun to read aloud! Everybody In the Red Brick Building is a delightful cumulative tale featuring a group of neighbors who are awoken by a variety of noises that create a rousing cacophony culminating in a car alarm. Between the "waaaah" of a baby and a "pitter patter stomp!" of mischievous children, there are a plethora of sounds that are a joy to repeat throughout the rhymical text. In a perfect twist, soothing sounds starting with the "shhhh shhhh" of a street sweeper help everyone fall back to sleep.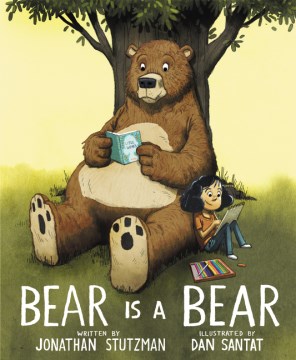 Bear is a Bear by Jonathan Stutzman; illustrated by Dan Santa, 2021
(Ages 3 and up)
This love letter to a cherished stuffed animal follows a girl who grows through the years with her beloved teddy bear. Full of imagination, the amusing illustrations portray the bear larger than life. He stands by the girl's side through many ups and downs and even accompanies her to college.
I absolutely adore everything about this story, especially the clever under-the-jacket reveal, charming illustrations, tender storyline, and, most of all, the emotional ending that pulls on the heartstrings.
Time for Bed Old House by Janet Costa Bates; illustrated by AG Food, 2021
(Ages 3 and up)
It's Isaac's first sleepover at his grandpa's and while he is excited, he is also nervous. Grandpa tenderly takes him by the hand and leads him around the house saying goodnight to different rooms and comforting him by identifying new sounds he might hear in the night. This heartwarming intergenerational story is such a gem!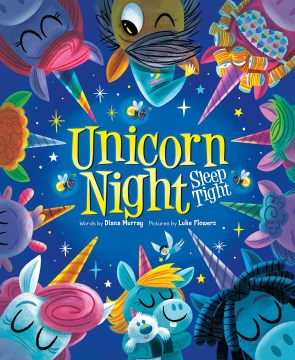 Unicorn Night Sleep Tight by Diana Murray; illustrations by Luke Flowers, 2021
(Ages 3 and up)
Unicorn fans won't be able to resist this colorful story! After a long day of prancing through glitter and eating cupcakes, the unicorns begin their nightly bedtime preparations. Just as they are snuggling in, they realize they forgot to sing their lullaby. Their soothing tune drifts down from the clouds and brings sweet dreams to all below.
With its rolling rhymes and eye-catching illustrations that are full of enchanting details, little ones will be clamoring to read this story during their own bedtime!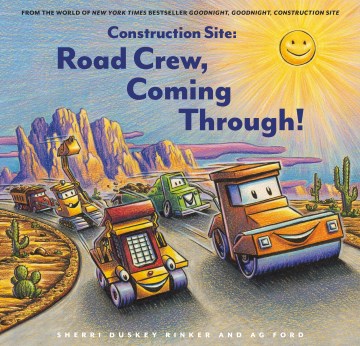 Road Crew Coming Through by Sherri Duskey Rinker and AG Ford, 2021
With its upbeat rhymes and cast of adorable construction trucks, this best-selling series is perfect for little vehicle lovers! The newest installment follows the rough and tough crew as they build a road together, celebrate as a team, and then head off to bed after a busy day.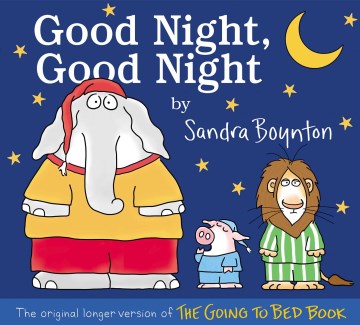 Good Night, Good Night by Sandra Boynton, 2021
My son absolutely adored the board book version of this story when he was younger, so we were thrilled to see it expanded into a longer picture book! No one beats Sandra Boynton's upbeat rhymes, and this recreated classic story is one of her best!
BOOKS THAT WILL INFORM AND ENTERTAIN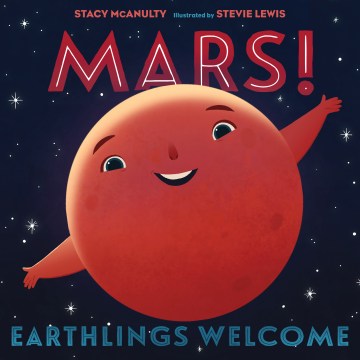 Mars! Earthlings Welcome by Stacy McAnulty; illustrated by Stevie Lewis, 2021
(Ages 4 and up)
Our family cannot get enough of the ingenious Our Universe series and were ecstatic to meet Mars! this year. Mars is a cheerful celestial body who informs potential human visitors of his location in the solar system, a description of his surface, the names of his moons, and more. The child-friendly text is filled with clever, comical commentary while the pages feature bright, rich illustrations that draw the reader in. This amusing series is an excellent choice for reading aloud and getting children excited to learn more about space.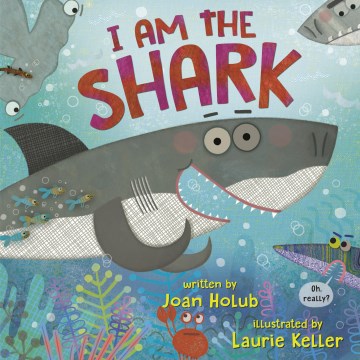 I Am the Shark by Joan Holub; illustrated by Laurie Keller, 2021
(Ages 4 and up)
When a Great White Shark claims to be the biggest, smartest, fastest, and sneakiest shark, a variety of other sharks jump in with arguments asserting that they hold each of those titles.
Full of expression, the bold collage-style illustrations are a real feast for the eyes! There are also so many fascinating facts packed into this amusing story, it is sure to make a splash with both kids and adults!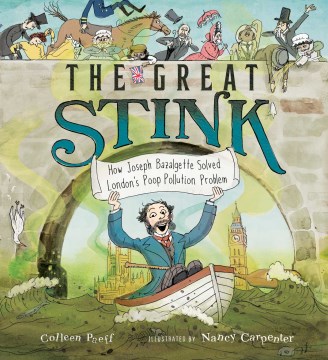 The Great Stink: How Joseph Bazalgette Solved London's Poop Pollution Problem by Colleen Peff; illustrated by Nancy Carpenter, 2021
(Ages 6 and up)
Yes, this is a story about a sewer and it is surprisingly fantastic! This fascinating nonfiction book gives readers a brief history of the London sewer system and how its flow into the Thames river caused several Cholera outbreaks. Engineer Joseph Bazalgette is the first to recognize the connection between the disastrous sewer design and the illness, and fights to make improvements.
This story is a little longer than most of our bedtime-reads, so it became a favorite after-school book that my son asked for repeatedly. He was drawn into the engaging illustrations and the informative text including a timeline and note on raw sewage pollution today.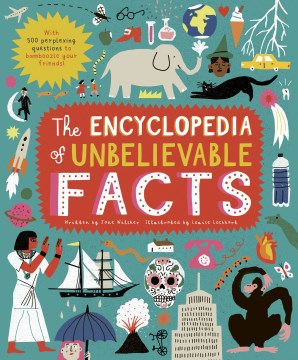 The Encyclopedia of Unbelievable Facts by Jane Wilsher; illustrated by Louise Lockhart, 2021
(Ages 5 and up)
Trivia lovers will not be able to get enough of this incredible book that informs readers of facts on numerous topics including the human body, animals, space, history, the arts, and so much more.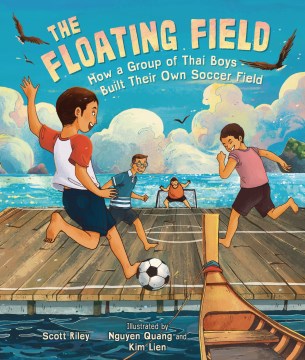 The Floating Field: How a Group of Thai Boys Built Their Own Soccer Field by Scott Riley; illustrated by Nguyen Quang and Kim Lien, 2021
(Ages 5 and up)
My kids were astonished by this fascinating true story of a group of boys who built their own soccer field over water. Prasit Hemmin and his friends loved playing soccer, but because they lived on a fishing village built on stilts, there was very little dry land to play on. Inspired by their own village, they worked together to find scraps of wood, barrels, and nails to build a field that floated on the water. They became so good they entered tournaments and held their own.
It is rare to find a nonfiction book that focuses on the achievements of children and this one does just that. Our family was so impressed with the ingenuity and resourcefulness of these boys and what they were able to accomplish. An author's note provides additional information about the Panyee Foodball Club including photographs of their floating field and village.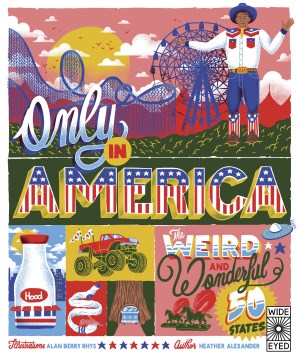 Only in America: The Weird and the Wonderful by Heather Alexander; illustrated by Alan Berry Rhys, 2021
(Ages 6 and up)
My son is studying the states this year in school and Only in America has been a fun way to pique his interest and learn some really interesting facts about our country! Each state is allotted a two-page spread with an introductory paragraph as well as break out boxes and fast facts including fantastic foods, the state quarter, and cool inventions.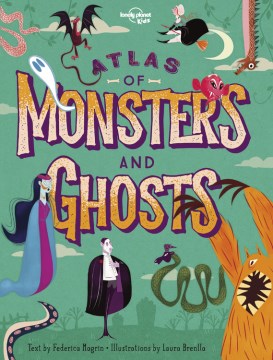 Atlas of Monsters and Ghosts by Federica Magrin; illustrated by Laura Brenlla, 2021
(Ages 6 and up)
My kids gravitate toward anything spooky, so I wasn't surprised at all that they couldn't put down this mesmerizing book. Split into geographical regions complete with maps, this enthralling book provides information on a myriad of ghosts from around the world. With its large format and cartoony illustrations presenting most of the monsters as more friendly than frightening, this is my kids new favorite go-to for rainy days or to bring with us to read while waiting during doctor visits.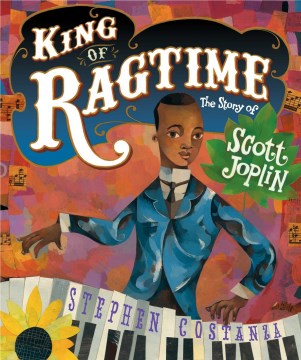 King of Ragtime: The Story of Scott Joplin by Stephen Costanza, 2021
(Ages 5 and up)
"He sat down at the piano and with both hands created a new music like the country itself – a patchwork of sounds and colors." I just love the way this dazzling book takes readers on a journey through time following a young Scott Joplin as he celebrates the end of slavery, follows his passion for composing and learns to cultivate it ultimately creating a new form of music called ragtime. Full of onomatopoeia and rich, lush illustrations this moving book is truly outstanding!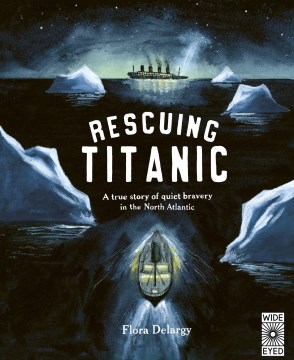 Rescuing Titanic: A True Story of Quiet Bravery in the North Atlantic by Flora Delargy, 2021
(Ages 6 and up)
While tragic, the story of the Titanic is utterly fascinating to many children and adults. This illuminating book introduces readers to the infamous ship and the timeline leading to its disastrous end with a focus on the RMS Carpathia, the ship who bravely saved the survivors.
Code Breaker, Spy Hunter: How Elizabeth Friedman Changed the Course of Two World Wars by Laurie Wallmark; illustrated by Brooke Smart, 2021
(Ages 6 and up)
This is the extraordinary story of how Elizabeth Friedman who loved literature stumbled into a job breaking codes and became an expert in the field of cryptology. Because of her brilliant deciphering skills, she was able to imprison a group of smugglers during prohibition, aid the U.S. military with a cipher during WWI, and capture Nazi spies during WWII. Historians now believe that Elizabeth's ability to identify many of the Nazi's military secrets through code breaking saved thousands of lives and shortened the war.
Sprinkled with quotes from Elizabeth and adorned with attention-grabbing artwork, Code Breaker, Spy Hunter: is an excellent choice for sharing one-on-one with a child who is interested in STEM or history. The substantial backmatter includes more information on codes and ciphers, a code for kids to break, a description of cryptography today, a timeline, and a bibliography.
GIFTS FOR PARENTS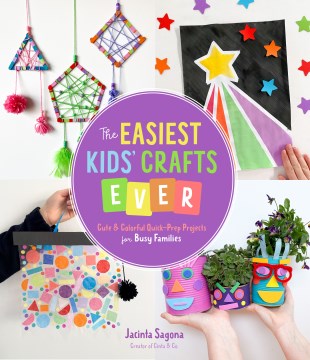 The Easiest Kids' Crafts Ever: Cute & Colorful Quick-Prep Projects For Busy Families by Jacinta Sagona, 2021
I visit Jacinta's Instagram feed @cintaandco every day for inspiration for activities for my children, so I was over the moon when I heard she had a book coming out. It is even more incredible than I imagined. The informative text not only provides clear directions and a supply list, there are also break-out boxes describing how to creatively alter the project and hidden learning applications! Colorful photographs helpfully display several of the steps of the creation process as well as the beautiful finished project. There is also a guide rating the messiness, approximate time, and adult involvement with each project. Now let's talk about the crafts. They are AMAZING! My daughter started bookmarking each one she wanted to do and I ran out of sticky notes because she wants to try them all!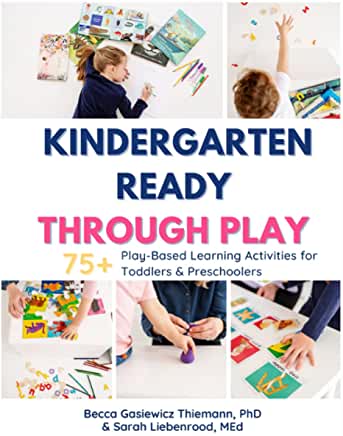 Kindergarten Ready Through Play by Becca Gasiewicz Thiemann and Sarah Liebenrood, 2021
Based on research, KINDERGARTEN READY THROUGH PLAY is jam packed with helpful information to guide parents and educators in preparing children for kindergarten by introducing them to lively, hands-on activities that not only teach them skills in reading, writing, math, and social emotional competences, but also build a foundation for future academic success by implementing a love of learning at an early age.
In my own parenting experience, I have found that my kids learn better when we engage in playful activities as opposed to flashcards. They are more invested, focused, and come away with a positive experience discovering that learning is fun and not a chore.
I am a longtime fan of @beccasbookbox and @wonderfullyread on Instagram, so it was no surprise to me that they put together such a well thought out and valuable tool for parents and educators to help their children learn and thrive at a young age.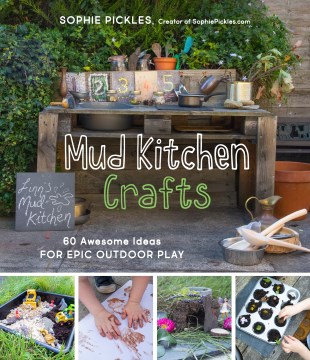 Mud Kitchen Crafts: 60 Awesome Ideas for Epic Outdoor Play by Sophie Pickles
From setting up a mud kitchen to taste-safe alternatives and crafts and games, this book is filled with creative ideas for messy play! We've always made mud pies, but I had no idea of the range of activities you could do with mud and natural elements until I read this book. Now my kids are begging to engage in pretend play, create mud art, build small-world scenes, and apply STEM skills. Bold photographs make each activity look enticing while the straightforward text explains the ease of each project. We all can't wait to get dirty this summer trying some of these fun ideas!
The Big Book of Kids Activities: 500 Projects That Are The Bestest, Funnest Ever
This incredible resource goes beyond a typical craft book and provides ideas for hands-on learning activities in a variety of subjects such as reading, math, music, and science. This is book that will not only benefit families, but early education teachers as well!
Looking for new holiday books to share this year! Check out my list of NEW BOOKS FOR CHRISTMAS 2021!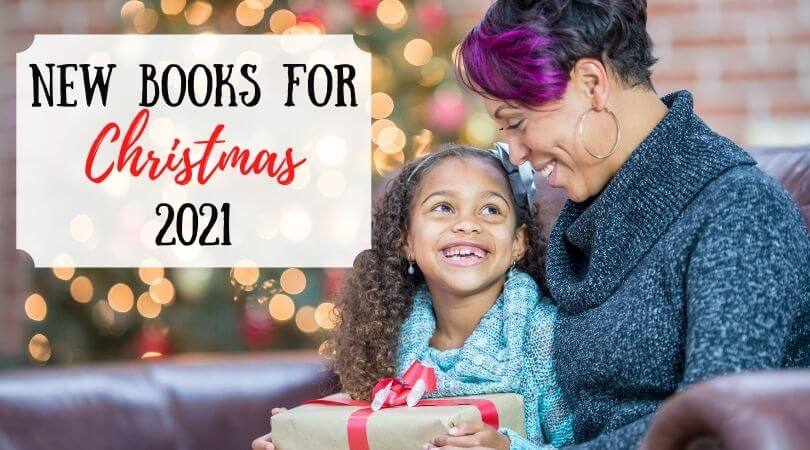 You may also like: