The holidays are around the corner and this season has tons of great NEW holiday stories! With books focusing on food, family, and community, you aren't going to want to miss these treasured tales from 2022.
*This post contains affiliate links. Read my full disclosure HERE.

CHRISTMAS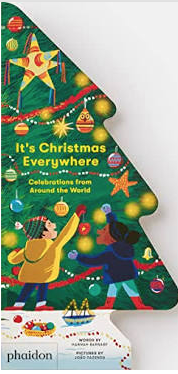 It's Christmas Everywhere: Celebrations from Around the World by Hannah Barnaby, 2022
(Ages 2 and up)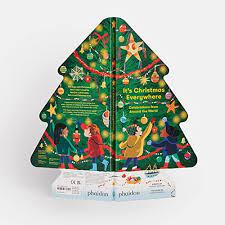 illustrated by Joāo Fazenda, 2022
This brilliant board book not only introduces children to a variety of Christmas celebrations from around the world, it also forms a standing Christmas tree when fully open!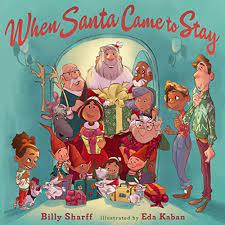 When Santa Came to Stay by Billy Sharff; illustrated by Eda Kaban, 2022
We love funny Christmas stories and this one definitely made us giggle! When Santa gets a taste of a girl's delicious cookies, he doesn't want to leave. With each holiday, a new family member comes to stay until the house is overflowing with Clauses! The rhyming text makes this silly story fun to read aloud while the inclusive illustrations feature several comical details.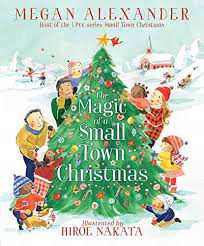 The Magic of a Small Town Christmas by Megan Alexander; illustrated by Hiroe Nakata, 2022
(Ages 4 and up)
This book gave me all the warm fuzzy feelings! While I love living in a small town and completely relate to the sweet community feeling of this story, its inclusion of several happy holiday moments is universal. Whether it's admiring twinkling Christmas lights, baking cookies, creating crafts, or feasting with neighbors, the magic of the season is beautifully presented in this lovely story.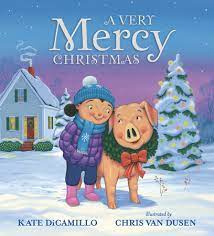 A Very Mercy Christmas by Kate DiCamilllo; illustrated by Chris Van Dusen, 2022
(Ages 4 and up)
Everyone's favorite porcine wonder is back in her very own holiday book! Mercy's neighbor, Stella, is feeling joyful and wants to sing carols throughout the neighborhood. While the other neighbors aren't up for her spontaneity, the animals of DeckaWoo Drive can't resist joining in on the fun.
Wonderfully rich vocabulary is perfectly complimented by Chris Van Dusen's equally rich illustrations. Mercy Watson fans will definitely want to get their hands on this one!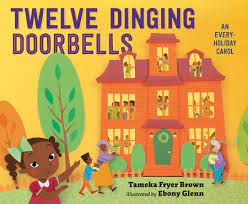 Twelve Dinging Doorbells: An Every Holiday Carol by Tameka Fryer Brown; illustrated by Ebony Glenn, 2022
(Ages 4 and up)
With each ding of the doorbell, another family member is introduced in this festive tale set to
the tune of The 12 Days of Christmas. The vibrant illustrations capture the joy and drama of a large family as they come together over heaps of delicious food. My kids especially enjoyed diving into the detailed illustrations and noticing lots of amusing vignettes of various family members.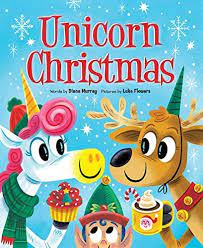 Unicorn Christmas: A Sparkly Holiday Adventure by Diana Murray; illustrated by Luke Flowers, 2022
It's hard not to smile while reading this joyful story starring exuberant unicorns. It's a magical time in the enchanted forest as a group of mythical creatures prepare for the holidays. When Santa shows up sick, however, the unicorns know just what to do to nurse him back to health and ensure it is still the best Christmas ever. The flowing rhymes and brightly colored illustrations make this a good read aloud choice during the holidays.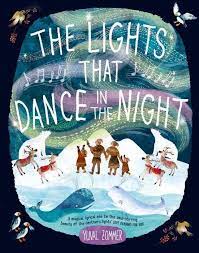 The Lights That Dance in the Night by Yuval Zommer, 2022
Although this is not exactly a holiday book, the gorgeous illustrations featuring the wonder and awe of the Northern Lights gives this enchanting book a magical feel that is perfect for the season.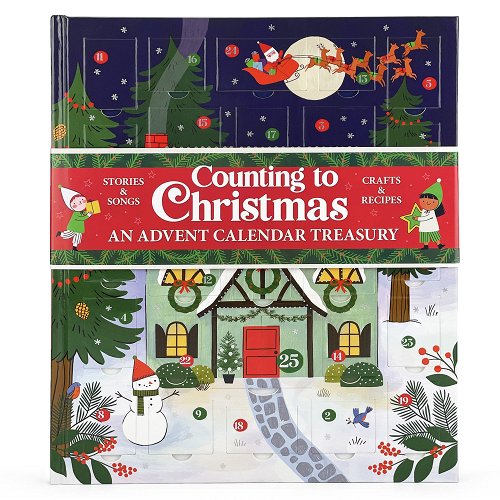 Counting to Christmas: An Advent Calendar Treasury by Cottage Door Press, 2022
(Ages 3 and up)
I am beyond impressed with this stunning collection of all things Christmas! The author's note states that the purpose of the book is to help caregivers create special memories for the holidays and with the plethora of information included, I have no doubt that it will! Each day leading up to Christmas has a theme with corresponding crafts, recipes, songs, stories, and activities. There is so much to explore in this book, I know it is one we will be rereading and enjoying for many years to come!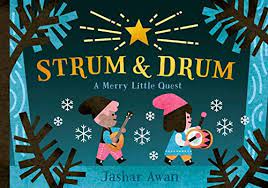 Strum Drum: A Merry Little Quest by Jashar Awan, 2022
(Ages 3 and up)
This adorable holiday tale follows two ornaments who journey through a Christmas tree to reach the star. Filled with imagination and wonder, with just the right amount of drama for little ones.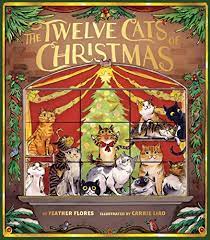 The Twelve Cats of Christmas by Feather Flores; illustrated by Carrie Liao, 2022
Set to the tune of The Twelve Days of Christmas this amusing story stars a myriad of feisty felines getting into the holiday spirit. My kids' favorite part was learning about the real-life kitties that inspired the characters in the book.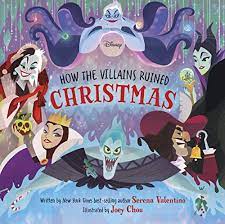 How the Villains Ruined Christmas by Serena Valentino; illustrated by Joey Chou, 2022
(Ages 4 and up)
The Disney villains are up to no good in this merry mashup! Try as they might, however, all their plans for ruining the holiday go awry and the festivities continue without a hitch. My kids loved reading about their favorite villains getting thwarted at every turn in this amusing tale.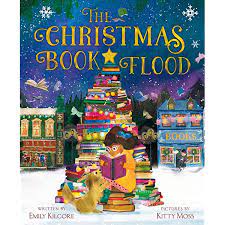 The Christmas Book Flood by Emily Kilgore; illustrated by Kitty Moss, 2022
Based on an Icelandic tradition of sharing books on Christmas Eve, this stunning story is an ode to the magic of reading.
HANUKKAH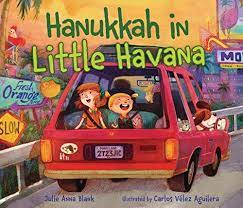 Hanukkah in Little Havana by Julie Anna Blank; illustrated by Carlos Vélez Aguilera, 2022
This joyful celebration of family follows two sisters who travel to Florida to visit their grandparents for Hanukkah. I just adore the love captured in these pages as the family rejoices in togetherness, enjoying good food, and celebrating their faith.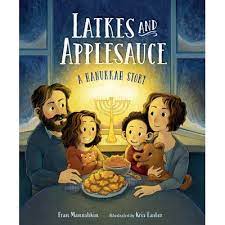 Latkes and Applesauce: Hanukkah Story by Fran Manushkin; illustrated by Kris Easler, 2022
(Ages 4 and up)
When a blizzard prevents a family from picking potatoes and apples, they have to settle for soup for their Hanukkah celebration. Though there is little food, the family takes in a stray cat and dog who miraculously find potatoes and apples for the family. This sweet story also includes additional details about the holiday, why latkes and applesauce are traditionally eaten, and about the game of dreidel.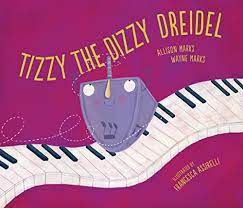 Tizzy the Dizzy Dreidel by Allison and Wayne Marks; illustrated by Grancesca Assirelli, 2022
(Ages 3 and up)
Tizzy may be a dreidel, but every time she spins, she got dizzy and wobbles over. Now, she sits dejected in the corner while the other dreidels are selected by children. When Tizzy is picked up at last, she is determined to spin without falling and sets a new record. With its gentle rhymes and elements of Hanukkah mixed in, this is a delightful tale for dreidel lovers!
NEW YEAR'S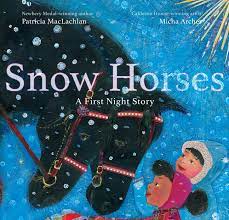 Snow Horse: A First Night Story by Patricia MacLachlan; illustrated by Micha Archer, 2022
Gorgeous illustrations elegantly capture the wonder and awe of New Year's Eve in a small town. The story follows two horses who pull a sleigh carrying townspeople as they remember past winter's days and look forward to a new year.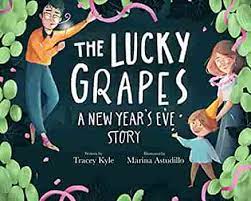 The Lucky Grapes: A New Year's Eve Story by Tracey Kyle; illustrated by Marina Astudillo, 2022
Rafa is finally old enough to stay up until midnight on New Year's Eve and he can't wait to participate in the Spanish tradition of eating grapes at midnight. Sprinkled with Spanish words and illustrations featuring delicious food and culture, readers will love joining Rafa on this special night!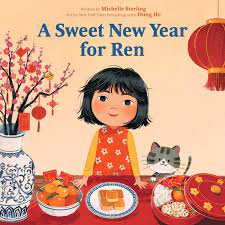 A Sweet New Year for Ren by Michelle Sterling; illustrated by Dung Ho, 2022
"Our stomachs are full and happy, like our hearts." Once again, Michelle Sterling has captured the utter delight that is found in family and food. It's the Lunar New Year and Ren is determined to show her family that she is finally big enough to help with the meal preparation. As she bakes the pineapple cakes with her brother, her heart fills with the happiness of tradition and being with loved ones. My kids were especially excited that there is a recipe included for pineapple cakes that they are now eager to make!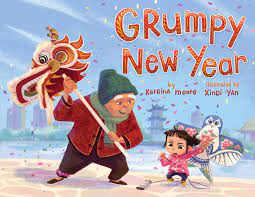 Grumpy New Year by Katrina Moore; illustrated by Xindi Yan, 2022
Daisy can't wait to spend the Lunar New Year with her grandparents in China. Filled with excitement, Daisy stays awake the entire plane ride and first few nights in China causing her to grow grumpy and tired each day. Anyone who has had to travel to a different time zone will relate to this amusing tale!