The holidays are here and I'm excited to help you find the gift of reading with a loved one with these fabulously fun stories. From humorous read alouds to fascinating nonfiction and engaging early chapter books, there's a little something here for everyone.
*This post contains affiliate links.
Picture Books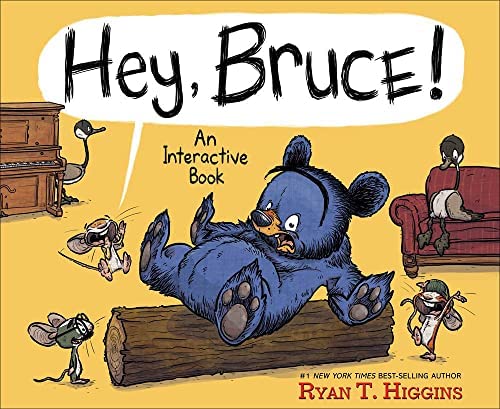 Hey Bruce: An Interactive Book by Ryan T. Higgins, 2022
My kids adore this series and this interactive gem might be their favorite Mother Bruce book yet! Readers are invited to help a grumpy bear named Bruce fall back asleep by moving the book in all different directions with hilarious results. Interactive books have tons of kid appeal on their own and paired with Ryan T. Higgins' offbeat humor, this one had our entire family laughing out loud.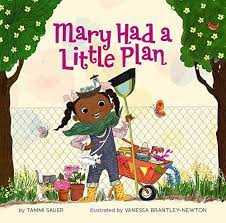 Mary Had a Little Plan by Tammi Sauer; illustrated by Vanessa Brantley-Newton, 2022
Filled with an inclusive representation of fairy tale characters, this joyful story of friends coming together to create a community garden is a superb read aloud. When Mary notices an abandoned lot, she works hard soliciting goods from local businesses to give the space a complete overhaul. When the work proves too much, she enlists the help of her friends. With themes of perseverance, teamwork, and community, this delightful read aloud is a must!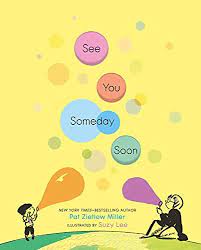 See You Someday Soon by Pat Zietlow Miller; illustrated by Suzy Lee
Anyone who has to live apart from a loved one needs this story in their life! Clever die-cut illustrations, follow a young boy addressing how much he misses his grandmother. Though he wants to hug her immediately, he is reassured that he can still talk with her on the phone, via letters, and through the computer. Most comforting of all is their valediction stating, "See you someday soon."
The love between family members shines through the pages and the heartfelt ending is especially touching. Though the book focuses on a grandparent and grandchild, this sweet story is the perfect gift for anyone missing a loved one!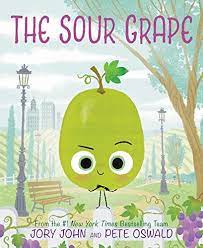 The Sour Grape by Jory John and Pete Oswald
After being stood up at his birthday party, a sweet little grape turns bitter and sour! Every little thing annoys him and he holds a grudge over anyone who wrongs him in the slightest. When he makes his own mistake, however, he realizes how powerful forgiveness can be. With a new perspective, he discovers life is a lot more enjoyable when he is kind, considerate, and grateful.
Full of humorous puns, this fantastic lesson in social emotional learning is perfect for classroom and home libraries!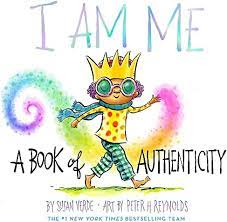 I Am Me: A Book of Authenticity by Susan Verde; illustrated by Peter H. Reynolds, 2022
I adore books that empower children to embrace their uniqueness and encourage them to be their best selves, which is exactly the message in I Am Me. With its affirming text, delightful illustrations, and timeless message, this is a special book that can be revisited again and again through the years.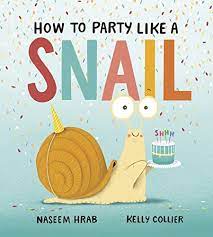 How to Party Like a Snail by Naseem Hrab; illustrated by Kelly Collier, 2022
Snail loves a party, just not a rowdy one. This introverted crustacean prefers lullabies to rock music and cozy shindigs to raucous festivities. His friends don't understand his quiet nature, so he throws himself his own party and finds a new friend in the process. Introverts will rejoice in finding a kindred spirit with the charming Snail who could not be cuter!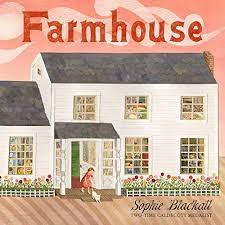 Farmhouse by Sophie Blackall, 2022
Based on a real farmhouse and the family who lived there, Sophie Blackall's whimsical storytelling shines through her lyrical text and rich illustrations. The reimagined life of a family of fourteen is utterly fascinating. Though their day consists mostly of chores, there is a magic in each action brilliantly captured through detailed illustrations that my children couldn't help but pour over. This beautiful ode to home and family is a true standout.
Bathe the Cat by Alice B. McGinty; illustrated by David Roberts, 2022
This rollicking, rhyming story stars a family of two dads and their three children attempting to clean the house before Grandma arrives. The only problem is that their feisty feline mixes up the letters of their to-do list creating hysterical chores such as feeding the floor and sweeping the dishes. There is nothing kids love more than an unexpected, silly story and with its bright colors, comical expressive illustrations, and flowing text, this one is a standout!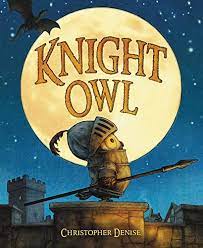 Knight Owl by Christopher Denise, 2022
Prepare to feast your eyes on one of the most enchanting books of the year! Little owl may be short in stature, but he is big in brains. When he pursues his dream of becoming a knight, he uses his wits to defend the castle against a hungry dragon. The lush artwork is a real feast for the eyes, while the endearing storyline could not be better. Filled with mesmerizing details and one of the most adorable characters in children's literature, this one is a must read!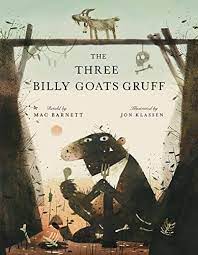 The Three Billy Goats Gruff by Mac Barnett; illustrated by Jon Klassen, 2022
(Ages 5 and up)
The dynamic team of Barnett and Klassen can do no wrong and their new retelling of the classic Three Billy Goats Gruff tale is one of their best collaborations yet! The deliciously smooth text is a joy to read aloud while the eerie illustrations masterfully elevate the original tale. This one still makes me laugh out loud every time I think about it.
Creepy Crayon by Aaron Reynolds; illustrated by Peter Brown, 2022
In
Creepy Crayon
, Jasper Rabbit is struggling in school until he finds a perfectly pointy purple crayon that magically helps him ace all of his assignments. Before he knows it, the crayon has taken over all of his projects and Jasper finds little satisfaction in receiving undeserved praise. It is time for the crayon to go, but how can Jasper get rid of it when it turns up at every corner?!
The perfectly plotted humor and engaging illustrations with pops of purple make this another winner in the New York Times best-selling series.
Endlessly Ever After: Pick Your Path to Countless Fairy Tale Endings by Laurel Snyder; illustrated by Dan Santat, 2022
(Ages 6 and up)
Fairy tales take on new life in this entertaining choose-your-own-adventure book! From the first page, readers choose which path a girl named Rosie will take. Each decision leads her into a new fairy tale with surprising results. Adorned with eye-catching illustrations and rhyming text, this book is a ton of fun, but not for the faint of heart. Some of the paths lead to dire results occasionally ending in death, so this one is better suited for older kids.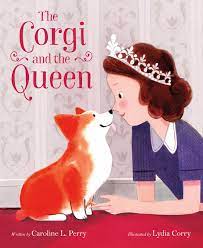 The Corgi and the Queen by Caroline L. Perry; illustrated by Lydia Corry, 2022
My kids immediately fell in love with this fascinating tale about Queen Elizabeth and her beloved Corgis. Upon her father's coronation, eleven-year-old Elizabeth moves to Buckingham Palace and becomes a queen-in-waiting. With all her responsibilities, it was hard for Elizabeth to make friends, but she found a constant companion in her dog, Susan. This enthralling story goes on to describe Elizabeth's reign and legacy and her strong connection with her dogs. My children especially loved the family tree in the back of the book tracing both Elizabeth and Susan's families.
Nonfiction and Novelty Books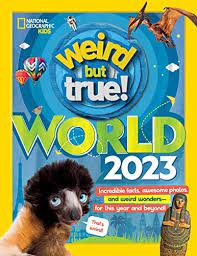 Weird But True, 2023 by National Geographic, 2022
Overflowing with fascinating facts, Weird But True, 2023 uses stunning photographs combined with tons of info about our mesmerizing planet to ignite children's excitement to learn more about our world.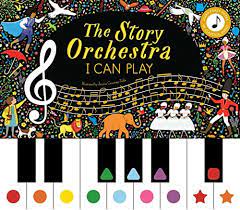 The Story Orchestra I Can Play illustrated by Jessica Courtney-Tickle, 2022
Both my seven-year-old and ten-year-old cannot keep their hands off this engaging book! With a built-in keyboard, children are invited to follow the symbols on each page to play classical pieces of music. Even though my kids didn't recognize any of the songs, they had a blast playing them and learning about the music from the concise text and beautiful illustrations.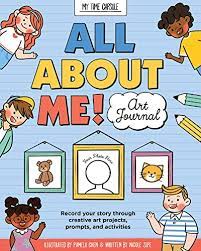 All About Me! Art Journal by Nicole Sipe and Pamela Chen, 2022
Using engaging prompts, this inviting journal fosters children's creativity while also making a time capsule of who they are in the moment. Children are encouraged to record their likes, dislikes, adventures, and hopes and dreams for the future. This one is especially perfect for children who would benefit from keeping a dairy, but may need a little more guidance in what to write. With so many interesting writing and drawing prompts, I know my seven-year old daughter is going to love this gift!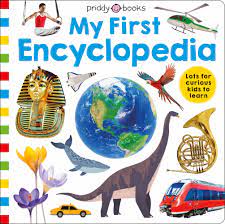 First Encyclopedia by Priddy Books, 2022
This book is jam packed with captivating information that helps ignite children's curiosity. From history to space to the natural world, a ton of subjects are covered. Photography is mixed with colorful illustrations creating an eye-catching child-friendly look at the world.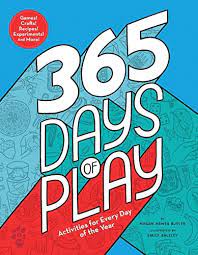 365 Days of Play for Every Day of the Year by Megan Hewest Butler; illustrated by Emily Balsley, 2022
Kids will never be bored again with the hundreds of ideas for games, crafts, recipes, and science experiments in this book. While reading it, I was reminded of several games I played as a child that I can't wait to reintroduce to my own kids as well as several hands-on activities I know my kids will love! I'm definitely keeping this one close by for rainy days!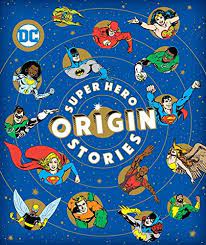 Super Hero Origin Stories by Michael Robin, Noah Smith, and Nathanaet Katz, 2022
Super hero lovers will adore this book that uses classic artwork from DC Comics and short biographies that describe where their favorite heroes come from and how they got their powers. Each story is one page making it perfect for bedtime reading.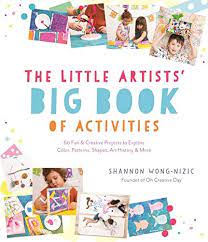 The Little Artists' Big Book of Activities by Shannon Wong-nizic, 2022
This one is a gift for parents and kids! I love following Oh Creative Day on Instagram, so I was thrilled to hear Shannon had a new book featuring her amazing artistic activities! Focusing on the process of making art instead of the final product, this fabulously playful book introduces tons of open-ended projects that provide room for children to explore and grow their creativity. After browsing the bright, colorful photographs and concise descriptions, my daughter couldn't wait to dive in and start creating!
Easy Readers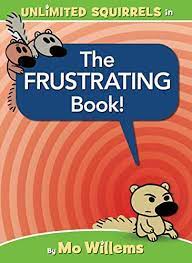 The Frustrating Book by Mo Willems, 2022
We just adore Mo Willems' humor and his newest book in the Unlimited Squirrels series cleverly combines comedy with social emotional learning. With tons of speech bubbles, this book is not only entertaining, but also perfect for practicing reading with fluency.
It's a Sign by Jarrett and Jerome Pumphrey, 2022
Using comical wordplay, four friendly foxes demonstrate just how much fun clubs can be. Each fox brings a unique talent to their club, creating a terrific tale of teamwork. The delightful story has the perfect combination of charm and humor, paired with simple text that makes it an excellent choice for new readers.
Graphic Novels
Bug Scouts: Out in the Wild by Mike Lowery, 2022
Filled with wordplay and amusing illustrations, this new series featuring a group of endearing bugs working to collect their badges is tons of fun. With large font and short chapters, this one is perfect for reluctant readers to gain their confidence while falling in love with reading. We can't wait to read the other books in this series.
Scaredy Squirrel in a Nutshell by Melanie Watt, 2021
There is just something irresistible about this adorably anxious little squirrel and his outlandish preparations. Just as his name implies, Scaredy Squirrel is afraid of, well, everything. When he spots a nut just outside of his tree, he goes through great lengths to retrieve it with the upmost care and hilarious consequences. With its appealing artwork and silly situations, I was not surprised at all that my daughter absolutely loved this book.
Sir Ladybug by Corey R. Tabor, 2022
Once again, the two-time Geisel Award winning author and illustrator Corey R. Tabor works his magic with a new easy reader series filled with humor and heart. Sir Ladybug and his two loyal companions, a snail and a roly-poly bug, travel the countryside helping any insect in need. With plenty of amusing dialogue and themes of teamwork and resilience, there is a lot to enjoy about this new series!
Stick and Stone Explore and More by Beth Ferry; illustrated by Kristen Cella, 2022
Based on the characters in the bestselling picture book Stick and Stone, the lovable friends return for two new adventures in this charming graphic novel. In the first story, the two best buddies become part of a nature scavenger hunt and search for ice cream with surprising results in the second. I especially enjoyed the added educational elements such as the Nature Girl A-Z Checklist for an outdoor scavenger hunt and three recipes for S'mores!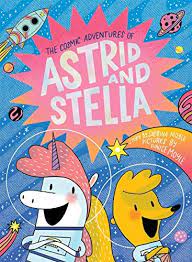 The Cosmic Adventures of Astrid and Stella by Hello Lucky, 2022
Colorful illustrations match the cheerful feel of these two best friends who can do anything together! With their mantras of "We can do hard things" and "Progress not perfection," these two quirky characters can take on the world and then some as they zoom around the universe experiencing one stellar adventure after another.
Early Chapter Books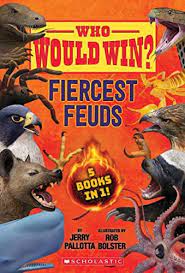 Who Will Win Fiercest Feuds by Jerry Pallota; illustrated by Rob Bolster, 2022

This entertaining series is perfect for reluctant readers or any child who loves to learn about animals. Facts about some of the world's most dangerous animals are presented with photographs and lifelike illustrations. The animals are paired against each other and using the facts presented on the creatures' size, intellect, and ability, children try to predict the outcome of the showdown. My kids can't get enough of this series and they can't wait to get their hands on the latest book!
Cornbread & Poppy by Matthew Cordell, 2022
While opposites in many ways, Cornbread and Poppy are the best of friends. When carefree Poppy doesn't collect enough food for the winter, loyal Cornbread agrees to venture up the mysterious mountain outside their village to harvest food. Full of charming illustrations, this delightful friendship story has the perfect amount of drama and cuteness that kept my daughter engaged and excited to read.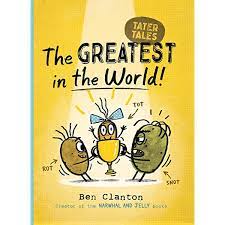 The Greatest in the World (Tator Tales series) by Ben Clanton, 2022
We love Ben Clanton's picture books Rot, The Cutest in the World and Rot, the Bravest in the World, so we were thrilled to see a new chapter book starring this lovable character. This silly story about the sibling rivalry between two mutant potatoes is absolutely hilarious. Filled with funny puns, this book is spudtacular!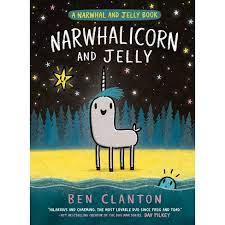 Narwhalicorn and Jelly by Ben Clanton, 2022
My kids cannot get enough of this delightfully amusing series and adore the newest installment following Narwhal as he transforms into a unicorn. This heartfelt and seriously funny friendship series is a must!
The Underdogs Catch a Cat Burglar by Kate and Jol Temple; illustrated by Shiloh Gordon, 2022
Full of humorous hijinks, this new series starring a cat and dog detective is a good choice for animal lovers!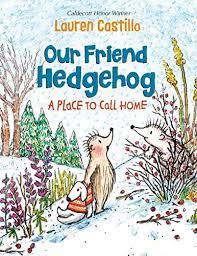 Our Friend Hedgehog: A Place to Call Home by Lauren Castillo, 2022
The seasons are changing and Hedgehog is looking forward to a fun-filled winter with her friends. When a new hedgehog appears, however, she embarks upon a journey of self-discovery and what makes up a family. This surprisingly earnest story could not be more adorable!
You May Also Like: