'Tis the season for holiday books and boy do we have some great ones for you!
*This post contains affiliate links. To read my full disclosure CLICK HERE.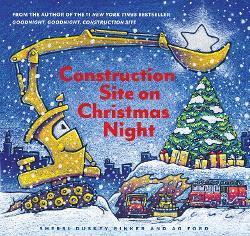 Construction Site on Christmas Night by Sherri Duskey Rinker and AG Ford, 2018
(Ages 3 – 6)
The adorable hardworking construction team from Goodnight, Goodnight Construction Site and Mighty, Mighty Construction Site is back just in time to celebrate the holidays! In this installment, the diggers tirelessly work to finish a new firehouse. As they wind down for the day, each discovers a thoughtful gift left by the grateful new fire crew. The gently flowing rhymes and charming illustrations make this an excellent choice for bedtime for any construction vehicle lover!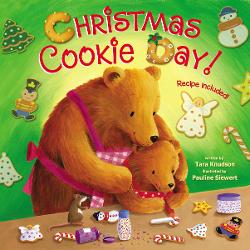 Christmas Cookie Day! By Tara Knudson ; illustrated by Pauline Siewert, 2018
(Ages 2 – 5)
Filled with flowing rhymes and adorable illustrations, Christmas Cookie Day! is a perfect board book to ramp up any young child's excitement to help out in the kitchen. As an added bonus the sweet mother and child duo bake the cookies to share with their family and friends! Did I mention that there is also a delicious recipe on the back of the book? This has become one of my favorite new holiday books to gift to families with young children! Note: A copy of this book was provided to me in exchange for an honest review. All thoughts and opinions are my own. Buy It Here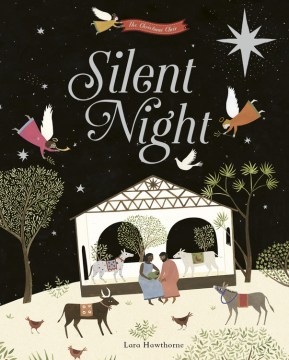 Silent Night by Lara Hawthorne, 2018
(Ages 3 and up)
This gorgeous book pairs the familiar lyrics of Silent Night with stunning illustrations that follow the Nativity scene. Whether you sing or read this book, it is a lovely story to share during the holidays. Information on the song's origin is also included, giving a bit of history to the classic carol.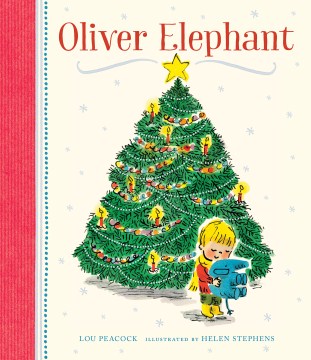 Oliver Elephant by Lou Peacock; illustrated by Helen Stephens, 2018
(Ages 3 – 6)
When Noah joins his family on a shopping trip during the holidays, he brings his beloved toy elephant, Oliver. Disaster strikes, however, when Oliver is lost in the large department store. Rhyming text and engaging illustrations draw the reader into this charming tale that has just the right amount of drama that many families will relate to.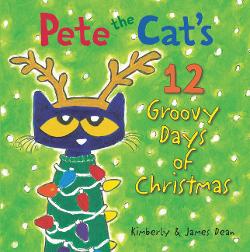 Pete the Cat's 12 Groovy Days of Christmas by Kimberly & James Dean, 2018
(Ages 3 and up)
Children are going to love practicing their numbers while counting down to Christmas with Pete the Cat. In this playful take on the classic, 12 Days of Christmas song, Pete drives his VW bus to deliver a groovy new gift to each of his friends and gather them for a road trip to the sea. The tone of the story is light and amusing and children will love shouting out the refrain of "groovy" after each verse. If children are familiar with the popular series, they will delight in seeing some of Pete's old friends, and if they are not, they will enjoy being introduced to them in this hip new holiday read. Note: A copy of this book was provided to me in exchange for an honest review. All thoughts and opinions are my own. Buy It Here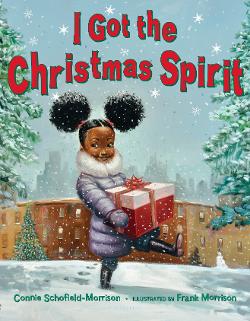 I Got the Christmas Spirit by Connie Schofield-Morrison ; illustrated by Frank Morrison, 2018
(Ages 3 – 6)
Sparse text filled with onomatopoeia and rich illustrations make this a joyous holiday read aloud for young children. They will love following an exuberant girl through snow-filled urban scenes as she finds the Christmas spirit through singing, ice skating, and giving to others. You won't want to miss this heartwarming sequel to I Got the Rhythm (2014). Buy It Here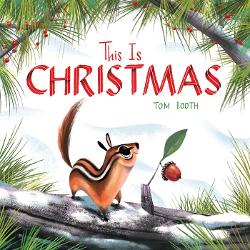 This Is Christmas by Tom Booth, 2018
(Ages 4 – 8)
In this tender story, a curious young Chipmunk tours a beautiful forest setting with his mother to gain a better understanding of what Christmas actually is. While he discovers that decorations, cards, and presents are all part of the holiday, the most important aspect of Christmas is celebrating with friends and family. The charming digitally rendered illustrations of the animals and their surroundings paired with this sweet secular story, make this holiday read a standout. Buy It Here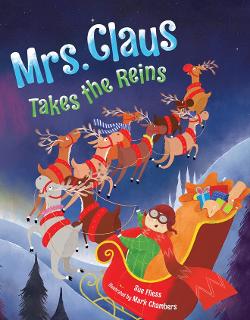 Mrs. Claus Takes the Reins by Sue Fliess ; illustrated by Mark Chambers, 2018
(Ages 3 – 8)
While Mrs. Claus takes a backseat in many holiday stories, she shines in Sue Fliess' entertaining new holiday book, Mrs. Claus Takes the Reins! When Santa becomes too sick to deliver presents on Christmas Eve, Mrs. Claus steps up to take his place. She is brave, smart, and determined to save Christmas. You aren't going to want to miss this delightful story full of girl-power and whimsy! Note: A copy of this book was provided to me in exchange for an honest review. All thoughts and opinions are my own. Buy It Here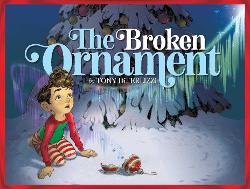 The Broken Ornament by Tony DiTerlizzi, 2018 (
Ages 4 – 8)
In this enchanting new holiday book, Jack vigorously decorates his house in an effort to have the best Christmas ever. When he accidentally breaks one of his mom's ornaments, however, he fears he may have ruined the holiday. Christmas Eve can be a magical night and when Jack is visited by a fairy named Tinsel, she teaches him the true power of the Christmas spirit. Filled with caroling elves, an army of nutcrackers, a rowdy bunch of snowmen, and a heartwarming storyline, this new holiday read has tons of kid appeal! Buy It Here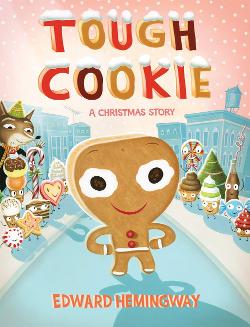 Tough Cookie: A Christmas Story by Edward Hemingway, 2018
(Ages 4 – 8)
When a freshly baked gingerbread man pops out of the oven, he challenges a fox to catch him. When Fox tries to bite him, however, he discovers that this cookie is hard and tastes awful. The two journey through Christmastown to try to sweeten him up. After failing each attempt, Cookie finally discovers his true purpose. He is an ornament! My children cannot get enough of this sweet story and ask for repeated readings. Best of all there are recipes in the back of the book for both edible cookies and ornaments that our family loved baking together! Note: A copy of this book was provided to me in exchange for an honest review. All thoughts and opinions are my own. Buy It Here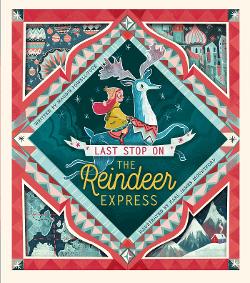 Last Stop On the Reindeer Express by Maudie Powell-Tuck ; illustrated by Karl James Mountford, 2018
(Ages 4 – 8)
Beautifully incorporated cut-outs combined with a magical Christmas tale? Yes, please! When Mia's letter to her grandpa won't arrive in time for Christmas, she discovers the Reindeer Express which wondrously transports her to hand deliver her letter.
The illustrations in this book are just gorgeous and my children could not stop opening and closing the captivating flaps and die-cuts that peek through to the next page. The tender story about family and separation is heartwarming making this stunning book one of our favorite new Christmas reads!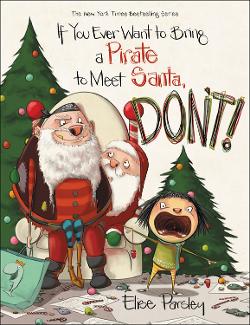 If You Ever Want to Bring a Pirate to Meet Santa, Don't! by Elise Parsley, 2018
(Ages 4 – 8)
Magnolia thinks it will be a great idea to introduce a pirate to Santa, but while waiting in line to meet him at the mall, she soon discovers the reason pirates are on the naughty list. Full of humorous hijinks and giggle-inducing illustrations, you won't want to miss this comical holiday book. This series is absolutely hilarious and I highly recommend you pick up the first few installments. Buy It Here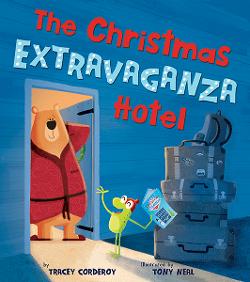 The Christmas Extravaganza Hotel by Tracey Corderoy ; illustrated by Tony Neal, 2018
(Ages 4 – 8)
When an adventurous frog accidentally mistakes a bear's cave for a hotel specializing in Christmas, the Bear kindly tries to make the most of his new friend's vacation. Children are going to love the jovial Bear who teaches Frog that sometimes the simpler things in life are actually the best. This is an amusing and entertaining read that effortlessly ties in beautiful aspects of nature! Buy It Here