Our family loves classic Christmas stories filled with magic and wonder, but my rough and tough son and daughter also love the following holiday reads featuring ninjas, pirates, knights, and a group of holiday superstars. Enjoy!
*This post contains affiliate links. To read my full disclosure CLICK HERE.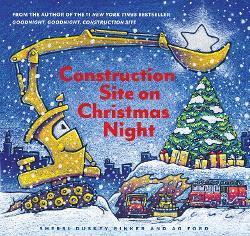 Construction Site on Christmas Night by Sherri Duskey Rinker and AG Ford, 2018
(Ages 3 – 6)
The adorable hardworking construction team from Goodnight, Goodnight Construction Site and Mighty, Mighty Construction Site is back just in time to celebrate the holidays! In this installment, the diggers tirelessly work to finish a new firehouse. As they wind down for the day, each discovers a thoughtful gift left by the grateful new fire crew. The gently flowing rhymes and charming illustrations make this an excellent choice for bedtime for any construction vehicle lover!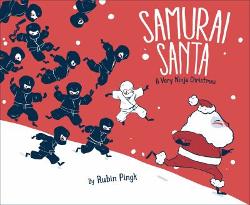 Samurai Santa: a very ninja Christmas by Rubin Pingk, 2015
(Ages 4 – 8)
What better way to celebrate Christmas than with an epic snowball fight against Santa? When Yukio and his ninja friends unknowingly enter into an impressive battle against Santa and his samurai snowmen, it becomes a Christmas the ninjas will never forget. With its attention-grabbing illustrations and exciting storyline, you won't want to miss this unique Christmas tale.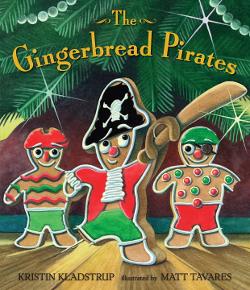 The Gingerbread Pirates by Kristin Kladstrup ; illustrated by Matt Tavares, 2009
(Ages 4 – 8)
When a boy and his mother bake gingerbread men and decorate them to look like pirates, a little Christmas magic brings the crew to life. With a mix of humor, delightful illustrations, and an astonishing story about Christmas wishes coming true, this is a holiday book that children will beg to read over and over.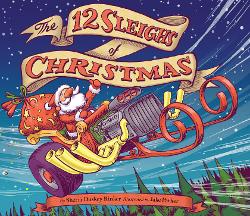 The 12 Sleighs of Christmas by Sherri Duskey Rinker; illustrated by Jake Parker, 2017
(Ages 3 – 8)
The author from Goodnight, Goodnight, Construction Site is back with a fun holiday romp. Santa's elves are preparing for the quickly approaching Christmas when they discover Santa's sleigh is damaged. The elves see this as an opportunity to make a new and improved sleigh. They split into teams and design a myriad of vehicles each more exciting than the next. Santa is impressed, but "nothing seems exactly right, not quite perfect (just not quite) for this very special night." Luckily, one elf has secretly been repairing the original sleigh and it is ready just in time for Santa to take flight. After Santa leaves, the elves celebrate by putting their creations to good use in a race. Vehicle loving children will particularly enjoy this book and it could serve as a great STEM (science technology engineering and math) challenge for them to design their own sled!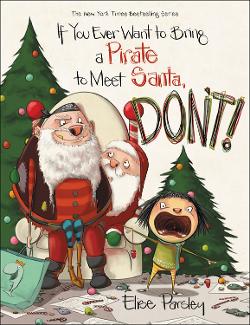 If You Ever Want to Bring a Pirate to Meet Santa, Don't! by Elise Parsley, 2018
(Ages 4 – 8)
Magnolia thinks it will be a great idea to introduce a pirate to Santa, but while waiting in line to meet him at the mall, she soon discovers the reason pirates are on the naughty list. Full of humorous hijinks and giggle-inducing illustrations, you won't want to miss this comical holiday book.
This series is absolutely hilarious and I highly recommend you pick up the first few installments.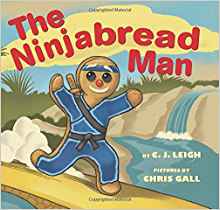 The Ninjabread Man by C.J. Leigh ; illustrated by Chris Gall, 2016
(Ages 4 – 8)
When a sensei attempts to reward his ninja apprentices with a special treat of ninjabread, they are all shocked when it leaps out of the oven to challenge each one. While many of the ninjas attempt to catch the Ninjabread Man using their strength and speed, he is no match for one ninja's cunning wit! This is a fun tale that can be enjoyed all year long!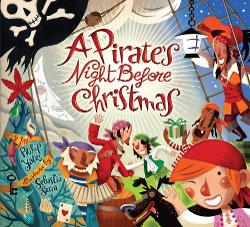 A Pirates Night Before Christmas by Philip Yates, 2008
(Ages 4 – 8)
This rollicking spin on The Night Before Christmas features a madcap pirate crew preparing for their version of Santa, Sir Peggedy. Get your pirate voice ready for some silly rhymes containing a myriad of pirate verbiage!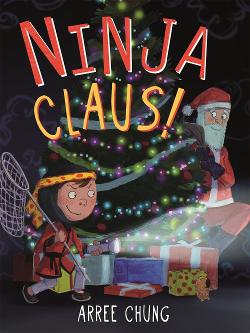 Ninja Claus (series) by Arree Chung, 2017
(Ages 4 – 8)
Maxwell is an aspiring ninja who is determined to catch Santa with his clever traps, but Santa proves to have some sneaky ninja moves of his own! Large spreads combined with graphic-novel-like panels adorn this action-packed comical story.
Holiday Heroes Save Christmas by Adam Wallace ; illustrated by Shane Clester, 2018
(Ages 4 – 10)
Santa Claus, The Tooth Fairy, The Easter Bunny, a leprechaun, and a witch are all part of the Holiday Hero Team. When Santa becomes ill, it is the heroes' job to save Christmas. Kids will not be able to resist this fast-paced graphic novel picture book filled with famous mythical characters.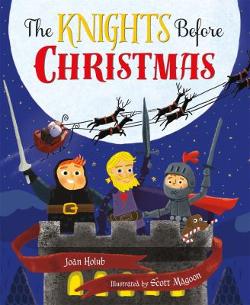 The Knights Before Christmas by Joan Holub ; illustrated by Scott Magoon, 2015
(Ages 5 – 10)
This amusing spoof on the classic poem, The Night Before Christmas, follows three bumbling knights as they attempt to ward off an invader who turns out to be Santa Claus. A multitude of puns and wordplay make this a clever and entertaining holiday tale.