Wow, 2018 has been an amazing year for picture books! I have been blown away by the incredible illustrations, powerful messages, and laugh-out-loud stories published this year. It was extremely difficult to narrow down our favorites, but the below list are the ones that I feel stand out the most above all the rest. I hope that you enjoy them!
*This post contains affiliate links. To read my full disclosure CLICK HERE.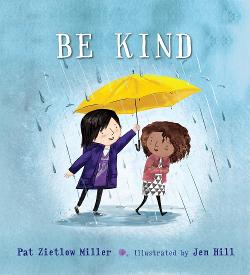 Be Kind by Pat Zietlow Miller ; illustrated by Jen Hill, 2018
(Ages 4 – 8)
There are many books that cover the subject of kindness, but Be Kind stands apart. It does a remarkable job of providing an overview of kindness along with clear examples that make this abstract concept more concrete for children. It touches upon both the individual and global impact and while it may not always be easy to be kind, each small act is meaningful.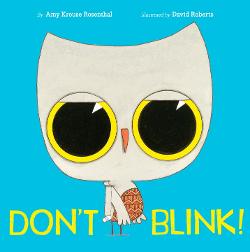 Don't Blink by Amy Krouse Rosenthal ; illustrated by David Roberts, 2018
(Ages 3 – 8)
A large-eyed owl promises the reader that they can stay up past their bedtime if they are able to refrain from blinking during the length of the book. Filled with a variety of clever tactics including optical illusions, children will be entranced by this comical interactive book!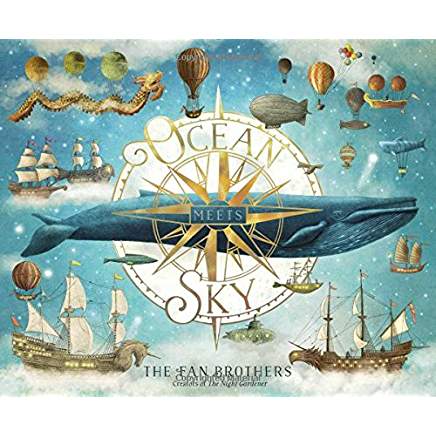 Ocean Meets Sky by the Fan Brothers, 2018
(Ages 4 and up)
With its stunning fantastical illustrations and poignant story about love, loss, and moving on, I expect to see this beautiful book on several best book lists. This elegantly told story follows Finn who honors the memory of his grandfather by building a boat on what would have been his grandfather's 90th birthday. Finn dreams that the boat will sail him to the mysterious place his grandfather told stories about where ocean meets sky. Readers will not be able to look away from the gorgeous dreamlike illustrations of The Fan Brothers.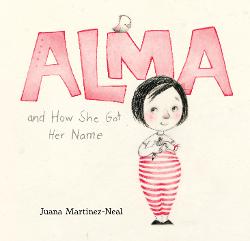 Alma and How She Got Her Name by Juana Martinez-Neal, 2018
(Ages 4 – 8)
Alma Sofia Esperanza Jose Pura Candela thinks her name is too long until she learns about all the incredible family members she was named after. She discovers that each ancestor is a part of her and now it is time for her to make her story with her own unique name, Alma.
The story alone makes this a standout picture book, but the small details Juana Martinez-Neal breezily infuses into the book makes this tender story shine even brighter.
The Word Collector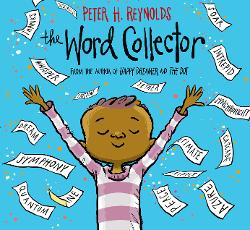 by Peter H. Reynolds, 2018
(Ages 4 – 8)
While many children may collect a variety of things, Jerome collects words. Words are all around us, and Jerome carefully jots down his favorites. After an accident, Jerome's words become jumbled. He finds that when he combines his words, they make the most incredible poems and songs. He further discovers that by knowing more words, he can better articulate his thoughts and feelings with others.
In an unselfish act, he decides to scatter his collection of words in the wind in order to share all of his literary treasures with other children. The book ends with the inspiring challenge, "Reach for your own words tell the world who you are and how you will make it better." Pure gold!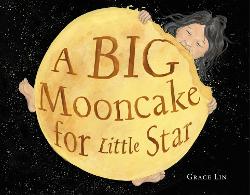 A Big Mooncake for Little Star
by Grace Lin, 2018
(Ages 3 – 6)
You will never look at the moon the same way after reading this enchanting story by Grace Lin.
A Big Mooncake for Little Star
mixes in elements of fantasy and Chinese culture to create a charming story of Little Star who wakes each night to nibble away at the giant mooncake she and her mother baked together. With each bite, children will begin to see the various phases of the moon. This whimsical story is simply delightful and makes for a wonderful bedtime story.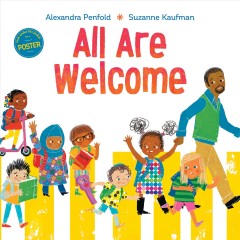 All Are Welcome by Alexandra Penfold and Suzanne Kaufman, 2018
(Ages 3 – 8)
Poignant language paired with colorful illustrations featuring a diverse group of students driving home the message that school is a safe and welcoming place to all makes All Are Welcome one of the best books about school I have ever seen. This is sure to become a classic classroom read aloud that is reread every year.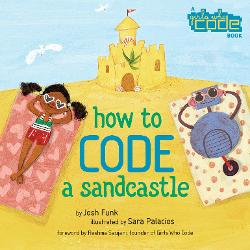 How to Code a Sandcastle by Josh Funk ; illustrated by Sara Palacios, 2018
(Ages 4 and up)
Coding can be a complex concept , but this entertaining story does an excellent job of explaining the core concepts of coding in a child friendly manner. The coding terms are clearly described and reinforced with the engaging illustrations. They are also listed in the glossary in the back of the book for further discussion. Furthermore, the protagonist is a likable character and it is difficult not to admire her determination, imagination, and perseverance in the face of adversity.
Coding is so much more than just working with computers. Understanding the basic concepts of coding also helps children build skills in problem solving and critical thinking. For all of the above reasons, this amusing and educational book is a real winner!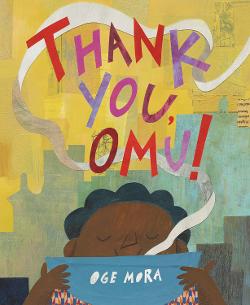 Thank You, Omu! by Oge Mora, 2018
(Ages 4 – 8)
Not only is Thank You, Omu! a heartwarming story about generosity, community, and kindness, the artwork is spectacular! Gorgeous collages created with acrylic paint, china markers, pastels, patterned paper, and old book clippings adorn this tender tale about a woman who graciously shares her delicious stew with friends and strangers. This is one of those books that will touch your heart long after closing the pages.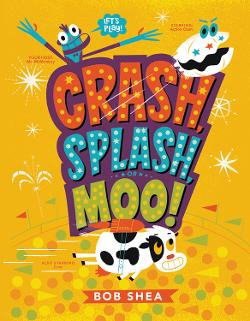 Crash, Splash, or Moo
by Bob Shea, 2018
(Ages 4 – 8)
Get your cheesy game show voice ready because you are going to want to read this hilarious book again and again! Mr. McMonkey, an energetic, banana-loving monkey, is the host to this wacky game show that stars Action Clam and a run-of-the-mill cow as daredevils who perform amazing stunts. Before each dangerous act, Mr. McMonkey polls the audience for their guess whether the outcome will be a crash, splash, or moo.
⠀⠀⠀⠀⠀⠀⠀⠀⠀
The comical illustrations are full of high-energy action and Mr. McMonkey's request that readers raise their hands to show their prediction provides a fun interactive element that makes this story irresistible.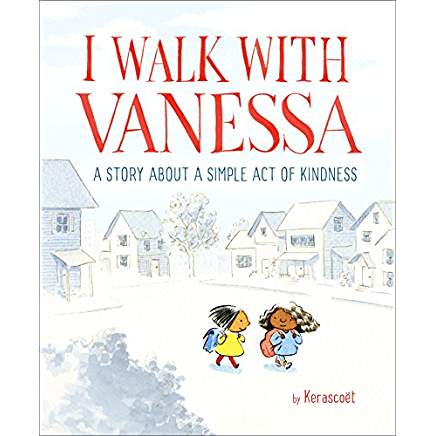 I Walk With Vanessa: A Story About a Simple Act of Kindness by Keroscoet, 2018
(Ages 4 and up)
With themes of empathy, courage, and anti-bullying, I Walk With Vanessa is a must-have for most classroom and home libraries.
When a young girl observes a hurtful act toward a new classmate, she decides to take action and extend kindness to the victim by walking with her to school. Soon several classmates join together and form a united front.
The book is made even more powerful by its lack of text. It allows the reader to interpret the characters' expressions and develop their own conclusions. Children can even create their own dialogue to further internalize the situation presented.
⠀⠀⠀⠀
Shaking Things Up
by Susan Hood, 2018
(Ages 5 and up)
Oh, the artwork! Oh, the poetry! Oh, the inspirational stories! This book is simply outstanding! Poems using a variety of formats accompanied by gorgeous illustrations highlight fourteen incredible women. Children may be familiar with a few such as Ruby Bridges and Malala Yousafzai, but many of these women ranging in age, ethnicity, and accomplishments will be new to them.
⠀⠀⠀⠀⠀⠀⠀⠀⠀
Every illustration is done by a different artist highlighting the uniqueness of each individual woman. While all very different, the women are united in their strong characters showing courage, determination, and perseverance making them wonderful role models for children today.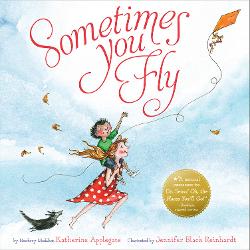 Sometime You Fly by Katherine Applegate; illustrated by Jennifer Black Reinhardt, 2018
(Ages 4 and up)
I can't help but get choked up by inspirational books and Sometimes You Fly by Newbery Medalist Katherine Applegate definitely had me holding back tears.
The expressive illustrations are perfectly paired with the simple lyrical language that reinforces the importance of persistence. "Each recipe we undertake can rise or fall, can burn or bake. But when we break we learn to mend. When breezes blow we learn to bend. Remember then, with every try, sometimes you fail, sometimes you fly." With the message of perseverance and learning from one's mistakes, this eloquent book is perfect for graduation or to inspire any child (or adult!).
Check out our other favorite books of 2018 picked by kids!