After publishing twenty-five books of which two won a Theodor Seuss Geisel medal and five won honors for the best beginning reader of the year, it is clear that Mo Willems' Elephant and Piggie series has been a huge success. Sadly in 2016, the world said good bye to the dynamic duo with The Thank You Book. But do not fear, Elephant and Piggie now live on in a new collaborative series called Elephant and Piggie Like Reading! Mo Willems has teamed up with a variety of renowned and award-winning authors and illustrators to create an entertaining line of easy readers sure to excite children about reading!
Unlike other series that usually center around the same characters, the common thread in this series is the introduction and wrap up by Elephant and Piggie. In an interview with Mo Willems, he commented that the general idea behind the series is that Elephant and Piggie are retired and are now sharing the books that they love to read with others.
Similar to the original Elephant and Piggie series, the stories are told mostly through speech bubbles with a variety of punctuation and different size text. There are also visual clues from the emotions displayed on the characters' faces and through their body language to help budding readers practice reading with feeling. While each story ranges in the storyline, style, and reading level, they all contain humor and charm that will be enjoyed by children and adults alike.
*This post contains affiliate links. To read my full disclosure CLICK HERE.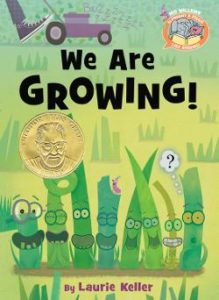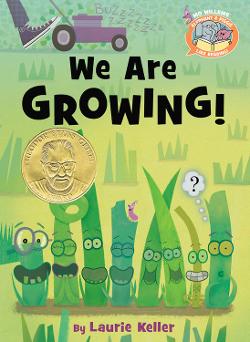 We are Growing by Laurie Keller, 2016
Whoever thought grass could be so funny? Large text accompanied by lots of onomatopoeia tell the story of eight blades of grass who find themselves growing in all different ways. Each shoot has a distinct personality or feature that makes them the tallest, curliest, silliest, etc. Poor Walt is the last to grow and struggles to figure out what he is. When they are all cut shorter by a lawn mower, Walt discovers his own talent. While the others are at first distraught after being cut down, their mood quickly changes when two insects point out that they will grow again.
This is a fun book filled with clever humor, repeated text, and simple sentences to build literacy skills, and it has a great message of resilience and celebrating everyone's uniqueness. It is no wonder the book won the Theodor Seuss Geisel Award for best easy reader in 2017.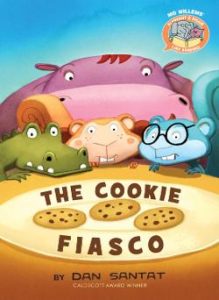 The Cookie Fiasco by Dan Santat, 2016
Santat, who won a Caldecott Award in 2015 for The Adventures of Beekle, works his magic again in this new easy reader that not only helps children practice reading skills, but also introduces important math concepts.
When there are three cookies for four friends, they must decide how to divide the cookies fairly. Comical arguments ensue on just how the cookies should be distributed. Hippo, who breaks things when he is nervous, accidentally splits the cookies into pieces promoting a discussion on fractions. Luckily the cookies are eventually broken in equal parts for all to enjoy… until a cow enters with three glasses of milk.
This is a funny story with expressive illustrations that are sure to make children laugh. Adults will also appreciate the humor, especially Gerald's epiphany at the end when he states, "good books make me feel big things…" So true. This book makes me feel happy that there are so many great new easy readers to help children grow their love of reading.
The Good for Nothing Button by Charise Mericle Harper, 2017
When a yellow bird presents a red button to two other birds, he declares that the button does nothing. When the other birds press the button, they feel a range of emotions from surprise, to sadness, to happiness, etc. creating the conclusion that feelings are something and that instead of the button doing nothing it in fact does everything. As with the other books in the series, this story repeats many of the same text allowing the reader to build confidence with their new literacy skills while enjoying a humorous story.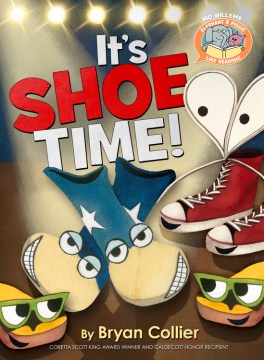 It's Shoe Time! by Bryan Collier, 2017
It's Daddy Daughter Day and a little girl excitedly picks out the perfect pair of shoes from her closet for the big outing. When she chooses two shoes that don't match, however, the anthropomorphized pair left behind chase after her to rectify her mistake only to discover a big surprise.
Filled with witty wordplay and engaging artwork, this is one you do "knot" want to miss!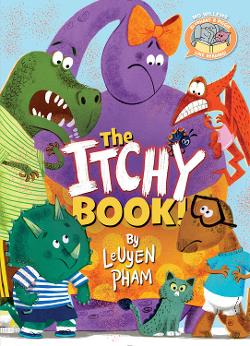 The Itchy Book by LeUyen Pham, 2018
It is almost impossible not to itch or giggle when reading this entertaining easy reader. When a dinosaur notices words carved into stone stating that "Dinosaurs Do Not Scratch" he informs his friends that they absolutely cannot scratch themselves no matter how itchy they may be. What follows is a comedy of errors that is sure to have children laughing while they follow along.
Brightly colored, engaging illustrations add to the humor making this another winning addition to the Elephant & Piggie Like Reading series.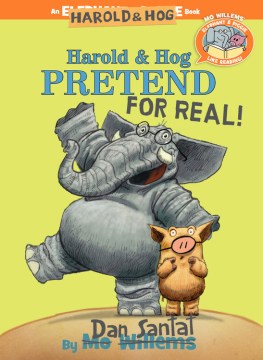 Harold & Hog Pretend for Real! by Dan Santat, 2019
When Mo Willems and Dan Santat team up for a book together, you know it is going to be amazing.
Everyone loves Gerald and Piggie including Harold and Hog. When the two friends decide to pretend to be the famous literary duo, they discover that while they might look like their heroes, their personalities differ greatly. After a few comical attempts at their pretend play, they make a minor change that results in a delightfully gratifying ending.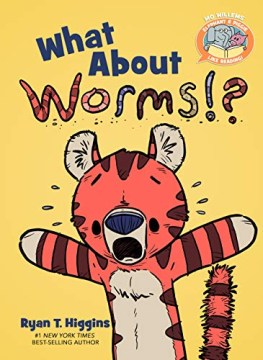 What About Worms!? by Ryan T. Higgins, 2020
An adorable stuffed animal-like tiger brags about his braveness, but admits that his one fear is worms. A hysterical sequence of events reveal that a group of worms are also scared of tigers until they learn more about them.
This clever story had my son laughing out loud and excited for return readings. We loved it so much, it inspired us to make our own What About Worms sundae! With chocolate ice cream, Oreo crumbles, sprinkles, and gummy worms, our sundae was almost as irresistible as the book!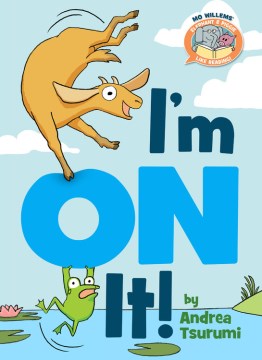 I'm On It by Andrea Tsurumi, 2021
This book is such a fun way for little ones to learn or review prepositions! When a goat shows off his ability to balance, a frog tries to keep up with amusing results. As a parent, I loved how new words were repeated often in funny ways, while my daughter loved the physical humor of the illustrations. This one is sure to make a splash with many new readers!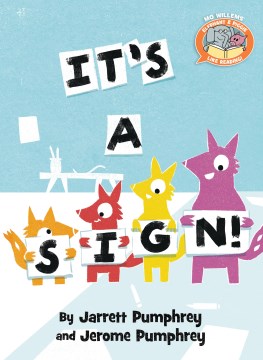 It's a Sign by Jarrett and Jerome Pumphrey, 2022
Using comical wordplay, Elephant and Piggie introduce readers to It's a Sign , starring four friendly foxes who form a club. Each fox brings a unique talent to their club, creating a terrific tale of teamwork. The delightful story has the perfect combination of charm and humor, paired with simple text that makes it an excellent choice for new readers.
Emergent readers aren't the only ones who will enjoy this new book, though. Teachers and parents will be clamoring to use this story as a read aloud to discuss collaboration, explore how a simple letter can be combined with other letters to make words, and introduce word families. It may also inspire children to create their own clubs based on their interests.
Discover more exceptional Easy Readers: